HTC Vive Pro vs. Oculus Rift: How much better is the new VR headset?
The Oculus Rift is one of the major VR contenders, but can it compete with a Pro?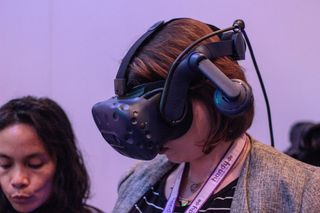 HTC's Vive Pro was announced at CES 2018 and will bring a bunch of key upgrades that many VR enthusiasts have been asking for. The Oculus Rift is still one of the leading headsets, with an enormous library of quality games, but its age is beginning to show, especially when up against the upcoming Vive Pro. Let's take a close look at these two headsets to see exactly how they compare.
HTC Vive Pro vs. Oculus Rift: Tech specs
Swipe to scroll horizontally
Category
HTC Vive Pro
Oculus Rift
Display
Dual AMOLED
3.5 inches
Dual AMOLED
3.54 inches
Resolution
1,440 x 1,600
(2,880 x 1,600)
1,080 x 1,200 (2,160 x 1,200)
PPI
615
461
FOV
110 degrees
110 degrees
Refresh rate
90Hz
90Hz
Connection
USB-C 3.0
DisplayPort 1.2
HDMI
USB-A 2.0
USB-A 3.0
HTC Vive Pro vs. Oculus Rift: Display
Like the Rift, the Vive Pro has dual AMOLED displays with a 90Hz refresh rate and a 110-degree field of view (FOV). You're looking at the same max framerate and you'll still get the feeling that you're looking into goggles. However, the Vive Pro's displays have a higher resolution, for a combined total of 2,880 x 1,600, as opposed to the Rift's combined 2,160 x 1,200.
That's a pretty big difference, especially when you break it down to pixels per inch (PPI). You're no doubt going to notice the 615 PPI of the Vive Pro, up from the Rift's 461 PPI, and there's also going to be less screen-door effect in the new headset. If you want the best picture possible, go with the Vive Pro.
HTC Vive Pro vs. Oculus Rift: Design and features
The Rift's headstrap is mostly plastic, with adjustment Velcro on each side and on the top. The sides have headphones hanging off of them, which can be removed or replaced. The Vive Pro has a plastic head strap, although it's far bulkier due to the extra padding. It also has two headphones built into it, and there's an adjustment knob on the back to tighten or loosen the straps. One thing the Rift has going for it is replaceable earbud headphones. Once I swapped the old cups out, I haven't gone back.
The face gasket on the Rift, the padding and nose cover that make a seal between your face and the display, is standard foam that's decently comfortable. There's not much of a cover for your nose, however, and you might notice light seeping in often, especially if you're playing in a well-lit room.
HTC seems to understand that people don't want any light coming in. The company increased the nose cover and face padding by 24 percent over the original Vive, and the foam now has a cloth lining for extra comfort. It seems like you should be able to play longer without experiencing discomfort. The Vive Pro also has dual cameras on the front, allowing for an improved Chaperone system that should let you navigate a room without pulling off your headset.
Finally, a wireless adapter for the original Vive and Vive Pro will be sold separately and is expected sometime later this year. There's no official price set yet, but if it's cheaper than the Rift-compatible TPCast wireless adapter (about $350), you can bet that it will play heavily into buying decisions.
HTC Vive Pro vs. Oculus Rift: Audio
Having headphones built into each headset means fewer cables to contend with, and that's a good thing. The cups on the Rift do a decent job of delivering sound, and you can swap them out quickly and easily for the awesome earbuds (about $50). Want to use your own headphones? Just remove the built-in pair on the Rift.
The Vive Pro is following in these footsteps with its own built-in headphones. These are Hi-Res Audio certified, meaning you're getting seriously high-quality audio without heavy hardware. There are also some new features for the dual-microphone setup that anyone interested in multiplayer games will love. You're looking at active noise cancellation that will still alert you if something's going on outside your headset.
HTC Vive Pro vs. Oculus Rift: Sensors and motion controllers
Getting set up for a room-scale experience, the Rift needs at least three sensors for decent tracking, though sometimes a fourth is called in to reach the corners of a large space. Optimally, you're looking at about a 10-foot by 10-foot playspace with USB cables snaking back to your PC. Those cables all need ports, plus another USB-A and HDMI from the headset.
The Vive Pro will initially work with the original lighthouse sensors, which only require a power supply. The headset requires DisplayPort and USB-C, requiring newer ports but leaving far more free on your PC and creating far less cable clutter. There are new sensors expected to be released later this year (along with updated wand controllers) that will offer up a play space of about 32 feet by 32 feet.
Oculus Touch controllers are my favorite of the bunch, as they offer up a durable, compact, comfortable package. With the right number of sensors they track with precision, and all controls feel like they're close under your fingers.
The Vive's wands aren't exactly uncomfortable, but they are definitely bulky. After using them for an extended period, they begin to feel like a couple blocks in your hand, whereas the Touch controllers always seem to just sit there naturally. Instead of using something entirely new — like Valve's in-progress knuckles controllers — the Vive Pro bundle will include updated wands. What exactly those updates entail we've yet to see.
HTC Vive Pro vs. Oculus Rift: Conclusion
HTC has announced an $800 price tag for the new Vive Pro headset alone, which is expected to release April 5, 2018. This does not include the new lighthouses and controllers, but any purchases before June will include a six-month subscription to Viveport. It's still expected that later this year there will be a bundle that includes the Vive Pro and all of its updated accessories.
See Vive Pro at Microsoft Store
The Oculus Rift is available now and costs about $400 for a headset, Touch controllers, and two sensors. You will need to drop about $60 for an extra sensor for a quality room-scale setup. Thinking about a relatively cheap yet quality VR headset that's available right now? The Rift is still a solid option.
More resources
Looking for more information? Check out these other articles to do with the new HTC Vive Pro and the Oculus Rift.
Updated March 19, 2018: We've refreshed this article to include pricing and release information for the Vive Pro.
Get the Windows Central Newsletter
All the latest news, reviews, and guides for Windows and Xbox diehards.
Senior Editor, Laptop Reviews
Cale Hunt is formerly a Senior Editor at Windows Central. He focuses mainly on laptop reviews, news, and accessory coverage. He's been reviewing laptops and accessories full-time since 2016, with hundreds of reviews published for Windows Central. He is an avid PC gamer and multi-platform user, and spends most of his time either tinkering with or writing about tech.