HTC Vogue (that's a CDMA-Touch) gets FCC Approval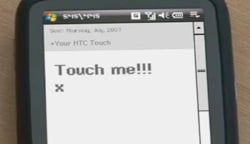 We figured it was coming because of that leaked roadmap and now we have further proof - the FCC has approved the HTC Vogue, which is the CDMA (meaning higher-speed EVDO, huzzah!) version of the HTC Touch, with which I'm so smitten I can't put it down long enough to write up a review of it, choosing instead to make video comparisons with the iPhone.
Now T-Mobile in Europe has the GSM version of the HTC Touch, but I haven't seen much in the way of rumblings that it will make it onto T-Mobile in the US. Still and all, I'm pretty surprised to see that we'll be getting a CDMA version officially before we get the now available GSM version. But whatever, the more itty-bitty Windows Mobile 6 devices out there, the better. Verizon or Sprint? I don't know, but my hunch is Sprint. Just saying.
Read: HTC Vogue sees FCC approval - Engadget Mobile
Get the Windows Central Newsletter
All the latest news, reviews, and guides for Windows and Xbox diehards.