HTC's Q4 Lineup: Shift, S730, p6500, Touch Dual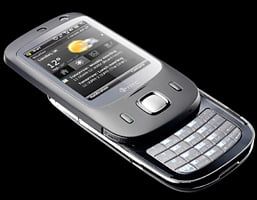 Yowza. At a press event today HTC unloaded its big guns - 4 new Windows Mobile devices to arrive by year's end. No word yet on when exactly we can expect these monsters in the states, but here's the breakdown:
HTC Shift: Likely the best UMPC yet, a dual-booting Windows Mobile / Vista beast with HSDPA, WiFi, Bluetooth, 7" screen, and a full keyboard.
HTC Touch Dual: The Touch but with a slide-out keyboard. If the pictures are anything to go by, it looks like it will come in a standard T9 flavor and also a Blackberry-eqsue suretype keyboard. Oh, and full 3G, whapow!
HTC S730: The successor to the HTC S710/Vox that fixes the keyboard layout and adds 3G speed
HTC P6500: HTC's industrial entrant, whose 3 megapixel camera doubles nicely as a barcode scanner.
All of them will come with HTC's very nice new home screen. After the break, full spec rundowns and pictures of the Touch Dual and the S730.
via: the::unwired
Update: Superior Gadgets put up a video of the new Touch Dual and dayum, HTC has snuck in a whole bunch of minor touch-esque improvements that really help with some of the hassles I've dealt with on the original Touch. Video after the break, definitely worth the look!
HTC Touch Dual
400MHz Qualcomm Processor
256 RAM, 128 SDRAM
107mm x 55mm x 15.8mm, 120g
2.6" 320x240
HSDPA/HSUPA/UMTS: 2100 MHz, EDGE/GSM: 900, 1800, 1900
16-key QWERTY slide out keyboard (also seems to have the standard 9-key variety)
Bluetooth 2.0
1120 mAh battery for various talk times depending on network (3 hrs UMTS, 5 hrs GSM)
Yes, it's thicker than the original Touch and it does appear they dropped WiFi in favor of the 3G radio, but that's not the worst trade-off ever. Looks: still good.
Video preview from http://www.superiorgadgets.com :
HTC S730
The specs are a bit thinner on the S730, but here's what we know:
400 MHz Processor
256 RAM (assuming 128 SDRAM)
HSDPA/UMTS and WiFi!
Keyboard layout looks much improved
Get the Windows Central Newsletter
All the latest news, reviews, and guides for Windows and Xbox diehards.