Huawei Ascend W1 coming to the Philippines on April 12?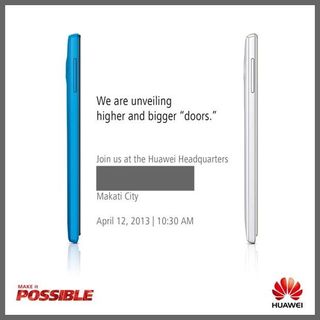 An invite sent out by Huawei Philippines is teasing what might be the release of their Ascend W1 on April 12. The invite states "We are unveiling higher and bigger 'doors'" and depicts the side view of what surely looks to be the Ascend W1 in white and it's Lumia-like cyan. The event will be held at 10:30 AM on April 12 at Huawei's headquarters in Makati City.
The Ascend W1 is an economy Windows Phone 8 handset that features a 4" WVGA display, dual core 1.2 GHz CPU, 512MB of RAM and a 5MP rear shooter with a 0.3 MP front-facing cam. It's not going to turn a lot of heads, but as we found in our first look back in early January, it's a solid phone for emerging markets and the low price point crowd.
Of course, it could be that this announcement is not for a Windows phone at all. Huawei is also knee deep in Android, so this could be much ado about nothing. It seems time will tell.
Source: Yahoo!
Wow. I wonder where this is. Looks like its just in my neighborhood

Seems a nice phone, but the 512MB RAM is still a disadvantage for me.

Lagi nlng sa pinas yung mga cheap

How the hell do you pronounce Huawei loool ?!

Hard to put it into English but it's closer to HAHWAY...

It's pronunced exactly the same way as it is spelt.
So it's WHO-A WAY but both syllables are in rising tone

Hello i know this is way off topic however would people take there time to visit my site at digidownload.wordpress.com and there is a recent poll

It looks like it has a curved screen just like the lumia
Windows Central Newsletter
Get the best of Windows Central in in your inbox, every day!
Thank you for signing up to Windows Central. You will receive a verification email shortly.
There was a problem. Please refresh the page and try again.