Hungama brings free, unlimited music streaming to Windows Phone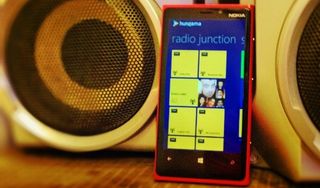 Music lovers in India have another reason to celebrate this festive season. Hungama, one of the biggest digital music services in India, has finally launched their Windows Phone app this week. Hungama Digital Media Entertainment Pvt Ltd. is the largest aggregator, developer, publisher, and distributor of Bollywood and South-Asian entertainment content in the world.
The beautifully designed app is definitely a one-stop jukebox for free music streaming. Along with songs and music videos, the app provides trivia, lyrics, and info for all the latest songs. The service is backed by a huge library of over 2 million songs and music videos spread across bollywood, devotional, ghazals, pop, and rock genres in Hindi and several regional Indian languages, along with popular and latest international music.
Apart from listening to specific albums or artists, you can also tune in to music from their collection of over 500 playlists created by experts or over 10 live radio stations. You can also create your own playlists within the app and save them for later access. If you are, however, lazy to create a playlist, the Hungama app provides a cool Discovery Engine that serves music based on your mood. Pretty neat!
Also, the app gets brownie points for implementing adaptive streaming pretty well, allowing you to play music seamlessly on slower 2G data connection as well. The app comes late to the party with Gaana (opens in new tab) and (opens in new tab) (opens in new tab)Dhingana (opens in new tab) getting a big share of music fans on Windows Phones already, but the service's long term loyal users and their huge library may help them gain positive mind share. (opens in new tab)
Hungama is a free app is available for Windows Phone 7.x and Windows Phone 8 and you can find it here at the Windows Phone Marketplace (opens in new tab).
Goibibo and mobikwik apps also released.

I so badly wanted mobikwik give it a try. You can pay all ur bills right from ur phone safely.

Goibibo is not the official offering..

Brazil developers: take note from India. India is rocking the Windows Phone ecosystem...

Here in Brazil we have few apps for WP and almost are poorly developed... The Indian apps in other side are always pretty good developed...

You surely didn't mean how "India is killing the WP ecosystem" right??

Surely you can understand rocking since its part of your name. :P

It's an expression. His original post had the same meaning.

Exactly. Thanks for understand me. :)

To celebrate I will go to the Indian buffet tomorrow night! Mmmm.... Butter chicken....

Happy Diwali to everyone!

This app is awesome. I tipped about it 2 days back.
Anyway the UI and features are fantastic.
What a change an year brought. In the last 6 months we got Dhingana, gaana, raaga and now hungama.

I prefer gaana over hungama. It has newer collection.

Yes. New editor and I love the way he writes. Good job Abhishek.

I think they call him abby already.

Hey! Yeah, kicked off this gig this week. Thanks, @wpgeek820.

Awesome!! Its great to have an indian representative!

Awsome, welcome aboard! I've been hit left and right at my new job so haven't been keeping up here as much as I would like, hope to read lots of stories from you :)

Abby, mobikwik is also here , i believe u forgot to highlight it on wp central. Hope u will write a review about it and let the people know its here too.
Thank you.

India is nailing it when it comes to Windows Phone. Is it love for Nokia or Microsoft, cant say. But hey, happy Diwali guys out there in India! :) Edit: out of curiosity, got the app. This is VERY well designed app with excellent sound quality. WPCentral article does no justice to how well made this is. Beats Audio cloud, Deezer, Tunein Radio and Spotify put together! Please someone at WPC go for a full on review of this app. They deserve it!

Thanks bro for wishing us :) and ya this app is mind blowing!

Microsoft should merge comments and ratings from all countries!! Most of apps didnt even have 10 ratings

Like what Google Play does? It's good to get the overall perspective but many a times you want to know how the local features, country specific data works... it will be a hard find then.
I think giving the user tabbed view of global rating and the country ones would be awesome.

Anyone noticed a UI glitch in playing queue? All radio buttons in the bottom bit are black in dark black background! Cant see a thing! Only happens when your theme background for OS is white. You wont see this with black OS.

Aha, a good old WP classic problem the devs missed. Probably not considering that people use white background.

Best designed app I have used so far on WP. I am loving it.

Sri_tech for the info i was looking for mobikwik and happy Diwali to all

You can always use Paytm. Its good and supports most Indian Services.

The only drawback with paytm is you cant save the credit/debit/netbanking details.. You have to manually enter them, each and everytime !!! :( the app should have the "wallet" kinda feature.. Just click and pay !!!

wow I know for a fact that people will LOVE this app

good stuff. im gald apps for windows phone is growning !

Way to go dev. Come on we can do more and more, lets take out our nokia from the grave and make it doom and gloom, dev out there, we can do alot for our nokia, WP is the second largest OS now in India and we have to throw out dat plastic garbage Samsung from india

Awesome stuff :) and happy diwali to all.

Very good music streaming/downloading app. Can author do a comparison review of Hungama, Dhingana, Raaga and Gaana?

Good idea. This could be a good one.

Love the way how the app still functions while its minimised in the background. You can skip music from the main music controls that you get when you press the volume rocker. You can open the app by tapping the music that is currently playing. I don't know if this is how other music streaming apps function but this is my 1st app download and its awesome. It will be awesome if they add more music collection from the 90's (international collection).

Yup, pretty much all music apps do this!

Well now that we have an Indian editor, we won't at least get useless articles like the lumia 1520 'coming soon' article.

I have been using Dhingana on my surface and its quality has been great and it worked flawlessly even when I was in US or India. I am going to give hungama a try, but having same app on all platforms is awesome if you like a particular radio or playlist. Thanks for a great post Abhishek and Happy Diwali!

While I like what Gaana has been doing recently, Dhingana is a far better app on Windows. It's the only music streaming app I have on my Surface. Happy Diwali to you too! See you around.

You got a Surface Pro 2? Now i am going green with jealousy. Still no Surface here in India

I only have a Surface RT, but getting the Type Cover 2 delivered soon.

Its better than android version

Shame its not metal tunes =-\

Nice app recommended for Indian users Happy DIWALI to all users of wpcentral.com

Feel sorry for the stupid people who download this and think they'll get something similar to Xbox Music or Spotify, and discovers that there's only Indian music. A Swedish guy left a bad comment about this in the store. Seems he didn't even bother to read the description. And also he mistook the musik for being Turkish and Arabic.

Ignorance doesn't deserve pity.

Is there any option for download..till now i didn't find it

krish has one lakh downloads really ? :P

Happy Diwali Indian friends, I watch what is going on with great interest, if Windows Phone does well outside the USA that means it has a greater chance of reaching critical mass and sticking around for everyone. Glad to see such well polished, high profile apps for the Indian market.

Malayalam paatukkal kittumo makkale, ithilu?

Nanni undu machoo... Sulaan!

I still think it's crazy that there really aren't any international services, and I wonder if the youtube one will be. I use torch music now which feeds off youtube so I guess anywhere that gets youtube should get that as well.

Nice interface you got there huh.
Windows Central Newsletter
Thank you for signing up to Windows Central. You will receive a verification email shortly.
There was a problem. Please refresh the page and try again.