Hypernaut for Windows Phone is an endless runner you should download right now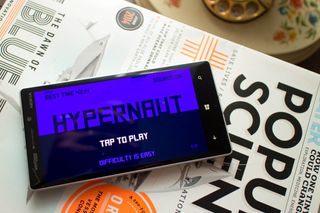 With one life only, how long can you survive in a dangerous, random generated, polygon world? Find out in Hypernaut, which is exclusively available for Windows Phone. Avoid everything or die.
Head past the break to watch our hands-on video and gameplay with the Nokia Lumia Icon.
Hypernaut is a very simple endless runner game. You're moving at superfast speeds and you must avoid hitting rocks or polygon shapes. They appear from a distance, but you have to react quickly because you're moving fast.
Hypernaut has two difficulty levels: hard and easy. You can change the difficulty at the bottom of the main menu. The top left corner displays the best times for each level. You can turn off the sound by tapping on the top right side of the main menu. Tap the middle of the screen to get started. Click on the left or right side of the screen to steer away from objects. The screen tilts when you're turning.
We're fans of the visuals and especially like the selection of the colors. Hypernaut reminds us a little bit of the movie, Tron. The world is randomly generated, so it won't feel too repetitive. When you hit something, the game is over. Hypernaut tells you how long you've survived and then you can try again.
We really like Hypernaut and highly recommend it. There are a couple of things we'd like to see in an update. We'd love to be able to turn left or right by tilting our phones instead of tapping on the screen. We'd also like a share button to show off our high scores on Twitter or Facebook.
Hypernaut is a free download from the Windows Phone Store. There are no ads or in-app purchases. Our current high score is 42.14 seconds on the easy level. Go download Hypernaut now and see if you can do better!
Thanks for the tip, Jam8240!
Get the Windows Central Newsletter
All the latest news, reviews, and guides for Windows and Xbox diehards.
Yuuupp! (Trey Songz voice)

So many endless runner game..why no fifa or cricket game???

Dude it requires a liscence to make cricket game or a Football game...its paid for (licences) and then when the game will sell for 6.99 dollars you all will leave lousy comments to make tha game free

I wish my professors teach as simple as your comment.

No it doesn't. A license is needed to use player/team names. A developer could use invented names and avoid that cost.

No, things like FIFA, NBA, NFL, etc are brands. In most every country that supports copyright, you're not allowed to use those names with permission and 99.9% of the time that permission comes at a cost (license). The NFL has been known to make people pay to even write NFL or say it on video. You could make a soccer game, but it couldn't have anything that is copyrighted which I assume some rules and concepts are.

I was being all-inclusive when I said names, obviously FIFA etc are copyrighted as would be stadium names and tournament names. However copyrighting would never include the rules/concepts of a sport as they belong to nobody. Having said that, I love FIFA on console but on mobile it is fiddly and not very good, so I doubt any normal dev would manage to succeed where ea have failed

Yeah I'd like a cricket game too...

There is FIFA 2014 from EA in the Windows Phone Store.

fifa 2014 doesnt support 512mb ram and its also better to have more options..Like flick shot etc

You bought that phone....

So what you really mean is "FIFA should make a game that has all the features I want."

You're welcome for this game.. Hope there will be more downloads

Sadly not available in Brazil. Come on developer: I can help you with that.

Keep up the good work. Don't give up

I've seen you around in posts like these. It's really sad that developers don't consider Brazil. I don't understand why.

Every time i see a review for a game, i think of Brazil ! Come on Devs at least for the world cup !

Hey just change your region to Usa ..and youll get all you need

He can, he want it for "Brazil" people.

Also known as Brazilians ;).

Switch region to USA and u can get it n change it back if u want....

Hello - I'm the developer of Hypernaut. I didn't realise it wasn't in Brazil, I will fix that in the next update. Very sorry!

This is why I have my Windows 8 and Windows Phone 8 games published to Brazil and Russia, people want them. I will talk to the developer, I work with him and get it into Brazil.

It should be in Brazil, Russia, and Taiwan now. Sorry about the delay! Here's Brazil:
http://www.windowsphone.com/pt-br/store/app/hypernaut/9bde4f6f-eecd-44f2-a897-dced97c3920c

just change phone region I'm from Brazil too, but my phone region is USA, and I can download

49.353 seconds. But those colors are disturbing

Is YouTube broken again for WP? I cannot play the video?

Yes master. Downloading now. So far 64.747 easy and 31.117 hard.

Looking cool, and it's a nice game

Nice concept, but some obstacles seem to appear out of nowhere

Played it twice. Addictive.

Yeah...addictive...tempts to play again n again

Great game :) amazing .... My best 46.24 seconds .. Hurray !!!

Just beat your high score Mark!
59.923s

Hypernaut is awesome. It's like seeing how the superhero FLASH perceives the world when he's moving at superspeed.. kudos to the developers...

You are welcome for the tip

Perfect game...
#Addicted #Wt*Difficulty

52.6 seconds! I beat you !

Is it windows phone exclusive?

This it's a really fun game that I found while browsing the store, and I found it to be worthy of a mention. Never thought an article would be written about it though PS my high score is 95.229

Neither did I and I made this game. ;-)

Thank you! It's awesome! 5-star rating from me.

Just tried it and game is brilliant! Simple and fun! Thanks to developer!

I dont like the bit where things fall from the sky... But apart from that its awesome! :) high score 42 :'(

This game is pretty cool. Looks and feels a lot like Race The Sun, which is a good thing. I just wish it had tilt control :/

Looks cool but I got vertigo just watching the game play in the video.

Not available on the Australian Store :(

I'm in Australia and can download and install, you must be holding it wrong...

Yeah, I checked it again and it's available now. I don't what happened on the first time. Thank you for the reply :)

I saw this game like a week ago. It looked very different then most endless runners. I didn't pay too much attention to the game but will try it out now.

Omg I've seen this game on Android, but it was a, racing game called vector or something. It was more or less am endless runner as well with some killer music. And it looks exactly like this game.

Haha damn, this is an awesome game. I don't remember the last time I had this much fun playing a mobile game. It's definitely the visuals. 5/5 would recommend.

This game is soo addictive!

I've been playing for over an hour and I can't get past the 55s mark :-( I keep hitting those red falling things.

51.5 seconds! * Like a boss* :P

best time 97.636! very exciting game! i wish the horizon would be a little lower.

I scored 344.677 on easy and 49.501 on hard.

BULLSHIT YOU PIECE of CUNT! Go suck ya nanz titz you gay lord

Who the fuck are you fag? Hide behind your phone boy.

you think im scared of a scrawny cunt who scored 344 on a phone game do ya?!?!?! suck ya nans titz pussy nigga. besides im on a laptop you fucking mong. meet me? ill fight you, name when and where, ill break your fucking neck cunt

Come Tottenham. Little boy come Tottenham. That's what I thought.

Tottenham is a big place arsehole. Give me a fucking address pussy, I'll meet you and rek you m9!!!!

Talking about my gran as well? Yeah, watch out.

Ive just written a fantasy fiction novel. its called andre is a CUNT. pussy give me an adress faggot ill knock yo out pussy hole vagina!!!!!!

You're calling me a fag but u are the one who's obsessed with me? Researching man and shit? Battyboi like I said. I know who you are. I'm going to fuck you up when I see you. When you see me, run.

Carry my dog with me at all times? you mispelled your mum m8. plus arent u also hiding behind ur phone pussy boy? doubt you'd do anything if you found me anyway, ur not hard m9. what kind of an insult is you dont even have a windows phone? i dont have one cuz theyre a peice of shit m9, like your mum!!!!!

Ok. You baited yourself out btw. I know where you live.

You're proper scared. Hiding on the internet. You don't even have a Windows phone. Step outside.

Better carry your dog with you at all times.

reply you pussy hole fat cunt white boy

right m9, ive had enuff. im comin to find you white boy faggot hole. stop riding ur nan and fite me pussy bitch

The thing is I know who you are. When I see you I'm going to fuck you up blood.