Upload and manage your ImageShack photos with official SkyPath app for Windows Phone 8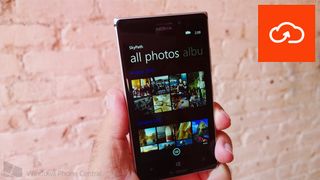 How do you back up your photos? On Windows Phone you have the option to automatically upload your images to SkyDrive. But you might be a fan of other services. For example you might be a user of SmugMug and enjoy sending photos there. And now we can add ImageShack to that list because there's an official app on Windows Phone – SkyPath.
ImageShack has been around since 2003, which makes it a few months older than even Flickr. Back in the day those two services were the place to be for hosting, saving, and sharing images. Flickr has been on Windows Phone since the early days, but it hasn't been updated in over a year and has really poor reviews in the Store. So we're pretty happy to see ImageShack step up to the plate and offer some competition.
SkyPath is a free app from ImageShack that will let you view, upload, and manage your photos. SkyPath is available for Windows desktop, iOS, Android and now Windows Phone 8 devices. Here's what the Windows Phone 8 versions claims to do:
Manage your ImageShack photo library.
Camera roll autosync.
Variety of sharing options.
And sure enough, it does all of the above. When you first launch the app you'll have the option of signing in with an ImageShack or Facebook account. You can pick either and after that you'll be selecting your settings for automatically syncing images. Any time you launch SkyPath it can automatically save your images on the camera roll to your ImageShack account. You can select the entire camera roll or any new images you take. You can also hit cancel and just upload on a case-by-case basis.
Additionally, in the settings you can select the ability to upload images in the background just like your phone already does with SkyDrive. You can select the frequency at which SkyPath checks your camera roll for new images and whether to upload on Wi-Fi only or Wi-Fi/Cell.
The app is not going to win any awards in the UI innovation category, but it gets the job done and should be a welcomed addition to anyone with a Windows Phone device that uses ImageShack.
SkyPath is a free app for Windows Phone 8 devices. You'll want to have either an ImageShack or Facebook account handy when using it. Grab it in the Windows Phone Store, use the QR code below, or swipe to the right in our app.
Thanks for the tip Terence W!
Sweet I can use this instead of taking space up on my Skydrive. Out of curiosity is there anything for Dropbox that automatically loads it up yet cause i got alot of space when they had that Space Race thing?

They are going to get a lawsuit on their hands.. SkyPath.

When I Bing 'SkyPath', ImageShack is the first site to come up. They've had the name for awhile, not sure who would sue them.

Not to mention that Path is coming, supposedly. :)

I love it when an official app lands in the Store! There should be an extra section in the store, labeled "Official Releases" or something like that. :) BTW, it doesn't support devices with 480*800 resolution.

What apps have the auto upload feature, just like the Skydrive?

AT&T Locker is one I know, it will even handle the full 38 MP photos of the Lumia 1020.

We already have many alternative services/apps but for me the kind of app only worth the time when he has this feature. And seems like almost no one does that.

And what have we learned about using the word SKY in your product name? LoL

ImageShack has always seemed to be the absolute worst out there. Every time someone shares a file hosted on it, it's a ridiculous ordeal just trying to get a full resolution look at the photo.
Flickr or your generic cloud storage solution for backup, imgur or minus for your sharing.

Think you're missing 'not': "The app is going to win any awards in the UI innovation category"


Love first party apps. Thank you ImageShack.

My fingers can't keep up with my brain! And yeah, official apps rock and help "validate" Windows Phone.

>dont work on 480p devices

True. So I continue to use Photobucket.

Just installed Skypath. Signed into my ages old imageshack account. Didn't realize I had 50GB on their service too.. Along with my at&t locker free 50GB and my SkyDrive... And my Dropbox... Woot! Racking up some cloud storage space here!
(just tried the copy link to clipboard feature and it didn't work posting a pic on one of my vbulletin based forums.. :/ )

I saw this as I was browsing the Photos hub and had to share it. :) very cool app! And hey, more cloud storage is always a plus!
Windows Central Newsletter
Get the best of Windows Central in in your inbox, every day!
Thank you for signing up to Windows Central. You will receive a verification email shortly.
There was a problem. Please refresh the page and try again.