IMO brings its popular messaging app to Windows Phone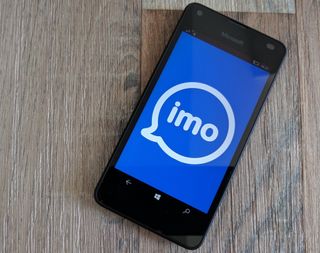 IMO has quietly launched a version of its text, audio and video chat app for Windows Phone 8.1 that also works on Windows 10 Mobile.
The app itself allows users to chat with friends and family for free, as long as they are also using a version of IMO. Here's a quick breakdown of its features:
Send unlimited instant messages
Group chat with friends, family, roommates and others
Keep chats in sync with mobile
Make high-quality video and voice calls
Share photos and videos
Express yourself with hundreds of free stickers!
Keep in mind the IMO app was made natively for Windows Phone 8.1, although it can also work with Windows 10 Mobile. There's no word if IMO plans to release a native Windows 10 UWP app in the future.
Thanks to Aji, Armughan, Deven and Thamarai for the tips!
Download IMO from the Windows Store (opens in new tab)
How many messaging apps do people need? :P.

Its personal choice that which and how many app he wants. For.me WhatsApp and Hike plus skype is enough.

Waiting for Pokémon go and snapchat

Both are to no interest to me. I. Don't. Care. Seriously. Plus, I don't want the kids that do care to be on a business platform. Fck this hipster shiit.

I'm with u Hutzi. Posted via the Windows Central App for Android

I think in 2-3 weeks Pokemon will be a history. Somebody from NY has collected everything that's available in US. Has another 9 to go. 3 are in different 3 countries, 6 nobody caught yet

Do you have a link for this?

Or it'll be shut down as a public safety hazard.

Really? He's been to my neighborhood?

would really love the snapchat for real

We need Snapchat..... With apps like this one, I find it funny that some developers decide to support the platform, almost randomly. It's kinda odd. There's those who waited until now? The lowest point? Where were they 2 years ago?. And, it's even more odd that they would do a 8.1 app.. Unless they made this app long ago, and just now decided to release it. Still odd.

8.1 still has a larger share of window mible than windows 10 plus, apss made for windows 8.1 run on windowss 10 mobile but not vice versa, when yo uare purely targeting the windows mobile and not the advantages of uwp it makes sense as a bussines decison, given especially how small the user base is for Windows!

I would love to see Pokémon go on w10m. I won't play it but it will be good to know that they are supporting such a big patent.

If everyone says that they would like to see Pokémon go on w10m and not have it, then they won't do it.

Item not available in store guys..help me hw to download imo

Store is down from yesterday

Using it since afternoon. Significant performance till now. Found some bugs as usual
1: Application crashed if attaching media.
2: Sound is coming from speakers instead of earphones while video calling. Production build: .494

Nice sweet I love u IMo but people keep complaining about not receiving sms text pls fix this

Me too. Not getting the verification text. Tried two times and waited several minutes. My family has basically switched from Skype to IMO completely because Skype couldn't put it's act together.

You are right ! Skype is so bad nowadays. Sometime it takes years to get the message and I can hardly reach in one call. Tried both android or wp platform. Same is true

I use the Skype built in messaging feature that's present in the 10586 builds and it's fast !!

Be ready to leave that feature once your phone gets Redstone. I dont understand what feedbacks amd **** microsoft gathers to pull features off. They still have not even made Skype UWP publically available!

Precisely the reason i mentioned *10586* builds..
I know the feature is going but Skype UWP is better than that and it'll work !

If you have a spare android or ios device, install imo and enter your number for verification. The code you will recieved also work in windows phone. Thats how i activated my imo. Hope they will fix this soon.

Can u do that n send to me for mob no 9995283743

See the latest comment....

Update your application now. It is working.

How do you set your profile picture? Am scratching my head about this.....Niceeee**Pari**

From windows store. Just search IMO

Pokemon go is comming to windows soon

Coming soon to Windows store in 2019.

when windows store will be rbrandeed and built form scratch iwth more bug as grope store were you can grope apps

In my country, VOIP is blocked, so I can't use audio and video calls on skype, WhatsApp, Viber and Facebook messenger, but I heard that this application isn't blocked here, and I was waiting for it to be released on Windows Phone. So happy now, thank you

really? what country is that? I think it could potentially top India in my list of countries with the lamest tech restrictions.

I'm using all of the above applications in India without an issue. Nothing is blocked here to such an extent. We aren't China or North Korea man !!

There is no restriction in India. If u don't know, then just **** off......

But i was not able to find...it was showing item not available...

Wait store is down from yesterday
Me to facing same problem

Thankyou sir Thankyou very much..

Patch updated! Otp working.

It won't send me a verification code

Makes sense for companies to release their apps for both wp 8.1 and w10m as counting in only w10m phones out there drastically reduces the user base on windows phone as a whole. This has turned out to be another irony for w10m. If only all wp8.1 devices were upgradeable to 10...sighh, the situation would be less complex for MS.

IIRC, most of them are. It's just not obvious to the consumer. It's the RS1 builds that aren't available to all devices. Practically all devices can upgrade to WX and enjoy WX-only apps. MSFT's leadership just sucks balls these days. They aren't even trying to push WX on mobile (read about how to upgrade to WX, and you'll see). And they have the audacity to blame WXM for WX potentially missing the 1-billion target. . -______________________-

i dint recive any code!! :(

Biggest news is that messenger supports calling in windowsphone

I dont know. I updated it and opened it and saw calling feature, even used it but on restarting the app it disappeared.

Can even send you the screenshot.

I also faced the same problem. First time I was able to call but soon after I restarted, the button disappeared.

Production build got the update.

Cant see it on fast ring insider

Cant receive verification code

Still waiting for SMS confirmation.

Stop this pokemon go shot its a game for lazy people who not go out unless they have that silly game LAZY bastards

And its banned in my country.. If police get to find anybody playing it while walking or driving on the road, they would be forced to pay penalty. Thank god that I'm using WP, they can never ever book me for that illegal act /s. :P

Banned by who, Grand Smurf?

Verification code not showinggg!!

Still waiting for the verification
code!!

I didn't receive the code

What ! I bought 2 640 to send as gift and I asked them what kind apps they use, the emphasized lot on IMO and so I sold the windows phones to get Android and pathetically I sold them day before yesterday. IMO is wildly popular in the south Asia. Reasoning is simple : 1) no extra account needed like Skype 2) works good with low data speed....bought two cheap Android phones now I feel like I have to get rid of those to get windows phones . 640 is still the best budget phone in the market ...hands down !

Hey WC , no more support for emojis in comments on W10M app? I thought that was available before.. Correct me if i'm wrong.. :-/

Yup. For some strange reason they removed it. *Daniel the King*. Ppl gotta obey. :p

Not available in store!!!!!!!

How can I download in my Lumia 920?

Follow links "download imo from windows store" in WC W10 app

Smart devs. No point making uuweepees when WP8.1 is 90% of the market.

Downloaded but still no verification code

Verification code not received

Didnt get verification code. I think they don't have money for sending sms. Relax all you will get your code once they reload.
Former CEO JIRDAN MENAG

If you have an android phone, try installing IMO on it and use your windows mobile number to generate OTP and use it for your windows mobile app. It worked for me.


Ask developer.... can't they even port apps to WP....what???

Finally, another messaging app!

Says not available on Store!

Just ordered Lumia 640XL @79 (used)

IMO.. I'm afraid may be another BBM since they are late to the party. Windows phone uses being less in numbers and the messaging platform has so many quality apps (yeah.. for lesser number of users. its so many), most of them already rely on Whatsapp for messaging & voice call and for video we have the new Skype, Viber & Line. Not to forget the facebook & WeChat. IMO is late to the party. It would have been a different story if the same was launched 2 years ago.

They have 100 million downloads in Android...not a joke

Showing not available in store. Pls help to download..

There is a problem with the verification code. Fix it.

If you have an android phone, try installing IMO on it and use your windows mobile number to generate OTP and use it for your windows mobile app. It worked for me.

Happy to hear.. After long waiting.. Its very popular in indian.. Here most of people adopting instead of viber and skype

That's rather weird. With Windows 10 Mobile rolling out to devices and Windows 10 PC performing tremendously well on the market, they decide to make a Windows Phone 8.1 app instead.

It is available on w10 on lumia 650 but I couldn't find it window 8.1. That's on lumia 540

Yeah, it is available but not as a native app. Not as UWP, to be more specific; which would be the way to go right now.

OTP is not receiving. please fix it

Can't receive the verification code. What's that?

it's saying: not available in the store!
I'm afraid Microsoft has killed the link to not make it available on 8.1.
Microsoft is rushing the kill of everything about 8.1

What's wrong with whatsapp and skype. If you're not in the fight at the beginning, you're not in the fight at all.

I've stopped using IMO since they removed Skype, ICQ, etc. support and transformed into a new standalone messaging platform. It was really awesome service some 8 - 9 years ago. I remember how I could use all my messengers at one place in web browser. What a time!

I didn't know that it's so old app

verification code is not coming please help

Never heard about this app before. But every new app is welcomed in the Store :)

It's one of the popular messaging app mostly in the developing countries . It's much stable than Skype , and is not data hungry. Besides it works well in the places data speed is 3g or less.

Im not receiving verification code!

Have to use this since Morocco blocks the others.

I searched for IMO on store on PC. Installed it and it pointed me to the official IMO website where there was an option to download the standalone program for desktop. http://imo.im/

Why? IMO, they should have made it windows 10 native, but downward compatible.

I sometimes don't understand if developers just don't know what their options are or if they really think that things are just that difficult... =/

You can't even get verification code when you try to register, I don't know if their servers can't contain the small load of registration from windows mobile platform....Niceeee**Pari**

One time password to activate the app

No code to activate the app

Another messaging app you have to convince your friends to download and use. No thanks.

Yes keep bringing them apps. We need more apps moreeee

I wanted to sell my old 925 to a Bangladeshi and he wouldn't buy it because there was no IMO!

It says this phone does not have hardware this app requires bit i m using L535 and it has all the given requirements.

but, it is not unknown that windows will only do catching up when another set of apps are released for iOS and Android

I can't complete the registration ...
Verification code are not coming..

Its working now... You can easily get OTP. Cons-
-WIN 8.1 style UI, Settings include only sound and block call options.
-Needs a proper w10 interface.

Win 8.1 also. Comment after reading article.

Search in STORE or Check it out in article.

Unable to get otp while installing

Installed nd found no one I know using it, so uninstalled.

Atlast i receive verification code. After the app update.

Now I can't set up my profile picture. Any help....Niceeee**Pari**

need help, not getting verfication code on my Lumia 535

need help, not getting verification code on my Lumia 535
Windows Central Newsletter
Get the best of Windows Central in in your inbox, every day!
Thank you for signing up to Windows Central. You will receive a verification email shortly.
There was a problem. Please refresh the page and try again.