Imperia Online review, a feature heavy MMO Windows Phone game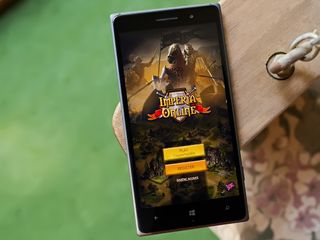 Imperia Online hit the Windows Phone Store last week and is a massively multiplayer online game (MMO) where you get to build your own empire and expand it by conquering neighboring territories.
Set in the times before gunpowder, you can recruit and train armies, build armaments, fortify your stronghold and create alliances to further your empire. The Xbox gaming title has twenty in-game achievements to earn and gobs of features.
In playing Imperia Online over the past few days, it has a feature rich environment, quality graphics and challenging game play. While it can be an entertaining Windows Phone game to pass the time with, Imperia Online is more of a gaming investment than a time waster.
When you first launch Imperia Online, you will be taken through an extensive tutorial that covers everything from recruiting troops to building structures to allocating raw materials. The thirteen-step tutorial also includes spying on your neighbors and attacking their villages. Once you are through with the tutorial, you will name your empire and set up your gaming account.
Imperia Online has two primary tasks, managing the economy of your empire and managing your military resources. Managing your economy deals with making sure you have enough resources to recruit troops, build structures, adjust taxes, build farms, make sure there is enough housing, etc. Military management includes building up your defenses, raising an army and attacking/conquering neighboring villages and empires.
Empire Screen
At the top of the empire screen, you will find your resource totals (wood, stone, steel, gold, etc.) and your empire status. The smiley face will reflect your economy and the Viking helmet will reflect the risk of barbarian attack.
Along the bottom of your empire screen, you will find a host of options that include moving to the game's map along with viewing:
Achievements
Alliances
Rankings
Player Profile
Your hoards (treasure)
A help section
Gaming emails (both system notifications and messages from other players)
You will also find access to the game's settings, premium purchase opportunities and influences. The game's settings cover volume controls, language support, password changes, email changes, player ignore list and a babysitter option. The babysitter option allows other Imperia Online players (up to four) to babysit your empire while you are away. The babysitter has access to all the controls the owner of the empire would have.
Premium purchases include buying diamonds that can be used to speed up time, unlock items and make additional premium purchases. These premium purchases include a 10-hour Production that will give you ten hours of production immediately and a vacation mode that forbids any attacks on your empire by other players for at least 48 hours. The vacation mode will also stop all resource production, army upkeep and population growth. Construction and research will continue.
Your empire will have lumber mills, rock quarries, and an iron mine to generate raw materials used to build structures and recruit troops. You can allocate manpower resources to give one resource priority over the others. You will visit the Town Hall to initiate (or upgrade existing) both military and economy constructions. Military construction includes barracks, schools, moats, towers and other defensive structures. Economy development includes additional resource locations, houses, farms, marketplaces, banks and other structures to increase your economic foundation.
Other key structures in your empire include barracks to recruit and train archers and infantry, a siege workshop to build battering rams, catapults, etc., and a spy school. You will also have Military and General Universities where you can research skills that can be taught to your empire's population and a Palace where you can review your family tree, governors, warden generals and treaties.
Lastly, there is a Command Center where you can deploy your troops, launch attacks, view who has attacked your empire, deploy spies and other military actions.
Map Screen
Gameplay is more strategic than action oriented and while your economy management is done from the empire screen, your conquests will be initiated from the map screen. Here you will see all the other Imperia Online player's empires as well as an assortment of computer-controlled villages. Controls line the bottom of the map screen that include buttons to:
Return to your empire screen
Search for a particular territory
Center the map to your home empire
View any bookmarked villages
Toggle the labels on/off
View your empire zones.
Tapping on a territory will pull up all available options for you to pursue. They include annex, attack, spy and turn the area into a vassal. Each action will have specific requirements (e.g. at least 100 troops, a specific gaming level, etc.). If you are about to venture into battle where defeat is certain, the in-game advisor will appear and offer such sagely words of wisdom.
Actions, both military and economy in nature, are time sensitive and range from taking a few minutes to complete to taking hours. You can use diamonds to speed up the clock and finish actions instantly. Combat is automatic and lacks any animated visuals. You will get after action reports detailing the results of your attack. Not sure if this is a good thing or bad, but part of me wished that the strategy element was extended to deploying your troops and managing the combat sequences.
There is one feature with Imperia Online designed to help level the playing field. It will take time to build up an army, fortify your empire and get to the point where you can launch attacks. When you first begin game play, you can activate a safeguard mode where your empire is free from attack. This mode will only last for 24 hours but gives you a chance to build up your economy and military.
Overall Impression
While city builders are not my first choice of games to pick up, I can see the appeal Imperia Online has. The graphics are solid and there is a ton of management activities to keep track of. From managing your resource allocation to maintaining your empire defenses to expanding your territory, Imperia Online will keep you busy for a while.
While Imperia Online is an attractive MMO for our Windows Phones, the number of features can be a little overwhelming. Structures are not labeled in the empire and it may take you a while to familiarize yourself with the lay of the land. The game does an excellent job with the tutorial, but I would not mind seeing the in-game help extend a little further. Maybe have information bubbles pop-up from time to time to guide you through game play until the flow becomes more second nature.
If strategy games or city builders are your cup of tea, Imperia Online is an excellent choice to have tucked away in your Windows Phone gaming library. While the game plays out well from the small screen of a Windows Phone, I would not mind seeing it transition to Windows 10. This would let the graphics stand out more from the larger screen of a tablet or laptop. There is also a bonus for longtime fans for Imperia Online:
Imperia Online is a free Xbox Windows Phone game with in-app purchase opportunities. At last check, it scores a 4.6-star rating that we will not argue with. If you give Imperia Online a try, let us know what you think of the Windows Phone game in the comments below.
Download Imperia Online for Windows Phone (Free)
Get the Windows Central Newsletter
All the latest news, reviews, and guides for Windows and Xbox diehards.
George is the Reviews Editor at Windows Central, concentrating on Windows 10 PC and Mobile apps. He's been a supporter of the platform since the days of Windows CE and uses his current Windows 10 Mobile phone daily to keep up with life and enjoy a game during down time.