INcode is a useful lookup directory for India for all your codes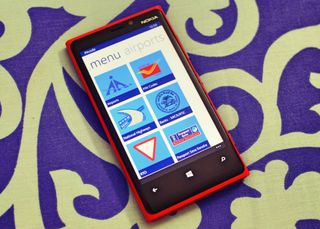 While usually I report on some terrific apps on the Windows Phone Store (and some not-so-good ones too) here on Windows Phone Central, this post is different. Today I share my first Windows Phone app with the readers - the community that's more aware and usually critical, in a useful way.
On a daily basis, we look up details of a national highway in India, a region associated with a license plate number, or MICR code of your bank branch. A couple of months ago, I set out to build a one-stop app where one could find all these 'codes of India', and hence the name, INcode.
In the first version, the app features six databases – Airports, PIN Codes, National Highways, Passport Seva Kendra, Regional Transport Office (RTO), and Banks - MICR/IFSC. The app provides comprehensive details about these with an intuitive, modern user experience.
You can search within the databases as you'd prefer. For example, you could search for a city to find its PIN code or do a reverse search as well. The format or type of your search keyword wouldn't get in your way, or so I hope! The app is free, and does not include any ads. It completely works offline, so you don't need an active data connection.
There are so many occasions you could use the app. If you're going for a road trip, search the state you are headed to for the highways passing through or the highway number you are taking to check the route. Transferring money to a bank account? Search for the MICR or IFSC of the bank branch or use the banks database for a comprehensive directory of banks.
All the databases used in the app are available as open data under the Government of India, or its ministries. Also, big props to Sumit Dutta, the prolific Windows developer, for all the dev support.
As we go along, I'd like to include more databases and features based on your suggestions, yet keeping the app simple. The databases would be periodically update and sanitized too.
Download the INcode app for Windows Phone 8 devices from the Windows Phone Store or check out the details here. Give it a whirl, and let me know how you like it in the comments, or drop me a mail at ab@baxiabhishek.info if you've got some feedback I could use. Also, shameless plug, spread the word, and if you find the app useful, don't forget to rate and review it on the Windows Phone Store.
Wow your first app? Cool. Although don't have any use of it, since not from India. But still, Good work.

Parsing error in link plz fix dat ..!! :)

Good work Baxi......
You will be Rudy Huyn for India.....

App download link is wrongly inputted. It's not working.

download app link is not working....

Bad request.... my bad! Edit: Searched in the store and got it! Thanks!!! http://www.windowsphone.com/en-us/store/app/incode/ca9e6c4d-ebae-4fc6-84...

Good to see you come out with your own app Abhishek. By the way, the link is not working. It says : Bad request Something happened, and we're not sure what. Make sure you've got the right URL. b4ee339a-4937-4c36-ab5d-c5753bc0efec

Link not working even after opening in browser. I downloaded directly from store(search"INcode")

The download link needs to be fixed :)

Link to download app not working, it says parsing error

Link not working for app download

Why the app size is 12 mb, it is meant to be a text database of codes.

There are SO MANY banks and their branches in India!

Exactly. SBI alone has 13,000+ branches. Bound to take some space.

Good work. Its nice to have everything under one app. Not sure if the problem with my phone but there is some latency when searching the Bank.

My bad. The link has been fixed. D'oh! I had to do it with my app. :-)

Still says parsing error. It says open the article in browser and follow the link from there.

Is there an universal version on the way?

Will see if we need that. Other platforms, yes.

I bet i may find this app useful at some point!! So Downloading...

Train station codes would also be immensely useful!

Good idea. I'll see if we can do it.

Bank branch list is not alphabetically....please make that alphabetically

Could have started with a "Thank you" and then suggestions for improvements "blah blah blah"

And STD codes too. Though not sure if still people are using land phones in a country that is growing towards mobilization.

Good app Abhishek. Will be quite useful, once the actual need arises ;).

Whether all regions code available i mean all states? For online purchasing it will be easy...can u reply Abhishek

It just takes few mins to download and check it yourself!!!

Not in 3g brother only 2g speed very less...size of the app is 12mb...not 2 or 3 mb....

Oops... Sorry mate.. Yes it has the all the bank info across the country. Can't think everyone to be on a 15Mbps fibre link :-)

Good luck with your app Abhishek!

Thanks for the app Abhishek. I found it very useful. However I find it little slow on my L525 specially while searching say a bank's branch. Also, i tried searching all icici bank branh in noida it gives nothing. I searched for icici noida. I guess little improvements are needed.

Very useful app Abhishek. The download app link in your post is not working. However, I was able to search for the app in the Store and download it. I have some inputs on the app design and data presentation - will email you.

Hi baxi, really nice and useful app. But little bit dissatisfied with the results of banks for IFSC code.
Many branches are missing. Like P.R Marg branch of SBI in Ajmer (Rajasthan)
So sort this out.
One more suggestion, if possible, give us an option to navigate for bank, then state, then city, then for the particular branch. It feels more comfortable. Otherwise, it is annoying when you tap on the bank name, and it shows all the branches in India and then we have to search by typing the name of city or anything else.
Categorize it by state, then city.
But, really appreciated app as it is Version 1. No other app gives the classic GUI and so many info OFFLINE as this one provides... :) ;)

Thanks. Interesting idea. Noted.

Good job Abhishek.. It is really helpful at some point. And yes you can improve and add more codes like someone suggest train stations..

At least it will be updated regularly not like m-indicator stuck in ver 7.2 sparrow dated 2013 may/april for wp and ver 8.1 dragonfly for Android
ver 9.0 ladybug also available for Android right now.
No love for WP :(

Even I just commented now about that. I wrote a mail to them also but those lazy devs aren't bothered to update their app.

Can anybody tell me how to post a similar kind of article for my nee game..

Ho Abhishek great work with the app. Just wanted to request one thing. Do u have nay contact in mobond services grup coz they make m indicator application for here in Mumbai. They haven't updated their app ever and is pathetic. I want u to reach them if possible. I tried myself to contact them via email but they never replied. Its my sincere request to u. Thank you.

Good work .... Nice idea of an app

Downloaded. Will be very handy.. Rated the app too. Thanks !

Preach the word people. Preach!!. The value of this app will only be realized when the need arises. This would be indispensable as an offline reference.

Very useful app. Thanks. Have 2 suggestions. See if you can consider it:
1. Once you parse through till the end, there is no option to copy the final output. Would be useful if it is there.
2. Providing an option to save something to favourites for quick references. No need to always parse through always.

First is in the works already. Will see the second.

Perfect.. India def has potential.. The modernization is good.. But better icons for the tiles would be good.. And hopefully someday integrate with Cortana.. And ye many uses above have asked for more obvious necessities.. Like copy what we found.. Or set favorites..
But ye.. Thanks for the app..

Great work. So much useful app. Kudos Abhishek.

Such a thoughtful app. Wow Abhishek! 5 Stars to you! On a funnier note, promise us all on WPCentral that your iOS & Android apps wont get higher priority for new features & updates above the WP one. Make them suffer and wait for weeks before they're treated to new features & updates. Windows Phone should always be your first & most important child. ;)

Appreciate your work Abhishek ... :)

Nice work Abhishek Baxi.. I feel the search functionality can be improvised

Thanks Abhishek for the app. The only next thing i can think of is adding bus codes and train details (atleast long distance) even schedules would help. Eventually you can try to bring a booking system so you can generate some income from this...

Some code for passion. Some code for money. I believe, he made this app out of his passion. :)

Nice idea and app, Abhishek! It's the apps like these, comes in handy when really needed. Moreover, it is offline. :)
Windows Central Newsletter
Thank you for signing up to Windows Central. You will receive a verification email shortly.
There was a problem. Please refresh the page and try again.