India's fashion and lifestyle store Jabong.com arrives on Windows Phone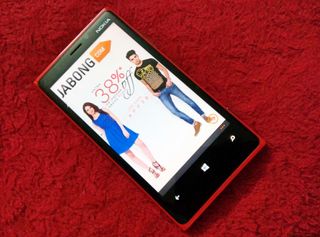 The official Jabong.com app has finally landed on the Windows Phone Store. Jabong.com (jabong.com) is an Indian fashion and lifestyle e-commerce portal that retails apparel, footwear, accessories, beauty products, fragrances, home accessories, and other lifestyle products. Founded in January 2012, the e-commerce store is one of the top online retailers in India.
The app allows you to shop from anywhere and everywhere in just a few taps. The company promises a seamless shopping experience across the website, mobile site, as well as the app.
The app offers a wide selection of products assorted from over 1200 brands across categories with easy search and sort options for a smooth shopping experience. There will be regular updates on new arrivals, daily deals, as well as promotional offers.
You can pay via your credit or debit card, or avail the cash-on-delivery facility. You can sign-in with your Jabong.com or Facebook account, but the app also allows you to order products without signing up.
The Jabong.com app has a neat, modern user interface, and the shopping experience is quite smooth. There are no bells or whistles, but it should work well for most online shoppers. Download the Jabong.com app for free for Windows Phone 8 devices from the Windows Phone Store. It's been a good few months for official apps in India, and Jabong.com is a great addition. Give it a whirl, and let us know how you like it.
Windows Central Newsletter
Get the best of Windows Central in in your inbox, every day!
Wait... ANOTHER OFFICIAL INDIAN................

Any launch deals for the mobile app like flipkart had?

Also, is there an official yebhi.com app?

Okay. Slow app and very buggy. I'm disappointed with jabong

yet another indian app.... :O

Another official shopping app :)

Yeah...... India rocks......:)

i know some one in myntra ,he said mynta is working on windows phone

That's cool.. And zovi also need to rethink on their app.. Early days for them though..

What's this then?
Check out "myntra.com" for Windows Phone http://www.windowsphone.com/s?appid=e6acf8f6-0d37-4004-95a8-00291b3334ff

That's unofficial Myntra app.

Ok. I stand corrected. Thanks

Now almost all major Indian online retailers are on Windows Phone.

Finally , now MYNTRA common

It's already in development. Needs amazon.in. Off track needs soundcloud app.

Flipkart have bought myntra. They are working with the app

I sent a tip regarding 2 official Indian banking apps few hours back. RBS India: http://www.windowsphone.com/en-in/store/app/rbs/4f54efd8-b523-45a0-90a7-... Dena bank: http://www.windowsphone.com/en-in/store/app/denabank/1e2fc02f-be0d-4679-...

Kudos! The thing I'd been waiting for.. And come on peeps, these updates are for windows phone lovers and not the nation lovers. So stop getting afraid of India its a kwl nation. Grow up stop posting nincompoop stuffs.

Well I dont see anyone regarding it as that.... Just a new Fad. LOL and OFFICIAL

BTW am also Originally Indian SOO.... I love News like this

Oh! I took it bad, I take it back! Lmao!

Good to see Jabong come to Windows Phone. They copy pasted the text from Android app. Check this out : Features of Jabong Android App include:

Haha... They didn't even bother to change that.

This was change the minute it went live. Would take a while for the updated description to reflect.

According to a friend of mine who works at Jabong "They named their app Jabong.com because Jabong name was already reserved by someone else" :-D.

Great :) Windows Phone app gap is closing considering India specific apps atleast

The addition of Jabong app is a big deal here, most of the e-commerce apps are now covered, just need myntra and amazon.in to complete the entire list.

Check out "myntra.com" for Windows Phone http://www.windowsphone.com/s?appid=e6acf8f6-0d37-4004-95a8-00291b3334ff

That is not the official app of myntra.com.

Ok. I stand corrected. Thank you

amazon.in is not coming anytime soon so forget about it. I had e-mailed then asking them about a WP app and they replied back stating that at the moment they don't have plans to make one. Things might change down the line.

Need YEBHI app soon.
developers r doing good.

Nice red lumia with red carpet. Btw welcome the official app :)

This is awesome as my wife and I have been Jabongworld shoppers ever since we found out about it on a facebook ad sometime back. Their customer service and shipping speed is amazing. Give em a try. And nice app too.

Welcome entry to wp...but this apps after some updates becomes buggy...best example flip kart after updates very slow uninstalled....let's hope this will go in that way..

Hello, I hope you are doing well, We have launched a website/application for online retailers who want to sell their products online, they can setup a complete store using our website, as well a market place, No need for buying a domain name or hosting, just setup your store for free on facebook fan page.
Go and setup your Free facebook shop now http://tinyurl.com/creat-your-shop

all the apps including android app, mac app, windows app all needs to be certain on things as these are essential for shopping online some smaller app for websites like
www.coverscart.com they have pretty small app and that to fast as it is a mobile phone covers website so database is small but versatile and the app is good.
Windows Central Newsletter
Thank you for signing up to Windows Central. You will receive a verification email shortly.
There was a problem. Please refresh the page and try again.