New Instagram competitor Photoplay launches simultaneously on iOS, Android and Windows Phone 8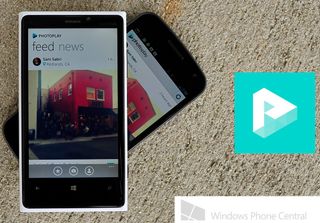 It looks like a lot of people are gunning to replicate Instagram's success. Such is the case with the recently launched Photoplay service (Photoplay.net), which has a website and apps on all three major platforms including iOS, Android and Windows Phone 8 (Windows Phone 7.x is coming later too).
The app and service of course is free and like Instagram, it combines aspects of mobile photography, filters and sharing onto social networks, including its own.
We'll do a full review of the app in the coming days but we figured we'd share our initial thoughts on the app and service, in case you were interested.
A bold move
Windows Phone 8: Represent
To be honest, we sort of rolled our eyes at the company's press release. If you're not Instagram, simply taking on the king seems like the best new way to get attention these days. Because of that, we were skeptical whether or not the app and photo service would be even worth mentioning, never mind being an actual competitor to Instagram.
But after using for a little while, we have to admit, it's a solid app. Sure, the big question remains if Photoplay garners enough users to make it worthwhile to regular people, even to the extent of its name being known alongside Instagram's. There's quite a bit of doubt, if you ask us, but if there were one app to challenge the hipster-photo dominance of Instgram, Photoplay may be it.
From their description:
The App
The app itself weighs in at a modest 4MB, and you can login to the service via creating an account or using the universal login of Facebook, Twitter or Russian social-network Vkontakte. The app can also, optionally (and off by default) access your address book to find friends to follow. Because like Instagram, Photoplay in not about just adding photos, but about following friends from Facebook, Twitter, your address book or Vkontakte. You don't have to do any of that, but it sure makes the service more interesting.
In the app, you can then manipulate photos either from your gallery (previously taken) or hop right into the camera (sadly, there is no Lens support just yet). There you can do all sorts of basic edits to your images, including adding one (of seven) filters, tilt shift, pre-set crops and brightness/clarity.
Once done you can add tags and post the photo to the Photoplay service and your other social networks (you're always given a choice too before submitting, which is great). Whether the photo is public or for friends only, is your choice.
Following friends is a breeze as the service once connected to your social networks (again, optional) can tell you who is using the service already and you can then opt to follow them. Doing so means that your Feed will show their latest photos and similarly, the News area shows changes in followers, who's following who now, etc.
Privacy
One thing we were worried about with such a service is privacy. After all, who wants to have all their photos seen by who knows who on the internet? Luckily, Photoplay looks to have made this a priority. As we mentioned earlier, logging into your other social networks is completely optional. Likewise, you have to manually enable the app to access your phonebook and photo sharing is easily made public or private.
You can also report inappropriate photos, should you come across any.
It just works well
We'll have a full review in the coming days for Photoplay, but so far I and Sam Sabri have been impressed with it. It's free, the app design is fantastic (not just a port), it's simple to use and understand (a big plus) and it just feels like the developers "get it".
Seeing as it has launched within the same time frame as iOS (opens in new tab), Android (opens in new tab) and Windows Phone 8 (sorry, BlackBerry), we're finally starting to feel our OS is getting a release parity with the other platforms. And that's some good news.
Pick up Photoplay here in the Store. Windows Phone 8 only, 512MB devices OK.
Daniel Rubino is the Executive Editor of Windows Central, head reviewer, podcast co-host, and analyst. He has been covering Microsoft here since 2007, back when this site was called WMExperts (and later Windows Phone Central). His interests include Windows, Microsoft Surface, laptops, next-gen computing, and arguing with people on the internet.
Seems I have only girls in bikini living nearby. Always a good thing right? Considering it "just" launched on 3 platforms, it is a bit weird how there are SO many accounts already and mainly bikini girls for first about 15 screen scrolls!

Apparently everybody in my area (Las Vegas, obviously, lol) is Russian and doesn't know English. Kind of sketchy. Also this is nowhere near the quality of fhotoroom.

Hahahaha that's a great thing! I'm down too with this app! Lol!

they are trying to get more users.. thats the hardest part of it

Damn.... Same here. Loving the fact i live in Florida right now ;)

Anyone wishing to do a follow2follow - there is a thread now in forums - http://forums.wpcentral.com/windows-phone-apps/221499-share-your-photoplay-ids-f2f.html#post1933541

But its not Instagram, WA, WA, WA. Cry me a river. We have 10 Instagram imitations and that does not appease the masses, why add another one.

Yes and no. I'd argue this is the fist multi-platform, concerted effort to challenge Instagram and do it right. I can't think of another challenger who pulled off 3 OS launches within a two week period. And as I've said, it's a damn nice app/service. Instagram doesn't have to be the top photo sharing app. They can be out innovated, something they are especially susceptible to since they are so slow. (and maybe have the worst business model since Twitter).

I don't agree what you said.
Instagram has the best business model, better even facebook. They started from a small startup in a few years they got almost 1 bilion USD.
Is this the worst business model? 1 bilion dollars in less than 5 years? Hello, I would like to my company has such business model.
Instagram has its aura. They create a kind o hype, aura, feel around his social network. They focused in mobile, even better than twitter (that was supposed to be a mobile network in these days.) Instagram is almos mythic today. Go to Wired , there is a great article today, about the Instagram and Windows Phone, or better the missing of Instagram in our plataform. Are there any better photos apps? Of corse. The Snapseed acquired by Google is better than Instagram. Even Apple thought so. But Instagram has a social network, that have its glamour. You can even don't like it, but 100 milions of user do. Even newspapers use instagram photos. Magazines, News sites have instagram profiles. I post a photo using lomogram, 3 likes. I post a photo with Instagram 20 likes. Imagine a big fancy party, this is instagram. We, windows phone users, are the typical guys that were not invited to it. You can say that the party sucks and truly dreaming to be there with our friends.

@marcusasdrubal defined this.
http://news.cnet.com/8301-13578_3-57559710-38/instagram-says-it-now-has-...!

It was a bad step to them, that they revoked. But still more and more people sign in instagram

I remember when I have an Android. Android users was dreaming with Instagram. Like windows phone are now, Instagram made many empty statements like do to us right now.
Then they released a kind of waiting list, you subscribe to your e-mail and they send an e-mail when the app was relased. It was so amazing, it was like a dream, when it is coming, when, let me check the e-mail.

An less than 24 hours they got milions of downloads, when they send an email saying that app was avaliable. This is Instagram, the best business model. Better than Facebook.

They have no business model. Getting bought out (and that $1B has devalued since it was mostly in stock) is not a business model. It's fortunate for them, yes, but it means nothing in the long run if they don't (a) come up with an ACTUAL BUSINESS MODEL and (b) continue to be innovative and create. So far outside of their name, Instagram has not done anything innovative, unique or special. They just got lucky, and that luck can run out. Brands fade. New services take over.

So far outside their name, Apple also has not don't anything innovative these last years either.
In spite of that, it still sells a lot.
Instagram is a brand that first focus in mobile experiences. All the other social networks has the desktop options. Brands fade, of corse. MS is fading for example with Windows RT. Windows 8 critics.. Windows Phone poor sales. I like MS, love my Windows 8, not so much my Windows Phone, but as far I know, it is what I got.
But in other side, I can say, Instagram branding is growing, despite all the policy around the photos, you can check in the stats.
Look at Wired article that I recommend to You, about the Open GL miss in Windows Phone, that avoid indie games to arrive in our phones.
It is a clever and nice read.

Is this even a serious discussion? Just cause Zucks through a bunch of money at them doesn't say anything about the business model. The price is based on some sort of projections, whether those projections come to be is yet to be seen. People bought into Groupon when it went public and it was a fairly big IPO, people were thinking it's a great business model, how has that worked out so far? Comparing Instragram to Apple is just arguing for the sake of arguments; Apple has a clear business model aside from their brand name, they sell products and services and do it quiet well. Has Instragram monetized their services effectively at this point? Effectively enough to justify the supposed valuation they were bought at?
Popularity+Brand Name |= Positive Cashflows.

I asked if they wanna monetize their business, what will stop their success?
They are still raising the social network. For example, just fews months ago the open to desktop to comment and like the photos.
Facebook change the layout too. Instagram is a case of a great idea, great business model, can raise a company. The further steps is monetize everything, like Google did in past.

Well one thing that can stop their success or prevent them from monetizing which already came up is privacy. Your argument was how can it be a bad business model if it was bought for 1Billion dollars, to which a number of people answered that just because they were acquired doesn't mean they have a successful business model. Simple as that, no one is arguing the popularity of the platform, but successful monetiziation especially to justify the price tag is yet to be seen, and until then, Instagram can't be labeled as a successful busines model.

For example 25 big companies has instagram's profile. Intel for instance.
I believe Instagram has a great potential.

What does that have to do with how they'll monetize their service though?

What will stop their success? The fact that the vast majority of their users are most likely under the age of 25. And that group typically has little to no loyalty, and are always willing to move on to the "next big thing".
Don't believe me? Ask Tom.
(the guy who started myspace in case you've forgotten about him already)

Why 25 big ccompanies use instagram?
Why newspapers use instagram photos?

Not only under age, I have 27 and I use Instagram...

apple is a company, instagram is a social network, a social network depends on popularity and the number of users to survive, unlike companies, which can survive with much less users
the reason behind this is that a social network depends mainly on people doing social stuff together, without a large number of people, you can't do social stuff, simply, the product is the interaction with the other users
a company depends on physical products, not users

100 milions users talk to themselves.

Wow, MS... a multi BILLION dollar company that has been insanely successful for decades now is fading??
Dude, have you taken your meds today?? Or did you take too many...?

Read it:
http://www.forbes.com/sites/adamhartung/2013/01/20/sell-microsoft-now-ga...

I work for IDC, those statistics are not correct, all wrong! Articles from Forbes aren't trustable!

Apple sales is dropping, stock price also dropping, please get the correct information before you post anything, it shows how stupid you are when you post some information that are stupid and funny. I work for IDC so I know the statistic, and Apple isn't doing well after Steve Job had gone. OpenGL? DX is way better, look at those games on PC with great graphics built with DX, you dump!

In an ironic twist it'd be nice to see Microsoft sponsor ads for Photoplay on the App Store and Google Play. Drive adoption and awareness and really put the pressure on Instagram.
Sometimes you have to do the unthinkable to get the results you want. Same rule applies to Fhotoroom. Seed it on other platforms and drive engagement.

Is that English? "Instagram has not don't anything innovative, unique or special." Sorry, but, has not don't anything isn't right. And I'm writting this because marcusasdrubal used the same nonsense as you. Be an example as others tend to follow...

As for my excuse, I am brazilian. lol. But sorry to my bad english. I can talk, but it is hard to write in perfect english. Sorry.

@MemoHK, You're calling me out on a minor grammar error in comments. That makes you an asshole, sorry. How's that for being an example?

I didn't write because you did a grammar error, seeing that another user took your words and thought, how you wrote was right, he wrote the same way. I wanted to show him not to do that anymore because it's wrong. Like I said, your language is English and you should know that other users learn English by what they read/write and if they learn the wrong way they will speak the same way. Be an example! ;) And it is not a minor grammar, you wrote twice the same way. Cheers!

Take it easy guys. I understand what Rubino said to me. That's all I need.
Thanks Rubino to all the answers.
I believe in MS plataform, but I am seriously think to give away to budget jelly bean phone.
Missed so many apps (flipboard, instagram, temple run 1 and 2) in my Lumia 710.

time to change to lumia 820

You just wrote "writting". I'm am writing this to point out the irony of this situation.

Dammit, having Dan saying stuff like this makes me think he doesn't have Instagram on his windows phone. Which means Instagram isn't coming. I'll stop dreaming.

He was talking about the bussiness model not it's popularity. And as a bussiness is very bad for current state in the industry. But I assume it was meant to be just a data-mine tool and support other development in some other areas. There is no reason for instagram to have the permision to look at what apps you have on your phone(Android version) unless it's true goal is data-mining and using that data to power other avenues.

Do you have a link to the Wired article?

Of corse, here it is:
http://www.wired.com/gadgetlab/2013/03/windows-phones-app-problem/

As soon as you said "the Instagram" I stopped reading.

What are you rambling on about? You don't know the definition of "business model" and your argument against this app is largely unfounded. Please refrain from making yourself look uninformed. Thank you.

Read it:
http://www.forbes.com/sites/adamhartung/2013/01/20/sell-microsoft-now-ga...

Do you know what a business model is? Being unbelievably lucky is not a fucking business model.

In five years time come sing that ying yang song to me. Get real. Things come and go. Go aske Myspace. Wow you get your ego stroked by 20 likes. Woo hoo! If that's all it takes then go to facebook. I get like 40 likes when I put up a photo! Big whoops!

ROTFL. My stomach hurts. You talk as if they had their first day with that story you just told. Truth be told, they didn't. They had to prove themselves and share their vision. It didn't happen overnight. BTW, sorry about only getting 3 likes. Its not like it was YOUR fault after all.

I think what it is, is that instagram is a huge success and they want to keep it that way. Look how long it took them to make an android app. Why did they take so long? Someone look at the numbers if there are any to look at back then and see if Instagram was plateauing or loosing steam. If so, they released the android app and there back gaining again. As soon as they start loosing steam again, they will release a Windows Phone app. Just my theory...

i tried the apps.. and have to agree that it is a very nice app.. editing photo is amazingly different and the output is nice. so now it just need to attract more users to the app

Why instagram???????? Why people have to use it??????? On a Nokia phone, either Symbian or WP8, take a picture, you can share it on Facebook right away. If people like to add something on the pcture than share, either they don't know how to take picture or their camera phone sucks.

lol i totally agree on this part.. why need instagram lol.. all companies have facebook n twitter haha

I think that having credible competition may give Instagram the nudge they need to develop a WP8 app. Every little thing helps

I believe that even posts teasing or rumors of Instagram helps to come to our phones. You can say that this was the main reason to Nokia release such app (if is not marketing hype for the release).
One of the founders of Instagram is brazilian like me. I saw many interviews and I believe what he is doing is to keep the aura of the social network. Many argued when an android version was released, specially the apple fags, but yes it was nice and clever step to them. Wpcentral is the best portal for windows phone users in the world. It has the best reviews, the best reporters and etc. I think WPcentral has more voice to show Instagram managers that they should release an app to us than many other things. Anyone who comes here, see that we are waiting big apps like Instagram. The last week and this last week, I tweeted at least 10 times to joe belfiore to stop that teasers. Because could be deceiving for many. The wired article is about that. I don't believe that MS tactic is wrong. But, I have to say that they can do more for us ;)

By the way, Michael Stroh answered me today. He said when I asked about Instagram: "Marcus-- Trust me that, when I have any news about any popular app, I won't keep it to myself. :-)" Then I believe we are still far from Instagram.

Why would Michel Stroh tell you? Those who would know about such a high profile app in the works would be under an NDA. That means (1) those who know, can't tell you and (2) those who do tell you, don't really know (or they hate their job).

Daniel=1
Everyone else=0
Piss on them haters!! Lol.

Lol. hahaha

Anyway, do you have any news about the WP7.x from the dev? Because some asked them and they say that is not planning to release it.... I wanna try before to decide whether I stay or sell this phone.

you sounds like a stupid asshole! and a gay who likes instagram so much, go back to your android laggy world, your mum borned you in rubbish bin, goes back to your rubbish dump, asshole bastard!

You have an unhealthy obsession with social media in general. Your interest in Instagram is highly over-zealous.
I don't say these things to insult you, I say these things because you're really not taking the time to understand all points of view here.
Also, I don't like Apple products either, but that you even stated 'Apple fags' means you're a trolling fanboy anyway. I mean seriously man... I've seen phone fanboys, carrier/network fanboys, all kinds of fanboys... but an Instagram fanboy? WTF?

Because this is the one who can make the #instateam afraid. This is a great app that runs greatly in my lumia, my galaxy and in my boyfriend's ipad.

Ball once again in your court Instagram.

Instagram has like 100000000000000000 users. They have never let the ball go yet.

You know, people said the same thing about MySpace when Facebook launched

I don't know. MySpace was already on the wane by the time Facebook really took hold. I remember my school going bonkers when we got access to Facebook (back when you had to have a .edu email address). By that time, MySpace was becoming a bit unusable and the writing was sort of on the wall at that point.

There are people out there saying the same about instagram and Facebook ;)

awesome baby love it, first comment

/shakes head in disbelief

Then lets turn into something better than instagram

There's already so many of these same apps... so saturated

On iOS and Android and that is this good? I think not...

eyeem is on all three, but sucks on wp.

meh, if it's not good enough for 7.8 then it's not good enough for me :P

It is written in the article, WP7 comming soon...

So thats what our for windows phone symbol looks like..i like.

Hahaha that's what I was thinking too! And it's in the middle!

That is something we aren't used to seeing. Hope we get very used to it as time goes by.

I've used this app for a few minutes now - I must say, I like it better than EyeEm (cross platform) or Fhotoroom (currently WP, soon becoming cross platform) or any of those other dozens you guys mention. Why? Because this is so WP! No other app felt more metro than this does. That's why I will support this dev more than the others who would just port (EyeEm!) or not even give me running dots for starters! (Fhotoroom)

Another death nail for wp7.

I mention in the first paragraph a version for Windows Phone 7 is forthcoming.

Daniel you should start making the articles in a storybook format. This way 60% of the members can keep up :)

You need BIG, BOLD letters guys. I am not impressed at all how these things just aren't so apparent. Not even when you write it in simplest English.

Hey Daniel..any idea how soon its coming to wp7..?

Yeah, you should write in bullet points and lists rather than proper paragraphs :p

Not to be picky, but it's really a "death knell" for WP7. Also it is coming to WP7 so it's not even that.

This app is really polished in a way that fhotoroom isn't. I love my fhotoroom though!

Are we all really that narcissistic?.. Hehe..

Who going to make the first gif social network app?

Your all forgetting that those instagram apps don't allow us to upload photos or log into their service, just browse. So basically you can't use the part that people use the most.