Instagram for Windows 10 now lets you post snaps from your PC webcam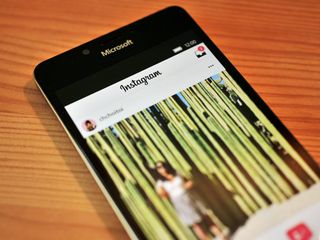 The official Instagram app is getting a small, but fairly handy update for PC users. For better or for worse, Instagram is breaking from its mobile-centric roots by now allowing anyone using the app on a PC can now upload photos to Instagram using their webcam.
Previously, the ability to capture upload photos was restricted to devices with a touchscreen. That included Windows phones, of course, but also tablets. And though it's a nice feature to have, the quality of most webcams isn't likely to inspire a rush to use them for new Instagram snaps.
Aside from webcam uploads, Plaffo.com notes that this update includes link previews in direct messages. That said, it's worth noting that we haven't seen that particular feature on our end just yet.
In any case, you'll want to make sure that Instagram is updated to version 10.913.38071 to take advantage of this feature. You should be able to grab the update now from the Windows Store.
Download Instagram from the Windows Store (opens in new tab)
Windows Central Newsletter
Get the best of Windows Central in your inbox, every day!
Dan Thorp-Lancaster is the former Editor-in-Chief of Windows Central. He began working with Windows Central, Android Central, and iMore as a news writer in 2014 and is obsessed with tech of all sorts. You can follow Dan on Twitter @DthorpL and Instagram @heyitsdtl.
Why no upload from any source? Especially on PC this would make sense. Edit your photos in Photoshop or Lightroom and then upload them on Instagram.

I seem to be able to upload from any source with the new update

probably because they want to do it fully and since Instagram compresses the images, the minor details are lost

Wasn't that always possible?

The article explained it, because I have instagram on my desktop, and a surface, both full windows, the dektop didn't have the centre + button to upload. The version the desktop got was different because it doesn't have a touch screen. If you had a touch screen, then you could do everything like the phone app.

Wish they would fix terrible scrolling

Watchout for next Surface Book and surface pro advanced camera 📷 lol..

Snaps as in Stories? That was always available. If you are talking about being able to create a new shared post...then how? I don't have the + button at the bottom and if I use the context menu option for New Post, I can't do anything (using the version listed).

You need a webcam for that to show up. No cam = no button.

This is specifically meant for a device with built-in webcam then and should probably be noted in the article. I have my laptop plugged into an external monitor and disabled the built-in camera (what's the point if the lid's closed, right?). After re-enabling it then closing the lid I can now upload. I have a LifeCam Studio plugged in and it ignores that. I get the icon to switch cameras, but it doesn't work still only displays the built-in camera image.

I'm the lucky one to get Live Videos on my laptop :P

Lucky you! Not even my Lumia was able to go live just yet, even though I've had this option for ages on Android

How do you scroll through multiple photos on a post when you dont have a touch screen? I use IG on my laptop and have not been able to figure that out.

It's the same way you scroll on a Web page or any other app. Use your mouse wheel or 2 fingers on the TouchPad.

Got the update right away (laptop, 15063), still can't upload...

The article is incorrect. IG was restricted to computers with cameras. No camera = no post button.

2 different computers and I can't even get the store to load, it's no wonder people hate the windows store.

Yah 2 different computers on the same network.

Well when my browser works, steam works, and my Android devices are all working fine, seems to imply there is something wrong with the Windows store. Oh and I have issues with it on a regular basis, some days it works fine other days nothing will download.

Remember when arrogant iOS users were all pissy that Instagram was coming to Android? They were upset their little elite circle was going to be ruined by cheap phones and poor images. Heh. Webcams, huh?

Unlike Snapchat, IG isn't myopic enough to think they can conquer the world on iOS only.

Wonder same happened with fbk messenger app for win10 mobile is that hard to add basic call voip to messenger ? its been ages we get an update for messenger on mobile on iOS instagram & messenger gets updated every 7 days will we ever get calling audio/video on messenger for win10 mobile?

Installed this and then there was another update for Instagram. New version 10.915.27849.0

Do you have a version pc that can fast photos from a webcam? If so, on which device?

Support for veb cam post photos in Instagram? LOL! If you do not have a top veb cam, that is to say veb cam not with HD, the quality of the film in laptop, then this function will not appear at all. I think onlyWindows tablets can be in a picture with for.