Intel announces 11th Gen H-series 'Willow Cove' mobile processors with 19% gen-over-gen improvement
The latest 10nm SuperFin 'Willow Cove' H-series chips from Intel will power millions of powerful gaming and workstation laptops. Here's what's new.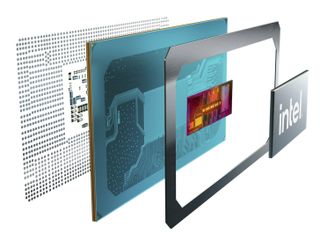 (Image credit: Intel)
What you need to know
Intel has announced its 11th Gen H-series processors for gaming laptops and workstations.
The chips are based on Willow Cove core microarchitecture on 10nm SuperFin.
Over 1 million chips have already shipped, and over 80 laptop designs will feature them in the coming months.
Like the sun rising in the east, Intel has revealed its highly expected, but still impressive, 11th Gen H-series of mobile processors (and Xeon too). These beefier processors bring desktop-like performance to enthusiast-level laptops for gaming and powerful workstations for engineers and data scientists.
Boasting the world's fastest single-threaded processor, these Intel chips feature 6 to 8 cores for competitive performance against AMD (who still wins on core count). Based on 'Willow Cove' core microarchitecture on 10nm SuperFin, these chips deliver a quoted "19% … multithreaded performance improvement" compared to Intel 10th Gen H-series.
What's new: Intel 11th Gen H-series processors
Willow Cove core microarchitecture on 10nm SuperFin
Up to 5.0Ghz turbo
Overclocking on some SKUs
20 PCIe Gen 4 w/RST bootable RAID0
Up to 44 platform PCIe Lanes
Xe Graphics Architecture (32EU) Intel UHD Graphics
Thunderbolt 4 (40Gbps bandwidth)
Discrete Intel Killer Wi-Fi 6E (Gig+)
Optane H20
IPU6SE Integrated for high fidelity MIPI support
Dual eDP integrated for power-optimized Companion Display
Interestingly, while the 10th Gen H-series could peak at 5.3GHz, the new 11th Gen only goes to 5.0GHz. Intel claims that while 5.3GHz was achievable, the new 'Willow Cove' design lets them hit sustained 5.0GHz longer than last gen, giving more real-world benefit than previous year's headline-grabbing metric.
The new 11th Gen series is already achieving mass adoption, too. Intel claims it has shipped over one million new chips to its OEM partners, including Acer, Lenovo, Alienware Dell, MSI, Gigabyte, ROG, HP, and Razer. Altogether, Intel expects over 80 laptop designs to feature its most powerful mobile chips.
The SKUs for the chips are similar to last year's 10th Gen, but there are some notable advancements. For instance, a few higher-end SKUs are overclockable – a feature common in desktop chips but rare in laptops. The feature allows per-core voltage control, XTU enhancements, and an internal BCLK option. The feature is controlled via the new Intel Speed Optimizer, and it also increases multithreaded performance by increasing all core frequencies.
11th Gen Intel Core Consumer Mobile CPUs
Swipe to scroll horizontally
| Category | i5-11260H | i5-11400H | i7-11800H | i9-11900H | i9-11980HK |
| --- | --- | --- | --- | --- | --- |
| Cores | 6 | 6 | 8 | 8 | 8 |
| Threads | 12 | 12 | 16 | 16 | 16 |
| L3 Cache | 12M | 12M | 24M | 24M | 24M |
| cTDP Frequency (GHz) | 2.1@32W | 2.2@35W | 1.9@35W | 2.1@35W | 3.3@65W |
| Graphics | Intel UHD | Intel UHD | Intel UHD | Intel UHD | Intel UHD |
| GPU Base Clock | 350MHz | 350MHz | 350MHz | 350MHz | 350MHz |
| GPU Max Clock | 1,400MHz | 1,450MHz | 1,450MHz | 1,450MHz | 1,450MHz |
| One-Core Turbo | 4.4GHz | 4.5GHz | 4.6GHz | 4.9GHz | 5.0GHz |
| Two-Core Turbo | 4.4GHz | 4.5GHz | 4.6GHz | 4.9GHz | 5.0GHz |
| Four-Core Turbo | 4.2GHz | 4.3GHz | 4.5GHz | 4.8GHz | 4.9GHz |
| Six-Core Turbo | 4.0GHz | 4.1GHz | 4.4GHz | 4.6GHz | 4.7GHz |
| Eight-Core Turbo | NA | NA | 4.2GHz | 4.4GHz | 4.5GHz |
| vPro | No | No | No | No | No |
| SIPP | No | No | No | No | No |
| TXT | No | No | No | No | No |
11th Gen Intel Core Commercial Mobile CPUs
Swipe to scroll horizontally
| Category | i5-11500H | i7-11850H | W-11855M | i9-11950H | W-11955M |
| --- | --- | --- | --- | --- | --- |
| Cores | 6 | 8 | 6 | 8 | 8 |
| Threads | 12 | 16 | 12 | 16 | 16 |
| L3 Cache | 12M | 24M | 18M | 24M | 24M |
| cTDP Frequency (GHz) | 2.4@35W | 2.1@35W | 2.6@35W | 2.1@35W | 2.1@35W |
| Graphics | Intel UHD | Intel UHD | Intel UHD | Intel UHD | Intel UHD |
| Base Clock | 2.9GHz | 2.5GHz | 3.2GHz | 2.6GHz | 2.6GHz |
| One-Core Turbo | 4.6GHz | 4.8GHz | 4.9GHz | 5.0GHz | 5.0GHz |
| Two-Core Turbo | 4.6GHz | 4.8GHz | 4.9GHz | 5.0GHz | 5.0GHz |
| Four-Core Turbo | 4.4GHz | 4.8GHz | 4.7GHz | 4.9GHz | 4.9GHz |
| Six-Core Turbo | 4.2GHz | 4.6GHz | 4.4GHz | 4.7GHz | 4.7GHz |
| Eight-Core Turbo | NA | 4.3GHz | NA | 4.5GHz | 4.5GHz |
| vPro | Yes | Yes | Yes | Yes | Yes |
| SIPP | Yes | Yes | Yes | Yes | Yes |
| TXT | Yes | Yes | Yes | Yes | Yes |
Intel appears to be not too worried over benchmarks, either. In its press briefing, the chipmaker gladly put the new Core i9-11980HK up against the AMD Ryzen 9 5900HX with Intel besting big red across Far Cry New Dawn, Grid2019, Tom Clancy's Rainbow Six Siege, and more.
But it is not all about the top-tier H-series chips, as Intel claims the new (and more affordable) Core i5-11400H can edge out AMD's Ryzen 9 5900HS. If the results hold up in independent tests, it will demonstrate that Intel is doing OK against AMD, even if it's still behind in chip fab technology.
Another odd caveat with the 11th Gen H-series is these do not use Intel Iris Xe graphics per se. Instead, Intel says the Intel UHD Graphics with 32 execution units (EUs) is based on "Xe Graphics Architecture," whatever that means. Of course, most laptops with an H-series chip also feature a beefy NVIDIA GeForce graphics card (including the new RTX 3050 Ti) making the fallback and lower-powered UHD Graphics OK for basic tasks.
The rest of the 11th Gen features include Killer Wi-Fi 6E (Intel bought the company last May), Thunderbolt 4, additional PCIe lanes, support for PCIe 4.0, and integrated dual Embedded Display Port (eDP) for companion displays. While those technologies are expected, they are also welcomed. For those looking for Intel Evo certification, the company explains those criteria are reserved only for its 11th Gen U-series processors found in Ultrabooks.
As to when you can get your hands on a new laptop with Intel's latest, some companies are shipping in late May, while others are close to the June and July timeframe, meaning not too long from now.
Windows Central Newsletter
Get the best of Windows Central in in your inbox, every day!
Daniel Rubino is the Editor-in-chief of Windows Central, head reviewer, podcast co-host, and analyst. He has been covering Microsoft since 2007 when this site was called WMExperts (and later Windows Phone Central). His interests include Windows, laptops, next-gen computing, and for some reason, watches. Before all this tech stuff, he worked on a Ph.D. in linguistics, watched people sleep (for medical purposes!), and ran the projectors at movie theaters because it was fun.
I don't have enough technical knowledge to say much beyond the obligatory "seems faster" comment. That and it is nice having a two horse race again. Now your turn AMD! Let's keep this going.

I find it interesting/precarious Intel does not disclose the total TDP for the chips. Probably pushing 180+ watts!

It is a laptop chip. 35 watts. Of course, you can plug it in and run the heck out of the machine and cook the chip. But it is a laptop, not a desktop. It is designed to be used without being plugged into an outlet. I prefer the U series since I do not need a lot of high-end performance.

Intel's been shown to go way over the rated TDP with their boosts. Though it wouldn't go up to 180, I wouldn't be surprised to see it pulled close to 50 W under heavier load.

This is probably faster then AMD 5000 CPUs.

Lots of unknowns here. Intel's really thrown caution to the wind with power draw of late. Back in the Bulldozer days, the (literal) hot take was that AMD needed to shove a bunch more power into its chips to be at all competitive, but Intel's silence on TDP these days is similarly met with little discussion over power consumption by most media outlets (though some like GN still bring it up in testing). We haven't really seen much 10nm, high-core count stuff from Intel yet, so we have much still to figure out. I hope it's not like the Macbooks that throttled so badly on the i9 mobile platform that it performed worse than the i7 chips. Competition is always good, but it's hard to see Intel doing more than trying to get the lightly threaded crown back while having little in the way of real-world performance advantages. I'd rather not continue to see those holistic wins for Intel, but it seems likely they're going to focus on those theoretical wins (like 300+ FPS scenarios) until their 10nm stuff is properly mature and they're closer to TSMC on node progress.

Lol @ the "seems faster" reference.
Intel now seems to have a marketing problem. It's become cool to hate on them. Even if they make a good product, I don't know if that can restore their dinosaur reputation easily.

In 2020, Intel sold $78 billion worth of stuff (I assume mostly processors). AMD sold $10 Billion. AMD is growing sales faster than Intel. But Intel does and will sell a lot of chips. Will Intel make RISC chips and compete for the low-energy mobile chip business? I don't know if they have the IP to do so.

it's not about being "cool." Performance is performance. Intel has rested on its laurels for far too long. That's what you get when you had a bean counter for a CEO who focused too much about maximizing profit at the expense of proper R&D. they didn't think they had competition and they were so wrong. you can depend on predatory contracts, market dominance, and reputation indefinitely. people will come back but you need to earn it.

I've read/scanned the article twice... I can't find two things:
1. A link to the Intel Press Release where comparisons between this generation and the competition are made.
2. Any data highlighting those gaming scores that show this mobile cpu besting it's competition.
--seems important-- because the article on your front page carried the title: "Intel's new 11th Gen H-Series 'Willow Cove' reportedly beats AMD's best" Anyway, it's good to see the two chip producers keeping each other sharp.

Yes, this article is really lazy writing.

lol, sure buddy Intel didn't give us a link to post, we had a private briefing, and I can't share the slides because they're watermarked to my email.

"Intel's new 11th Gen H-Series 'Willow Cove' reportedly beats AMD's best", but we cannot share anything with you. Lol back at you buddy.

Seems the issue you have is with Intel, not me. Intel now has shared/posted more info, so go for it.

Loved reading the fine print of their "review". Different OS versions (intel was newer) raid Samsung SSD (Intel)vs single WD sn730(AMD), 16gb 3080 with newer drivers (intel)compared to unknown 3080(AMD), High performance power plan (intel) vs balanced(AMD). Looking forward to seeing real results from independent reviewers…

That's kind of funny.... except intentionally trying to deceive (no one reads fine print...just headlines) isn't funny at all.. crazy that they would stack the comparison in their favor to that degree and then brag about the results.. i hate everybody...

I still would not buy a Intel CPU or a computer with one in, i only ever had one machine with a Intel chip and that was a laptop that is now not even used as it is too old.
AMD for me, and have been for 20 years.

It's more clever wait for 12th gen alder lake

Best thing about AMD stepping their game up - forcing Intel to stop dragging its feet and meaning getting better chips every generation. Still waiting on those 16 cored mobile chips....
Windows Central Newsletter
Thank you for signing up to Windows Central. You will receive a verification email shortly.
There was a problem. Please refresh the page and try again.