Invites for London Windows Phone 8 event rolling out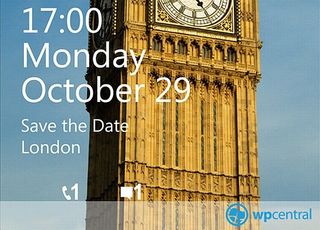 Microsoft appears to be pushing out the golden envelopes for the final reveal-all of Windows Phone 8. The event is scant on actual details but the data is locked in for 5pm GMT on October 29th, London. This matches the upcoming event in San Francisco.
The events held so far have seen journalists physically restricted from properly playing with the OS, so aside from videos and SDKs precious few have any idea how well it works on a real device.
We do of course have a very good idea about all the main features of the OS but there is a remote chance that MS might have a few tricks up its sleeve for the big day. With the combination of an actual live ID sign in and activation of backend, services on launch day much of the previously dark OS features could spring into action.
For those looking for clues in the invite, good luck, it's simply showing a splendid photo of Big Ben, the time and date and the LTE signal. If there is hidden meaning there we have certainly overlooked it.
Excited about the final reveal of Windows Phone 8? Let us know your thoughts in the comments.
Source: TechCrunch
Windows Central Newsletter
Get the best of Windows Central in in your inbox, every day!
Can't wait to finally hear more about WP8.

Stop teasing me... I want to know all the features of windows phone 8 now!!!

You know, that random Windows phone right there (which is different from the original placeholder Windows phone) kinda looks like the Lumia 810, with its more flat and squared edges. What if that turns out to be the Lumia 910? Highly unlikely i know, but it's fun to wonder and hope lol.

Nope. Looks like a render phone to me.

"but the data is locked in for 5pm GMT on October 29th, London"

Lock in that data! I make this typo constantly.

That's actually a splendid photo of 'Elizabeth Tower' (formerly 'Clock Tower').

Good news, can't wait - wonder if any UK carriers will get the 810 or some other Nokia varient?

I thought it was called StStevens tower.

Any live streams for one of these WP8 events? I'm guessing the main SF one should have a stream right?

Most, if not all, of Microsoft press conferences have a live stream. Can't remember a MS press conference that didn't have one. I'm such a nerd that I'll either go home early from work or take the day off. I plan to run an HDMI cable from my PC to my HDTV, sit back and enjoy. Might even snack on popcorn, LOL!!

You sir, are truly worthy of the nerd status. :D

Thank you, Sir. Once a nerd, always a nerd. I forgot to mention that I'll have a laptop with me on my couch, so I can troll, I mean, post on WPCentral's liveblog ;-)

Not good enough! On that day you should already have a Surface next to your laptop for better trolling/posting!

"it's simply showing a splendid photo of Big Ben". Big Ben's the name of the bell, but you knew that, right? RIGHT?

I'm I SC, USA... Anyone want to kindly buy me a round trip ticket from Atlanta to London so I can go? I won't need a place to stay, got a relative in the city somewhere. Hit me up....

They better be hiding something completely mindblowing. Like an ability to talk to animals or some other shit. Otherwise, many people will be disappointed if they are hiding something like ability to select and delete messages.

I work in London, any chance I could get an invite, somehow?!

are they going to offer live broadcast for the event

I'm going with "yes" on that one. Microsoft usually does. I'm talking about the SF event. Not sure if the London event will be somewhat of a mirror of the SF event, because it's happening at the same time.

What does the missed called and message mean? Seen that on most invites now.

Looks to me like it's a "filler" to give the lock screen some content.

MS will probably have a few surprises in store... Considering all the secrecy behind WP8. Also, I can't wait to get my hands on a Lumia 920. Time can't move fast enough!

i live in London and im not nights that week so will be waking up in time for this! And its happening right in the middle of Nokia loaning me a Lumia 900. Good times!

Not sure about the LTE signal but EE launch their LTE network on 30th Oct. The Lumia 920 will be exclusive to EE in the UK.

WpcentRal post the live streaming links
When it's available
I don't wanna miss the party

That's the Segoe UI font from Vista and Windows 7. WP8 uses either Segoe WP or the Segoe UI available on Windows 8. So the person who simulated the lockscreen was using the wrong font. That's about as conspiratory as I can get ;)

Will there be a event in the us?
Windows Central Newsletter
Thank you for signing up to Windows Central. You will receive a verification email shortly.
There was a problem. Please refresh the page and try again.