iPhone Gets Exchange Support - Good or Bad for Windows Mobile?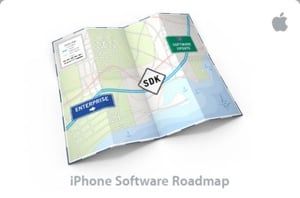 You may have heard the news. Here's our live color commentary of the iPhone SDK event. There's a lot of information to parse out with regards to how this will shake out with Windows Mobile -- including how the applications on the iPhone looked stunning compared to most WM apps. More on that later. For now, let's talk about this: Apple licensed Exchange Active Sync.
What's it mean? Read on!
So the iPhone will gain push email, contacts, and calendar. That's big news for Microsoft - they'll pick up a lot of new users for their server products. In a lot of ways it's a bigger attack on RIM than it is on Windows Mobile. First - Apple denigrated the NOC during their presentation - just like Palm did - saying that a 3rd party in the middle is a Bad Idea. It's also a big attack on RIM because now two platforms do their push email via Exchange - Windows Mobile and the iPhone. Together the two might actually have a bigger marketshare than RIM for enterprise in very short order.
But now that the iPhone will support Exchange, will we see an exodus from WM to the iPhone? We'll definitely see some movement in that direction, yes. On the other hand, I am fairly confident in two things.
First, Exchange Active Sync Features on Windows Mobile will always be more advanced.notice, for example, that Apple seems to be writing their own management program instead of using Microsoft's RIM-Server-Killing Microsoft System Center Mobile Device Manager. So lock down, provisioning, and other management features will be more advanced with Windows Mobile. Yet that's the smaller point.
The second point is the bigger point: Apple's licensing of Active Sync is very likely to grow the overall Exchange pie at a much faster rate than their slice of it will steal from Windows Mobile. Which is to say, yes, some WM users will defect, but there will be even more new Windows Mobile users by dint of the ever-growing standardization on Exchange for mobile push email for enterprise.
...Or so it seems to me. Microsoft has until the release of the Apps in June to come up with something that looks like a response to the new features that will appear on the iPhone. Will they be able to deliver?
Get the Windows Central Newsletter
All the latest news, reviews, and guides for Windows and Xbox diehards.