iReff charges into Windows Phone, maintains prepaid offers and plans in India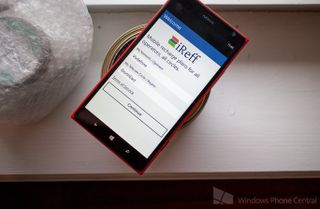 When it's time to recharge a prepaid phone in India, there are so many deals and offers that may be overwhelming to track down. Thanks to iReff, it's a little easier for Windows Phone users. Their app, which has just arrived at the Windows Phone Store, maintains a list of the latest recharge plans and offers from various operators. You can find details about Topup Vouchers, Special Tariff Vouchers (STV), Combo Vouchers and Full Talk Time offers.
iReff has been available on Android with over 9,000 reviews averaging at 4.5 stars. We're glad to see it on Windows Phone. They currently support tariff information for Airtel, Aircel, BSNL / MTNL, Loop Mobile, Reliance GSM, Reliance CDMA, Tata Docomo, Tata Indicom, Uninor, Mobile CDMA, Virgin Mobile GSM, and Vodafone.
According to iReff, their data is updated daily for all operators with the exception of BSNL. It is currently in experimental basis and updated every 2-3 weeks. The app's data is based on what is published on the operators' websites.
Using the app is pretty straightforward. After launching iReff, select your network from the list and then your region. Click continue to see the offers.
Each offer shows the price, how long they're valid, and when it has been updated. The link to the source is also included, which is usually the operator's website. The only action available on the offer pages is a copy button. This puts the offer details in your clipboard, so you can paste it on emails or notes.
While the app supports all the screen resolutions on Windows Phone, there is a noticeable unused black space at the top of the screen on our Lumia 1520. We assume that will be the case for other devices with displays having a 16:9 aspect ratio.
The iReff app from the Windows Phone Store is a free download. If you're in India, it might be worth checking out. The developers note that this is still a beta version and there may be some rough edges. Try it on your device and let us know what you think in the comments! You can also email care@ireff.in in case of any problems.
Windows Central Newsletter
Get the best of Windows Central in your inbox, every day!
i thought abhishek would publish this article since this is regarding Indian Users but anyways its a great application to verify terrif plans :)

I always hope for a Black American to cover articles I'm interested in... Don't want no ####### telling me about my phone.. Lol❕..
That was a joke, people... ;-)

Damn❕ India is hot❕❕❕... Screw Texas, I'm moving........
Already used to the heat anyways..

Get more bing services with u when u arrive India

My dad told me I have Indian in me, so I should fit in ok...

your dad is right , pack your bags and take the flight and board here to India(New Delhi ), but it's 57 F, damn cold;

no emirates will take longer time, lufthansa , best service, have to chnage from frankfurt or if you want you can try Air India/jet airways.

flights are delayed due to fog/heavy rain not good time to visit Asia, hehe

Haven't u seen big bang theory?

Any future plans for post-paid?

It is on the TODO list, but no definitely timeline yet -- Developer

Brilliant app...kudos to the dev....user interface is also simple and not at all cluttered...

Uninor went bust a few months back. I don't know what happened to their users. Were they ported to other networks?

Great to see WP grow in traction amongst Indian users.

I wonder mark reviewed it on behalf of abhishek ! :P

Super, Love to see more apps for indian windows phone market, I would also love to buy such useful apps even as paid apps. Worthy.

Hi, I'm the iReff developer. Thanks for the great article. We are just starting out on the app. Hope to make continuous improvements. Email us at care@ireff.in for any suggestion or bugs.