Iris Web Browser Brings Webkit to Windows Mobile, TODAY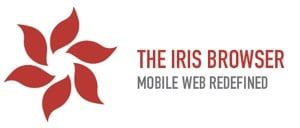 Good lord, the mobile browser space on Windows Mobile is absolute on fire lately. The newest entrant is Iris, from Torch Mobile. They announced at MWC and you can go download it right now. Iris is getting distributed by Trolltech - those crazy Linux Smartphone developers who were recently purchased by Nokia. But whatever, it's available on Windows Mobile.
Iris, like Safari on the iPhone and Nokia's browsers, is based on Webkit. It certainly seems to render everything exactly as it ought -- in fact it renders perhaps a little too well as it doesn't seem to offer any smart-wrapping features for text. Generally speaking it doesn't seem to have Still, if you're looking for a free option that will render just like you expect, Iris might be fun.
Getcher screenies:
I dl'ed and loaded it my Q9c and all looked fine until I selected "full screen", then no matter what button I pressed, I could not get back to any menu options for the browser. Then it REALLY started bogging down so I nuked it.

yah, it was disappointing overall for me. Guess I'll be a SkyFire man until Opera 9.5 comes out.
Boy, though, it's nice to see all these options coming.

Pretty disappointing and slow. The full view I guess could be nice for some things but involves too much scrolling left and right and up and down.

All these options beat the snot out of what was available a year (or week?) ago - Thunderhawk, NetFront, Opera Mobile, PIE.
I still love Opera Mini for its search and feeds capabilities, low memory footprint, and its speed, but I'd gladly consider an alternative to PIE.

Too slow and problems with selecting a link on a webpage makes IRIS hard to use on my Sprint Touch. Right now Netfront 3.5 is the best. By the way, still waiting for a chance to try Skyfire.
GP

Ya, I tried this too on my Q9h Global. and yes its true it hangs the device all the time.
90% of the time I am fighting with the device to unlock, than enjoying myself browsing the web.
Trying to click a link is like trying to kiss a Swim Suit Model. - IMPOSSIBLE.
Though a few times I have also experienced some sort of flickering,
while doing some surfing. - And the LAGGING just kills me.
I get so mad about it, my girl many times had to snatch the phone, because she knows I WILL present it to a wall. - Wall Meet Cell, Cell Meet Wall. :)
FireFox people at Mozilla IRC Chat says they are developing a browser for Smartphones.
But they also said they have been trying to do so for over 2 years.
They say the Desktop browser takes president over the mobile community,
so they are not rushing to finish the Smartphone browser.
Which is very sad.
So So So close but yet so damn far. - Nice try though and great effort on their part.
Mind out its still very new browser and they are trying to clean out the kinks.
So lets not knock it all the way just yet.
give it a chance to live and breath before anyone decides to kill it.
Waiting for SkyFire....
And DING DING - the battle begins on the mobile devices - who will win as the Ultimate smartphone browser., stay tuned..........
Huuummmm........
Let me go try out these other one's
ThunderHawk and NetFront, See how these take up on a Q9h.
So far PIE is kicking butt on the Q9h,
I need for someone to give me a gun so I can shoot the OPERA browser !!!!
hey hey hey !!! , hold him down, hold him down....
i am trying to find a gun to shoot him with......
ok, people I gotta go, Opera is trying to escape, So gotta go and handle this.
Ya am a nut and going nuts, but im cool.
See ya on the flip side., ;)

you can get wow gold and Wow Power Leveling or wow gold
Windows Central Newsletter
Get the best of Windows Central in in your inbox, every day!
Thank you for signing up to Windows Central. You will receive a verification email shortly.
There was a problem. Please refresh the page and try again.