Italy's NGM to release Harley-Davidson Windows Phone 8.1 smartphone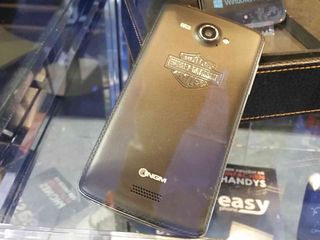 The Italy-based smartphone maker NGM has announced plans to launch a Harley-Davidson branded Windows Phone 8.1 smartphone, which will have the logo for the famous motorcycle company on the back of the device.
NGM showed off the phone at this week's IFA event in Berlin. MobileOS.it reports that the phone will be the first sold in Italy with dual SIM support. The 5-inch smartphone will have a resolution of 1280x729. Inside there will be a quad-core Qualcomm processor running at 1.2 GHz, along with 1 GB of RAM and 8 GB of onboard storage. There will also be an eight megapixel rear camera and a two megapixel front facing camera. NGM plans to sell the Harley-Davidson Windows Phone 8.1 smartphone for 249 euros. There's no word yet on when it will go on sale.
What do you think of a Windows Phone device that has such an iconic logo on the back cover?
Source: MobileOS.it
Windows Central Newsletter
Get the best of Windows Central in in your inbox, every day!
Harley Davidson is an automobile company, isn't it?

An American motorcycle company.

It doesn't produce four wheelers??

Motorcycles and trikes only

Harley Davidson is the second oldest motorcycle company ever they dont make four wheelers but they have branded ford trucks and other things

Yeah a really bad looking galaxy clone

Yes the one and only.....the rest are all Wannabee motorcycles. They even have there typical Harley sound protected

An Italian company selling a Windows Phone with branding of an American motorcycle company.
Interesting crossover...

The design doesn't fit wp at all, but I guess if people in italy will buy it it's still a good thing...

Here in Italy it will probably be a flop

E che porti sfiga ?? W wp e w l Italia :) !!!

Seriamente, chi in Italia prende sul serio i telefoni NGM? Sono visti tipo le cinesate, anche se qualche modello è decente (come hardware, il SO non tanto :D) Seriously, who in Italy thinks of NGM as a serious phone maker? Their devices as seen as low end craps, even if some of them are good (except for the OS)

W Windows Phone, w l'Italia e w Venetasoft! Sono d'accordo con tutto ciò che hai detto :D W Windows Phone, W Italy and W Venetasoft! I agree with everything you said :D

Yeah, that's what I thought. I thought only overweight Americans liked Harleys. ;) I didn't think anyone in europe would have even cared or heard about Harley Davidson. Would rather have a Ducati any day.

The other way to look at this is could is that based on the number of Harley Riders in the US this cross marketing idea could be a hit in the US.

What? Sorry for my surprise, but i think most people in Europe know about Harley Davidson. At least everyone above the age of 20 or so... Don't care much for the look of this phone, but dual sim and Harley logo might attract some...

There is a Harley Davidson dealership in Rome, and I saw plenty when I visited in 2012. Also, I'm not that old (late 20's), and I'm certainly not overweight and I drive a Harley. See my profile pic.

In Italy owning an Harley is "fashion", about 50% of my friends liking customs owns one (personally prefer more "modern" ones ;)

Harley Davidson is a very well-known brand i Europe.

Sorry but a lot of skinny Europeans love Harleys... They are amazing bikes

I guess its only fair, Vespas have been gaining in popularity here too.

Haha my comment was very light and joking. I only said that because the stereotypical harley rider in north america is overweight and has a beard that hangs lower than his balls. (Again, I'm being silly in my comments) I'm not the only one who thinks this, I've seen other posters above reference ZZtop hahaha. But I really am surprised that europeans actually know and like Harleys. Harleys are more brutish, europe seems much more elegant than north america whenever I visit.

Of course we know Harleys, hells angels are riding them everywhere...
Guess now they switch to Windows Phone too... :P

Hells Angels in Europe too? I didn't know that. Learn something new every day!

Look y'all! Another ignorant human in the world who is so closed minded they have to follow the fad those other kids make

LOL If you actually think I was any kind of serious, then you are the one who is closed minded to humour and light comedy. I even said right in my post that I'm just being silly. Can't believe you took it seriously hahahaha. Thanks for the entertaining laugh. =)

You didn't say anything about being silly and you're just covering up trying to act like you were being sarcastic

Let me introduce you to the winky smiley ;) It basically means, don't take it seriously.

Different bikes for different purposes. Harleys are cruisers and Ducatis aren't.

I much prefer that style of bike to the sports bikes like Ducattis

They are with another company the importers and distributore of Harley in Italy.

Very strange. Wp is popular there, I hear, but is Harley Davidson?

Knowing new phones companies names every day

NGM is quite famous here (mainly for lagdroid).
Their phones are smart, perfect to "hide" thinks from the second sim ;)

Cortana search for a chic nearby who can ride behind on my bike.

....Cortana, play ZZ Top.

Cortana, locate the nearest hardware store...I need more Loctite.

Cortana, directions to sturgis please, include ferry service please

Cortana, where is the nearest Cracker Barrel?

On-screen buttons maybe, but still weird. Probably a typo.

John probably meant 1280x720. 9 and 0 are close to each other on keyboards

Should have been high end.

Badass bikers don't bother with high end, leave that stuff to Porsche... =P

Would do better in the states with all the bikers in Vegas and LA

Another video here https://www.youtube.com/watch?v=Q0OoVQTPgNo

I'm Italian and I happened to see a few TV ads of NGM phones.
And they don't look good at all: low quality specs and low quality materials. Still, their ads are targeted to people that don't know anything about specs, so that makes sense.

Come on, NGM sells both cheap and high end phones. You've probably stumbled upon a cheap one :) the NGM forward 5.5 is beautifully crafted and has high end specs, just to name one. Still, I find this one a little less compelling ;)

A zì, questo è na porcata di plastica ahahahah Andrò a vedere gli altri, ma non mi è mai sembrata una marca con tutta questa qualità. Alcune caratteristiche ci sono, ma se vai a vedere i dettagli (tipo di schermo, lenti della fotocamera, componenti secondarie ecc...) dimostrano di non essere in grado di competere con prodotti di fascia alta di altre marche :)
Edit: I just saw the NGM Forward and I have to say it looks nice, even though I'd like to see how that MediaTek SoC compares with high end Qualcomm processors. Still, for 390€ it's definitely a great phone :D
I guess I really stumbled upon their worst ads ahahahahah

Custom ringtone comes on them I hope

Fingers crossed for studio quality recordings ;)

Funny target market. Hog riders are either free spirited people without concern for technology, or old rich guys who don't know about technology (I.e. IPhone users). This might work.

Cool good to see Italy stepping into the fold

NGM is not that good. Their materials never impressed me, and they use a poorly-edited android UI. But whatever, the more the merrier I guess.

Very flamboyant! The specs are ok. As they say, the more the merrier! Hope they sell a lot of phones in Italy.

Roflmfao, they rob ppl of internal memory, they say 8gb but actually you only get 3gb

It's great how many OEMs are adopting Windows

So you mean to tell me an Italian based company is selling an iconic American motorcycle company branded outside the US? Boo. Looks nice. Real nice. Posted via Windows Phone Central App

Greetings from Prestigio. Some more Qualcomm reference design...

Hey, do you work at prestigio? Any news on how well your phones have been selling?

No I don't. This device is 100% identical with the Prestigio Duo 8500. ;-) Just another Label on it's Backcover

WP could sure use some iconic branding. This has been iPhone territory for quite some time now.

Yes. A phone with balanced specs, balanced price and a brand symbol. Woot! Windows phone is getting popular.

I am a motorcycle mechanic, I own a Harley, I can tell you the legend is a myth. Pos bike. Can't wait to sell mine. However I will bring this phone into my shop to sell because of the Harley lemmings.

Yea, but the after market is like no other. The factory frills are crap. Harley is a strip down and build to your preference.

Looks more or less like a Micromax phone.

If I read one more article about an announced phone with no known release date or availability. It's like a new phone announced every other week and you never hear anything else about it after that.smh

That's a good price even I I wouldn't take a phone that looks really sluppy

So far specs/price ratio seems fine. I wonder if it is (os and firmware) going to be updated... ever...

Cortana please play motorcycle mama the next time my wife calls me. Enough said, positive.

So. Is this a mid-life crisis phone, or what?

Awkward moment this has a better front facing camera than the "flagship" Lumia 830

Not better, just more MP's

It has the same Camera like the Prestigio Duo 8500, because it's identically (Qualcomm reference design) some of the cheapest WP

8GB onboard and no micro SD card?

I can confirm that there's a micro SD card slot.

Now this is a real niche product

It's the same Chinese crap as android Land Rover phones.

It will be heavy and slow. Just like their bikes.

Sounds like shit phone. Normally, any truck I have seen with Harley Davidson logos are ex-pensive

I like it. But it seems strange to do it for the Italian market and not in the US too or first. I really like the idea of a real or fake leather back on a phone just for the novelty plus it would probably feel good to hold and give some shock absorbtion.

Cos it's the country that also gifted the world with Armani, Dolce and Gabbana, Prada, Ferrari....phones... yikes!

Looks like a Samsung Galaxy phone. I would expect the phone to looks more inline with a harley, more rugged, chrome, leather, tire track. And maybe the harley notification sound.

Next old turd riding by on a bike look at his jacket or t-shirt...most say Harley. It's the go to brand for most death wish on two wheels you see out there.

Always makes me laugh i think Harleys are sexy bikes id love to own one but when ever you talk to a Harley guy they hate it if you remind them in WW2 the women rode Harleys because they were slower and easier to control compared to other bikes used in the war lol.

I think this just proves that in italy at least, WP isn't a niche phone OS! No sane person would make a niche phone for a niche phone OS!
Windows Central Newsletter
Thank you for signing up to Windows Central. You will receive a verification email shortly.
There was a problem. Please refresh the page and try again.