Itsdagram gets logo revamp, more with version 1.2, free version coming today too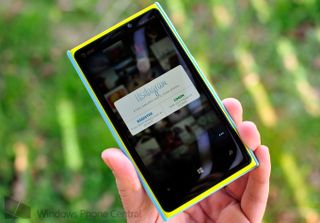 Good news for you Instagram users on Itsdagram—an app you should be quite familiar with by now. Version 1.2 was rushed through the approval process and is now available in the Store. Coming out faster than we anticipated, 1.2 is actually quite a nice update and brings a lot of fixes and improvements.
More on that and the Changelog below.
Free version will be out soon too
Besides the updated paid version, the free is also supposed to go live today (it has been cleared). It's essentially the same app but with some ads at the bottom, as to be expected. So in case you don't use Instagram that often or don't have the ability to pay a $1.49, you can now join in on the fun as well.
We'll do a separate post when that goes live. Stay tuned, though it should be here today.
So what's new in 1.2?
Back to version 1.2 of the paid app, this has been one in the works for quite some time as many beta testers can attest to, meaning this isn't just a slight bump. Here are the changes:
No more black background on comments
New Live Tile design (iconic)
Find friends should work now
Registration should be smoother
See your following/follower count in your profile
Private profiles and approve/deny requests
Refined UI
Notifications should not repeat
Save images to your phone
Direct feedback page removed
The refined Live Tile is interesting as it gives the app more personality and doesn't scream "Trademark Infringement" like the previous version (which used Instagram's logo). We have a feeling that was done to not give Instagram an angle for using their likeness should a cease & desist be filed (even so, Gary says he has "contingencies").
Added bonus? It's certainly more Metro/Modern UI and dare we say it looks way better.
The rest of the improvements should go a long way in making the user experience much better for those having problems.
You can pick up Itsdagram version 1.2 here in the Store. Windows Phone 8 only (A version for 7.x is still planned but there is no ETA on it).
UPDATE: The free version of Itsdagram is now available too. Read our coverage here.
Windows Central Newsletter
Get the best of Windows Central in your inbox, every day!
Daniel Rubino is the Editor-in-chief of Windows Central, head reviewer, podcast co-host, and analyst. He has been covering Microsoft since 2007 when this site was called WMExperts (and later Windows Phone Central). His interests include Windows, laptops, next-gen computing, and for some reason, watches. Before all this tech stuff, he worked on a Ph.D. in linguistics, watched people sleep (for medical purposes!), and ran the projectors at movie theaters because it was fun.
I actually preferred the old logo better, offering a choice in settings would have been nice.

Its not about preference, its about trademark infringement.

I think you mean trademark infringement.

You mean the name itsdagram doesn't open that door already? Or the fact that it's an unofficial client?

I kind of like the old logo better! But I'm glad this update is out :)

Me too. I was disappointed to see the old tile go away. But...this app is AWESOME.

Hmm, old logo was way better. Bring it back please (or options)...

You read the part in the post about trademark infringement, right? lol

I don't see any resemblance. Anywho - Mine working just fine, not updating for now. lol.

Store link not working for me on WP8 Verizon

As always, try again. It's on my Lumia 928 just fine.

I like the old logo way better. Way too many app tiles are based on the theme color. I like a balanced start screen.

Isn't one of the primary premises of Windows Phone and the accent color that you get to customize it and it'll reflect your choice? This change respects that.

The logo is fine. Too many of you just need something to complain about. One person says something and like a herd of sheep you all follow. If it wasn't as metro as it is now you all would be bitching about it not being metro enough like windows phone should be.

I'm using it now the new version is alot better. Daniel Gray you're doing an awesome job. Question can you tag people in a a comment? I couldn't do it before only when uploading a picture.

Love the new logo.. Fits in with the metro style..

Why do so many people not read articles? Old logo was an open door for a trademark infringement which would lead to app being pulled.

Not arguing about logo change but he could have done better with the artwork.

Great update! Next step: make it faster!!!

Lol, Daniel put 7.x users down with the last paragraph. Still we will complain about it. :P

Does the live tile actually work? Because it just shows the icon for me.

Yeah I've seen no action from the tile

Yeah they should really fix that or at least make a better icon

you might have to go to settings and enable again.

follow friends still not working

I think when you click to follow and it still shows that you're not following; I believe it's because they have to approve your follow.

Me too experiencing with the same problem. Follow friends not yet working!! is it the same for all of us?

Developer doing an awesome job.

If the developer integrates the App with Skinery Tiles Pro, it will solve people's wish regarding having a different kind of tile for Itsdagram I think. (hint hint)

I liked the old logo, buy the app is working well now! Thanks!!

Comment background still going black, just not as black as before

Anyone still having find friends problem...using the HTC 8X

Mine not showing nobody Lumia 920 and I know I have friends via phone or facebook

Me! Haven't been able to use find friends or upload a profile picture.

yes..me too have the same problem. is there any solutions yet?

I can't imagine how annoying it must be to write an article only to have people skip the 30 seconds of reading and start asking questions that have been answered.

I see the same thing on intranet articles at work. I like to think I work with some of the smartest people on the planet, and yet...

My list of followers lists the people twice.

New logo looks like crap. I understand he had to change it but he could have done a much better job with more creative artwork. I thought wpgram's logo looked bad and even that logo looks better than this. However, the app rocks and Daniel Gary rocks. Keep up the great work!

Can you block (make someone to no longer from following you), yet?

The logo is a bit on the bland side but to me its more about the functionality. Thanks Daniel Gary. You're awesome!

The pic of the camera on the tile is microscopic. He should have at least filled in the tile with a larger camera lol.

the saving function saves low res pictures!! still not updated

I'm glad they're fixing the black comments issue. It happened way too often.

News about Windows Phone? On Windows Phone Central? Blimey, almost forgot what that was like! :)

True fact: When there is other "big' Microsoft news that's non-Windows Phone, Windows Phone news goes down ;) We're trying, but we're not quite ready to just make up stories :P

Hey if they don't like it, they could very well head to wmpoweruser.com... those guys will report the smallest of rumors as fact

Hey, the dude on stage during the Xbox ONE show yesterday used a WP. What more do you want?

I don't like the new logo! I don't want that thing on my screen, a lot of WP logos are pike that and they suck! Lol. But I like the IOS & android logos better. Love the app though and I bought it yesterday, keep up the great work Mr. Developer! :)

HO! i cant believe you said, ...............the IOS & android logos better................... ::whisperingsound:: you are on WPCentral.
and come on its part of the modern UI, we are all here because we like minmalist designs, arent we?

Now make a statue for Daniel Gray already!

The free app for itsdagram just came out... And it has no ads on my 8x :D

I would like to know what magical powers they're using to get it certified so quickly :)

I think the magical powers is that Microsoft knows they need Instagram LOL!

New Logo is overly bland imo, and kind of looks cheap/unprofessional. Metro doesn't have to be that bland. Make a nice quality, good looking flat design icon please :)

Thanks for all the hard work, but I can't say I like the new logo much.

The free version is useless unless you previously had an iPhone or Android, as you can't register a new account in the free app.

No idea the free one was out yet. You sure you dont mean the trial?

Well, in that case
"Registering a new account with Instagram requires the full version of Itsdagram."
From the app details

Yeah. Weak.
How am I supposed to give it a trial run if I can't actually use it.
Hopefully the free version won't be the same.

Lol josh. You're a funny guy.

I just don't like to read articles. Downloading the FREE version now.

1) Read the article, people.
2) Developer deserves kudos for being a one man show with this app... Very well done.

They listened! I hated the old logo! I hope the camera icon in this article won't be as small for me when I update it.

It actually looks smaller

Find friends still not working for me too

I'm glad they dropped the "Free" and changed the tile icon. So much cleaner now.
Also they added the ability to save! Yey
Next thing they need to work on is the quality of the pictures. When I scroll through my feed on WPGram, the pictures are in HQ and look fine. On Itsdagram, they're not as high.

-- Also, a cleanup of your profile should be next. It's very messy. I don't like how the thing stays there that says "Your profile is set to public. This means that anyone can see your profile and pictures" in a big box.

Hi. Always looking for update. Not really happy with the new logo... Too small and looks like the other apps available. Not unique... Hoping for better one later one... I can see update on image quality on the timeline, but the same blurry picture when i browse my on photo on 'ME' tab... Hope this can be improve... Yup, i will always looking forward for update as it is a new app and developing... Give some times... Good job & keep it up!

Glad to see they're updating so quickly. It seems like browsing my feed is now pretty jerky, whereas it used to be smooth. Anyone else having this problem? I tried deleting and reinstalling but it was to no avail.

Very happy that the bugs are fixed. :D Thanks developer!!!

really great so far!, although they still haven't fixed the bug that when you comment on a picture, the comment is succesfully posted but then itsdagram closes... please daniel get that fix :) NL920

Still unable to find any "Friends". It just goes on endlessly, or until the App crashes. :'(

Find friends not working - Lumia 920. That should have been the first bug that was fixed, no?

I'm having the same issue. Irks. Hopefully it'll be fixed in the next update. The Dev. has been pumpin them updates out.


Who cares about the logo, find friends still isn't work. I've paid an app which isn't working correctly. Not good at all.

there's a hashtag problem with this app , any hashtags i wrote with the pic that i uploaded after the update are not working because before when i write those hashtags i get like allot of likes from random people but now after the update i dont get any ??? anyone help

+1 for the logo too small/bland :/

If I get a notification of a friend following me and tap it, then it takes me to a blank page asking me to share, like or save it. Can't do anything else...

guys could some one help me with adding twiiter friends on this app...i've already added my twitter account in settings..but it doesnt reflect any of my followers or people i follow in home page

Can anyone get me in touch with Danial? I can help in designing this app for Windows Phone if possible.

He browses these articles/comments often. Check previous articles about Itsdagram and he can be found easily.

His Pinsation app download page has his email where you can email him feature requests for Pinsation. You can use that email.

When 7.x user will get some love? :/

Is it possible to block someone? I didn't find the option in the app

hey, any plans for geotagging feature in free version?

I still haven't gotten the update pushed out to my phone...

Search for the app on the store; then, the option to update shall appear to you.

Thanks, that did it. I wonder why it wasn't pushed though?

Id like to see more privacy settings available..specifically being able to block people. Other than that, this app seems to be pretty decent.