ixigo Flights Search app, providing a seamless flight planning experience in India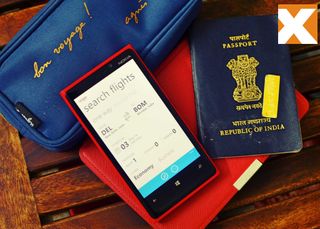 ixigo.com (pronounced 'ik-si-go') is a travel search engine in India. The service acts as an infomediary that aggregates travel websites to compare information and deals. ixigo does not handle bookings but instead redirects the users to book directly from other OTAs (Online Travel Agency).
The official ixigo app - ixigo Flights Search - has recently landed on the Windows Phone Store, and allows you to find the best airfares across India's leading OTAs like MakeMyTrip, goibibo, via, Expedia, and others.
Voted as India's fastest growing travel search engine, the service allows you to search and compare cheapest flight ticket fares. While there are more services like trip planning and holiday packages on the ixigo.com website, the app only offers a flight search engine.
The fast and intuitive Windows Phone app allows you to compare information and prices from top travel sites for best airline fares and book conveniently through the merchant's website. While for most services, the redirection brings up a mobile or responsive website, a couple of OTAs do not offer that and the experience of booking tickets is a little awkward.
For the app though, the user experience is quite simple and functional and a couple of taps directs you to the merchant website, where you can fill in your details and get the bookings done. You can easily sort and filter flights by time, duration, price, and other criteria. You can also access your search history quickly with just a single tap.
Download the ixigo Flights Search app for free for Windows Phone 8 devices from the Windows Phone Store. Unless you are a loyal user of a particular travel booking service, ixigo Flights Search is a good way to search for best airline fares and book tickets.
Give it a whirl, and let us know how you like it.
Windows Central Newsletter
Get the best of Windows Central in your inbox, every day!
I believe in India!! Keep pumping out the best apps and get your entire country on the Windows!

We are half way there.......;)

What does 'ixigo' mean?? "easy go" ;)

lol.MS is getting more support from India then their home market.They should,concentrate more on sales here as there's a lot of hidden potential which is a good sign considering its the second most populous country in the world

India is on fire with WP apps. Great new and hope it keeps up. Hopefully the reset of the world follows suit.

LOL I need to stop posting when driving

You need to reset your habit.* tears up with laughter*

I love Windows phone and planning to upgrade from 520 to 930. Also desperately waiting for BBM VLC n WhatsApp update

Also one last thing, ppl in India can u think off any app specific to India which is not in store???

ICICI imobile, axis bank, ngpay, full featured goibibo, makemytrip, naukri, full featured bus India etc etc

Ohh so there are lot of apps, I hope they come this platform soon

Yeah.. But I don't know why icici is not releasing imobile app. They provided app for windows 8 long back.. They can use universal app facility to port to wp

Make My Trip is already in store

Yes... But there s no facility to book bus tickets

Bank apps,,Delhi Metro official app,,Airlines apps,,

Mobile tv apps by apalya like Airtel tv, BSNL tv etc, nextgtv.

Dishtv mobile app..many tv channels also have their apps on iOS and Droid but none on WP..

Jabong.com,myntra.com,banking

Yeah need banking apps productivity first then entertainment

I don't know why make my trip is not updating their app for bus booking. Same applicable to goibibo

Abhi review about Kochadiyan Official Game....SomeWhat good it is

Well its a game featuring Rajnikanth...nuff said....review over lol

Wow awesome thank you abby2

India needs, icici bank, amazon India, kotak bank, Bharat gas, hp gas, official freecharge app, team bhp, x bhp, wings cab, go genie cabs, uber, state transport services, mtdc and other state tourism booking apps, local emergency contacts, municipal corporations complaint apps, share market apps, sodexho trackers, coupon and deal apps like freekaamaal and indiafreestuff, and also an update for TOI.

Can't agree more. Banking apps are badly needed.