Japan-based Freetel reveals two Katana Windows Phone devices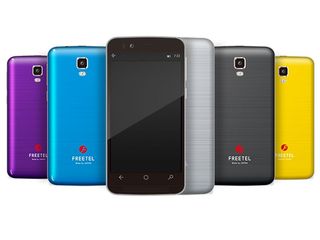 In February, Japan-based OEM Freetel announced plans to launch a Windows Phone product later this year. Now the company has offered more details on its Windows Phone plans with two devices in the works: the 4.5-inch Katana 01 and the 5-inch Katana 02.
The Katana 01 will be a budget device, priced at around $160. It has a 854x480 display, a quad-core processor, a rear camera with dual-LED flash and a 1,700 mAh battery. The phone will come in five colors: purple, blue, silver, black and yellow. The Katana 02 is more of a mid-range phone with a price of around $240. It has a 1280x720 display resolution, a quad-core processor and a 2,600 mAh battery.
While there are not a lot of specific hardware details about these two Katana phones from Freetel, it's still significant since there has not been a major Windows Phone launch since 2012.
Looks like Samsung phones and what's up with the round button?

Yeah, that's not good that it doesn't even have the Windows button.

who the hell cares about the shape of the button? IT HAS CAPACITIVE BUTTONS.

Ask yourself why Microsoft puts the Windows button on it's Lumia line and the Windows logo on the Windows Start button and you'll have your answer.

ooh right, #brandawareness too many people get hung up on this nonsense. "oooh, i don't like the home button" when it's a rarity that we even have a button.

Why put a windows button when you can have a Cortana button???

Then you will have redundant Cortana. Because the magnifying glass button or search button is same,as Cortana.

Yeah... What's up with that Lil' round ball? See least put the Windows logo inside of it

Cortana is magnifying button

Recycled Android phones probably would be my guess. Posted via the Windows Central App for Android

Looks like an Android's home button. Do they have Andoid portfolio which has similar look? Maybe they reuse the same device like M8 of HTC?

Bit of Sony there too.. But hey itS Katana *slash!*

Looks more like the stock lollipop home button. Posted via the Windows Central App for Android

They can also sell Android versions without much hardware change.

Are they related Cortana?

Cortana = start windows ..... like it

Katana? Sounds like Cortana

Katana is a traditional Japanese sword. They're often long, have one-way edge and are slightly curved.
Source: Saw in anime.

Cortana is named after/inspired by the Katana sword. Full circle here.

She was named after the Curtana sword.. Not Katana

Curtana is a sword that is sometimes called Cortana. It might not actually be how she got her name, but it would make sense. They seem to use a lot of ancient and medieval naming schemes, like spartan and prometheans, naming a military AI after a sword makes some sense.

Well she said that herself. Try asking her " Where did you get your name from."

@corey_blackstock
Bingo!!! We've got a winner! :)

Cortana's name is derived from cortex(brain)

Yes, surely this is the case -- she's an AI. An artificial cortex. Feminize that into a name and you have Cortana. Of course, it's possible the Halo writers had multiple intended meanings and desired evocations.

Tired of budget and mid rangers on 8.1.. Is it going to be the same with 10? Bring flagships.. :/

Facts are Windows 8 on phone is a failure.

Its not a failure lmao don't be so hyperbolic.

Sales in the tens of millions since release but its a 'failure' yes.

It's dead bro Posted via the WC App for Galaxy S6

Not really a failure. There's a phone named after you which runs WP8.1. It's made by Yezz.

Haha, ahhh Katana. I used to own this puppy, Sanyo Katana: http://www.blogcdn.com/www.engadget.com/media/2006/05/sprint-sanyo-6600-...

Yeeeeessss!! There is a LED notification, there is a possibility that nokia lumia 735/830 to activate the LEDnotification when windows 10 for mobile release.So?
RELEASE THE KRAKEN!!!!!
Hahaha

That LED is probably just a charging indicator. Not sure why MS hates LEDs so much.

But i have a feeling that Microsoft will activate the led notif.of L735/930 when windows 10 mobile release.. I have read a article that the rumor is true

I think it was basically because of power draw & OEMs got carried away by programming them to do multiple things

are they actually going to try and break the japanese market by improving Maps and apps? or are they going for Xbox numbers?

I'm hoping things start picking up pace now as departments are no longer operating in Silos and competing for resources. Time will tell if things are the same for every countries except the US or we will see more priority given to key markets and places where they are doing well. Anyway, I feel it's got to do with their lack of understanding of the market as you can't just copy, paste and apply marketing philosophies from one country and impose it on another. If only it was that simple.... Lol.

Oh thank God. I was worried that no one would make any more low end trash phones running Windows.

Mr Callahan you just posted and article saying Xbox one only should 100 consoles recently, so I don't expect these phones to fair much better since they are Microsoft as opposed to Sony ; )

Well these are from a Japanese company too

With no visible Windows branding, until you turn it on - unless the splash screen has just text and no logo.

When buyer turns it on, the OS itself is a SUPPLIES!

I wonder what they will really look like because these look like android renderings.

Finally a good looking windows non Lumia phone

Guys I don't know why you do you hate Lumia phones

Because the brand doesn't hold much anymore if your looking for anything besides photo apps & the way their roms are customized it seems like now you have to factory reset after every update now

Lumia phones are the reason why I love ❤ Microsoft Windows phones

I kinda like the design of this device

Me too. Those side bezels doe.

That looks pretty sleek actually.

Will they run W10M? Battery icon looks like the one in Windows 10.

They are twice the price of an equivalent Lumia device, though. a Lumia 640 can be had for ~$120 full price. 5" 1280x720 screen, 8Mp camera, 2500mAh battery

LED notification light. looks nice
Windows Central Newsletter
Thank you for signing up to Windows Central. You will receive a verification email shortly.
There was a problem. Please refresh the page and try again.