The journalist's guide to reading tea leaves aka AdDuplex Windows Phone Stats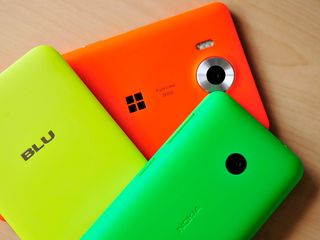 For more than three years we have been producing a monthly report on the state of Windows Phone device ecosystem. We try to stick to the facts we can see in our data and leave the interpretation to analysts and journalists. Sometimes this results in interesting insights by the likes of Paul Thurrott or Windows Central, other times people manage to see things that just aren't there, and from time to time they use our data to prove their agenda. Quite often incorrectly.
Last week it happened so, that we've published our regular monthly report around the same time as Microsoft published their quarterly results. Microsoft's quarter didn't paint a pretty picture for Lumia devices, and our report was, well, regular. Nothing significant really happened as far as Windows Phone usage is concerned. This is not a good sign per se, but there's nothing to suggest that the sky is falling either.
However quite a few big media outlets decided that our report is a good corroborating data to the fact that " Windows Phone is dead". First, Business Insider noticed that " Microsoft's most popular phone is nearly 3 years old" and now The Motley Fool is concluding that " AdDuplex Brings Bad News for Microsoft Windows Phone. The most popular Windows Phone is three years old".
[Editor's note: And yes, even Windows Central fell into the trap with similar reporting, which is why we are running this story as a correction.]
So, I decided to clarify a few things…
The Fact that Lumia 520 is the Most Popular Windows Phone is not News
Lumia 520 has been the most popular Windows Phone for years. If I remember correctly, it became the most popular Windows Phone just two months after its release and stayed there ever since. If you want to look for reasons why this is the case, I will give you two:
Nokia/Microsoft sell most of their phones on the low end. That's not news to anyone. I'm pretty sure the same can be said about every major manufacturer except for Apple. And that's just because they have nothing to sell there.
When Lumia 520 was released, it was an immediate hit because it provided the best value in its segment and it was almost the only model in that segment for a long, long time. Fast forward to the next generation of Windows Phones and you see Nokia/Microsoft going crazy with the range of models. Anything from 430 to 640 competed with their own offerings to become the next 520. They lacked focus to produce a real 530, but if you combine the usage of post-520 low-end phones with 52x you'll see that there's 3x more newer low-end Windows Phones in use than there are phones of the 52x variety:
AdDuplex Measures Usage, not Sales
While a dramatic decrease in sales is objective news, the fact that the most popular phone in use is nearly three years old is not. Let me show you why.
I don't know of a better place to check usage stats for other platforms than what Unity provides. Considering that most of the Unity games are on the higher end of hardware requirements, we can assume that the numbers are a little (a lot?) skewed towards the high-end. Let me know if there is a better source and if it paints a different picture. But even if we look at the Unity numbers, here's what we see:
The most popular Apple's device is … wait for it… nearly 3 years old
Yes, nearly 2.5 years old would be closer to the fact but it doesn't sound as good, does it?
As you can see from the Unity data a "nearly 3 years old" iPhone has much more of iOS market share than Lumia 520 has on the Windows side.
Additionally, if you look at the top ten, you will see a phone that is nearly 4 years old (iPhone 5), nearly 5 years old (iPhone 4S), nearly 6 years old (iPhone 4) and a tablet that is nearly 5 years old (iPad 2).
I will leave the interpretation of these numbers to someone who has a more creative imagination than I do.
The most popular Android device is nearly 3 years old
Same Unity data, same result – Samsung Galaxy Tab 3 7.0, released in the summer of 2013 is the most popular Android device in use.
By the time this data was collected Samsung Galaxy S6 has been on the market for half a year. Where do you think it is in the chart? It's number 31 (if I counted correctly) with 0.8% share.
The most popular PC operating system in use is 6 years old
I'll just leave it here.
All-in-all 3-year-old usage leader seems to be the norm in this industry, and there's absolutely no news here. Let's move on to discussing something productive.
This article is a guest-post written by Alan Mendelevich of AdDuplex and approved by the editorial team at Windows Central.
Get the Windows Central Newsletter
All the latest news, reviews, and guides for Windows and Xbox diehards.