The Nokia Lumia 520 still most widely used Windows Phone in 2016 and that's a problem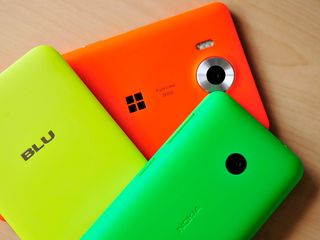 January's AdDuplex report does little to bolster the position of Microsoft's Windows Phone. The report reveals changes within the Windows Phone ecosystem as opposed to comparing it to Android and iOS sales. In turn, it shows some interesting bits about OS version growth and which Windows Phones sell the best and where.
Windows 10 on 10%
Windows 10 Mobile continues to take a slice of the Windows Phone OS pie with 9.5 percent for the month of January. That is an increase of 0.7 percent from last month, but as AdDuplex notes that number is likely driven more from new hardware adoption (e.g. Lumia 550, 950, and 950 XL) rather than new Insiders. The latter group may have finally peaked with late adopters now waiting for official updates rather than jumping into the risky tester pool.
Windows Phone 8.1 still dominates at 77.7 percent, but Windows 10 Mobile is on more devices than Windows Phone 8.0 at just 8.4 percent.
Lumia 520 is still king
Back in early 2013, the Lumia 520 became the shocking buffer that saved Windows Phone. Seemingly out of nowhere, the phone was quickly being used by many new faces. Priced right with robust features for the time the Lumia 520 was a precursor to the quality budget phone craze that later took the industry. As noted in our previous coverage, it only took one year for the Lumia 520 to become the most popular Windows Phone in 2014.
Unfortunately, Android OS and Chinese manufacturers came onto the scene and stole Nokia's thunder. Soon after the market was flooded with just as good – if not better – spec'd budget phones with a more popular OS. Nokia – and eventually Microsoft – have been unable to capture that lightning in the bottle again ever since.
Looking at January's numbers and in 2016 the Lumia 520 continues to represent 12.9 percent of all Windows Phones globally more than any other (the Lumia 535 is next at 11.7 percent).
The fact that a phone announced three years ago is still the king of Windows Phones puts things into perspective. Nokia and later Microsoft have been unable to convert those 520 owners into owners of newer or better Windows phones.
Devices like the Lumia 640 (6.3 percent) and Lumia 640 XL (3.3 percent) have done admirable especially if you consider them the same phone (for 9.6 percent total) with just slightly different specifications. Those phones were announced just under one year ago.
Unfortunately, there are no data points for the new Lumia 550, Lumia 950, or Lumia 950 XL. Considering the pricing of at least two of those and the late launch of the Lumia 550, perhaps that is not too surprising. It is not reassuring either, as no one, not even Microsoft, are expecting those phones to push any real numbers.
Still, it would have been nice to have been surprised by this AdDuplex report.
BLU overtakes Huawei
Another interesting bit is that BLU with their Win HD and Win JR phones (0.27 percent) have barely passed Huawei (0.26 percent) for Windows Phone manufacturers. Considering Huawei has not had a phone in years, it is surprising it took this long.
Despite efforts from BLU companies like Samsung (0.59 percent) and HTC (1.21 percent) still have double and quadruple the market share. Brand names matter, folks.
Lumping Nokia and Microsoft devices into one group and the legacy duo still make up a massive 96.97 percent of all Windows Phones. That number is virtually unchanged as newer OEMs like Acer and Alcatel OneTouch have yet to launch any new products with Windows 10 Mobile.
Around the world
Finally, the AdDuplex report takes a look at some individual countries for their breakdown of Windows Phone usage. Here are some highlights:
Lumia 640 continues to gain with a 1.7 percent increase, and it now makes up 18.2 percent of all Windows Phones in the US
Lumia 640 (10.6 percent) overtook the Lumia 930 (8.9 percent) in Germany for second most popular Windows Phone
Lumia 640 has added 1.7 percent in Italy for a total of 6.9 percent along with the Lumia 640 XL (4 percent) surpassing the Lumia 820; the Lumia 630 is still the most popular with 14.9 percent
Lumia 640 has gained 3.9 percent in Poland to become the second most popular device; Lumia 535 added 2.1 percent and is still the top with 16.6 percent of all Windows Phones in that country
Lumia 535 makes up a massive 29.8 percent of all Windows Phones in Indonesia for the top spot; Lumia 520 is next with 22 percent
Overall, the landscape remains largely the same with older, budget devices still reigning. Newer phones have yet to make an appearance, and the playfield is looking rather dated for 2016.
This Thursday, Microsoft is expected to announce its quarterly report, and the news for Windows Phone will be disappointing if you were expecting any shifts.
You can read our previous AdDuplex Report coverage right here
About AdDuplex
The numbers from AdDuplex are collected through their in-app advertising that is prevalent in over 5,000 apps in the Windows Phone Store. That data serve as an important metric within the Windows Phone ecosystem. The full AdDuplex report for January will be posted tomorrow, January 28 on blog.adduplex.com.
Daniel Rubino is the Executive Editor of Windows Central, head reviewer, podcast co-host, and analyst. He has been covering Microsoft here since 2007, back when this site was called WMExperts (and later Windows Phone Central). His interests include Windows, Microsoft Surface, laptops, next-gen computing, and arguing with people on the internet.
520 is best windows phone but lacking ram and flash and front camera.. Windows 10 should launch soon for 520

I have L525 running w10 build 10xxx.63. My phone freeze twice or thrice everyday, Lock screen lags, Gaming performance decreased, settings app & cortana is little bit slow rather than this everything is fine.. Running good & Wi-Fi strength increased :D

There are too many bugs on that build actually.. There will be lot of updates before officially launch of window 10 I guess.

The "official" release will just be an insider build. There won't be a difference. Just like Windows 10 PC insider builds go to official Windows Update later on


There is quite a difference between insider builds and official OS..

Officialy launch? You mean official availability to older phones right? W10M is already official with 950, 950XL and 550.

These phones are running the insider build. It's still beta, and that's pretty obvious to any user. Bit of a stinker for MS to release these phones with a beta OS but it's just as bad on PCs and tablets so I don't suppose it matters much these days. Beta is the new stable.

Er.. My 950 runs beautifully with 10. (My 735 didn't though). Also, whats Beta about Desktop 10. Again, its running wonderfully for me on all my machines. You seem to be a hater :/

No it's not. W10 PC is completely solid minus an audio bug for me.

L520 was best when it lauched because it was ahead of competetiors offered soemthig unique as harware as well as software! The new range of MS budget or midrange phoens are a sad excuse for mobile phones! As long as Microsoft continues to use anicient hardware like snapdraogn 210 or 410 for its budget offerings this will be the case, look at lenovo k4 or xiaomi, why cant MS use those mediatek helio chipsets and be done with, its so simple to win yet the rigid stubborness to take the choice that will always cost windows , they will alwyas not just be late to party but arrive when the party is over! Also for FFS give a decent amount of RAM people are past the 1 GB offerings!

If you do a hard reset and don't restore a backup it should run far better.

This. Just like desktop windows, a clean install runs so much better on W10 vs. restoring a WP8[.1] image; that's been my experience on the 640 at least. Problem is most users will be "upgrading" keeping their old settings in place. MS needs to add this issue to their long list of bug fixes, perhaps at the top. Comparing iOS, the upgrades from 7 to 8 to 9 were all in-place, yet there was no performance degradation vs. a clean install (on a 5s at least).

This is exactly what users shall do - upgrade OS and not perform clean install. It's up to OS and OS developer to make this transition seamlessly and hassle free. Only because OS can't handle this correctly doesn't mean we shall shift blame towards users. Also performing hard reset is something that you should not expect to do. Not to mention that this action (at least for some devices, ready L1020) solves literally nothing.

Nokia had a class.....for what ever device they made...microsoft is just making to inc.... Windows phone OS users that's it!!!!!! Everything in beta and considering to kill,apps which Nokia brought to life and rebrand it.....you guys expect a good sale....sometimes I ponder that Microsoft itself will kill its own platform while android and ios are getting the almost same unique features windows phone used to have....... They r giving away the reason to buy a windows phone......LONG LIVE NOKIA

If it's lacking all of that, it's hardly the best. Even if you were to say best budget phone, that honor would have to go to the 640. It corrects the 3 issues you list.

Battery backup is also a issue.. But as per Nokia battery it works fine 1430mah. Sometimes I thought of a combination of android on Lumia 520.. Exciting

The problem is that not everyone wants a lager phone, nor need a front facing camera, or need a full, nor a function camera or a phone that costs more than $30. For that price off contract, a 520 running 8.1 is a bargain.

I agree with the phone size thing. I miss the small phone factor everyday, and it's why I almost caved to buy a 550 again

I'll give you the front facing camera, but a better rear camera is ALWAYS better to have. And a flash is an absolute necessity in a phone with a camera. I would never buy one without, I don't care if it's $5. If memory is a concern, you can always drop resolution, but 8mp isn't exactly massive. And my 640 may not have been $30, but $40 on sale is pretty close. And some people (at least in US) were able to snag it for $30 at Best Buy around Christmas. I'm not trying to rag on you guys for having 520s, honestly. But 640 is definitely the better budget phone, and I'm sure if it was out when you got 520s, you would have shot for it instead.

Yeah... minus the 512MB, FFC and flash, the 520 was an unexpectedly satisfying phone. After 8.1 brought move to SD, I found myself going back to the 520 many times over... and would've likely had the 525 (where the bumped up the RAM) as my main phone if it weren't stupidly overpriced. Outside of the hardware itself, it was a really well-planned/executed release on Nokia's behalf. I no longer use the 520... but for as happy as I am with my Lumia 950, it was not planned well, it was not marketed well, and leaving it's potential buyers in a state of being unable to preorder then forced into holiday inconvenience makes for a release that was absolutely horrendous.

The 520 was & is still a great device. It's the robust build quality of Nokia that makes me keep it as my daily driver.

I don't remember the details, but I'm pretty sure it was also lacking whatever hardware enables recognition of the direction the phone is pointing. I used it for a while, but the lack of core features kept it from being a great phone. As Daniel noted, the subsequent flood of cheaper and more feature-rich Android devices pretty much destroyed the 520's first mover advantage.

That direction pointing thing is compass :P

Ah, yes, thanks. Never was good with those technical terms. :-)

Daniel's comment regarding the market being flooded with cheaper android devices is misleading. Mediatek based Android phones were flooding the market long before the Lumia 520 was released. If one wanted an iPhone or Galaxy knock off, the web was full of them by multiple manufacturers.and retailers back in 2012.

Absolutely. And Windows Phone 8.1 ran better on low end hardware than Jellybean. There were entirely too many 384 MB Jellybean devices to mention, and they always ran into problems when you ran more than a handful of apps in the background. A lot of that changed with KitKat. Today, you're hard pressed to find a 512 MB phone, as most of the budget phones are up to 1 GB now.

Lumia 520 is there because users bought it as best value for money device of that time with name of nokia despite liking the Windows phone or not as they are the budget user & when they spend $200 on a device they are gonna spent even more time with devices despite of if they are in agony with their phones because of not liking Windows phones but a promise of a better OS coming soon from 3 years

\\but a promise of a better OS coming soon from 3 years\\
Nailed it!

The 920 and 1520 were the best Windows Phones, design AND capabilities at the time of release. Nothing ever since came close. 930 came 7 months too late with an outdated chip, lacked Glanced and had too small a battery, 950 suffers from weak design, cheap materials and poor software.

I think the 928 and 925 are better than the 920.

It better don't unless Windows 10 Mobile reaches a level of speed/stability of Windows Phone 8/8.1. I have a Lumia 630 which is "better" than any 520 and I've using it as a "normal" user who would receive an OS upgrade, I mean avoiding any hard reset, and guess what, my phone is slow as hell.

Again as Daniel said it is the period in which the phone was bought that matters: You get an impressive phone sold for peanuts.
That edge faded out by time, and L520 is no more a wow phone. It's the platform that has fallen.. Lumia will not regain any of the NOKIA flash, and even the Surface Phone will not do the stupid W10M any good. Kudos MS

The 520 was launched more than three years ago. It is old by cell phone standards. The 640 has been out for 18 months? It hasn't caught up yet. The 640 was selling for peanuts this Christmas. Less than $40. Cheaper price than I paid for my 520 in 2013.

Had been using 520 years! :)

I still have my 520 that I bought more than three years ago. It is the only old phone that I no longer use that I still have in plain sight. The phone was just a great low-end phone during its time. Microsoft/Nokia failed to build on the momentum that the 520/521 generated. Even with that I am surprised that the 640 didn't do better during the holiday shopping season. It could be the confirmation that Microsoft really gave up on marketing Windows Phone as a brand after the Nokia massacre. Microsoft releases financial results for the most recent quarter tomorrow afternoon so that's when we could know for sure.

GoPhone had the 640 for $20 ($65 with activation/purchase of $45 airtime). Doesn't get any better than that. I should have picked it up.

L520 was best when it lauched because it was ahead of competetiors offered soemthig unique as harware as well as software! The new range of MS budget or midrange phoens are a sad excuse for mobile phones! As long as Microsoft continues to use anicient hardware like snapdraogn 210 or 410 for its budget offerings this will be the case, look at lenovo k4 or xiaomi, why cant MS use those mediatek helio chipsets and be done with, its so simple to win yet the rigid stubborness to take the choice that will always cost windows , they will alwyas not just be late to party but arrive when the party is over! Also for FFS give a decent amount of RAM people are past the 1 GB offerings!

So my wife and I each had a Lumia 521. She got frustrated with hers and smashed it onto the floor and left it there like it was nothing. Just beaus the phone was running a little slow. She went and bought am iPhone for $550 two months later the phone start acting up. Screen is not responding, it's buggy and all that stuff. Then the phone fell and the screen got broken and she was so happy to leave iPhone for good and jump on the android band wagon. Last month she got an LG G4 for $450. Yesterday she came back to me company how those people are charging so much for their phones and they're so cheaply made. Yes, the phone fell from her lap and shattered. Now because I had bought a Lumia 640 so I could try win10 mobile on my 521 she had to come and ask to use my old 521 since both of her expensive good for nothing phones have let her down. This here is one of the baby reasons why stay true to Microsoft and their products. They are just good.

I think the title of this article should be reworded... The Nokia 520 is still the best Nokia phone... The Nokia 520 is by far the best Nokia phone brought to market, and that happens to be the largest hurdle that Microsoft can't seem to overcome. The average consumer doesn't associate the Nokia 520 as a windows phone. To them it's a good phone and that's it. The moment their good phone bites the dust, they will have zero qualms with moving to an android or iPhone. Microsoft really screwed the pooch by not purchasing the Nokia name, and or rebranding the 520 as a Microsoft phone. 90% of the elementary kids i work around call it a Nokia phone, and look at me with the typical bewildered face when o question them about what OS they run....

I wouldn't say its the best especially when there were better spec. WPs at the time

I'm waiting for Lumia 750 :D

Everyone is waiting for a mid-end.
Max 5", SD4xx...

I want SD 6xx phone. I guess MS will launch L750 or L850 with SD 6xx..

Lumia 650 cmg with 2xx series so expect 6xx series proccessor only with 850

That will never happen. WC has said 650 still be the last Lumia for this year. :/

Well if WC says it.......

1020 successor will be an amazing flagship

It doesn't sound like Microsoft is releasing any more Lumia phones. Daniel has reported this a few times, that nothing else is in the pipeline. I bet they release the "Surface Phone" in 2017 after missing holiday 2016 and Windows Mobile fades away following the flop. Unless they have a revolutionary device, akin to the first iPhone, they will not have any luck in mobile. Buying a Windows mobile device now is risky at best. I wouldn't be surprised if the Surface phone version of Windows 10 is even compatible with ARM devices.

No more Lumia phone means they will release phone under a different name. The "surface phone" will be released during 4th quarter this year most likely

I honestly hope the Lumia brand disappears off the face of the earth. Regarding the surface phone, I have no high hopes, not the hardware but the software. I literally think the software is the windows mobile's downfall.

Sadly, not gonna happen anytime soon. If so, it wont be from MS...

I was waiting for the 950, but since it was not released yet (here) and there is no indication it will be soon, I have already given up until the next flagship. The 640 is good enough to go by.

A 750 with 1/2gb ram and 410 or 850 with 2gb ram and 617 please.. -_-

Yes need a real mid range Lumia
Preferable with a snapdragon 6xx series processor

no way! microsoft should focus one 256 mb phones and 128 mb phones too. :)

Panos Phone III will be the first usable phone from NadellaSoft.

I want a 1080p, 2 GB, SD650 Lumia 850. It won't happen, but I can dream

Same here, waiting with a 520 on W10M TP for a good mid end windows device. 650 clearly isn't the candidate for that. Speaking of the 520, apart from the rare freeze and slight lag in games , it's surprisingly adept at running W10M. Even multitasking seems to have improved over 8.1. The OTA update for older Lumias should be better than 8.1 in every way. Waiting for that mid ranger though as this phone has seriously dated hardware now.

I gave up waiting for Lumia 750 as a successor to my Lumia 720, and bought Lumia 640 half a year ago. It's been a good successor to the Lumia 720.

How is that the most used that medal should go to the 640

You weren't looking at the pie chart were you?

in time the 640 will get that but currently it's the 520, globally it's the 520

Nice, but I feel migrating takes time. Microsoft is beyond the bend, but it takes time to roll out and capture market share. I am happy with my Lumia 1520 untill the the new Microsoft devices will see the light at the end of the year, wait a bit for prices to come down and get one. Anyway, meanwhile Microsoft cloud services are the best and one can use them on Android and iOS too.

Sometimes I thought of a combination of android on Lumia 520.. Exciting

You mean disastrous. Marshmellow would decompose on the hardware of the 520.

My first phone was a Lumia 521 (T-Mobile version). Minus the flash and NFC and glance missing, that was an amazing phone for $100

Y not stop selling all the crappy old phones.. The phones are still available in the market and it will create more prob..

It's kind of weird, because in some markets, those phones are discontinued altogether. Then you have the online thing, which makes it almost possible to buy any phone you want, even the 'crappy old phones', as long as you can find it somewhere to buy.

It's like this..... Lumia Xyz 512 MB ram is 100$ and Lumia xyz XL 1 GB ram is 300$ lol

actually the Lumia 640 is 50 bucks

Any news on Windows Central universal app?

Lol, anything to do with tech and using the word Windows is gonna be delayed and released in beta! :D

Speaking of which, do android and iOS push out rapid updates and hotfixes for their OSes?

My iPhone 6 is now on 9.2.1. There have been a few "dot updates" since 9 launched in the Fall.

My guess is that WC will be first to break the story on any WC app news. You probably won't even have to ask.

Not sure why you keep asking this. You can get great news about WM, Microsoft, Xbox anywhere. Wmopoweruser has the best.

I don't care what the numbers show, as long as I have my Windows Phone I'm happy. Keep working hard Microsoft!!

ya know right, i've introduced many co-workers to windows phone, many have lumia 640,830, i came from Nokia N8 to lumia 1020,930, have a lumia 640 as spare phone and now currently with Lumia 950 and i have no regrets,my gf has lumia 830

Keep working hard Microsoft!!

On the mobile front, when did they ever start?

Proud 720 owner waiting for 750
720 2.5 years & still going gud even under heavy usage except for battery life

You're wasting your time, as 750 got cancelled months ago.

Might be.. Might be not.. 750/850 even after getting cancelled appeared under testing and certification somewhere in china..

750, Mid-Surface-phone, whatever. We just need a real mid with max 5'', SD4xx. Not a phone with a processor from 2013 (l640).

Im in for a platform that is changing and that i really love. Somehthing different and the one that fullfils all my needs. Fell free to go to other platforms, my hart is with windows phone

Haven't you looked at w10m? It's has similarities to iOS and some some from android. Call copying, not changing. So it's no different. The change you have loved will die soon: pivots, 3 dots, integration, parallax, etc.

I don't care about market share anymore, as long as they continue to make Windows phone I will always purchase. if windows mobile ever becomes dead and no one is making a windows phone only then will I switch, period

Nokia is Nokia why don't Microsoft understands no other company can defeat Nokia's designs !!

trust me Microsoft knows this

My 1020 now haa screen burn-in and the headphone jack no longer works. Still, I'm not moving until either the 950 sees a price cut and a couple more updates or a successor ia released. Seriously bummed.

Yeah, my girlfriend held onto her 1020 as long as she could. But a lack of a decent replacement and mainly the app gap, finally got to her. She got an iPhone 6s two days ago and can't believe she waited so long to do so now. It's hard to leave an OS you've invested so much time and money into, but it is definitely worth it to have a phone that works without the W10M lag and to just know that any app you need will be there.

i've switched from 1020 to 950 and have absolutely no regrets

950 has had some big discounts in the UK and there are plenty of updates being rolled out in future.

I had a 1020, just bought a 950xl...love love love it. Some minor issues but it's fantastic.

Just curious, what are you wanting to be added or changed in 'a couple more updates' for the 950 that would cause you to get one?

The ability to install WP8.1 would be a great option. I expect far more 950s would sell if this were made possible.

I don't know. I've never used W10M. Just generally speaking things aren't quite right until a few updates. I didn't get my 1020 until Black was available for it, for example. I just don't like the idea of spending money on an unknown. Some say the 950 is great as it is, but others say it's not. I don't know how it would be for me. That's why if the price came down I'd be more likely to assume the risk. That said, I'm loathe to give up the 1020's zoom capability which I use on every picture I take. If only there was a 1050 it would be an easier decision to make.

"Windows Phone 8.1 still dominates at 77.7 percent, but Windows 10 Mobile is on more devices than Windows Phone 8.0 at just 8.4 percent." There is something wrong with this statement!

8.1 and 8.0 are different versions. I see nothing wrong there.

Not really, since the %age of 10 Mobile had already been specified earlier. If you take the sentence on its own then yeah, we wouldn't know if 8.4% belonged to 8.0 or 10M.

I still use Lumia 520. Its my only phone, in case you are wondering I use it as a secondary device. Back in 2013, it was just right for its price and specs and the OS was superfast and fluid. Fast forward today, there is litterally no reason to buy a Windows phone. Microsoft is the reason why Nokia devices aren't selling. First of all the OS is still in beta for over an year now. The devices are poorly designed. The "low budget" phones have aweful specs and are too highly priced. The face saving mid rangers are discontinued. Microsoft has discontinued several of Nokia and its own apps for Windows phones. They give iOS and Android first priority. So I am just waiting for Nokia to come back this year with an Android and I'll grab it.

At this point I caught myself thinking: Why dont they just release a Windows 10 Mobile style launcher/skin/keyboard/cortana pack for Android and call it a day. Hell they already give it priority for apps...

Nokia X, remember those? Android with Fastlane.

It's so popular because Nokia had marketed it so well. No wonder Nokia knew how to promote their products. And Microsoft..... no promotions for Lumia 930, 830, 950/XL, 640, 550, etc. :/ People and retailers don't know about these phones. And Microsoft expects (or dreams) their sales to grow! (-_-)

No, it was because there was no other phone on the market - Windows Phone or Android - of that quality for that price.

Maybe. But what I observed was that Lumia 520 was a natural choice of phone buyers when looking for a new one. And since it was so much promoted (its ads were seen repeatedly during every ad break, even at primetimes) that phone buyers used to ask "Do you sell Lumia 520?" and the answer used to be always "Yes", in mobile stores. On the other hand, I had to visit more than 20 physical stores to buy Lumia 830 but didn't get it anywhere and some of them even asked me "Is that even a phone?" (-_-#) Finally I got an imported one on eBay as other online retailers had no stock of it. So, you see, marketing also plays a big role in helping product sales grow. Still, good specifications and reasonable pricing is also one factor, I agree.

I don't know about the US, but in India the people who bought Lumia 520 didn't care what OS it had. The spec was good for that price and people had trust on NOKIA hardware. Its after buying the phone that people became acquainted with Windows phones. Some liked and some didn't. That's why many people didn't buy another WP.

I was actually looking for a 520 when I picked up my 635 (512 MB).

Masterminds business plan on mobile: 1. Kill MM 2. ? 3. Profit

Like many, the 520 was my 'entry point' into checking out Windows Phone because I went from a company paid phone to paying for it myself, and needed something cheap and affordable, and it was amazing. Kept it for a year before giving it to a friend when I decided I liked the O/S enough to jump on a Lumia 1020. Now I'm still hanging onto my (perfectly running, no issues yet) Lumia 1020 much like lippidp above as in Canada the 950 and 950 XL are just too expensive off contract, and none of our carriers yet have plans of offering them :( Everything else I've looked at is lacking my key feature that I use the most...the awesome camera. The 950's Camera would do as it's getting really close, but the price is too high as of yet...

Trust me, the camera on the 950s will be as good as the one on the 1020 in practice, it's incredible. And the rest of the phone more than makes up for the lost mp, you'll get faster photos and better performance across the OS.

Good to hear, I've seen more and more evidence to that as the 950s get out into the wild, now the price just needs to come down, or it needs a carrier subsidy as far as Canada goes.

My wife asn son are iPhone 6S users and both admit that the screen and camera are far superior on my 950. I will say you should wait and keep the 1020 and windows 8.1. In a few months (6 or so), I believe Microsoft will improve Windows 10 Mobile to offer the same "tricks" that are in 8.1 that are not in 10. For instance, when I am on my calander app on my 950 and I make an appointment, I have to imput the address, whereas 8.1 on my 928 automatically found the address (or made several suggestions). But I also see more integration between my 950 and and my wondows 10 laptop (notifications of missed calls etc...) SO it is a catch 22.

The 1020 is barely in the top 20 for camera performance. Megapixels aren't the measure of how good a camera is. Posted via the Windows Central App for Android

That all depends what you mean by Camera Performance. The 1020 definitly these days loads the Camera a slower due to the older processor, but when it comes to the picture quality to the eye (not by Megapixels count, I aware that is not the be all end all) they keep looking better untouched than what I'm seeing from a lot of iPhones and Androids. The 1020 still has a huge sensor and great flash that yeilds awesome pictures. I don't do the idiot thing and measure this by any Tech Specifications (megapixels), I prefer real measurements, if I show side by side photo's to other smartphone owners around me, they can't believe the quality of pictures taken.

This brings up a interesting point. Do iPhone users really care about the quaity of pictures? If the iPhone 7 is basically an iPhone 6 with a better camera, will the iOS ecosystem discover the benefits of a camera on par with Windows and Andorid (the new Samsung phones have great cameras equal to Windows), will they rush out and buy a new iPhone 7? I think the larger screen was the big differentiator between the iPhone 5 and the larger Android screen phones. I am not sold that the camera improvements will drive meaningful value to the iOS ecosystem. Maybe worth a few months reduction in the average time between upgrading from an iPhone 6 and Iphone 7. Maybe worth a few extra points in the growth of iTunes app sales.

Well for those who thought the 950 and 950XL being out of stock at times was some sign they were selling like gangbusters... Yeah sorry. They just arent making that many. Look for 640 numbers to grow as people can now de-brand/T-Mo flash the ATT version.

"T-Mo flash the ATT version" -- what do you mean by this? Does that make WiFi calling and Band 12 work on the ATT version when using a TMo SIM? I found Band 12 and WiFi calling only work with the TMo and MetroPCS variants of the device.

You can take the ATT 640 and flash the T-Mobile rom to it. http://forum.xda-developers.com/windows-phone-8/general/brand-att-lumia-...

But your are tech savy and most people using a 640 on T-Mobile would scratch their head and say, no thanks.

In addition to what Gunbuster said, the ATT version does have band 12, it's just that the ATT firmware disables it. Flashing it will fix that problem for you.

The flashing piece is relatively new (article posted on XDA 10 days ago). Will try it on the Metro version just to debrand it (Band 12 and WiFi calling both work perfectly on TMo). I'm not sure "the 640 numbers will grow" on account of that article as this is a geeky niche that's willing to flash ROMs; however, given how small the WM numbers are, perhaps it will move the needle.

Lumia 1320 is like no where! Not even 1520...

I believe currency exchange is playing a factor in this. The USD is so strong that mid range phones outside of the US market become premium prices and premium phones are extremely expensive. With no carrier support we need to buy the phones unlocked. As an example in the US the 950 XL is priced at around $550 but if you want to buy it in Canada you're looking at $850. An iPhone 6s Plus is north of $1,000 unlocked. These are big price tags and I think whereas at lower prices people were inclined to refresh their phones on the standard 2 year cycle but now I think they're content to squeeze out another year or two. There is a macro refresh cycle that the iPhone has created but I think that is a primary reason you're seeing a rare decline in iPhone sales.

Set a trigger to blow off all the 520's... :P

I bought moto g turbo a week back but I still use my 520 for phone calls etc :) Posted via the Windows Central App for Android

Actually not only Lumia 520, Lumia 525 is best also, and these two are best low priced Lumia,people never forget these two

At the same time, Kantar has also released their report for the last 3 months of 2015. Windows Phone marketshare sunk around the World with two exceptions: China and the UK. Now, considering that from the identified phones, 41% are Nokia-branded and only 25.1% are Microsoft branded, and adding to that that amongst the "others" 34% are a bunch of other Nokia-branded Lumias (namely all the high end ones minus the 920)... "Brand names matter, folks." Yup.

Continues to do well in the UK which makes sense as I see Lumia's multiple times a day.

Three exceptions afaik: Brazil too. And, also iPhone sales sunk. Kantar numbers aren't market share, but sales share.

Kantar didn't mention Brasil. I'm only talking based on reported numbers, not hunches ;) As for the nature of Kantar's numbers...sure. But sales reflect on marketshare. The fact that sales sunk (almost) everywhere comes in line with the decreasing marketshare of WP (currently at 1.7% worldwide). Also, Adduplex is based on ads on some WP devices. Which means they're also not absolutely fiable numbers. But it still allows us to see the bigger picture when you combine everything. You have marketshare at 1.7%, sales dropping big and the popular phones being the old Nokia Lumias. This will tell you something, even if what it tells you isn't what many around here would like to read.

I wouldn't say Brazil if Kantar hadn't mentioned it. It did mention. Last time was August, 2015, and now, December, 2015. More than 1 point percentual. Sales share is smth around 5% in Brazil for the quarter. iOS: only ~2%!! Source: kantarworldpanel, not that table which is everywhere. Cheers! ; )

Then provide a link to sustain your claims. Because, yes, Brasil is NOT in the table of relevant markets that Kantar tweeted out (https://twitter.com/KWP_ComTech/status/692261263724904449) At any rate, that shouldn't surprise anyone IF you know Brasil. The iPhone in Brasil is extremely overpriced (even more than normal) and most brazilians just can't afford one. That's why Android reings in Brasil with over 90% marketshare.

Ok, I did provide you the source, but the detailed link is this one http://www.kantarworldpanel.com/global/smartphone-os-market-share/intro And, iPhone sales are not our main subject, even so, brazilians would walk on feet, but buy iPhones if u know them from novelas in Portugal, I guarantee u that. The figure is still relevant IMHO because iPhones, in many countries, sell more than WP. Even in Brazil, there were times when iOS was second, only behind Android. So... Now WP is clearly in second. Last August, wast almost a draw with ~4% for both. Now the difference comes to ~2% or smth.

I just cant understand why microsoft dont promote their product specialy the phones. They have an execelent phones no lag or hanging . Hope they do better in promoting the products

W10M lags and hangs a lot on both my 950 & 1520. Also, Microsoft has no faith in these phones anymore. They are waiting to promote their "Surface" phone. Which will fall flat like all other Windows phones. The app gap is literally killing this mobile OS.

My first Lumia was the 520, and I had to change it for the 620 (which was hard to find and was my first choice) because someone stolen my 520. Maybe, in 3rd world markets, could be a good idea to make some kind of exchange, bring your old 520, plus $xxxx and get the 550.

Windows market is not good because.... Good phone like 920, 925, 930,950 are expensive and all know that there are still lack of apps... And apart from the mentioned Lumia mobile other Lumia mobile build lacks quality build make and... Microsoft is so dumb to not to reduce the price and now you dumb Microsoft had got no growth in market... Lot many android are giving major specs for less price... And you dumb Microsoft do not even bother to reduce price and improve apps... First you need to earn the name so that people say windows has all apps and give quality mobile makes... You don't even bother to fix the mic issue in Lumia 930... You are so f*****g dumb in keeping windows fans like us in good note.. You should provide free service to fix the Lumia 930 mic issue.. People think why to spend bloody high price for pathetic OS rather they get best specs in android for low price. 520 is pathetic phone.. People still buy because is low price and they are not going to other Lumia because they are windows fans and cannot afford phone with high price. When will you f*****g dumb Microsoft learn things...people are laughing at you because you don't have good name in mobile market.. You cannot earn good name untill you do things that I told you... Am not a big guy to say you what to do.. But this is what people are saying you to implement... Reduce app gap good high end features for low price. Remember you dumb Microsoft you are just the start up company w.r.t mobile market you need to earn good name first don't look for profit... Sell the mentioned mobile for low price ..slash the price to low oh yeah also Lumia 1520 slash the prices and people who are using 520, 635 etc will switch to 925,930,950,1520...then You will earn good name then make better mobiles then finally you will also be the major mobile market industry.......... All the best for your start up mobile industry...

I lost u at '520 is a pathetic phone' !

Maybe if most of their phones weren't exclusive to AT&T.

Not sure anyone believe the 950 would be a barn burner on any carrier.

Shame because it's an awesome phone.

To be fair, AT&T has been the only consistent carrier who chose to continue to support Windows Phone. I'm not saying that is OK, just that it might explain things.

I fail to see the negativity. Sure, they put out newer phones which they want to sell. But people, some people, just buy a phone and use it until it dies. And that's fine. The target for the 520 was casual users anyway. I bought a 520 for my mom and she's still rocking it. No need to change it, really. She misses the front camera and maybe the flash, but she's really happy with it. And predictably, she barely uses the potential of the OS or the phone. I'm going to give her my old 920 and it's gonna be a huge upgrade for her. The Lumia 920 is also 3 years old. So? What's wrong? I see this as more of a positive thing than negative. It's proof that MS could reach the audience in the past and build a foundation for the present. People own or have owned MS budget phones so they know them, and they know they are good. So they might get a newer one because they know the OS and have all their stuff in the ecosystem. Also, not everyone is on an X year contract where they get a new phone, so if you got an unlocked phone (arguably it ends up being a better deal, at least in my region) you can use it until it gives up. MAybe this article is tagged from a too US-centreic view, which seeing the rest of the info presented would be short sighted.

I think the possible issue is this: okay, it's good that people are using your phones for a bit, but why aren't they upgrading? If everyone (this is hypothetical) chose to hold on to their current WP, and never upgrade, what does that mean for the company? It can translate as oh, no one wants our product. I'm glad that some of the people who were waiting for the Surface phone caved in, because it wouldn't be a good look for all of those people to not upgrade. I hate to mention the iPhone, but each time they release a new one, "enough" people are upgrading to get the newest. Does Microsoft have that though? It matters since they already have a small share of the pie.

The main problem for emerging country like indonesia is the lack of good low price windows phone device. Also with the same price range people still looking for better spec phone.

And that's why Xiaomi and ASUS devices grow fast in Indonesia. Low prices, great specs. But I'd want to know about L650 more about its design.

This "problem" was created by Nokia themselves. They never launched a good/true successor to 520 and instead created confusion by launching 430/435/530/532/535/540.

Yup, good time to not release compelling (or barely any) phones or market the ones you have, Mastermind. ;) Look, I understand he wants to change the strategy. Fine. But don't first (practically) pull out completely (especially since the other major OEMs are not exactly lining up) before you start (trying to) build back up. One phone in 2016 and _maybe_ a first gen Surface Phone, really? :D Latest Kantar numbers are telling.

Because every new lumia is round corner like samsung and iphone but we wants some thing different

We? Also it's not about us on this site it's about the user's not on this site/windows mobile. And those user's are using the "rounded corner phones".

I love my 920 & 1020, with the exception of not being able to expand the memory... But I talk alot of pictures too, that's one reason I think they're the best

Cheap phones are GOOD. Last week I bought a 635 for $30 (GoPhone). It's wonderful! OK, no flash, no front-facing camera, no compass. B.F.D. This is a phone I can carry without worrying, and if I drop it and it gets broken, or if it gets stolen? No big deal. Scratched screen? I'll live. Is it limited by 512MB of RAM? I don't know. It runs Windows 10 Mobile, so it can't be too limited. The screen isn't as nice as the one on my old 820, but then the 635 is lighter. The 635 has a better battery life (in part, I expect, because it has a larger battery). And because it's a cheap phone, it's popular, and there are scads of accessories (read: cases) available for it. If Microsoft wanted to take over the phone world, it could practically give 5xx and 6xx phones away. Make people realize just how steep the Apple Tax really is. Sure, the cool people would still have iPhones. The cool, rich, stupid people.

The 640 is under $50 unlocked at Bestbuy currently for the upgrade. Has better specs than the 650 about to come out that is around $200. Windows 10 phoones hardware wise are the throw away phones except the 950/XL.

Who buys a case for a $30 phone? Talk about stupid...

Good points, WinterMute7, I had a 521 and it wasn't bad, a few things bugged me, like no front facing cam, but I lived. Basically, it did everything I needed. I'm looking to get back to Windows Phone and have a "complete" environment. But one thing I want to say in favor of the app gap is this; if we had all the apps to do everything for us, would we become less social and more isolated? Of course we have our social media friends, but would we give up "real world skills? Living our lives on our phones, is that a life? Plus, I'm wondering, with Cortana being so helpful, you may not need all those apps.

LOL @ 4% WP7. Guess lot of people still hanging on to their 800/900. MS should offer a trade in to everyone with 800/900 to 830 for $100 or 950 for $300. I still have 2x 800 and 1x 900 kicking around, what a bad mistake.

If I didn't force my wife to upgrade to the 830, she would still be using her Focus 2. LOL.

Windows phones? Even Belfiore use an iPhone. Get over it...

WooHoo! 1020 representin'!!! Actually I think I may be the only one left using the 1020...<-- kidding. I have updated to 10 on the 1020 and well...it's S L O W and different things go wrong on it. Like lately my text alerts do not work. No sound, no vibrate, no icon on the screen to let me know that I have a text. I only know if I have a text if I actually open the app and look for one. I also don't like the new calender interface/set up and what is up with the camera? Take a photo then go to pictures, open it up and I have to wait for it to be loaded inot the app beforfe I can open it and do whatever it is I want to do with it. Hopefully MS is goingot come out with something for 1020 users to make 10 run more (much more) smoothly. FOr fear of being stoned here, I've been looking at my wife's Android with a green eye. Rant over.

I was running the most recent Windows 10 build on my 1020, and finally from the article on All About Windows decided to revert it back to 8.1, and realized I forgot how snappy it was on 8.1, and I'm not missing enough new features to be worth the poor performance it had on 10. I would consider rolling back your 1020 unless your absolutly hooked on some new Win10 feature.

Im using lumia532 and its realy a,very good phone. Its a low end device but its realy nice running windows10 os. Da best lol

Yeah, I think it can be an almost natural upgrade to the 520/521.

Lumia 520 is there because users bought it as best value for money device of that time with name of nokia despite liking the Windows phone or not as they are the budget user & when they spend $200 on a device they are gonna spent even more time with devices despite of if they are in agony with their phones because of not liking Windows phones but a promise of a better OS coming soon from 3 years

There is nothing wrong there, those few people using 8.0, ignored 8.1 cyan update, when cyan rolled out thats when 8.1 update 2 rolled out with a new firmware which disabled those that were on 8.0 to upgrade cause there it need cyan update first, which means insiders using win 10 mob are more than those who remained on 8.0

8.1 destroyed the People Hub. Some people may have stayed on 8.0 due that.

OneCore is years ahead of Android and Apple. Problem is with hardware. Only the 950/XL has last years hardware. The rest of the lineup for 2016 is over 3 year old hardware tech. The only way I see MS continue to exist would be to put Windows 10 on existing phones. Have an option for consumers to have either Andoird or Windows on the device they like. The current Apple business model has failed in phones for MS.. If you can't beat them, join them. Time for MS to put asides its dreams of beating Iphone. Time for it to have a Android like business model.

18.2% of the US Windows phone population. Can you imagine what it would be if someone actually had done some Marketing for the 640. The right phone, at the right time, with the right specs, at the right price. It was the perfect "next step up" from a 530 or 635. The perfect "My first Windows Phone". So its been a year with it. Windows 10 Mobile is here, (well not quite yet...close) Now where do I go? Upgrade to a 650? Or is that a step back? 850/750? Oops, Daniel said they're not coming. I know, a 950! Anybody want to front me about $200. The Alcatel Fierce XL sounds nice.... Snapdragon 210? Really? Now for the AdDuplex numbers, the new stuff doesn't show up yet. The 640 is still gaining. If I retire my 635 backup and the rest of the 512mb 635's succumb to W10M? Where do we have our "Next step up", what do we evolve to. Tell us Daniel

But the 640 has actual competition. Why would you choose it when Motorola, Asus, Xiaomi, Samsung, etc all have great devices at the same price or cheaper. The 520 showed these people what Windows had to offer and obviously they moved on. Posted via the Windows Central App for Android

Side by side with the competition the 640 blew them away, at least the ones I saw, mainly from LG. If someone like T-Mobile did a little training, made them visible, and available you'd have sold millions. Microsoft dropped the ball, the US carriers dropped the ball. It's called marketing. From what I've seen, they're about to do it again with the 650.

While it may LOOK like a bad thing... I think it's a GOOD thing for consumers. It shows these phones last a long time :)... My 920 still works decent enough to this date with W10M.

No android phone will last up to 3yrs lol.. Only windowsphone..

No fan boyism there at all. Windows Phone hardware is ancient in the tech world besides the 950/XL. Time for MS to stop making phones and start promoting its OS and Bing Ad business.

It's a great phone for the price. Unfortunately, this is 100% Microsoft's fault for a complete lack of marketing and now botching things with Windows 10 mobile.

Cheap bastards lol get a 550

Lol my mom went from a Sammy ff to a 920. After a yr or so dropped the phone and broke the screen, and tile on the floor it hit. While I waited for a replacement screen she got a spare 520. Didn't want the 920 back, said she liked the size of the 520 so much she wanted to just use that, sell the 920 lol. She never uses the camera, and as far as smart phone goes, Facebook, email, messenger, here nav and that's it, checks all the boxes

I know it is heresy, but maybe a big chunk of those 520 don't want a bigger phone!! I loved the size & feel my 520, only moved on because i wanted LTE. I have gotten used to the size of my 635, but the feel is not as good (and it slips out of my hand & pocket constantly). I would buy a high-end phone right now if it were sub 5", but I also bet a bunch of those 520 users would "upgrade" to a budget, modern spec'd phone that was closer in size.

I don't think it's heresy at all. The 435 might have more RAM but the camera on the back is worse. And then the 532 isn't available in every market, sadly.

Microsoft Mobile....The King of the mid to low end budget handset's.......sticking with my 930 thanks....why not re-issue a 2016 version of the 1020....

I dunno what MS is going this time. Not just in hardware but on apps too. First thet make apps that works on other platform, second instead of developera creating apps from scratch, bridges are here, third, MS garage creates an app only for IOS and maybe soon for android too.

I think this is a bit misleading given the 630/635 combo out ranks the 520.

I recorded 25 minutes of video at my sister's wedding on the 520, and honestly it did a great job. The audio is crisp, and the video is very clear and watchable. It really was a good phone for what it cost. I was the only person to take videos there so the 520's video will live on forever.

When we talk about iOS, Windows, Android, we focus on hardware sales. I have been of the mind that Apple makes good devices that wor well for a long time. Eventhough people are no longer buying new iPhones and iPads as quickly as they once did, they are still using them. Their use generates revenues for the iOS ecosystem. Apple's future is more aligned with the growth in ecosystem revenues versus hardware sales. UNfrotunately, the transition is difficult. Why? Necause Apple's revenue are dominated by iPhone sales, not revenue from iOS services. So in the short term (1 to 3 years) apple will see flat sales growth for iPhones (maybe iPhone 7 will excite and generate a burst of sales, maybe India and and China will continue to grow strongly) but growing sales of services. In time (3 years?), service revenue will outpace iPhone/hardware sales. Why to I talk about Apple? Simple. If the Iphone has a useful life of 3 plus years, then Windows phones have the same useful life. If the 520 is still being used by many Wndows customers, maybe Microsoft has time to build its phone preseance. But Microsoft is losing time to build market share. Will Windows 10 allow Microsoft to pull people out of their PC and into a Windows Phone? Or will Microsoft be able to pull iPhone users into its service business. That is an interesting question? Will the enterprise put windows phones/tablets into their employees hands because Azure allows a much more productive information infrastructure? Will this encourage these employees to jump from android/iOS to Windows phones? But I think it is not as important for Microsoft as long as they can generate revenue from android and iOS users. Frankly I dont know how this competition works within the constraints of iTunes and Android store. Is it as simple as iOS users using Onedrive instead of iCloud through a office 365 subscription?

This is completely expected. I'm ok my phone at work, so I won't be going out a lengthy explanation, but it's pretty obvious why this is happening. The first WP8 devices from Nokia pushed the value envelope at every level. Since then, including the most recent releases, Lumias have become bare-minimum devices, in many respects. They aren't at a compelling price anymore.

The problem was that the 5XX line became crap after that, the Lumia 530 was, basically, worse than the 520, Nokia should've continued the trend and push the 530 as a good upgrade for the 520, but it wasn't at all, then came a lot of 5XX variants (I believe they are selling 3 diferent models atm) that just confuse people. The 550 looks very nice, maybe they can try to sell it to 520 owners. The same 5XX mistake is making MS with the 650, 640 is a very loved phone but the 650 seems to be a side-step instead of an upgrade, also loosing the flashy colors.

The 532 is good for what it brings. I liked a lot when I had it, and sometimes, I'm torn between getting it again or not.

They shouldnt have gotten rid of the camera button. Even the cheap ass 520 had it, but now you need a premium device to get it as a feature.

Maybe lowering the prize of the new low-end devices (550/650) is a way to kill the 520. The bad performance of the 520 could be a bad press to WM10

That's the thing though... if you have a 520 and leave it on wp8.0 it actually performs pretty well. I mean, not amazing, but it is a perfectly usable device. My sister-in-law still uses a 520 and is quite happy with it as a device that makes phone calls, and does texting, messaging, and email.

Performance on L520 isn't that bad at all, except for Edge probably which is absolutely horrible. Freezing is a big issue though, that happens quite frequently.

I thinks the freezing bug is on 512ram dev, cause it happens a lot in my 720 and makes me nuts. As our friend said, the 520 is cool with WP8.1, but whats happens when upgrade? Remember: not everyone is a insider to understand that the WM10 wasn't build for WP8 devices. They will blame the OS and thats bad press.

Wont buy anything until I get an upgrade to my 1020.

Then you won't buy anything, period. There won't be a successor to the 1020. Not coming from Microsoft at least.

Better off sticking with or getting a 930 then upgrading to Win10 mobile

Is this a surprise to anybody? The 520 was often on sale without contract for $30-75 for 2 years! Plus it had better features than the 53x lineup as well, which only extended sales of the older model. Whenever they get around to making a flagship that everyone wants again, or a good quality low end phone for $50, then they might see those numbers turn around.

Better features how? The 535 isn't the greatest but there's some improvement. The 532 is slightly better than it really. For some reason, this article is making me reconsider a 532 again. LOL

Maybe off topic but I have used lumia 720 for 1&1/2 year, during first year i had to consult nokia care very frequently for volume down key and other problems, once they offer me to update my warranty and just after 2 days i had problem in phone so i visited Nokia care and they said my phone is water damaged so out of warranty....then how the **** they were offering me to update my warranty just two day before. Also my phone has never ever in contact with water.
Poor service from nokia care. Maybe one of the reason people not buying nokia (Microsoft).
Also right now i m using 4k price non Microsoft windows phone ..which have features which Microsoft might offer in 8k price.
(1GB ram also ;D)

Had 9 yes 9 different 720 handsets...EVERYTHING that could go wrong went wrong with that model....nightmare....

I wish I could buy a new phone and smash my L520 hahahahaha

Another company should take care of the development of Windows 10 mobile aside from Microsoft, I mean like come on, they delay it every month.

I am using lumia 520 with build.63 n working smooth

But Microsoft have released hundred of phones with no differentiation an chunk of phones with snapdragon 200 series even the 830 has that processor and it's an midrange model, then why should get an new phone if there is not difference between an 635 and an 830 internally than the camera

Lumia 525 & 520 are the hottest Lumia s

Regarding them being "unable to capture that lightning in a bottle," - I'd say they actually were _able_ to, but they chose not to design a true 520/1 successor, and thus lost that device's momentum. They were headed in the right direction with the 525. Whether or not they are technically required, all Lumias, at least, should have camera buttons. A smaller 640 with a camera button? There's your 520 successor.

I had bad experiences with the 520...

They should return Lumia brand to Nokia. Microsoft don't know how to play with budget phones, and their marketing is extremelly poor outside US. Brazil used to be one of the biggest Windows Phone markets and Microsoft give a total of zero f***s about us. No new Lumias released, Cortana delayed (was set to be released in December and now there's no date anymore) and no marketing at all.

Anybody else getting blank screen in apps on 950 XL? All my apps like Amazon, eBay, 9gag have blank screens.

As long as Microsoft continues to use anicient hardware like snapdraogn 210 or 410 for its budget offerings this will be the case, look at lenovo k4 or xiaomi, why cant MS use those mediatek helio chipsets and be done with, its so simple to win yet the rigid stubborness to take the choice that will always cost windows , they will alwyas not just be late to party but arrive when the party is over! Also for FFS give a decent amount of RAM people are past the 1 GB offerings!

Mediatek processors are absolute C r....p i had an tablet with mediatek and is so far slowest as hell. if really they care about the mobile division should upgraded de 520 with more memory and flash at least , why have models with same processor without any differentiation, the camera being only one is not that important as differentiator, is like an joke that the 830 have an snapdragon 210 processor i do not know but microsoft follows the bad policy of Nokia ,

In the US you also have to look at that all carriers except verizon which doesn't support wp are moving away from 2 year contracts. No one will take a chance on a high priced wp phone. When they were subsidized you could take a chance for 2 years if ya didn't like you could move on, not the case anymore. I'm betting a surface will sell the sane as the 950s. Posted via the Windows Central App for Android

What Microsoft needs is an awesome speced device at a low cost. The Lumia 650 won't do that. Go the route of Moto or Alcatel or Asus or OnePlus even Huawei or Lenovo and get a mid range device priced at 150-200 with a Snapdragon 600 (616 617) series chip with 2 gigs of ram and 16 gigabytes of storage priced at that price point. Now that is an affordable flagship midranger. These companies are also smaller for the most part than Microsoft so if they can release awesome devices at a lower cost than why can't Microsoft. Posted via the Windows Central App for Android on my Lumia 950 XL

In my opinion the Lumia 640 is the first fully adequate budget Windows Phone. The 520 works well with 8.1 but the 512MB RAM limits its capabilities and performance. I know because I have 2 520s - one with 8.1 and the other with 10. The 520 with 8.1 does perform noticeably better than the 520 with 10 in nearly every situation. I also own the 635, and even though it has a much better processor than the 520, it still performs better with 8.1. The Lumia 640 has a similar processor to the 635 but runs Windows 10 much better than the 635; the differentiator is the RAM (the 640 has 1GB). In fact, the 640 operates closely to the 928 (slightly better in some aspects) and approaches the performance of my Lumia Icon in many UI-related areas (obviously not gaming or camera functionality). Now the Icon is still my daily driver Windows Phone (along with my Nexus 6P and iPhone 6S Plus for work) but the 640 is a great backup. I picked it up for $29 during the Best Buy Christmas sale and unlocked it for free via AT&T. I stuck in a 128GB microSD, popped in a ProjectFi data-only SIM and it has become a wonderful traveling machine. If I lose it I don't feel too bad, since it was $29 with a $30 microSD and a free SIM.

I think Microsoft could think about losing money by sellingsmatphones as video game market, gaining market and money with the apps and services...

Well, I got plenty to say about this, just my opinion thou.
That's a developing country, I know a lot who keep their phones for MORE than 4 years, either as their main phone or as their secondary.
Or perhaps it just a cycle of "people upgrade to newer phone but they sold their older one (which in this case is 520) to other people, and so on...".

Oh and yes, this is definitely subjective. I feel that Microsoft does less advertising effort than Nokia did, at least at my country (developing country) whom low-end or budget phones are so demanding. Nokia does have a bigger name and impact here than Microsoft, specially to those low-end target, and MAYBE they failed to get the right approachment to those people and not enough effort to be acknowledged or to convince that "We're still the same Nokia Lumia, but with a better upgrade or a different style". SUBJECTIVE.

I own both Lumia 520 and 640. I have say it's hard for me to pick one as the best. 520 may be stuck in time (no flashlight, no front camera) but still runs better than other newer phones. I recently bought my 640 and it already has W10 and I LOVE IT ! The only thing I'm disappointed of is that my country, Argentina, lacks of some functions such as Cortana or Windows Hello. I really want them !!

Daniel, I dont think the analogy of upgrading is realistic for budget not in the same context as mid-high end phones. the latter buy for features yet a 520 buyer is about value and that also in most cases is a much longer upgrade cycle, most likely occurring with the end of life due to os upgrades ceasing or the device itself. My brother buys the older flagships as they are good value (new) He can get a 930 for the price of a 650 and really hes better off 32g 20mp camera 2gig ram. 60% of iphone users have a 5 or older and thats purely a flagship choice so I dont think the state is that bad. Plus we dont even have a full Q of sales of any new device, 950 one month. 550 just started, 650 to come... so Q2 2016 is really the soonest the figures would mean something?

Lumia 520 was the first Windows phone that went global phone. Worldwide can find it and the price was attractive and quality was great. The problem now is don't have presence in the globe. can't find windows phone on many countries . On Chile since a year no mobile operator offers windows phone and on another countries is the same. Even find a cover or pouch for my Lumia 830, is a mission impossible. I think Microsoft has no made any effort on AD . Here on Chile I phone and Samsung has made a big AD campaign all the time. And Microsoft never the last AD that seen was since 3 years ago of Lumia 1020 and later no AD . Logically results disappoints because just on India and Brazil makes presence and with budget phones. Is like be millionaire selling potatoes and not french fries . Crazy idea. Microsoft Must offer phone globally and do AD campaign worldwide like does Samsung. Samsung is popular because all the days you see AD of them and Android have many apps that Windows phone haven't and neither can't motivate to developers to makes app for WP . If CEO uses an iPhone and not a Nokia (actions talks more than words), also I don't upgrade to wp10 . Testing with my Lumia 820 photo quality is very disappointing , battery empty faster and there's many problems yet . Isn't an OS mature like is 8.1

I have a 525 (=520 + 1gb RAM) and its really handy and reliable. but web browsing is REALLY bad, even on 1gb. and the camera is awful. A budget phone with a really good 8gb camera will be the next 520 success for MS and they need to fix the poor browsing on budget devices. i cant stress how important a good camera is. At times i consider returning to Android just to get the hardware i want - but i keep remembering how constantly annoying Android is. 2016 is the year of no more crap cameras on any budget device that wants to sell.

I still use my Android but will not get rid of my wp. At least you can actually use the SD card to save applications and games. I have 17 games on a 640 with a 16g sd card. Not all Android devices can even access the sd card. All together 30 downloaded apps I use any of them often and never have battery issues. Not being a fanboy thats just a fact. No they still do not have as many as Android but they're definitely growing I just don't think people are paying attention. I make this point because all people mostly say is they don't have any apps. I don't think they've given up on the phone. Android and Apple are powerful they're good at what they do I can respect that without hating windows. But I do think Microsoft needs to get things together a little more quickly and I have to be honest some Microsoft apps do run better on my android. Bottom line if you make your own money you can spend it how you like

I got a second hand 1020 with Win10, which has functioned well and I also got a 1520 on Win8.1. Both for less than the price of 950 XL. I don't think Continuum excites me that much nor the Iris Scanner. Am happy with my purchases. If only the M8 for Windows was available here. Posted via the Windows Central App for Android

It's becoming obvious that the writers of Windows Central are such "fans" of Windows they can't see what any impartial observer can see: Namely that Windows Phone has had nothing but problems from day one. It's the fact that Microsoft commits one cluster#### after another when it comes to mobile that has lead to their dismal results. When the writers of this site act shocked when these facts are "discovered" it is hilarious.

This is not complicated. Windows 10 Mobile is disgusting. It's an eyesore. You go from the beauty of Metro UI to.... a mess. Not many people want to give up the beauty and fluidity of Windows Phone 8. The only reason someone like me is hesistant about going iOS or Android is because I am so entrenched in the Microsoft/Windows ecosystem. I'm holding on to my Windows Phone 8.1 handset until the OS no longer functions.

It would be a huge mistake if Microsoft disappeared the Nokia brand from phones. People around the world recognize Nokia as a good brand. I know, nobody gives a sh in the US about Nokia, but they do.

I think the Lumia 630 and 635 should be counted as just one unit. The only difference between them is LTE

Is that phone not upgradeable to Windows 10? If it is, isn't it a little much to say it's a problem when we're only 1 month into 2016?

My brother is planning to drop his Lumia 520 soon for a 640. I've learned to live with a budget phone coming from my Lumia 920. The 635 felt like too much of a jump but I'm pretty happy with my 640. Tthe 950 looks very nice to me but it's more than I need and can afford right now.

if i was walking down the street with a 520 0r a 950 can people tell the difference. I look at their pictures and they both look like budget phones. Im not surprised that their flagship didnt sell, not at all.

There are lots of lumia 520's, so if Microsoft pushes the windows phone update to 520, they might get a increase in the number of windows phone 10 running devices! Posted via the Windows Central App for Android

630 and 635 exeeded 520 sales long ago. Lumia 520 selling price at release was 170$. Modern 520's replacement is the Lumia 640.

The 520 reminds of the Commodore 64

My cousin stil has his lumia 520.

Why is WP7 still hanging around with 4.3%? Microsoft needs to give them all free 640s for toughing it out for so long.
Windows Central Newsletter
Get the best of Windows Central in in your inbox, every day!
Thank you for signing up to Windows Central. You will receive a verification email shortly.
There was a problem. Please refresh the page and try again.