KakaoTalk will terminate its Windows Phone app this December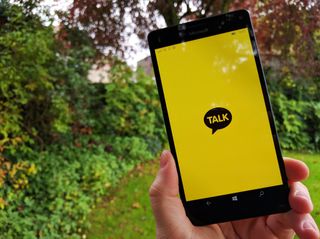 KakaoTalk has announced its plans to end support for its Windows Phone application, rendering the app unusable come December.
KakaoTalk, a dominant instant messenger in South Korea, will be unavailable from the Windows Store from December 5, 2016. While past conversations will be available after the cutoff date, the application will be unable to connect to the service.
Although the application is widely used in its country of origin, KakaoTalk is rarely seen outside of Asia. With Windows 10 Mobile having limited market share in the country, it doesn't come as a huge surprise that the service will be discontinued for the platform. While other popular messengers in the region such as Line and WeChat still support Windows 10 Mobile devices, it's clear that KakaoTalk users will have to move elsewhere to continue using the service.
Update: It appears that some users are being informed that support will be ending on December 15, while the announcement states December 5. We've reached out to Kakao for clarification and will update this post at a later date.
In the meantime, the KakaoTalk application is still available for download via the link below.
Download KakaoTalk from the Store (opens in new tab)
Windows Central Newsletter
Get the best of Windows Central in in your inbox, every day!
Matt Brown was formerly a Windows Central's Senior Editor, Xbox & PC, at Future. Following over seven years of professional consumer technology and gaming coverage, he's focused on the world of Microsoft's gaming efforts. You can follow him on Twitter @mattjbrown.
Most unstable social app bye

10 second delay in every message and they call it as instant messenger. Lol

faster than instant ramen!

Too many social apps nowadays!

Glad I moved to iOS. I use this app almost everyday.

I kind of moved away from WP this week... so its getting more unlikely to follow or post on this site.... but I can't fight the urge to sing: Another one bites the dust... xD

Yeah, I'm sad to see it go as it's a messenger I use pretty often. Then again, I can understand because the app has little penetration outside of Asia, and Windows 10 Mobile isn't exactly widely used there.

Yes, here in korea, there was no sales of windows mobile. Well, once or twice in the super past .

It's not widely used *anywhere* ..

It's absolutely ubiquitous with South Koreans, including those that live in the States. I use it daily to talk to friends and in-laws.

Nooo! This can't be happening.What are we supposed to do now ? HUH?

Well, move to line or WhatsApp or change your phone to android or ios.

Actually, this solution will solve all problems of Windows 10 Mobile.

Honestly its none of your business if people stay on Win10M or leave the platform. Dunno why your always sending desperate comments to try to desperately get people onto another Platform. Its sad really

The sad part is that the vast majority of those abandoning the platform don't even consider developing a Universal App. 14 months later the app gap is still here and no significant progress is made. People use apps on their phones and there aren't many windows phones nowadays.

Many people have tried to warn Microsoft/Nadella that the UWP value dies as Windows Mobile collapses. But hey, the stock price is up so all must good for the future, right?

Nadella never really cared for UWP or Windows. All he thinks of is making the stock price go up so that he can buy a new home in India for himself and his relatives.

Windows phone died when they made Joe Belfiore take a sabbatical. Everyone knew that was not a good sign.

I'm not sure he was forced? Either way the adventure he went on with his family was amazing, they're all very lucky to have experienced it

Well, yes, but I'm sure Belfiore had even greater experience thanks to the iPhone he was using.

On an adventure around the world like that, the last thing I'd care about was which phone I was using. I've travelled more than some, but I'd feel blessed to get to do what he and his family did seeing so much of the world in one long trip. I'm jealous of that regardless of what phone he used whilst away tbh

Considering my app sales have halved in the last year and are almost non existant in the last two months it's really not viable for any small-medium dev to develop for this platform anymore.

It's not viable for any developer to do anything for WP anymore... Satya Nadella has came out clean earlier today, and declared Windows Mobile as a failure... one day before the NYC event!!! This is it guys... it's dead and Microsoft is literally showing us the door out.

1 more down, anyway I don't think they ever updated their app since days of WP7

Well, as Nutella sits in silence and says nothing while leaving developers (and consumers) completely confused as to what is going on, everything is just collapsing. We could have gotten a slug to run this while sitting there and say nothing.

He's still counting because some of it was lost due to mobile, and he's trying to figure out what mobile is, and why it cost him money.

Never heard of them, are they big over there?

Quite big in South Korea, not so much outside

This is the first time I'm hearing of Kakotalk. Hmm

This is the first time I'm hearing of Kakotalk. Hmm

Typical MS apologist response.

Nothing to do with Microsoft

Actually, this is a typical response of somebody not from Asia... (as its only a popular app in South Korea). As I said earlier, your comments are getting more and more desperate to hit on a company and their consumers.
Very, very sad

As a Korean, this is a very bad news for people who were using this app. When you take a look at their android and ios app, it has beautiful and tons of features to use. However, kakaotalk corporation didn't really made to support customers. In the past, there was line, WhatsApp, so they wanted to compete with them. Now the WP market share dropped to 1-2% so it is likely for them to discontinue app support. No updates, no customer help. If you contact them with some "windows phone bla bla bla" they wont even reply. I wished kakaotalk would survive and develop into a world and, but unfortunately it didn't. Goodbye.
Below is message to Korean windows central users.
안녕하세요. 윈도우센트럴에 한국인 유저가 있을지는 모르겠지만, 혹시 이글을 보신다면 댓글을 남겨주십시오. 저는 솔직히 윈도우 모바일 버전에서 카카오톡이 살아남기를 원했지만 떠난다는 말을 듣고 이제 무슨 sns로 갈아타야할 지 고민입니다. 안드로이드 사용자들 중에서도 공감되는 분들있으면 공유해주시고 댓글 남겨주시기 바랍니다. 감사합니다. 안녕히 계세요.

Well, that means my parents will leave Windows Mobile. They use it every day. Too bad.

I don't think so. They tried android before and was too confusing. Windows phone made it super simple for them. One wide tile per row, HUGE font. Super simple for the non tech seniors they are. One tile for phone, one for messaging, one for kakaotalk, and one contact tile (each other). Only four huge tiles on their home screen, super easy to read, impossible to miss. And the tiles tell them if anything needs their attention. They don't understand stuff like action centre. That is the beauty of what *was* windows phone. It really puts the user at the centre and caters to their needs. My home screen is convoluted and complex with text so small my parents could never read it, and I like it that way.

Thank you for sharing your message here.

A sad day indeed, and I only use like 5 apps. Wondering if it's finally time to leave Windows Mobile. 진정 슬픈 소식이군요..ㅡㅜ

Not because of this app but I've been asking myself that for some time now. Been a WP user since 2010

Another day, another app leaves. Someone needs to step up and disrupt this pattern. Only Microsoft can save itself now.

Microsoft doesn't care a damn about their windows platform. They make better apps for rival platforms and their garage projects are more active on Android and iOS and works far better. Microsoft earns like crazy for the services they provide on cloud and servers. They don't need to give a damn about the 1℅ market share windows phone. By the time, they make anything significant, the rival platforms are over by leaps and bounds and apps in Windows phone wud have already gone.

Agreed and well said. As Dan will claim, they are focusing on 'Enterprise' and yet trying to get the left over losers excited by letting the oems like Alcatel or HP doing the talking. It's quite sad really after they let a once dominant platform to ruin. These execs all get paid too while the userbase was misled to think there's light at the end of the tunnel. Oh well it is a hard fact to accept. I know where I am going next..if you can't beat them, join them or so they say.

"Losers"? Bit weird to judge somebodies success based on the phone they use?

Yes, they're focused on "enterprise", like the Microsoft Gigjam collaboration app. Available on all your devices! Except Windows Mobile....

Have you TRIED Groove on iOS? I don't think its as good as the Windows 10 app personally. Same goes with numerous apps, people seem to have latched onto this idea that ALL Microsoft apps are better on other platforms. Some are.....but not all by a long shot. Skype for Business is one example that's clearly better on iOS (Enterprise app), Groove for Music clearly better on W10M (More consumer)

I'm sure you've used them all extensively

In the kakao announcement for discontinued support, they say: "we hope to see you soon on another OS". LOL. No thx, I'm sticking to Windows 10. Beside that, serious question arsies... is it time for Windows to integrate support for android apps?

Microsoft tried doing that and failed miserably. It causes performance issues and the Android apps are mainly run on Java kernel which Oracle can then sue Microsoft for - just like Oracle is doing to Google. Google is switching away from Java as we speak.

I love how developers always send that message like its the customer's fault for not upgrading to a new OS or just because they are leaving means that you will follow them.

Universal app is a joke. Another one bites the dust.

Honestly I am sad to see all the apps go. Especially after I used Android the last few days on the Xiaomi MI5S Plus and I am wondering how this piece of OS can actually sell...Even looking through the Store just makes me wonder what keeps people with that OS.

Because Microsoft missed a great opportunity when Iphone was announced 8 yrs ago. They let Google get a foot hold and we got windows phone 7, 7.1, 7.5, 8., 8.1 and welpppp 10. I still remember those days in the forums.. arguing over copy and paste feature... damn.

Actually UWP would have succeeded had they continued focus on the mobile market. Ballmer would have done just that but our friend Nadella was against the whole thing from the start because his head was in the cloud.

The whole point of putting him in charge was to gain more profit for Microsoft. Windows Phone has lost money every single day for 5 years, but everyone here wants to get made because they shut it down.

But thats not good if they left, then others will also because MS just want money to increase their revenues through hardware, they dont know the power of apps.Look at pokemon GO revenues but arguing with MS is like striking your head on the wall.

I recently switched to android on a nextbit robin and i must say..i'm pleasantly surprised, having used windows phone for over 4 years now, android just feels more polished, i was never a heavy app user so the app gap isn't really noticable for me, perhaps indie titles on the playstore are more in number. However OS wise as well android 6.0.1(nougat soon) just feels superior to windows 10 mobile for now

I also interested in MI Note 2.Feeling pissed off badly because of immense app gap.Tell me does android 6.1onward have double tap to wake?.

I don't think double tap to wake/sleep is part of the core Android OS, not all phones have it. I'm not sure about other manufacturers, but I got it on my LG G4 :)

Same here. Switched about 2 months ago to Android. I still read this site daily because I want Microsoft to succeed in mobile, and want to come back to win10 mobile, but not right now.

Switching soon... joining the millions who already did. This site will be a desert in time.

Srsly? Do I have to buy an Android or an iPhone just because of this messenger? So sad.

Kakaotalk has a program for PC. Set up remote desktop to your PC and chat lol.

What's that Kakao? In Greece we drink Cacao. I don't want Kakao neither want Snapchat. I have Instagram stories that's better and I have Skype and fb messenger and Viber and a WhatsApp. Stop complaining. See the light. Listen to Sex Pistols.

I'm Greek and I don't know what you just said.

My wife recently went to a store to buy a new phone. She smashed her 640. The recommended her a Huawai P8 lite because Windows is for technical people and not for the general public. As long as such impressions are not being fixed by MS they will soon also loose the PC business (why not have Android on PCs, once more business type apps are there)? This is not going anywhere and the board at MS need to start fixing this. No consumer wants Windows on their phones, but for no apparent reason.

Just make a Win 10 Universal App!!! Can it be that hard??

I'd use it on desktop as well. It's easy.

It's not surprising as Line/wechat are pretty much king in Asia and they have invested quite a bit into uwp. Actually line has been consistently updating their apps. It's one of my main messengers. I prefer it to any messenger out there. I love that it auto suggests stickers when you type. Facebook messenger has a lot of good stickers but it just doesn't feel the same. Plus no auto complete.

Microsoft missed a huge opportunity in 2015 to keep the momentum of Windows Phone going. It was double digits in some European countries, surpassing that of iPhone. They should have had two streams to update Windows 8.1 and another to mature Windows 10. They should have kept on flooding the market with low to mid-range devices. This app abandonment is something that is COMPLETELY outside of Microsoft's control. Stupid decisions. I don't care if you down vote me. I was a power Android user from 2011 until 2015 and switched to Windows 10 Mobile in late 2015 and I'm still sticking with it. I LOVE the OS and I am managing because I am not a heavy app user, but I'm starting to feel the sting a little when I'm starting to resort more and more to using Edge. To me, messenger and chat apps are the critical ones.

Can't blame them. There are very few user that is why it is not practical for them to update or maintain the app for a low base user. I haven't used this app too. Or maybe like many other startup, they are having a hardtime looking for a quality Windows Phone App Developer. They are becoming rare this day, LOL.

Why do I feel like a Betamax user in a VHS world? I really love the Windows environment and think it is far supperior to either iOS or Android, but it doesn't help when all of the apps I use keep bailing. Guess it's time to start looking at an iPhone.

Lol @ Betamax. I still have my HTC HD7 in the drawer somewhere. That's the sad part. I wonder what Dan does these days as less Windows Phone news are disappearing from the tech news world.

Every korean I know uses this app in the US. I use it on my 950 as a result the app was really crappy though. I have a work iphone 6 that I use that I can install it on there are things like this though that will influence my next upgrade to be an iphone >_>

Really all the ones I know use Line messenger. But either way this is likely due to it being abandonware. MS notified them to update the app ratings and they looked at the analytics and decided to just let MS take it out.

I didn't even know they had an app. Bad. In the days when Line, Viber, WhatsApp and Skype are coming out with full "UWP", this is baffling coming from the Korean company. Oh well, its a good thing none of my friends use this. I hate this glut of chat apps.

As long as Microsoft itself shows no interest, why should anybody else?

Now i am gonna quit using window phone

Apps are gonna go until MS says something concrete about their mobile plans... Hope we hear something soon :)

But we need to hear from Nadella himself because we can't trust anyone else, not even Myerson.

Their app is crap anyhow. They never really supported windows from the outset.

Never cared for this app. I will not miss it.

Hello, I'm not south korean but... Isn't it the Samsung home country?

I used this when I was communicating with business contacts in Korea. Just another reason I've ordered an iPhone 7+
sigh

Kakao Incorp. is deprecating outdated group. I am sad to hear but i do not care about it though. Goodbye, Kakao.
Windows Central Newsletter
Thank you for signing up to Windows Central. You will receive a verification email shortly.
There was a problem. Please refresh the page and try again.