Killer Instinct spin-off game may have been made for canceled 'McLaren' Windows phone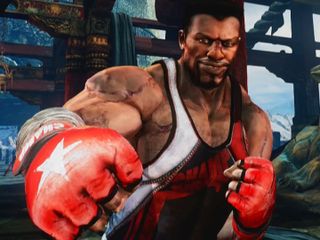 Microsoft's Creative Director for Xbox, Adam Isgreen, has hinted strongly that the company was working on a spinoff game for its Killer Instinct franchise that would have been made specifically for the features in "McLaren" the legendary canceled Windows Phone.
We have covered McLaren extensively in the past but here's a quick summary. The phone began development at Nokia, and it continued at Microsoft when it acquired Nokia's Devices and Services division in 2014. The phone would have included hardware sensors that would have allowed users to manipulate things on its display with gestures. Unfortunately, Microsoft decided to end development of McLaren in the summer of 2014, just a few months before its planned launch.
Review - Nokia McLaren with 3D gestures
A few months ago, a list of some unreleased games leaked on the Windows Store. One of the listed games was called TJ Combo Boxing Beta. TJ Combo is one of the fighters in the Killer Instinct fighting game franchise that's now owned by Microsoft after first being developed by Rare for Nintendo. A few days ago on the forums of Ultra-Combo.com (via TICGN and MSPU) Isgreen revealed some fascinating info on this TJ Combo Boxing game:
While Isgreen did not flat out confirm the game was being developed for McLaren, his statements highly suggest that was indeed the case. In fact, we could see how such a boxing game would fit very well with McLaren's gesture technology.
In the end, neither the phone nor the game saw the light of day, although the main Killer Instinct franchise has continued for the Xbox One and, more recently, for Windows 10.
Windows Central Newsletter
Get the best of Windows Central in in your inbox, every day!
I hope this tech returns in the surface phone.

Ahhhhhhh, so there is a Surface Phone.. Knew it!

There definitely is. And so many leaks too that I get the headlines from Cortana on my band, surprised none covered by wpcentral

To be fair, there hasn't really been any leaks..

do a search on weibo surface phone

I really wish this tech will came out some day.

Good they were developing, I can understand why the game got cancelled if 3d touch wasn't accurate no surprise

New tech was developed for this phone and even a new game. Man the days when MS spent money on Windows Phone seems like such a long time ago

We will always be left to wonder what would have happened if the phone wasn't cancelled. Would we have seen the UX transform in a different and better direction? As it stand everything appears to be moving to the top of the phone. Skype preview for instance, we have to use the hamburger menu to switch between contacts, chats and bots... A major step backwards in terms of design...

Lol you got the wrong person. I'm not the one who said there isn't a surface phone.

I know.. I was just being facetious to the guy who did.

When Nokia use to build phones, we had it all. With microsoft nothing. My next phone is Nokia(foxcon) with android. **** microsoft

Thanks for sharing, we were oh so eager to hear to such a contributing comment!

Yes. Such vast insight wrapped in witty language!

Architectures in the backgrounds looks like Newari cultural or Tibetan. Want to know more.

That's Jago's stage from the current Killer Instinct game. He's a Tibetan monk.
Windows Central Newsletter
Thank you for signing up to Windows Central. You will receive a verification email shortly.
There was a problem. Please refresh the page and try again.