Kreyos video demos the Windows Phone app for their Meteor smartwatch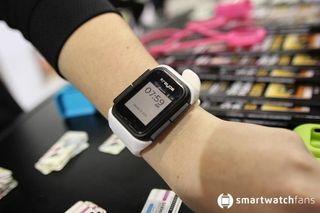 Smartwatches are all the rage this year, and Windows Phone is on the cusp of a big push into the connected wearables. Numerous companies are expected to announce official apps for syncing between Windows Phone and their watches starting later this summer.
Kreyos and their Meteor activity watch are already on the market, and it is no secret they have a Windows Phone app in the works. The app is near completion, and the Kreyos team is now showing the app in action through a brief video.
Windows Phone users can have access to their profile, activity stats, sports mode, daily target and watch settings, including updating its firmware.
Windows Phone 8.1 supports an improved Bluetooth 4.0 LE, enabling developers to create apps for their connected devices. However, those running the Preview for Developers edition of Windows Phone 8.1 have Bluetooth LE disabled, requiring the new firmware from phone manufacturers e.g. Lumia Cyan. Once more phones come online with support, Windows Phone users should see Microsoft announce many new apps to take advantage of the technology.
If you want to learn more about Kreyos, check out Connectedly, our sister site, and their one-stop topic page on the Kreyos Meteor.
Source: YouTube; Thanks, AJ O., for the tip!
Daniel Rubino is the Editor-in-chief of Windows Central, head reviewer, podcast co-host, and analyst. He has been here covering Microsoft since 2007 when this site was called WMExperts (and later Windows Phone Central). His interests include Windows, Microsoft Surface, laptops, next-gen computing, and for some reason, watches. Before all this tech stuff, he worked on a Ph.D. in linguistics and ran the projectors at movie theaters, which has done absolutely nothing for his career.
if that watch wouln't look so much like the toys of my 2 year old....

That has been my pet peeve with the current crop of "smart" watches. In order to stand out, they design them to appeal to the tastes of very young children. Makes me think they are not really that serious about the product.


Maybe Microsoft should release the exact same watch... 6 months from now....

Exactly. They should take some Lean Startup ideas and make a minimum viable product FIRST before spending years of effort before releasing things that in reality, most people don't like or already have (or the market already closed, aka smartphones).

Shame it looks like something that you can send off for if you eat enough cereal...

Remember, these are akin to the very first iPhones: slow, and rudimentary. Give them 3 generations and they'll be immensely improved.

Great now WP users have something to look forward. With their ecosystem beggars can't be choosers. Picking or slim to none and it's good the dev is trying to accommodate WP people. This could be a good home since Android Wear will dominate Android and iWatch for Apple. You need this. Posted via Windows Phone Central App

Maybe I can't be a chooser, but if this is all WP gets I will just not get a smartwatch...

There is the Kairos that should ship in Dec and I use that term loosely and of course MS watch. I'm using both a Toq and SW2 and it's disappointing how WP get so much less support. I mean had they not got the funding on here for the WP support it wouldn't exist. I think at the least this needs to be supported. Yes I agree it's not the best looking and I know it's hard to say spend the money on it, but I assure the effort the dev put it this could die in support if people say they don't care. Posted via Windows Phone Central App

With that I agree... let's hope that one day we don't have to beg to be considered anymore...

+MS Posted via Windows Phone Central App

I agree that it is great devs are trying to accommodate the ecosystem. But I disagree with the premise that beggars can't be choosers. Why? Mostly because I don't think we're begging for crappy accessories. Second, look at what this ecosystem's supports are willing to pay. This very site has reported data from stats companies that we as an ecosystem have higher likelihood/ willingness to pay for an app than at least one competing platform's user base (as a ratio of purchased/paid-available apps). If you look at the larger ecosystem i.e. Microsoft, it was reported that Surface was the largest of those represented in tablet Windows OS sales. We've all read the complaints on this site that the Surface product line isn't exactly cheap. Then consider the number of XBLG memberships vs XBL. I believe a high quality smart watch vendor would do better than that of a low quality vendor when you consider ecosystem tendencies. It is somewhere in between the two dominant players/ ends-of-the-spectrum (perceived/actual quality/practicality notwithstanding) - so, no, crap isn't something for which we're settling.

This is all nice data and all, but what does this have to do with your smartwatch options? Because all that data for Xbox and surfaces do not equate the same for WP. Or did you miss the fact that all the OEM are only releasing mid to low range phones for WP. End of the day the demand for smartphone do not equate the same for Xbox and Surface. The best selling WP was the 520.
Posted via Windows Phone Central App

AGENT smartwatch promissed WP support, though it is currently 6 months behind the original estimated ship date. Hot Watch also promisses WP support, and there were rumors they were working with Microsoft to ensure there was a good level of integration.

I got mentioned for the first time, happy day! :P

Awesome! It's great to see support for smart watches come to fruition.

They can't even tell if the watch will be fully compatible with WP! They never reply back.

Hi, yup! We're getting it all set up before finally shipping soon! We know we have had a lot of setbacks, but we're definitely still pushing for this to be one of the first WP-compatible smartwatches. Hope you still stay tuned for the next updates!

How come that you are writing "shipping soon" when the watch has been shipped like 3 weeks ago by boat for the first 5000 backers.... Please explain!

Would be nice if it actually shipped. I was one of their original backers and I'm still waiting for mine almost a year later after many, many sliding ship dates. Not holding my breath that I'll see it before the summer is over and it now looks really ugly and outdated after all the delays. Just not that excited about it anymore.

Kickstarter type programs just suck in general. It's one of the main reason I held out on the Kairos. After reading the FAQ your preorder money is non refundable and they aren't even part of a campaign program. I refuse to be out $550. https://kairoswatches.com/faq/ Posted via Windows Phone Central App

AGENT is about 7 months behind as well. I don't think I've been involved with a kickstarter that shipped on time.

Me too. Was backer from the beginning... No watch to see yet. I'm affraid that we have to wait end of this year. More then 1 year after the original shipping date!

I'm in the same boat and highly doubt I'll be able to recover my $99 spent. If they move any of these at $170, I'll be surprised. The final product looks disappointing and the delays have taken it from an exciting upcoming product to an snoozer.

Umm very weird. In the windows phone app went to watch the video & a second video called "Rhett & Link Get Waxed" is showing up. Try to launch it but neither the mytube app or YouTube mobile site can find it.

I'd need to know about battery life before I consider any smartwatch. As it stands, I already backed Agent, and waiting on that thing for over a year.


Well 7 months, as the original ship date was supposed to be December. The campaign ended in August last year.

Can i change to became power ranger, spidey or something if i wear this watch !

Fugly. Smart watches will be dead in a year.

Lol... No. It's only about to explode. The only reason why it hasn't is because the major players haven't started developing till now. It's one thing to have a proprietary OS for a watch. But when you get Android, MS, and Apple developing to expand the OS extension to watches, it opens the floodgates for dev. Android Wear hasn't even been out for a week or two and devs our pouring in to utilize it. IFFFT already getting thing running. I can see wallet payments QR Codes coming to fruition and of course activity apps have already started extending to Wear. You are wrong on this.
Posted via Windows Phone Central App

Best thing that could happen is if that watch exploded. :¬)

I'll wait for your funding, development, and design of the next smartwatch for WP. Posted via Windows Phone Central App

Exactly I personally think it's a little rude to respond like this considering the developers do actually be on here as they have responded to posts on the forum. To each their own. Posted via Windows Phone Central App

It's a comment. Hence the comments section. My comment is it's ugly looking and I'm not alone. You're clearly a smart watch advocate and that's great for you. I choose not to wear a Tamogotchi on my wrist.

That's fine and as I said to each their own. You are entitled to your opinion. I don't even agree that's it's not the best design. But to say something needs to explode, well... And this be reason why development for anything is slow for WP. Posted via Windows Phone Central App

It seems like that video is missing a lot of things we expected from a smart watch with full Windows Phone 8/8.1 support. I can think of: - Music control - Incoming phone call, SMS and email notifications - Twitter, Facebook and WhatsApp notifications - Weather, Calendar, Alarm, Battery and Network notifications So far it just looks like a fitness watch or a fitbit with a Windows Phone app. Maybe I'm missing something.....

I've been asking that question to them for months and when they do reply, which is really rare, they always just say yep compatible, stay tuned.... But not once they proved with a full video that the watch was fully compatible with WP. Take a look at their website, for the voice feature they only mention Android and IOS.

Hopefully they'll develop something really useful for these watches because right now I just don't see the point.

Here is the puzzling fact: "Windows 8.1 Dev Release has Bluetooth LE disabled". I can understand a public beta doing so - but the dev edition? So the developers will have to wait until the released version before they can write an app that needs Bluetooth LE? Same is true for background application processing. Is it any surprise that no one wants to write a worthwhile app for WP?

This watch is definitely geared to the not-so fashion conscious :P lol. Also what happened to the voice of the person doing the demo lol. On a serious note, I noticed there was no visible confirmation when it synced with the watch (if there was audio - it sounded muted as he/she was not speaking....) unless the wrong watch was chosen by mistake?

Bluetooth le was part of 8.0 update 3/firmware delivered at that time. Why would Bluetooth le be disabled?

It been explain numerous times it was disabled in the Dev Preview Posted via Windows Phone Central App

Just thought I'd leave this for anyone poking around, thinking this watch is worth a look. It isn't. The company is a complete bust, the entire process a complete trainwreck, and the watch completely useless. https://medium.com/@stevekreyos/the-rise-and-fall-of-kreyos-new-ac4e2d84...
Windows Central Newsletter
Thank you for signing up to Windows Central. You will receive a verification email shortly.
There was a problem. Please refresh the page and try again.