Labour giant Gi Group chooses Windows Phone as the new workhorse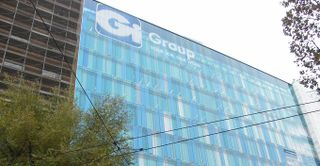 Nokia has announced a new partnership with Gi Group (www.gigroup.com), a leading Italian multinational human resources company. Replacing BlackBerry, Windows Phones will now be used as its business smartphone. Dealing with temporary employment, staff leasing, research and selection, outplacement, HR consulting and training in 19 countries around the world, mobile technology is certainly an important part of the business.
Gi Group has reportedly provided more than 800 employees in Italy with Nokia Lumia Windows Phones, including the new Lumia 925 flagship, Lumia 820 and Lumia 620. The company plans to expand this rollout worldwide in other markets where operations take place. Much like KONE and other companies, the main benefit of Windows Phone is connectivity with Microsoft products and services, including Outlook and Office applications.
Taking full advantage of Microsoft InTune, Gi Group administrators can manage the Lumia Windows Phones remotely, including the installation of apps and services as well as remotely wiping confidential data. Here's a quick snippet on what Barbara Cottini, HR manager at Gi Group, had to say about the move to Nokia:
Other Microsoft produces are also mentioned in the press release, including Lync and Skype. With companies utilising Windows, Office and other products from Redmond, it makes perfect sense to migrate to Windows Phone, which is an arguably more effective deployment. This isn't the first enterprise success story we've had from Nokia, nor will it be the last.
Check out the full press release below. Thanks again for the tip, pbroy!
Espoo, Finland - Nokia has announced that Gi Group, a leading Italian multinational company dedicated to the human resources market, has chosen Nokia Lumia as its business smartphone, replacing BlackBerry. The company offers temporary employment, staff leasing, research and selection, executive search, outplacement, HR consulting and training in 19 countries around the world.
Gi Group has already provided more than 800 employees in Italy with Nokia Lumia smartphones, including the eye-catching Nokia Lumia 925, the versatile Nokia Lumia 820 and the bright and bold Nokia Lumia 620, with plans to expand to all of the countries where the company operates.
The ability to seamlessly operate with Gi Group's Microsoft Outlook mail and Microsoft Office applications was an important factor in the choice of Nokia Lumia, which is built on Microsoft's Windows Phone 8 platform. Using Microsoft InTune, the company's IT organization can manage the Nokia Lumia smartphones remotely, installing new apps and services and remotely wiping confidential and personal data if an employee's smartphone is lost.
"Our people need to be able to connect with colleagues and access and edit Microsoft Office documents, wherever they happen to be," said Barbara Cottini, HR manager at Gi Group. "They also need to access our customer relationship management systems as well as their professional social media networks without having to have a laptop with them at all times. Nokia Lumia offered us a unique way of doing this, with elegant, modern smartphones and a user experience that is immediately familiar."
As a company which truly understands the importance of making a personal connection with employees, contractors and clients, Gi Group also values the ability to use Microsoft Lync for conference calling and is evaluating using Skype, together with the great cameras in Nokia Lumia, to enable video interviews with applicants when they cannot meet face to face.
Nokia Lumia also offers HERE Maps with LiveSight to help Gi Group people feel at home, wherever they happen to be as well as HERE Drive, with free, turn-by-turn navigation to help them get to their next meeting.
Paola Cavallero, general manager for Italy at Nokia said, "Gi Group is a great example of how Nokia Lumia enables smartphones to become an integral part of any company's IT infrastructure, working seamlessly with their corporate systems and freeing their people to work effectively wherever they are."
Nokia for Business
The Nokia Lumia range offers business users a true Microsoft Outlook and Office experience out-of-the-box. With the Windows 8 platform, Microsoft Office and Outlook are built in allowing employees to open, edit and share PowerPoint, Excel and Word documents and synchronise changes without losing the original formatting. Combined with a design that stands out, business class navigation, security that's fit for business, and a range of Qi standard wireless charging solutions, the Nokia Lumia is the best smartphone for businesses. For more information, visit www.nokia.com/global/business.
About Nokia
Nokia is a global leader in mobile communications whose products have become an integral part of the lives of people around the world. Every day, more than 1.3 billion people use their Nokia to capture and share experiences, access information, find their way or simply to speak to one another. Nokia's technological and design innovations have made its brand one of the most recognized in the world. For more information, visit http://www.nokia.com/about-nokia.
About Gi Group
Gi Group is the first Italian labour multinational company as well as one of the major global players in the sphere of services geared to labour market development. The Group operates in the following fields: temporary work, staff leasing, recruitment and selection, executive search, outplacement, training and HR consulting. At the beginning of 2007, Gi Group started to move on the international scene, and today it operates in 19 countries across Europe, America and Asia. At the end of 2010, it obtained an important acknowledgement, becoming Global Corporate Member of CIETT, the International Confederation of Private Employment Agencies. In 2012, it found a job for 160,000 individuals and served over 15,000 companies, with an overall turnover of 1,092 million euro. The Group counts 480 branches all over the world and over 2,400 employees. For more information, visit www.gigroup.com.
Windows Central Newsletter
Get the best of Windows Central in your inbox, every day!
Rich Edmonds was formerly a Senior Editor of PC hardware at Windows Central, covering everything related to PC components and NAS. He's been involved in technology for more than a decade and knows a thing or two about the magic inside a PC chassis. You can follow him on Twitter at @RichEdmonds.
I'm not familiar with that company but given they are located on nineteen country's that is pretty good news. No so sure if its huge, but significant none-the-less.

800 employees in its HQ country is not huge, at least not by American standards. But good for Nokia nonetheless, as I own stock.

925s, 820s and 620s -- it's like company car hierarchy all over again!

Windows Phone is making great inroads in businesses. A friend of mine (a cop who lives down the street) told me that his whole force switched to Windows Phones recently and he loves it. He plans on switching his personal phone to a Windows Phone.

All the cops got Nokia 822's.... He's pretty happy.

I feel bad for criminals being shot with the pureview cameras. They will easily be identified

This isn't the last success story and this wont be the last. Surely you meant this isn't the FIRST.

Bah! Anti-derpy-derp-derp coffee isn't working! :-(

Guess that coffee ain't the last either... ;)

The transistion has begun! bye bye RIM.

I heard that Seton Hall Uni handed out a Lumia 900 to every freshman when they came out. WP definitely becoming the weapon of choice: http://press.nokia.com/2012/06/11/seton-hall-university-provides-nokia-l... *I believe 2016 is a typo

2016 is not a typo. Class of 2016 means they are graduating on 2016.

Not to be mean but you might want proof read paragraph 5. ;) Especially the first and last sentences.

Guys, I think I finally maybe converted my coworker to a Lumia 925 from a shitty Samsung galaxy exhibit. It gave her so much trouble! She hated it with a passion. Honestly can't wait to see it myself. Sorry for the off subject.

Not off topic at all❕... That's great❕❕

One addition at a time will keep Nokia movin' on up!

This justifies my view that Blackberry should have used Windows Phone OS when it was offered to them, as it makes sense for a company that's struggling but has a sound footing in enterprise as does Microsoft. Just like Nokia, BB could have differentiated their offerings with their own unique apps as well.

I've always admired Nokia and Blackberry for their outstanding contributions to mobile communications.

I guess it's not too late for BB to get onboard.

No way, they have their own public that love them for some reason and if they changed to WP, I think they would loose them too.

There's no comeback for BB.

Not as a hardware vendor, that's for sure.

That's what they said about WP..

I must agree. Having seen one of the new BB's they are not bringing enough to the table to be competitive or regaining the enterprise market share they have already lost.

Sadly, it is. They aren't exactly king when it comes to having killer hardware tech or having a strong ecosystem/feature set. And whatever advantage they did have by having a solid enterprise service and a fresh looking OS, they killed it by pricing their devices outrageously. Fact is, you won't get the same price as Apple or Samsung in today's market. It is called undercutting that price - the route Nokia has been taking (except the 1020 which will suffer because of it). Also, they priced that Q5 for $400. Ridiculous for what its worth and it is up against a sea of sub-$200 Android devices and Lumia 520/620/720. That's going to kill all growth in the low end market and the emerging markets. Why pay $400 for the "Blackberry" experience when you'd do just fine spending exactly half of that?

I really hope this means that skype on WP will play an important role and be updated and supported more dearly

I think that BB would have benefited greatly if they would have went with win8 and like someone said using there own apps it would have been a good look for them, I still love BBM and with that on WP good look indeed

Blackberry made their dough in enterprise, Windows is big in enterprise. The problem for blackberry is that when they were huge, MS hadn't really much or a worthwhile mobile solution. After the decision to have a more modern OS was make, it would have made more sense to go with Windows Phone. Instead they chose to develop their own OS which allowed Windows-centric devices ample time to attack their position in enterprise.

While many may argue that ppl swear by BB (which is true), it was never about the OS; it was security and BBM. So I don't think there would have been a big difference in terms of reaction from consumers/enterprise, once BB was able to offer consumers/enterprise those solutions.

I have been pushing for WP devices at work for the last 9mths and today I received a call from from our Telco who specifically rang to advise against continued BB use.. needless to say, Nokia and WP just became our official platform.. win! :)

..also why can't I use emoji here?

What I would like to know is when the type of implementation happens, does Nokia send out training personnel out for onsite training. Apparently, Nokia direct sends out staff to promote the platform instead of relying on cellular carriers. Why doesn't MS adopt this same philosophy in the states? This is what it's going to take to get WP mainstream and into the hands of consumers and businesses alike. Some tweet this message to Joe B.....I'm not on his twitter list, otherwise I would myself.