IDC shows fiery Windows Phone growth in Vietnam, looking to challenge Android with a 119% YoY increase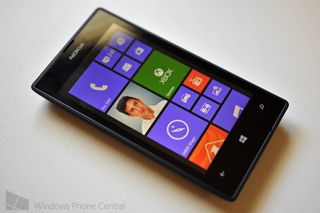 IDC has released data showing an increase in smartphone shipments in Q2 2013 in Vietnam. 32.7 percent of total mobile phone shipments were smartphones, up from just 14.7 percent in Q2 2012. The good news here for Windows Phone is not only are we looking at a larger market for OEMs to take advantage of, but the platform has increased its share of the smartphone market in the region by a fair amount.
Having just 5.7 percent of the market in 2012, Windows Phone has seen growth of 119 percent for this year. Android still remains dominant on 82.2 percent, but Microsoft's platform takes second place with 15.3 percent. The below charts show how the two platforms are now separated from the competition with iOS in third place on 1.6 percent.
BlackBerry almost has a higher share of the market than Apple, which is interesting considering the current condition of the company and how it's looking at various options, including the possibility of selling off the company. Daniel Pang, ASEAN Research Manager for Client Devices at IDC Asia/Pacific, had the following to comment on the Windows Phone increase:
We've previously looked at just how popular the Lumia 520 is and how Nokia has been flooding regions with the most affordable Lumia Windows Phone. With current trends looking to continue, Microsoft is certainly wise to snatch up Nokia and really invest in plans to further market and promote its platform in regions where the foot is safely in the door.
Source: IDC; thanks, sri_tech, for the tip!
Rich Edmonds is Senior Editor of PC hardware at Windows Central, covering everything related to PC components and NAS. He's been involved in technology for more than a decade and knows a thing or two about the magic inside a PC chassis. You can follow him over on Twitter at @RichEdmonds.
Apple really left an opening in a lot of countries by ignoring the lower price points.

I guess this is where the iPhone 5c comes in.

That's what they are trying to fix, but it may be too late. They made a similar mistake in the US when they went with exclusiivty on AT&T. That created the opening for Android on Verizon.

Thank you! You rarely see anyone on a tech blog discuss how Apple essentially created Android and is being consumed by it. The AT&T exclusivity deal was exactly the catalyst for Droid on Verizon. And it took Apple way too long to realize having the Google CEO on its board wasn't a smart idea afterall. Added to these blunders was the way Apple then treated its partner: sitting silently while iPhone users bitched and moaned about the lousy phone service they frewuently got on their devices. Consumers naturally blamed all of that on AT&T, when that wasn't the whole problem. It wasn't until around the end of the exclusivity deal that Apple acknowleged what it had long known that the phone itself was defective, consistently reporting better signal strength than was actually available.
Apple's reality distortion field is still their most successful product.

By then, too little, too late! :)

It's never too late. If that were the case Windows Phone would have stayed away. Let's just hope enough WP devices are liked and the consumers keep on buying them.

But iPhone 5C won't be as cheap as Lumia 520, and it'll face direct competition from equivalent/possibly better but cheaper Lumia 7xx phones.

The iPhone 5C will probably cost equal to the Lumia 820.

The iPhone C is still rumored to be $400. That is a long way from 520 around $100.

An entire family could buy 520's for the price of one 'budget' iPhone...

yeah, it's 4 times more expensive, despite the 'Cheap' meaning on iP 5C (iPhone 5Cheap?) and it will continue to drive themselves off the market, IMO.

Actually reason for 5c is misunderstood. It will replace 4s. That's because apple has three iPhones out at any one time. So instead of 5s/5/4s out in two months time, it will have 5s/5/5c. All with latest lightning conductors.

Correct. And Apple have to come great with their rehashing of some plastic back 2008 variant of a iphone 3G, into 2013 and naming it iphone5c. If they can't match that $100.00 or €99.00 lumia 520 price point Apple would be wasting time.

Good, very good for Windows phone :D

The marketplace is loaded with vietnamese apps! For every 10 apps, 3 are vietnamese.

Yeah! Go Viet-effin-nam!!!

Despite the growth, lumia 1020 will only be available in Vietnam in early Nov with one or two weeks earlier or later.

Waiting for further enhancements from MicroPhone, e.g screen rotation lock, audio control, notification, .. (posted from my 920@Vietnam)

Nokia need to release a Lumia 320 or something that costs less than 520.
Currently Lumia 520 is selling for $175+ in Asia, Europe, Latin America. They should release a Lumia phone that costs around $100-$120 in these countries.
That is how android got to 80-90% market share in most of these markets.

Lumia 520 is selling for $100-$120 in US. They don't need to reduce the price of 520 but should release a 3.5 or 3.7 inch screen device with 4GB, 3 MP camera for $100-$120. This will bring WP a 20-30% market share in markets like Vietnamm, Mexico.

It is cheaper for them to increase the production volume of the 520 and lower the price of that than develop an entire phone. 520 specs is about as low as WP permits or smartphone users would want.

I agree. Just to add to that, they could help shave an extra few dollars off by skimming down on packaging. When I got my 521 from T-Mobile, it came in a massive box with manuals, car charger, USB cable, manuals, etc... Most people these days will already have the chargers and they don't need the manuals or huge box. Heck, Nokia should call it "Green" and claim its to help the environment.

In Peru the lumia 520 is aprox US$ 150 without contract... with US$30 contract is jsut US$ 10.... this is a good deal!

I moved here recently from Korea. Boy is it nice to see some fellow Lumia lovers here! Though my 920 is a bit of a rarity here there are lots of people with cheaper models. Great progress MS/Nokia :)

I live in Vietnam, everything here is very nice, now I can see someone using Windows phone on the bus that I usually take, compared to the time of a year ago that it is very difficult, android is a majority but now has other, won day Nokia and Microsoft

GREAT NEWS!... keep it up WP/NOKIA!

"almost higher"... Aka lower. C'mon Rich...

I noticed this while in VietNam earlier this year. Lots of Nokia WP adverts and quite a few sightings.

I just thought of this: Would Microsoft now be able to sell phones for cheaper since they're producing it all in-house? Would that make a phone like the Lumia 520 end up less than $99? Because that could be huge....

As a Vietnamese, and a Microsoft Student Partner, I expect that number to plunge pathetically.
Not to be any setimistic, but many people here are buying that phone because it's Nokia branded. Us Vietnamese REALLY trust Nokia. With Nokia brand goes away, you can see those numbers plunge.
I don't know about other countries, but I also expect the overall number to plunge, especially in India.

I totally agree with you!

I guess, filipinos think the same. Nokia made WP popular. SEA countries are loyal to trusted brands. WP is not yet that popular(not popular in the sense that people tend to see first the Nokia branding, they only see the OS when they check the phone out). At least for me, this the case now. Removing Nokia name on future WP will confuse avg. Nokia fans.

i trust Nokia brand too , about future i don't know what will happen

Basically nokia symbian users switched to nokia wp phones.. Wonder if the same thing would've happened if they(microsoft) bought nokia phones sooner

Microsoft, please do not take Nokia brand away from the smartphones! These Vietnamese most probably bought WP because of the Nokia brand on it. Let's just hope you do not end up screwing your smartphone sales by taking that beloved brand away from the customers.

But again, this is only wishful thinking...

I always thought Asians had more intelligence than most Americans. :-)

i don't think so, because two regions are realy different about curture and behavior

Also can anyone provide me info about market share in Pakistan. Thanks

I'm Vietnamese and live in Vietnam, but I think this data is not accurate. When I go out, I can see iPhone 4/4S everywhere, rarely meet someone uses Windows Phone. Most of Vietnamese buy WP mobile because of Nokia brand, they dont care what OS inside it. Now MSFT bought Nokia, if Nokia logo is replaced on its phone, no more grow up for WP in Vietnam.

This is about right. I have seen many Vietnamese apps pop up in the store lately.

i'm vietnamese , i'm using lumia 520 . This is right

Which seems to me that in this particular country, the conversion from symbian to window phone worked great.

This IDC PR was written before the acquisition announcement. And it is worrying to think about WPs prospects in vietnam once the Nokia brand is gone. MSFT really needs to recognize the value of that.
Windows Central Newsletter
Get the best of Windows Central in in your inbox, every day!
Thank you for signing up to Windows Central. You will receive a verification email shortly.
There was a problem. Please refresh the page and try again.