LEGO Minifigures Online launching on PC later this month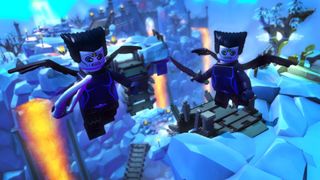 LEGO Figurines Online will be launching on PC, Mac, Linux, iOS and Android hardware on June 29. Players will be able to play in the consistent world cross-platform, meaning you'll be able to join friends no matter what device they happen to be rocking. The online title will launch as a buy-to-play title on both desktop and mobile platforms, similar to the likes of Guild Wars 2.
According to the developer, Funcom, the move to buy-to-play will enable the team to create a "fresh, new experience," even for those who may be coming across from the earlier version of the game when it was free-to-play. So, what's all the fuss about?
LEGO Minifigures Online will be available for PC, Mac and Linux on the online store, as well as Steam for $29.99 (£24.99) on June 29. These versions will include all content. Android and iOS releases will be made available on respective stores for $4.99 (£3.99), which will include the first world only. Mobile gamers will be able to purchase new worlds, but said content will be delayed for Android "until later this summer".
We'll be sure to let you all know when it's available.
Funcom is excited to announce that LEGO® Minifigures Online will be launching on PC, Mac, Linux, iOS and select Android devices on June 29th, 2015. For the first time ever, gamers will get to play in the same persistent online world across all platforms, making it easier than ever to play with friends and freely switch between platforms to keep the game going wherever players may be.
Funcom announced recently that, after a limited run as a free-to-play game on PC, LEGO Minifigures Online will now launch on both desktop and mobile platforms as a buy-to-play game. To ensure a fresh, new, and even higher-quality experience for everyone, the developers at Funcom have spent months overhauling the game in preparation for this launch. New features and content, such as unique events, cinematics, voice acting, and a fun and engaging story are included, as well as numerous gameplay additions and major improvements throughout the entire game.
"This really is the definitive version of LEGO Minifigures Online and we are very much looking forward to opening the servers for players to experience it," said Funcom CEO Rui Casais. "Not only will it feel like a fresh, new experience for those who have played the earlier free-to-play PC version, there is also so much potential unlocked now that you can play with each other across platforms on a broad range of devices. Maybe you are playing on an iPhone while your friend is on an Android tablet and your dad is on a high-powered PC; you'll still play together in the same persistent online world, along with thousands of other LEGO fans from all over the globe."
LEGO Minifigures Online is an online game for LEGO fans of all ages, where players can collect over one hundred Minifigures, each with their own unique personality and abilities, and build a team to take on exciting adventures through colorful, classic LEGO environments. From Pirate World to Space World, players must play together and smash their way through aliens, sea monsters and more to unlock the full potential of their Minifigures. The game is KidSafe certified and fully COPPA compliant, with multiple safety measures in place to ensure a fun and secure online experience for everyone.
LEGO Minifigures Online will be available for PC, Mac and Linux on www.playminifigures.com as well as Steam for £24.99 on June 29th, and will include all content. The iOS and Android versions will be available in the App Store and on Google Play respectively for £3.99, which will include the first world. Players on iOS devices will be able to purchase additional worlds starting June 29th, while Android users will be able to purchase more worlds later this summer.
Windows Central Newsletter
Get the best of Windows Central in your inbox, every day!
Rich Edmonds was formerly a Senior Editor of PC hardware at Windows Central, covering everything related to PC components and NAS. He's been involved in technology for more than a decade and knows a thing or two about the magic inside a PC chassis. You can follow him on Twitter at @RichEdmonds.
Surprise, surprise! No windows phone!

Windows 10 universal app? No, okay.

Considering it launches a month before Windows 10 desktop that's highly unlikely right now, right?

Lego Worlds I already out on Steam early access

So its the same as LU after they dropped the monthly fee

LU was way more fun in my opinion.

I had thought about getting it but the ongoing cost for something id occasionally play wasn't worth it as for when they dropped the monthly fee I still couldn't justify the cost retailers were asking for it

The monthly fee was never dropped entirely. It went like this: First the retail price was lowered by half, then yet again, then there was no retail version at all anymore, then there was a severely restricted free-to-play mode that didn't allow anyone to travel beyond Avant Gardens (which was a pity because it was always one of the most boring worlds). Then the game was cancelled unfortunately. I played it with my brother from the last weeks of alpha testing to the very last day and we had countless hours of fun together in front of the PC screen and even though I guess it technically wasn't even a fantastic game (the score was, though) I'm afraid no other game will ever come close for us as far as that is concerned. But one can hope, LEGO Worlds seems promising. :)

June 29th ? , the same date of release of windows 10 for pc , amazing :|

Windows 10 launches on July 29.

Remotely related, and no one really cares: My Lego The Movie: The Game for my Xbox One just arrived. Needed a chilled out game for these lazy hot days.

Btw, it was 35 Eur. through Amazon, while via Microsoft marketplace is 45. Silly how there's not at least parity.

Because Amazon is probably lowering the price to get business. It's how their whole business model works.

Maybe when halo mega blocks launch by take 2

It's a "persistent" world; not "consistent".

Still annoyed that my Lego universe disc Is worthless now...

I have two, one even unopened - I won it from one of the screenshot contest along with a bunch of Alien Conquest sets. :D I (or rather we, as in my brother and I) got second on one and fifth (I think) on another and we won tons of sets. :D

Minecraft has to fear this. It's Lego

This isn't take2 or mindscape so its anybodys guess if it will out do LU the previous game as a service

Certainly not, they are both very different games. If anything LEGO comes close to Minecraft it's LEGO Worlds.

I have been a faithful Linux Ubuntu user since 05.10 and i have to say that it's really nice that they will do a native Linux version of the game:) But today I am in love whit windows 10;)

Who cares about them weirdos Japs LOL Posted via the Windows Central App for Android

If you have multiple kids playing the F2P version of this game beware of the poor wording of their FAQ. There is a question in there about will everybody in my household have to buy a copy of the game to play since we have multiple players in the house. The FAQ says no you don't, only one person has to have the full game! What they neglect to say and I found out when I emailed the company is that what they mean is that if you have multiple people in the house they can all play on the same account. All progress and unlocked figures (through buying physical figures or digital) are locked to the original accounts. They cannot be transferred to another account. So in my case my daughter paid for the lifetime membership which gets transferred to a full copy of the paid game, my son just played for free and would buy physical figures and use the codes to unlock characters on his account and play that way. Now..... the only way for him to play is to play on his sisters account. Yes he can create a second "character" on her account to play as but he cannot transfer any of the unlocked figures from his account the one he would have to create on hers. So essentially, this whole family can play on one account is a scam as each "character" on the account (you can have up to 8 from what I can see) has to unlock the figures separately. That is really crappy, even Blizzard lets mounts, pets, and some other things be shared by all the characters on a single account.