The Lenovo Thinkpad Stack is a frequent travellers dream accessory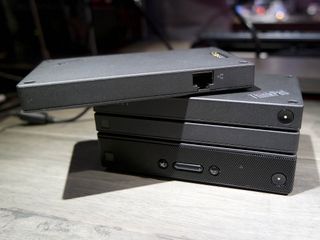 The Lenovo Thinkpad stack is one of the less glamorous products to come out of CES, but it's one that we left most interested by. When the initial press release came through we were left with an initial impression that it would be a useful, if sizeable addition to your desk. In the end we left Las Vegas with it having been one of our favorite new products.
Firstly, what is it? Imagine how you'd stack up a home theater or home audio system and you've got an idea of how this thing looks. Then shrink it right down to the size of a smartphone but maybe three times thicker. That's about the size each part of the stack is.
If you opt for the full set up, right now you'll be getting a Bluetooth speaker, a USB 3.0 1TB hard drive, a wireless access point – provide an Ethernet connection and it turns into a wireless router – and a USB battery pack. All work together or individually. Items in the stack connect together through pins, and only requires one power source when stacked up. So, for example, you can plug the battery pack in at the bottom and it will charge this as well as powering and charging the bluetooth speaker and provide power to the USB hard drive and wireless access point.
Better yet, the same principle still applies if you stack up multiple items of the same type. If you have two battery packs, you can still charge them both using one power supply. All items work individually using either direct or USB power, or onboard battery power (whichever applies) and since they're so small they're absolutely perfect for the frequent traveller.
So while the Thinkpad Stack may lack a little glitz and glamor – though there's a certain amount of style produced by the classic Thinkpad look anyway – it's one of the best thing's we've seen out of CES. Because it's a genuinely useful and innovative idea. And we might just be picking up a couple when they go on sale in April. Prices come in at:
ThinkPad Stack Bluetooth Speaker at $89.99
ThinkPad Stack 10000mAh Power Bank at $49.99
ThinkPad Wireless Access Point /1TB Hard Drive Kit at $199.99.
Check out some more images below.
Windows Central Newsletter
Get the best of Windows Central in in your inbox, every day!
Managing Editor - Tech, Reviews
Richard Devine is a Managing Editor at Windows Central with over a decade of experience. A former Project Manager and long-term tech addict, he joined Mobile Nations in 2011 and has been found on Android Central and iMore as well as Windows Central. Currently, you'll find him steering the site's coverage of all manner of PC hardware and reviews. Find him on Mastodon at mstdn.social/@richdevine
I'm not entirely sure I "get" this product yet... trying to envision a usage scenario...

Was just about the say the same thing poddie. I don't really see the point or a real use for this.

One reason is that I feel I could have everything listed there while using other products and taking up less space

You have a 1 TB HDD smaller? Hmm...

Yes, both the Backup Plus Slim by Seagate and the My Passport Ultra from WD are smaller and can hold more as well. Then there are portable SSD's that are even smaller.

Sound like a companion for a custom mATX sized desktop

It's one of those things that if you could use it, like for example you travel a lot, it would be immensely useful. Every part of it is small enough to fit in a laptop bag. The wireless access point, for example, I've just been using one of those (different brand of course) throughout CES in the hotel room plugged into the Ethernet. I also had a Bluetooth speaker and a battery pack with me, all of different brands requiring a unique power source. I could take those three parts of the stack and just use one power source.

Ok, so you're saying the prime benefit for you is not having to bring multiple power supplies. I'm not sure I would call it a "dream", but I guess that's a benefit in some scenarios. Thank you for explaining further... clearly not something for me, but I'm sure there are people who want it.

its having a customizable group of accessories that can all neatly sit in one clean stack in your hotel or crowded temp space when youre on the road. You could carry individual, unrelated accessories, but they would be sprawled out, each needing their own plugs. These stack neatly as one unit. Its aesthetics and space effciency.

Does the stack lock or snap together? Or would it all fall apart if you knocked it over?

I think I read that they have magnets to keep them together. Sounds neat.

I'm with you. I travel almost weekly, and I have no excitement for this product. I am trying to travel lighter which is why I switched from using a laptop to a Surface Pro 3. I don't bring a plethora of gadgets with me, so I have no need for the router, and I have enough storage either with flash drives or built-in to satisfy me for the duration of my trip. I also have no need for the battery pack. Airports and most planes have power sources now, and I am never in a situation where I can't just plugin at some point if I have to. I also would rather just use my headphones rather than carry a larger bluetooth speaker. Maybe I am the oddball here, but I have a hard time seeing this take off.

I think this is something I'd need to see in person for it to make sense.
As it is, it looks like a pretty sizeable solution for 'problems' that I never really felt to be problems at all...

This is for business professionals who travel. That is the impetus for the ThinkPad line. It offers a modular approach to needed accessories, like portable Wi-Fi routers, extended batteries, or a 1 TB HDD. You connect them all up, at will, so that in theory you can make a portable, networked 1TB HDD that is battery powered.

The fact that these are "needed" is highly debatable. This coming from a weekly traveler. There is not one item from that group that even remotely interests me. I am more intrigued by the new Samsung 1 TB business card sized ssd than any of this stuff. I want to carry less stuff with me, not more.

Not to mention looking totally awesome in presentations!

Its not a complete solution like razer's project christine was

This does sound super cool. I can't wait for them to expand on this and make more modules.

That's the other awesome thing. Because it's a modular system that connects together like it does, there are so many possibilities for Lenovo to keep adding to it.

If they would make a Blu-Ray player and a NUC in the same factor, this could definitely be a great HTPC

Lol good luck fitting a BluRay into a player that is smaller than the disk.

Haha, that didn't even cross my mind :P Okay, that one block could be bigger until Lenovo figures out how to have half of the disk disappear into the alternative universe where Optimus Primes sends the other half of his truck when transforming ;)

I don't see the interest there. There are programs available like MediaBrowser that will allow you to remotely stream live tv, movies, and whatever else you have in your collection without having to lug around an extra piece of equipment. An HDMI cable is much smaller and lighter. Just plug your laptop/tablet into the hotel TV, pull up MediaBrowser, and you get all the same functionality with far less bulk.

Actually, that is possible, but pretty unsafe if left unguarded. If you have the motor and the laser in the small block, and have most of the disk outside the block, it can spin and data can be read. But, of course, if you touch it while it's spinning... Yeah don't do that.

There's nothing to demo. It's a bunch of black boxes!

Not much to demo, besides stacking 'em together.

My brain is on strike again. I am just not understanding the need and useage scenario for this. Can ya dumb it down even further for me?

I personally always bring with me a small wireless hub and an external backup HDD when i go on a business trip, so the idea makes sense for me. I have to see them in person to understand how bulky these are, but they definitely look more professional than the plastic boxes i carry around. I would say that for the "premium" traveller they are a good accessory, imagine bringing a Carbon X1 with these, you definitely can work hard and look cool!

Add a stackable pico projector, you practically have the whole office with you... which run on the only plug point you can find in most of the hotel room!

A pico projector with wireless hdmi would be cool. Add a media player, wireless hdmi, the ability to connect to o365 for presentations, and a remote to the hard drive/router and I could see some worth while utility here. That would be pretty cool.

How does the "router" work? Thats what I don't understand. Is it basically a hotspot or what?

Ethernet goes in, wireless comes out. So it's like your own hotspot that you can take with you.

My guess using w8 wireless hosted network

It's a niche product, but I can definitely see the application for it even in a home environment. Just add the components you need.

Would love a new Serie U Ideapad Ultrabook from Lenovo

I think the missing bit here is how it all talks to a machine. Initially, I saw this as a pone thing, and in that light, it's not that useful (do you need 1 GB of storage connected to your phone?). Then I saw somewhere that Lenovo has a new power connector on some of its notebooks that includes power and data on a USB hookup. That starts to make sense, if this collection of stuff is designed to work with said connector. Power supply and expansion space and speaker and all...hooked together. Dunno about the WAP, since that can be provided either by a phone or a notebook. Not something I need right now, but potentially cool in the future.

The cool thing about this WAP is that it can hook to the wired LAN in a hotel room, then act as a wireless access point for that LAN. You get to turn a wired connection into a secured wireless connection so that you can operate securely from anywhere in the hotel room, like, work on the bed instead of at the desk where the wired port is. I have a similar device, but it's much smaller. About 2"x2"x1/2".

One of the issues here is that hotels are trying to crack down on said usage. If they succeed, your $200 wireless/nas router suddenly becomes just a wireless nas. Not great value for the money. In addition, is it worth spending $200 to combine the two? It might be for some, but $200 is a good chunk of money to combine two already small devices.

Yeah, I spent only $18.99 for mine. I can't see spending $200, but if you've got to have stackable convenience, then I guess you get what you pay for. Only some of the hotels are trying to crack down on it, and they are the ones that charge exhorbitant amounts for using the hotel's internet. The one's that already offer free Internet don't really care what you use. I only stay in the ones that offer it for free and aren't fighting for the right to "jam" guest WiFi. That's the way to get what you want, let your money do the talking.

cool idea. BUT, I hate that plastic texture and grey color. that old school style comes from 90`s or 2000`s when IBM owned thinkpad .

There are still people who likes that minimalistic industrial design

hmm, I actually like it, i have a bit of nostalgia for my hi-fi :)

Kinda like the Wireless box except for one small issue that I have noticed the past couple years or so. I've been to about a dozen different hotels/motels and maybe only one or two actually had a wired connection.

Old school hotspot, virtually useless for a traveler who probably already has a mifi or hotspot from a cellphone.

Well, I carry one of those with me. On some business trips abroad I go visit factories, they don't have wireless in their meeting room but a cable. I plug the cable into the mini hotspot and i'm online with all my devices. Same for some old hotel.. The world is full of that, and roaming is expensive :)

Except for the pesky fact that crazy roaming data costs like 10 bucks for 5 MEGABYTE is still the norm which prevents any work to be done in a different country from tethering from a cellphone or mifi, and there are still countries where you cannot get a prepaid data card. Also a lot of hotels in Asian, such as Japan, has a wired connection which is free but asks guests to pay for room wifi, an ethernet hotspot router is EXACTLY the solution needed. Plus some people don't feel safe connecting to a hotel wifi (and not-so-good hotels usually has the crappiest wifi - congested, slow and absolutely not build to handle the traffic). This is far from being outdated device.

@houkoholic: I was wondering about the usefulness of this AP. Thanks for explaining how this might be a solution for some people. Why do you think it's bundled with a 1TB HDD?

I am a business professional that travels and i just don't see how this would make my life easier. Right now, all i have to do is open up my laptop and i am up and running in seconds. With this, you would have to stack everything, setup a monitor, keyboard and mouse and then god forbid you have to move to a meeting in the next room. I can already see everyone SMHing at my troubles. I would love to meet the guy who greenlighted this project at lenovo to understand why he did it.

This is not a computer. It's a bunch of accessories that you connect to your laptop that can be stacked together to run off a single power source.

I think I prefer the Seagate approach to wireless battery powered hard drives. Everything is built in to one device.
http://www.pcworld.co.uk/gbuk/data-storage/hard-drives/portable-external...

This does not involve Monitors, keyboards, or mice. The only thing you would change is instead of just "opening your laptop and being up and running in seconds", you would just "open your laptop, stack the boxes next to it, and be up and running in seconds." But also with wifi, 1TB of wireless accessible storage, a Bluetooth speaker, and an independent power supply to power it all.

Sorry, but I am not sure you understand the purpose of this product. Monitor? Keyboard? Mouse? Have you ever been travelling abroad for work? The world is not all high-tech. I always bring a mini wireless router and external backup HDD on my business trips. I don't have to set up anything. I just carry them in my bag and use them if I need, in the meeting room or hotel room. It's not new stuff and it's really useful. This line of products just makes it look cooler and adds the feature of only one power source for all.

This is kind of brilliant.

That's a realy cool system, but they should add a 4G module so you could realy have a mobile accesspoint.

BT speaker is nice, assuming it sounds decent. Matching battery pack is cool too. I like the concept generally, and the prices seem rational. Not so sure about the AP/NAS thing for $200. That one seems like an overpriced solution to a mostly non-existent problem for the average business traveller.
Windows Central Newsletter
Thank you for signing up to Windows Central. You will receive a verification email shortly.
There was a problem. Please refresh the page and try again.