Lenses feature allegedly coming to Windows Phone 7.8 too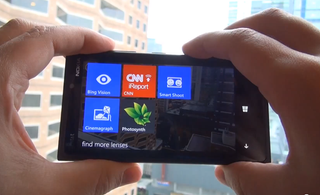 Although nothing official has been announced yet for Windows Phone 7.8, we're certainly hearing a lot more about that pending update these days. The latest information states that current users will get the 'Lenses' feature of Windows Phone 8.
The information comes via a Google Hangout that was held recently with David Akinjise, Product Manager at Nokia and picked up by the site WPArea.de. There he revealed that the Lenses feature along with Cinemagraph and Smart Shoot will be coming to current Nokia Lumia phones in the near future.
Lenses are similar to mini-apps for the Camera module, where programs can be activated while readying to take a photo. Not only do they make photos more creative they give "live" views of whatever changes they are designed to do. So instead of having to find the app in your App list and then post-process the picture, you can do it all at once.
So far, there has been a limited selection of Lenses for Windows Phone 8, including CNN's iReport and Nokia's Cinemagraph, Smart Shoot and Panorama. A Windows Phone 8 version of PhotoSynth is around the corner (we've used it ourselves) and presumably other programs will be getting the treatment as well. From our experience, Lenses really are quite useful as the take some of thing thinking out of taking photos.
Cinemagraph and Smart Shoot are Nokia creations with the former creating animated GIFs from a series of rapidly shot photos and letting the user select which areas to animate. Smart Shoot works by identifying moving objects in a frame and letting the user selectively erase unwanted figures.
If Akinjise's statement turns out to be accurate, current Windows Phone users should get quite a nice update in the next few months to make parity a little more realistic between the two OSs.
Source: YouTube/Google Hangouts; via: WPArea.De
Windows Central Newsletter
Get the best of Windows Central in in your inbox, every day!
Daniel Rubino is the Editor-in-chief of Windows Central, head reviewer, podcast co-host, and analyst. He has been covering Microsoft since 2007 when this site was called WMExperts (and later Windows Phone Central). His interests include Windows, laptops, next-gen computing, and for some reason, watches. Before all this tech stuff, he worked on a Ph.D. in linguistics, watched people sleep (for medical purposes!), and ran the projectors at movie theaters because it was fun.
Oh hell yeH... Im keeping my lumia 900 so bring me the UI and all the goodness

Sounds like 7.8 is shaping up to be a nice update actually.

Yes. I already used it on my 900 weeks ago.

Download the app and try it out yourself.

Making it challenging to choose the L920 when the L900 7.8 will get, seemingly, 70-80% of what the Lumia 920 has. Neither phone can match the photo quality of my N8, but I don't think I can go wrong with either. Decisions...

Really good news!

My 10 years PC updated to Windows 8 seemingly has 70-80% of features that my new PC build in 2012 has but not seeing which one is the clear choice is being blind.

For my money, and given that I'd rather have a Lumia that combines Pureview 1 and 2 (which is safe to say will be released by this time next year), WP7.8 is not significantly different that WP8. Sure, the Lumia 920 is technologically more advanced hardware wise, but for my needs, the Lumia 900 will suffice just fine.

Whichever device I choose, it will be off contract, and I will purchase a new device in 12 months :)

YMMV.

Thats what i say the last months. Normal consumer dont decide like geeks or tech people. 90% of the normal consumer would choose thw 900 over an 920 because of the price if it has the sam feel and look like wp8. But thats normal. Wp7 and wp8 will be together a good ecosystem

Sorry but your N8's camera can't compete with the lumia 920's. It gets owned in low light and once the firmware update for the 920's camera gets released soon, it will also rape it in good lighting conditions

Just stop, Dare2Blink.

98% of the photos I take are during the day - the Lumia 900, nor the Lumia 920, comes close to that quality (and yes, I did my own test using the Lumia 920). The Lumia 920 outshines most cameraphones on the market in low light conditions; but I rarely, if ever, have been in a position to have to take low light photos.

Arguably, the two top rated cameraphones currently on the market are the Nokia 808 and the N8. The Lumia 920 is a Nokia product, and holds its own.

And rape? Please improve your vocabulary.

Just release this damn update!! lol
WP8 is out already, what are you waiting for, MS?

Whoever releases the nudity lens has my money. Nudify in real time, yes please.

LOL I would pay good money for that lens

no1 is going to make that... unless brazzers comes up wit a brazzers phone!!!!

Now just screenshot support, and 7.8 is perfect. :-)

I would risk bricking me phone for that update. (HTC Arrive, right here!)

My 1st gen Samsung Focus from AT&T has not even received Tango update. I have no hope of receiving 7.8

Do like everyone else and update yourself with the cab sender at XDA.

Microsoft will be pushing the update to all phones. This is not going to be an update carriers can hold up.

I'll believe that when it happens.

I'm pretty sure that 7.8 will introduce that functionality so that it will work for the updates after but not 7.8 itself.

Samsung Focus owner, here. Yeah, I doubt we'll see 7.8. I'd update my phone manually but I'm fairly close to getting a WP8 so why mess with it at this point. If 7.8 *does* come out for the Focus I'll just update it one day when I have nothing else to do.

there is method available on wpcentral... about updating it officially from zune...

I think this might have been misunderstood. Nokia did say they're going to bring those features over to the 7.x platform but not really in the form of lenses but more of an updated Camera Extras.

Speaking of the Nokia cinemagraph lense, anyone know why we stop can't send SMS GIF's and/or receive them????

Lenses + Titan II will make for the best camera experience of WP7.

Photosynth on a 920? Cannot wait

Microsoft Jedi mind trick!

I like to know how I can get Photosynth on my Lumia 920 as well.

yes i want photosynth back on my 920 its the only photo app im missing to make my lumia 920 complete. also does anyone know good photo editting apps that i can have fun with on my phone? much appreaciated thanks

I use Fhotoroom and Fantasia to edit pics on my phone

I hope this includes all windows phones.

Can't wait :) I'm really curious about the update, and it sounds real good!

Why they dont give us option to turn off this wifi going in sleep mode when phone locked? my fb messages are late cant recive viber calls i dont want to custom rom my phone to get this

A fix is coming, according to a tweet by Joe Belfiore. Here's the deal. WP8 was rushed out, no question about it. That's why basic and highly requested features (custom alerts, continuous WiFi, notification area) are missing on this first WP8 version.

I thought on wp7.8 devices

Makes sense that they would do this. Doesn't seem do big of a change to the OS. What kind of lenses will be available to non-Nokia phones?

any applications that make use of that feature in wp8

I will be at peace when I get a confirmed new saying that Bluetooth File Sharing(Which is there on WP8) and Screenshots are coming to all WP 7.8 devices... and not just "LUMIA" devices!!!!

Because I am sick of being taunted the my great WP device doesn't have BT File Sharing... It's embarassing when your frinds say... hey dude send me that file... and you say "sorry dude... my phone doesn't BT transfers..." and then he laughs at you... :(

+1 same situation here plus only avalible on fb chat and viber when the phone is unlocked

That situation has literally never happened to me.

I don't think any smartphone but Android can share files over bluetooth, since only Android has a file browser.

I was able to make it work with my old WinCE phone. However, getting it to work reliably was way too much of a pain to bother trying more than a couple times.

Old Nokia phones could share files over BT. Even those "classic" looking, which are not considered to be smartphones anymore.
But the problem is overrated in today's 3G/WiFi/Cloud world.

Windows Phone 8 allows bluetooth sharing
http://www.windowsphone.com/en-IN/How-to/wp8/basics/share-files-over-bluetooth
also blackberry phones have it... and all Nokia Symbian Based Smartphones have it

Where's my PhotoSynth for WP8?

That's the one thing that pissed me off about this article, lol.

Hmmm, this is interesting. I might keep my 900 as a backup to my 920 vs selling it.

I heard we.might get.7.8 before Christmas :-P

the roumor that we all have heard? or another source?? :)

I just hope Nokia will Update The camera firmware on The Lumia 800. As it is now The camera sucks and I don't use it as much as I would like to.


+1... Camera does need a little tweaking still... What's the 'auto correct on the fly' when zooming into images all about, don't like it

I just gave up on that and got a 820. The camera hardware in the 800 is just inferior, It don't think it can be fixed by a software patch. It's been a year since the 800 was relased - if they could correct it they would have done it by now.
Oh, and that probably also applies to the 900 and its hilarious blue tint.

This is not news nor a rumour. During the presentation of the Lumia 920 and 820 in september it was announced these lenses (the Nokia ones that is) would come to 7.x devies as apps.

I bought my Lumia 800 for ~440 € in february. Now they're selling it for ~240 €. Release the update already!

Instagram are some idiots not to jump on this. They can use the lenses for the photo filters then have the ability to auto upload...arguably the best instagram experience

in a very calm state I must say PLEASE RELEASE THE DAMN UPDATE!!!, I'M VERY TIRED OF RUMORS AND B.S.

So what is the expected date of release now.. I am fed up of reading news and articals that it will be released on days to weeks and so...



Windows Central Newsletter
Thank you for signing up to Windows Central. You will receive a verification email shortly.
There was a problem. Please refresh the page and try again.