Lightweight ad blocker uBlock Origin ported to Microsoft Edge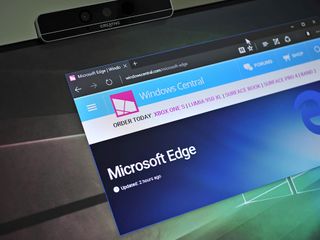 uBlock Origin is a lightweight ad blocker that consumes fewer system resources than the likes of Adblock Plus. The open-source ad blocker is officially available as an extension for Chromium and Firefox, but a New Zealand-based web developer has ported the extension for Microsoft Edge.
Nik Rolls has forked the project on GitHub, and a working prototype of the extension is now available for download as a .zip file for those on the Edge Preview. Interested in taking a look? Here's how you sideload the extension on Edge:
Download the .zip file and extract it to a folder.
Enter about:flags in Edge's address bar, and toggle Enable extension developer features.
From the Extensions menu, click on the Load extension button and select the folder where you extracted the .zip file.
Here's a list of issues that are yet to be fixed, per Nik:
Downloads (settings backups, etc). Edge doesn't allow downloads from extensions yet, or I've not found the way. I'm working on it but if it's not supported then I may be blocked.
Updating lists: unfortunately this is a big one. You currently can't download updates and are stuck with the ones in the current build, which is a very small subset of the full database. This is my top priority to fix.
Possibly other functionality that I haven't been able to verify yet; this is very experimental!
Edge will disable sideloaded extensions every time you exit the browser, so you'll have to re-enable manually. The extension is still in a pre-release stage, so you're bound to encounter bugs. If you have any questions or suggestions for the developer, shout out in the comments.
Thanks for the extension Nik!
This is great. I been waiting for this.

Nice, uBlock is much lighter than other ad blockers.

Opera's native adblock at an engine level is the best implementation yet though.

But not perfect. For instance with Opera's addblock on youtube when ln you get full screen adds you don't see the skip in 4 seconds button and you have to see the whole add.

This is great news. uBlock Origin is my favorite ad blocker for all of my browsers. Posted via my Nexus 7 2013 using the Windows Central App for Android

Will this work on mobile version of Edge?

If and when extensions come to mobile, yes. For now, no extensions are available on mobile.

Oh yes! Number one extension for me.

My number 1 extension is IDM, when we getting it anyway

Ask the developers of that program. :)

IDM already works w/o an extension, I use it all the time

Very good..when can we download it for edge.it's the first extension (ex: adblock plus) i install on all my browsers and it's the only thing for me to change my prefered browser to edge.(sorry for my english if i make some mistakes)..

First step is to get all the features working (or at least as many as Edge will support at the time). This shouldn't take long. Then I'll run it for a little, while I work with the original developers to figure out how we want to manage an official Store release. Hopefully it won't be too long after the Anniversary Update is released, but it's hard to say right now.

Could you do a write up of what code needed changing? Apart from unsupported features (the downloading and other things) did you need to change much other than namespace changes?

That's a good idea, actually! I'll do that once I get to a stable state, it should be an interesting comparison. So far it hasn't required any large-scale changes, but I'm still in the thick of it.

Primarily wondering out of interest in automating cross-browser extension development. I guess you could also do the pre-processor style on all browser-specific parts " #ifchrome yada yada yada " but that's more annoying than just having automated namespace changes.

The existing module is set up well for this. The is the source which is most of the code, and then separate platform folders with overrides for each platform (quite similar to the Cordova project structure. I simply copied the Chromium platform folder for Edge and have primarily made my changes there.

Is this only for the preview version of Edge?

Yes, rest of us has to wait another 13 days till Anniversery Update!

Yep, Insider Preview Fast Ring only for now until it's finished.

Isn't uBlock Origins made by a guy named Gorhill ? Who is Nik ?

Read the article, it's a port, he forked the code (completely legit), using uBlock Origin* as the base-line. *also on Github

Yep, forking and porting this project is legitimate because it has a GPL open source license. In fact the original developers suggested a fork whenever asked for Edge support, because they don't currently have the resources themselves. I'll work closely with them to keep the port up to date and of high quality.

Great stuff, I might have a reason to use Edge now!

That's great of you Nik. Thank you very much :)

Cool but I'll just wait for a official version

Yes -- I'm following the official recommendation by the original developer, as they don't have the resources to do the port themselves. I will be working with them, using the same code-base, and managing the releases together as the official extension (all going well).

the purpose of ad blocking is have web pages load faster right?, but in the article the writter states ublock is lightwieght compared to adblock plus. it would consume fewer resources, so the question is does adblock plus consume soo much resources that it really doesnt speed up web pages? i need a little more understanding on this topic, i hear about ad blockers but dont use them. and explain it to me like a 5 year old (seeif you can catch that movie reference)

I'm no expert, but this is my understanding... so yes, less ads means less loading when you are going to webpages, especially if there is a lot of flash content or other things that can cause your browser to load pages more slowly. However, when they say "uses fewer resources" they are talking about the capabilities of your computer (i.e. ram, cpu power, etc.), which COULD directly and indirectly affect the peformance of the browser. For example, if you use chrome with a million extensions that will slow down chrome because chrome, instead of having one job of being browser, now has all these other capabilities that are running in the background. Also it could overall slow down your computer including chrome itself since it becomes such a resource intensive program with all those extensions. It will take more ram/cpu power/etc. to run those extensions depending on what the extensions do.

got it thanks, are there any current ad blockers out now because i love edge but its extremely slow and i think this will definately inprove it

I don't use edge, I use firefox. I know I know, edge blah blah edge. Though I did use it when I had a Windows tablet, best browser on that. Anyways, uBlock is also my favorite adblock. Just add some media control extensions to edge and I may give it a shot. The ironic thing is...edge actualy crashes and stutters on this particular site for some reason. At least that's the case for me, so I have to use another browser to read news...about Windows.

I came across this new adblocker, Cyceam, and it is amazing. It pays you for viewing ads while browsing online. By default only payer ads get passed. But it has a mode you can select to block any ads. Cyceam also lets you tip your favorite sites and blogs to support them. Tips can be as small as one cent and are anonymized. I just got my first payment and definitely recommend this extension.

I have just tested an don't work well...

Try this link
https://www.windowscentral.com/e?link=https2F%2Fclick.linksynergy.co...
Windows Central Newsletter
Thank you for signing up to Windows Central. You will receive a verification email shortly.
There was a problem. Please refresh the page and try again.