LINE messenger bumped to Windows Phone 8, adds lockscreen support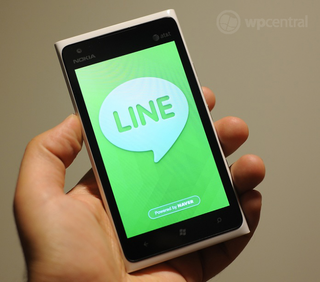 LINE messenger app for Windows Phone has been updated to take full advantage of Windows Phone 8 and new functionality. Popular in Asian markets, LINE is available in over 230 countries as a VOIP solution for those who don't wish to (or can't) utilise the likes of Skype, Kik, WhatsApp etc. So what's new in the latest version?
Support for lockscreen is presently available with icons for the lower section of the display. As well as notifications, detailed information can also be published to view without unlocking the Windows Phone. We last looked at LINE back in 2012 when the app was released. It's a good solution for those who wish to contact friends, but it hasn't quite taken off in western markets.
You can download LINE from the Windows Phone Store. It's also available for iOS, Android, PC and Mac.
Windows Central Newsletter
Get the best of Windows Central in in your inbox, every day!
Rich Edmonds was formerly a Senior Editor of PC hardware at Windows Central, covering everything related to PC components and NAS. He's been involved in technology for more than a decade and knows a thing or two about the magic inside a PC chassis. You can follow him on Twitter at @RichEdmonds.
because Line loves Windows Phone so much, they decided to NOT include VOIP as part of the feature set. However VOIP is available on iOS and Android versions. Quite inexplicable to be honest; the app's marquee feature is the VOIP support and they somehow exclude it. Kind of reminds me of Viber.

I want kik updated to wp8. They haven't updated the app in a while.

And Viber, messenger (which should have voice now) and Lumia version (which isn't on Lumia WP8 devices.

Because Viber don't care...

This is strange. I already installed it & it works. But it's still the older version. When i read this article, i rushed to market place and search for it (my market live tile never shows update notif *sigh) --- and it was not there. Even when i clicked the link in the article here, it's not available in my country, Indonesia. Really weird!

WP Store Indonesia is kinda strange. It never shows update notifcation! Well.. maybe there were in some occasions. Sometimes you have to go to the individual app in the store to notice the updates. I changed my WP Store to US Store yesterday and today I have 31 updates to install, including LINE!! Try to change the store to US Store and do antoher Soft-reset and see what happens. Hopefully the free apps (including LINE) will have update notification.

Yes, it will solved the problem. But in the other hand, i can't make a purchase of paid apps. Ah, it's so annoying to chnage your regional setting everytime, just to install apps. :(

Yep.. That's one of the big problems for WP owners in Indonesia. Not only there're app gap between WP and IOS/Android. There are also app gap between WP Stores (eg. Indonesian vs US). Especially regarding best selling apps.
Kinda frustrating to be honest, since I couldn't buy apps like Gleek and Metrotube.
I tweeted about this prob to Microsoft Indonesia and they have no say regarding those un-available apps. It all depends on the Developers.

Ah, i thought it's microsoft who responsible for the gap, regarding they are the 'distributor' of the apps. Just like the official twitter app, it is unavailable in ID market at the time i bought my Lumia, but now it's available. Very weird. Thank goodness i found this resourceful and informative forum and its app. Now i depend on its news regarding app updates.

for your information.. in region + language setting you can set
phone lanuage = indonesia
coun try/region = indonesia
region format = United States
that way you will get all updates n install apps and you will still be able to purchase apps in Indonesia currency.
thats how i do it with my L920

I seriously think all these messager apps are terrible. Non of my friends use them and the ones that they do are usually the more convient ones. Such as Facebook which is fully intergrated into WP, skype and groupme, these apps really fullfill everyday needs. Granted it's nice to have all the messagers apps available for the WP platform but if they're not on par with the mentioned apps, it's completely useless.

True when it's all said and done Facebook integrated into hub is nice. I'm also waiting for Skype to be fully integrated into the hub.

So ... Does the VOIP still gone? Does the additional sticker still not present? Can anyone confirm?

I never saw the need for this type of app, but recently I have been want a "Chat Room" for me and my friends. I have tried EVERY app I can find and this is my consensus. Skype - Not good on WP7 and message are always out of order. GroupMe - Really buggy, slow, messages are blank sometimes, and messages are out of order. WhatsApp - Costs money on iOS (problem for friends) Viber - SLOW. Kik - AWESOME, it has speed and everything I need. Only problem is the notifications font work and even if you turn them off they keep coming. Causing my friends to uninstall. If they updated for WP8 and fixed all that I would LOVE it. Line - So far seems pretty good. It has speed and notifications. They main features I needed were working notifications, the ability to mute notifications, and cross platform. For now I think Line will work the best, at least for the WP users, but I hope Kik gets updated because it is my favorite.

You should try wechat the best messenger no dought. try it....

I also uses LINE and WECHAT. I love WeChat since it has better features (including VoiceIP Call), but in my experience LINE is noticeably faster. And of course, most of my friends are using Line instead of WeChat.
I hope WeChat improve their performance in the near future.

why do we keep getting these 1/2 and 3/4 baked apps???????


The LINE app for WP8 is so half baked it's ridiculous. Can't even have the option to purchase new icons like in iOS. Made me go back to using WhatsApp , even though I much prefer LINE (iOS ver).

Viber is the worst of the lot.

99% of their focus goes to iOS and Android, it has been donkey years and still voice calling is not coming to general users of WP7.x devices.

Have messaged them many times on working release for WP8 and they ignore me completely. Users queries on their facebook page goes unanswered as well.

They used to give SOP reply like asking people to stay tune, but now, NOTHING...

Best SMS alternative app in my opinion, MUCH better than whatsapp. Better, cooler, and more unique interface, faster, more features, plus the stickers are awesome. Whatsapp is boring as heck

But I do agree that it's still much better on other platforms, but at least they're still updating the app quite frequently, hopely calling will be available soon enough

Is it just me or does autocorrect not work in the app? I can't find settings to change that either...

Can somebody explain me why the autocorrect doesn't work? You have to type very slow for it to work. Just because of that, I need to revert to Whatsapp since I can't type quickly anymore! I can't reach NAVER for any support!

One of my three biggest wants for Windows RT is to somehow receive the text messages my phone gets, on my Surface.

There is a Line app in the windows 8 marketplace, I've used and it works fine. I'm not sure if there's an RT version of it though.

I can get my AT&T SMS's on Windows 8 with this app?

First of all, as WP8 user, I can't understand why software developers treat us like this. By "us" I mean WP8 users. Why can't we have VOIP? If you have done a decent development of the application it shouldn't be difficult to port it to any of the four main systems (WP, iOS, Android and BB).

Second point. I have a really weird behaviour of the messages after the update. They appear messed up. For example: I write three messeages and the one I have written in second place appears before the first, and so on. Completelly messed up. And it is difficult to follow a conversation with a bug like this. It is something similar to what happens with Skype on my iPod. Anyone else with the same problem?

(Sorry for my English)

y u no have free call for wp?

Sign this petition, there could be hopes that LINE will answer our complaints regarding this HALF BAKED BULLSHlT APP! http://www.change.org/ph/mga-petisyon/line-corporation-improve-line-mess...

It's time to give an end to this HALF-BAKED app, let's give our complaints at
https://line.naver.jp/cs/en/ and may they answer our problems. More complaints and they will work. The change.org petition of PerryPattypus may help but it is better to leave a complaint at the link. LET'S DO THIS!
Windows Central Newsletter
Thank you for signing up to Windows Central. You will receive a verification email shortly.
There was a problem. Please refresh the page and try again.