[Update] LinkedIn for Windows phones won't be retired after all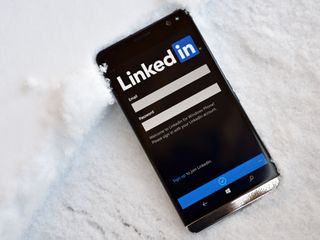 (Image credit: Daniel Rubino / Windows Central)
Update: Since this article went live, LinkedIn sent out a second email to say that Windows Phone users will be unaffected by their decision to shut down older app versions.
Sent out to Dennis Bednarz and others on Twitter, LinkedIn clarified that Windows Phone versions of their app won't be closed:
Still, hopefully Microsoft is working on a more feature-rich UWP version of their LinkedIn service. We'll just have to wait and see!
Original article:
It's likely been a long time coming given the lack of updates, but the LinkedIn app for Windows Phone is officially set to be retired on January 15. LinkedIn has started alerting those who use the app via email without actually mentioning Windows Phone by name. Instead, LinkedIn says it is retiring "older versions" of its apps, and recommends that users switch to either the Android or iOS app.
From the email:
At the end of 2015 we launched a new version of our mobile and tablet app, bringing you everything you love about LinkedIn into a simplified, smarter and more intuitive experience.
It looks like you have used the older version of our app in the last few months and we wanted to let you know that we will no longer be supporting this older version after January 15, 2017. We hope that you'll consider upgrading to our new app, which is available on the following mobile operating systems:
iOS8 and higher (iPhone 5 and above)
Android Ice Cream Sandwich MR1 (4.0.3/API level 15)
Ahead of January 15, LinkedIn says you should start seeing pop-ups asking you to upgrade to its newer apps. This leaves Windows Phone users in a bit of a pickle because, despite the fact that LinkedIn is now under Microsoft's purview following its $26.2 billion acquisition in December, there doesn't appear to be a new Windows app in sight for the moment. That doesn't mean Microsoft isn't working on something, but we haven't heard word of a UWP app or anything yet.
Until a potential replacement surfaces, you'll be best served by using LinkedIn's mobile site if you're using a Windows Phone once the app stops working.
Thanks to everyone who sent this in!
Dan Thorp-Lancaster is the Editor in Chief for Windows Central. He began working with Windows Central as a news writer in 2014 and is obsessed with tech of all sorts. You can follow Dan on Twitter @DthorpL and Instagram @heyitsdtl. Got a hot tip? Send it to daniel.thorp-lancaster@futurenet.com.
They should just announce:
1. UWP has failed to attract developers to Windows.
2. Xamarin has failed to attract developers to Windows.
3. All the bridges failed.
4. Surface Phone (or whatever) at run Photoshop, but won't run any popular mobile apps, so what's the point?
5. "Mobile First" is not mentioned by Microsoft anymore because no one is using services like Bing or Cortana on iOS or Android, and it failed. By the way, Nadella got a new mansion and is writing a book.

Microsoft is making a new UWA. You know that Microsoft now owns LinkedIn.

any proof that they are doing this? source please

Source please. Do you know that Microsoft is making a UWP or are you assuming that they are, because they bought LinkedIn?

I would hope instead of making a UWP, they'd just integrate it into the People Hub

We very well know Microsoft owns business facebook. And your point is????? They axe stuff for fun all the time. No Rhyme or Reason involved.

**UPDATE**So I was right about whoever sent the e-mail screwed up. That's great, app still sucks compared to Android and iOS though. First step, keep app. Second step, feature parity now that you OWN the company behind the app. No excuse now.** While they did acquire LinkedIn, the issue is that since they are now owned by Microsoft and this email went out after the acquisition, I am curious as to what priority this will be given. Will it be 6 months, or a year before they decide to build a proper app, or are they going to do what they do with many other apps, and just continue with Android and iOS? It's getting old and my wife and I are getting tired of factory resetting our L950s just to get some stability before random experience-breaking bugs start creeping in. I am pretty much all in everything Microsoft but all in Microsoft doesn't seem to include W10M. I understand there is hard-work being done with W10M constantly but it has been a very long beta. This **** news is getting old. I am sure that development on a UWP LinkedIn app is at the bottom of their list, as with anything else because the customers are on competing platforms. If I were in Nadella's shoes, I would have made sure it was announced that while the current app is being axed, we are working on a UWP version of LinkedIn. However that didn't happen or someone didn't get the memo. I am leaning towards, "we aren't going to focus on that since no one really uses it"... I feel like I keep lying to myself that it will get better. It's like that promotion that never comes year over year for that lonely worker in the dusty cubicle even though the company he works for is seeing awesome profits and financial growth...
tl;dr - If they were going to, they would have at least mentioned Windows. They didn't and either whoever sent the e-mails screwed up, or it's not something they care about.
/rant

Let's get a Skype for Business UWP too. That's been a long time coming. Should have been ready for the Elite X3 launch IMO. Saying that, even the desktop version of it isn't as up to date brand wise as the Mac version (it has more of a MS Teams feel on Mac with the same chat icon and things like that). Supposedly a UWP is in the works which is great news

I am sure Microsoft has plans to change all of their apps to UWP and it will take time but if need be, hire more software developers. The longer it takes, the more missed opportunities.

No, just give us a way to store vanilla Skype credentials on AD accounts, add a Skype-address-field on Exchange contacts, and a means for Skype to access them. No one needs overly complicated bloatware, forcing you to expose half of your infrastructure to the internet. Hell, I could implement this in roughly a week.

"1. UWP has failed to attract developers to Windows." Adobe XD would like a word with you.

A product aimed at mobile designers? that's your proof that UWP is attracting developers? Do you see any startups targeting UWP? Any new hot apps on iOS/Android that also have a UWP version?

I guess he does not see, but that's what desperate fanboys do on windows, hope and wait :)))

I use Cortana and Bing in my Sony Xperia Android device and disabled Google services since I don't use them and my phone works pretty well. I feel like having Windows Phone again since all the apps I use are from Microsoft: Outlook, OneDrive, OneNote, Office, Office Lens, the only thing I miss is the Xbox Music app which was great app I had on my former Lumia 625 2 years ago.

I'm pretty sure that Groove Music is available on Android.

Guess it's only available in the US. I checked out with my region as India, not supported.

Same here, but I am on iPhone. Have all my MS services there and all is good. I don't use linkedIn anyways...just a silly thing for "business people" to look more important than they actually are!

I've got more work offers through LinkedIn than I would possibly need in my lifetime. So no, it's not a silly thing to look more important. It's basically an online resume available to any employer which is easy to search with specific filter for the kind of employee required. Though it's okay you find it silly, but you better not be using Facebook or Twitter, because those are silly thing for "regular people" to look more important than they actually are.

I think you took his "nobody" too literally. The fact is that barely anybody is using MS software on iOS/Android. Except for the productivity apps of course. And of course on a site devoted to Windows Phone there will be people jumping out and saying: "I use it! I use it!". So, yes, those people are "barely anybody".

In related news. Microsoft is closing it's doors. At least that is what you are saying. Microsoft often fails on projects but in order to survive it must keep trying and changing tactics.

Cruel, but fair. Sigh. Windows 10 is a flop. It's got decent install numbers because it was a free upgrade and is now shipping on millions of PCs. But the pieces of Windows 10 that differentiate it from Windows 7? No one uses them...even with that large installed base. Quite simply, no one cares about "apps" on a PC. I am a diehard Windows user, and I can't think of anything I do on Windows 10 that I can't do on Windows 7. On mobile? It's an abject failure. Time to move on... (I do like the new "quick access" link in File Explorer, though that's not much...)

That's total BS. I absolutely adore Windows 10 and I use at least a dozen apps regularly, including news, weather, banks, my kids' school app and an occasional game.

You are a 110% wrong saying the pieces of windows 10 that differentiate from Windows 7 are not used. Since windows 7 the kernels have been aligned and redesigned, the OS is smaller and more secure, the OS is streamlined and faster. So to say that people aren't using the differences is wrong if you boot windows 10 up and login you're using the major differences. Yea there are tons of ux and ui differences that people don't take advantage of but that is mostly due to not knowing how they fit into their uses of a computer. Once they learn that people will start using them. Not everyone is like most people on this site that dig through a new product to see how they can incorporate new features into there everyday lives. Most people just use a product and if they stumble across something they like they'll use it if it works for them. I think MS has done a great job with this in mind putting their new features they want people using right in peoples faces so people can take advantage of them. They made windows 10 easier to use and put more emphasis on allowing the user to do more without knowing the OS through and through. Along with making the major changes more behind the scenes so users take advantage of them without having to dig for them or research them or even knowing about them.

You are late about the book. It has been launched !

Your first two points are correct. I never believed in UWP and with Xamarin Microsoft acted 2-3 years late and they're pushing it only to enterprise users and not startups, which is another mistake. The iOS bridge was never going to work because it required too much work. The Android bridge made it to easy to just import apps and Microsoft thought it would kill UWP do they shot first and killed the bridge. If you don't get the point of a phone that can run full desktop apps in emulated mode you're too concentrated on consumers. All of the companies with LOB apps out there that don't want to spend the resources to migrate to ipads or android tablets will now be able to buy cheaper windows devices with long battery life in a variety of form factors, including phone, that can connect to external screens when needed and allow them to keep using the software they spent years developing. That's a big deal in the business world even if it's iirelevant for consumers. I still hear mobile first, cloud first at every Microsoft event I go to

cheaper windows devices :))) with long battery life :))) my friend, you, as Nadella and as all fanboys here fail to understand consumers and business users have become almost the same. What company would be stupid enough to ditch laptops in favor of a device that can run emulated x86 apps :))))?? FFS do you guys hear yourselves?

Yes, companies will ditch laptops in favor of these devices if their LOB apps run just the same with this emulation. Battery life and price will make a difference. It would also be more convinient for their workforce. I'm not sure what you mean by consumers and business users being the same, it's simply isn't true. Consumers use whatever apps are available from the app store of their device platform. Enterprise users use the software created for their company's needs on whatever hardware was provided by their company. BYOD was only about using your own device for company email. Most of the LOB apps out there are still Windows apps that can't run on these devices and migrating them to both iOS and Android (because that's what you have to do in a BYOD world) is just too expensive and won't be as usable on a phone screen. It's way to early to know how successful a platform with that emulated solution will be but thinking it's not something enterprises are interested in just shows you're not aware of that world

Xamarin is free of charge for community users, so how can this not count as pushing? Microsoft always was a enterprise focused company. The problem is, this focus and its wider strategic implications ensure the complete and utter failure in the prosumer and consumer space. Astoria was cancelled to protect Windows-centric business development. And Islandwood was clearly the wrong choice; Java-centric Android apps can be transcoded much easier, of you have the source code. Plus, Xamarin and UWP are two distinct things, with Xamarin being another option confusing devs (there is also Microsofts push int Cordova). Add to this Microsofts behavior not to eat its own food, and you have a complete dev fiasco.

Sadly agree....I add, Satya is still asking the few devs still on board 30% of their poor royalties. Others ask less, with far more market share...There is no respect :(

They don't have to announce all that, it's already obvious :)) their mobile phone business is toast. This should go into the history books as the worst mobile approach of all times :)))

Kinda funny read all comment here.

Just received updated LinkedIn email. Windows app not being retired. Woohooo

lol.... That's all I can do anymore..

Lol you can't make this story up

Well... apparently you can!

I posted this before but it got buried. Folks, I get the sentiment, but I don't think the deal has actually closed yet. This was done by LinkedIn, not MS. Until the actual close MS can not direct LinkedIn in anyway whatsover. The SEC calls it "gun jumping". I have some experience with this as my company just acquired another company and we had to sit on our hands until the ACTUAL close.

"I don't think the deal has actually closed yet." Yes, it has. It closed in Decmeber: http://www.wsj.com/articles/microsoft-closes-acquisition-of-linkedin-1481215151

Funny. I figured it was retired about 2 years ago when nearly every feature stopped working. I still find it funny that with Microsoft essentially owning LinkedIn that support for Windows in general is so horrible.

You realize that MS has only owned them for like a month, right?

Yes but these talks have been in the works for a long time. There is also the fact that Microsoft and LinkedIn have been supposed buddies for so long yet nothing came out of it. Or the fact that since Satya said from the beginning that Microsoft was going to make a big push in business. How much more business oriented can you get than LinkedIn.

With everything that goes into the purchasing of one company by another, I'm guessing the status of their mobile apps is near the bottom of the list. I'm willing to bet that a LI UWP app will arrive within the next year or so. At least for Win10 PC, if not Mobile. Like you said, this app was terrible anyway. Even when things were "working," it was trash. I say good riddance. There's no reason to keep that experience around.

In a way I am surprised that LinkedIn left it posted for so long considering how bad it was. I can't remember a time since the app launched that I though it was good. I remember on the day it launched that notifications were sketchy.

MS is clear, they have given up on mobile, only WC keeps twisting rumors n keeps hopes for mobile alive. windows on Arm, will open a new front for new devices but doesnt mean its coming on a phone, once Woa is realized, they will bury W10m

Just because a company is in talks to buy another out doesn't mean that they can go ahead and control their development team. Large acquisitions such as this doesn't always go smoothly at the beginning.

Companies are not allowed to work as though they have merged until they are officially merged. Anything that goes against that is technically illegal. I agree that things are weird though given their supposedly cozy relationship prior to the merger.

This made me laugh. But actually, even though Microsoft owns LinkedIn, it should still make business decisions based on ROI. My view is that bots and mobile friendly websites will soon replace most apps anyway.

From what I have seen of bots we are still many years away from something viable. As for mobile websites, they are good for certain cases but poor for others. Speed, fidelity, and consistency is worse. I used to think mobile websites were the way but think of it this way. Mobile websites can't do direct notifications that work on all devices. Mobile websites, even responsive design, have issues with displaying content the same since each browser interprets the standards a little different. The number of browsers is too high to support them all. Since the code is not compiled beforehand there will always be a performance hit. Then if someone like Google modifies Chrome in some way you have to redesign and test your mobile website for all variants again and it likely still won't work the same on each. Compare that to designing using cross platform tools. You have Cordova and Xamarin as well as others. You design using a single IDE, make some code specific adjustments for each platform if you want specific features, share most of the code, and just test for screen sizes. The platform is consistent across all platforms and your code, unless you are doing specific optimizations, works the same across all platforms because you have one IDE and one standard. You don't have to worry what browser a person is using because it is platform based. There are only three platforms to worry about versus all the browsers.

The W3C roadmap is fairly consistent with the exception of Apple. Even then, Apple hasn't completely abandoned web standards yet. Pointer events continues to be the major sticking point for them. Standards supporting web notifications and progressive web apps have the potential to subsidize and replace many native apps. As long as developers code for feature detection, they will be in good shape but it will take some time before it is widely implemented. It isn't totally hopeless though.

Really? Then why all of the vendor-specific extensions (e.g. X-[name])? Google has been a big offender of this practice, and why folks call Chrome today "IE 6". If W3C wants to enforce standards, the web browser developers need to abandon vendor-specific extension practice for HTML5.

I couldn't agree more. Custom extensions seem to be trending down for browser vendors but developers are another matter. Webkit extensions are just an embarrassment in the modern web. Further, user agent string browser detection needs to go away but it probably won't. I actually ran into a website that popped up with an ad for a Windows 10 application the other day. When they update browser detection for ad targeting, that suggests that Windows 10 traffic is fairly high. Developers who dismiss the cumulative potential of somewhere around 500 million customers are doing so at their own peril.

I still have people who think Chrome is the greatest while I'm saying Chrome is the new IE. I have certain sites now that literally only work in Chrome. Personally I don't feel W3C can fix it even with HTML5. They have been pushing standards but each company "interprets" thr standards different. They have even made validators to determine how your HTML will work in each browser. Using a cross platform IDE though you deal with just one. To me thats the way to go for now.

In this case, fixing it is relative. The bar is set so low that they can make a big impact with minimal effort. Of course, the W3C is a committee made up of competitors so it is only natural that there will be tension and disagreements. Ultimately, feature detection is the way to go. If a browser indicates that it supports a feature, build out your site to support it. Obviously, they cannot do that in some areas but where they can, it makes alot of sense to do so. Old habits die hard I guess.
I still believe that the web is the future but for now, there is the web and then there are app warehouses running on iOS and Android. Both options are powerful and flexible but app warehouses favor the incumbency. An open web is better for competition and in turn, for consumers. If Microsoft was unable to suppress the influence of a standards committee, no one else will be able to do that either. Now that Microsoft is committed to the W3C, the outlier is Apple. Funny how things change.
That said, I don't clamor for the latest and greatest apps and users of Windows 10 shouldn't either. It will never be perceived as being on par with iOS and Android. The incumbency controls the narrative. They know that they can say that Windows doesn't have as many touch centric applications. Of course, that doesn't matter as much as it did 10 years ago but they will continue to drive the narrative for as long as they can.
Personally, I want Microsoft and LinkedIn to use modern web technology that allows them to be more agile and effective with less development overhead. As we know it, the app warehouse was developed so long ago that Apple still refers to it as the iTunes App Store. That is hilarious when you think about it. So, while you cannot disregard customer expectations, you can change the narrative through innovation.
A native app is fine but is it necessary? They may need to support them for iOS and Android but I would have a plan in place to deprecate the approach for modern platforms. Fire up progressive web apps with notifications and SSO for Edge users. They could use Windows 10 Insiders to launch a huge project to transform how we use the web. I would like to see them to do the same with Office Web. They would also be able to provide guidance to developers for how to use this technology in their own projects. Doing something like that flips the narrative and in my opinion, it is alot more interesting as well.

You need to be able to innovate and waiting for something to become a standard before implementing it and trying it out in the real world would mean nothing ever gets added. Microsoft used to do that with IE and that's how modern web development was born (when they introduced XMLHTTP with IE4). Thw W3C is just workdgroups of browser vendor representatives and it was always too slow but now they are working much closer together. Well, everyone except Apple at least.

Absolutely but there are numerous standards that are in various phases of implementation. As long as the committee shows support from most of the committee, it only stands to reason that Microsoft would push that as much as they can. If Bing is able to roll out experimental features to targeted clients who have signed up, there is no reason that they couldn't do the same for other Microsoft partner sites including LinkedIn. It would be interesting to see how it works out.

That about Bots and Websites is a hype, like a lot of technologies that would have changed the world but didnt. We would have only IOT 3D Devices bought with your Bitcoin money by now, from a shop in the cloud using a NoSQL database and a NodeJS backend, but that doesnt happen.
By the way, a company like MS should only care about ROI, but you forget the billions they spent in building WM10 and all of those phones and let's not talk about that half-willing "Nokia purchase", which in fact if anyone would have looked seriously at the numbers was a big waste of money except for the patents they acquired. I said that then and I say that now. But this Website doesn't tell the whole story. Anyways, your ROI statement would mean that MS wants to keep the App running while they make a new UWP App, so they dont make more negative advertisement and jeopardize their mobile strategy. But who believes in WM10 anyways now? No serious Dev, Manufacturer and not even Microsoft. Only Windowscentral and some people here.

They didn't acquire the patents. Nokia still owns them. But as part of the deal, they have a license for those patents for 10 years (or something like that).

True. I somehow thought some of them got acquired by them. Even worse now.

Windows Central doesn't even believe it. Ask Daniel.

News like this make me sad. The app was really poor to begin with but they did not update it and there is no word of a UWA either! What happens to all the people who still use it with WP8/8.1?

Switch to android/iOS. It's what I did and never been happier

iOS is out of the question, and my Android work phone (Huawei P9 Lite) sucks big time. I'll take a mobile website any day... :-)

I'm guessing a new universal app is coming? Hopefully?

"and recommends that users switch to either the Android or iOS app instead." I love how companies say this as if switching to the Android or iOS versions is as simple as just downloading and installing. They might as well be salespeople for those platforms.

I've had companies give me a response like that. Support would just say "all you need is a iPhone or Android phone" as if all people just have one sitting around or can go get one. Not everyone has the money and I met a fair number of Windows Phone owners that had one because they were cheap, reliable, and fast. Kind of puts them in a bind.

It's a ridiculous suggestion even for those that can afford an iPhone or Android. The few of us left on WM are here for a reason. If I wanted iOS or Android, I'd have one by now.

It isn't ridiculous when nearly everyone has an Android or iPhone. What is ridiculous is buying something that is completely irrelevant and then expecting people to cater to you.

Spot on.
I don't think anyone even knows there are Microsoft phones, other than the windows fanboys.

They don't, because my cousin saw my phone and said wow I didn't know Microsoft made or had a phone. Smh!

My guess is that the message is a blanket statement made for all versions of the app. (hence the link for both Android and iOS) This leaves the Windows version out as there was no link to display. So technically, they're not saying to switch.

So a Microsoft owned company is asking users to switch to Apple or Android... WTF.... No thanks.

Welcome to beng a Mac or Linux user. Sucks, doesn't it?

Hahahaha lmao!! Yeah they do feel like this huh

Awesome news, now every app available on windows phone should follow the foot steps of Microsoft.

Wait, Microsoft own LinkedIn and they are dropping support? Wtf?

I was thinking the same thing

Sort of speaks to lack of commitment to WP from MSFT, or the lack of communication between MSFT and LinkedIn. Either way it's a poor message to send.

Windows Mobile is a joke!


Certainly turning out that way. I've been a 100% Window mobile only user since 2003 continuously and this is by far the worse things have ever been. Has me missing the old days on XDA when I was creating custom images and .cab files for WM v5 lol.

It turned out that way a couple years ago when WP7 was re-released as WP8 and flopped again. Now it is just sad. Microsoft needs to end it.

If a UWP is coming then they should state this, and not kill the existing app until a uwp upgrade is available.

Exactly this. Microsoft really need to learn damage control.

MS sucks big time. How often do we need to get kicked in the balls before we accept that MS does not give a crap about its loyal users. I can't believe I still support windows mobile, MS sure as hell does not.

Personally, I don't really care about Microsoft. I'm not using a Windows phone because of company loyalty. I use a Windows phone because I like the UI better than the alternatives.
iTunes scr*wed up my music collection big time back in the iPod days, and I've never liked their UI anyway, so Apple is a no go.
Android is simply too much of a mess for my taste, and my current work phone (a Huawei P9 Lite) is annoying me to no end.
The app situation is annoying, sure, but I really only miss a few, and most of these work just fine on their respective mobile websites...

If they don't return with a UWP app shortly, I'd be pretty much pissed off... Why? I don't use it at all, but given they're a Microsoft company now, they MUST support Windows, even on mobile... Same for Beam, that I actually use... I love you Microsoft, I'm still holding on, and I'm such a big fan. But things like this make me sad... :( Don't recommend me switching to android or iOS, and don't treat your own OS like a second class citizen... Please... Just get your sh*t together...

Huge Microsoft fan myself and I've been trying very hard to stay the course but my parade keeps getting rained on and more and more I'm wondering if I need to consider an umberella.

I am a huge fan myself and felt the same way you do. Thing is as a MS fan you are a fan of the largest software company in the world. I just got an iphone 7 plus after having nothing but Windows Phones since 2009 and my life is stll the same. MS is literalyl everywhere and you can still be fan using whatver device you wish. In fact i feel like MS doesn't even deserve me to buy another WP.


I got an iPad Air 2 to try iOS out, but it looks like i don't like it. It's just not fun to use for me, and I don't feel at home. And as of android, I've had enough of it, because I used it for three years before switching to Windows in October 2015. I don't trust google anymore, and think the OS is boring as hell... And yeah, it feels strange as well now. So if Windows on phones dies, what should I use? Blackberry or Symbian? xDDD

Using a tablet is not the same as using a phone everyday and doing phone stuff like texting, calling, emails and stuff. I say try out an Iphone for day to day use. I prefer iOS to the extent that its just hardware. you dont have to and are not required to use any of their services. For example I need a gmal account to use an Android and i havent had a gmail in almost 8 years. I use my MS Account email as my Apple ID. I see it just as a device to shuttle my services and i am not tied down to anything.

You can create a Google account without Gmail using your MS account email.

Well, I'm going to prepare a slice of bread with a lot of NUTELLA.

What a silly "joke", not even funny.

Windows Mobile is to be geared toward Enterprise clients and yet the Linkedin app is killed....say whaaaat?

Yeah exactly, wasn't the HP Elite X3 aimed at business users and only recently launched, yet this is saying buy another phone to business users. Really Microsoft??

They are too busy refining the iOS and Android APPs.

Why would they refine apps for a dead platform?

Hate to admit it, but might have to leave for an IPhone. This app drain is getting too big, even for a business only phone guy like me.

Same here man, seem Microsoft doesn't care anymore. To me this is just bullshit, despite lack of features and updates, I use the app to send messages and interact now it's veen taking away from me. I'm always on the move and need an app. Windows 10 on Mobiles is becoming useless and redundant for professionals. This is not acceptable.

Agreed, at this point I'm just waiting for the Samsung Galaxy S8 to get announced, if nothing significant has changed in WM10 then I'm gone.

I have a ip6s and its awesome. All MS services work perfectly, actually better than windows 10 mobile when I was on it. I have windows 10 on my computers, IOS on my mobile devices..(ipad air 2 and IPhone 6s). I do not like the ipad pro and iPhone 7, both give me nothing extra that I don't have now. But I will never, ever use OSX again......it's so counterproductive it's hilarious that they even try to tout it's better than windows.

"LinkedIn says it is retiring "older versions" of its apps, and recommends that users switch to either the Android or iOS app instead." Seriously? MS owns LinkedIn. So it is really that bad that MS is actually telling people to switch from Windows Mobile to iOS or Android? SMH

Dunno, mobile site of LinkedIn is perfectly fine and functional for me. Don't care that much about the app.

It's not that the mobile ability of the site is bad. It is this narrative of Microsoft not supporting their mobile OS with their own properties. It is not like a difficult job to have some one spend one day a every month looking at the catalog of their own apps, contact the management and development teams for that product and see where they are in their supporting their mobile OS. Thus provide reports to make sure upper management responsible for mobile is in the know of possible issues like this. This is dropping the ball. And as I said it has become a narrative that breeds bad PR (not all PR is good!) This one app failure is systemic of Microsoft as whole with mobile. One step forward every few months but, five steps back during that same time. Even if they only officially owned the company for a few weeks it should been part of the Microsoft managements goal to go over things like this and make sure they didn't have am incident like this happen. At least, not without making sure a future version was announced at the same time this was retired. I have been on the cusp of leaving the ecosystem (which I have been part of since WinPhone7) and this action is an example of why I will leave when the S8 comes out. They don't support their own properties for mobile. Why would a third party seeing Microsoft's own action towards their own mobile OS be willing to support it now or in the future. You have to at the very least fully support you own mobile product at every level and not treat it as the ugly step child.

It's terrible. When I switched from BlackBerry 10 to Windows 10 Mobile a couple months ago, this was one of the surprises for how bad it was. The BB10 one was fantastic with the Hub integration and Contacts sync (it's also being retired now). It was similarly never updated, but continued to work very well. My LinkedIn usage has gone down significantly on Windows 10 Mobile. They probably will put out a UWP app eventually, but I wouldn't expect any time soon or they would have said that as part of the announcement.

Eh, it was a total junk sh*t app the whole time anyway. I love how the answer for everything now is "use the mobile site instead" because when "apps" started being a thing back in 2010, I thought it was a useless and dumb idea. That mobile sites should just be optimized better. Funny how things come full circle so quickly.

Well considering other things... Its probably to make space for UWP app. I wouldn't worry too much. Amazon did this as well as others. Even tho Amazon still managed to take a step backwards at the same time. Since they made UWP app they did it with as little development as possible lmao. W.e. I'm not worried. I've waited this long and I'm gona keep waiting.

$26.2 billion spent on LinkedIn but not enough money to write a UWP replacement for Windows phones, tablets, and PCs ?!
​What's more, you have a team working under Microsoft sending e-mails to their customers running Windows Mobile telling them they "hope" they switch to iOS or Android ?!
​In any properly managed company, an employee contacting customers to tell them to switch to competitors would be fired on the spot, if not sued for it!

Well, Microsoft's income doesn't come from Windows Mobile hardware, they're probably on red numbers today so if I were the Chief Financial Officer of Microsoft I wouldn't spend money on a platform that doesn't have any interest on developers. It would be time to think in Plan C, and that is to make an Android fork, and if that is the way to go, users wouldn't have the app gap issue they have today. BTW does anybody have any news on iOS Bridge? Is it being cancelled?