LinkedIn CEO: Microsoft's acquisition 'is the best thing for our company'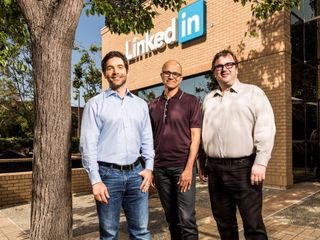 Jeff Weiner, the CEO of LinkedIn, has released his own email he sent to company employees earlier today on the news that Microsoft was acquiring the business-themed social network for $26.2 billion. Weiner said the move ''is the best thing for our company'.
In the email, which Weiner posted on his public LinkedIn page (opens in new tab), he talked about how Microsoft CEO Satya Nadella first discussed the idea of buying the company:
You can check out Weiner's full email below
December 15th, 2008, marked the first day of the best job I've ever had. My rationale for joining LinkedIn was simple: The opportunity to work with Reid Hoffman, a founder I greatly admired and respected; to join an extremely talented and dedicated team; and to massively scale LinkedIn's membership and business, both of which had the potential to fundamentally transform the way the world connects to opportunity. Never in my wildest dreams, could I have imagined what would happen in the next 7½ years. Our team has grown from 338 people to over 10,000, our membership from 32M to over 433M and our revenue from $78M to over $3 billion.
Despite those accomplishments, we've only just begun to realize our full potential and purpose: Our mission to connect the world's professionals to make them more productive and successful, and our vision to create economic opportunity for every member of the global workforce.
Today's announcement, that LinkedIn will be combining forces with Microsoft, marks the next step in our journey together, the next stepping stone toward realizing our mission and vision, and in remaining CEO of the company, the next chapter in the greatest professional experience of my life.
No matter what you're feeling now, give yourself some time to process the news. You might feel a sense of excitement, fear, sadness, or some combination of all of those emotions. Every member of the exec team has experienced the same, but we've had months to process. Regardless of the ups and downs, we've come out the other side knowing beyond a shadow of a doubt, this is the best thing for our company.
Let me explain why.
Every day I come to work, I'm primarily guided by two things:
First, realizing our mission and vision. While this has always been top of mind for me, it's never been more so than now. Remember that dystopian view of the future in which technology displaces millions of people from their jobs? It's happening. In the last three weeks alone, Foxconn announced it will replace 60,000 factory workers with robots, a former CEO of McDonald's said given rising wages, the same would happen throughout their franchises, Walmart announced plans to start testing drones in its warehouses, and Elon Musk predicted fully autonomous car technology would arrive within two years.
Whether it's worker displacement, the skills gap, youth unemployment, or socio-economic stratification, the impact on society will be staggering. I've said it on multiple occasions and believe it even more so every day: creating economic opportunity will be the defining issue of our time. That's why I'm here and why I can't imagine doing any other job. Simply put, what we do matters, and matters more than ever.
The second thing I focus on every day is making our culture and values come to life. Ten years ago, had you asked me about culture and values I would have rolled my eyes and recited a line from Dilbert. But when I started as CEO I began to appreciate just how important they were. Culture and values provide the foundation upon which everything else is built. They are arguably our most important competitive advantage, and something that has grown to define us. It's one thing to change the world. It's another to do it in our own unique way: Members first. Relationships matter. Be open, honest and constructive. Demand excellence. Take intelligent risks. Act like an owner.
That's who we are. That's LinkedIn.
I primarily focus on these two things, because that's all I ever wanted when I was in your shoes: A clear sense of purpose and the opportunity to be successful in pursuit of that purpose. Thankfully, in my current role, I can actually do something about that.
In order to pursue our mission and vision, and to do so in a way consistent with our culture and values, we need to control our own destiny.
That, above all else, is the most important rationale behind today's announcement.
At this point, some of you may be thinking this sounds completely counterintuitive: How will we be more likely to control our own destiny after being acquired? The answer lies in both the way in which the world has been evolving and the unique way in which this deal will be structured.
Imagine a world where we're no longer looking up at Tech Titans such as Apple, Google, Microsoft, Amazon, and Facebook, and wondering what it would be like to operate at their extraordinary scale -- because we're one of them.
Imagine a world where we're not reacting to the intensifying competitive landscape -- we're leading it with advantages most companies can only dream of leveraging.
Imagine a world where we're not pressured to compromise on long-term investment, hesitant to disrupt ourselves, or hamstrung in the way we can reward and acquire new talent due to stock price concerns, but consistently investing intelligently toward the realization of our mission and vision.
And imagine a world where a global economic downturn doesn't limit our ability to execute, but reinforces the essential quality of our purpose and actually strengthens our resolve when people need us most.
With today's news, we won't need to imagine any of it because it's now our reality.
Some of you may be asking "Why Microsoft?"
Long before Satya and I first sat down to talk about how we could work together, I had publicly shared my thoughts on how impressive his efforts were to rapidly transition Microsoft's strategy and culture. After all, it's extremely rare to see a company of that scope and scale move so quickly to make fundamental changes.
The Microsoft that has evolved under Satya's leadership is a more agile, innovative, open and purpose-driven company. It was that latter point that first had me thinking we could make this work, but it was his thoughts on how we'd do it that got me truly excited about the prospect.
When Satya first proposed the idea of acquiring LinkedIn, he said it was absolutely essential that we had alignment on two things: Purpose and structure. On the former, it didn't take long before the two of us realized we had virtually identical mission statements. For LinkedIn, it was to connect the world's professionals to make them more productive and successful, and for Microsoft it was to empower every individual and organization in the world to achieve more. Essentially, we're both trying to do the same thing but coming at it from two different places: For LinkedIn, it's the professional network, and for Microsoft, the professional cloud.
Both of us recognized that combining these assets would be unique and had the potential to unlock some enormous opportunities.
For example:
Massively scaling the reach and engagement of LinkedIn by using the network to power the social and identity layers of Microsoft's ecosystem of over one billion customers. Think about things like LinkedIn's graph interwoven throughout Outlook, Calendar, Active Directory, Office, Windows, Skype, Dynamics, Cortana, Bing and more.
Accelerating our objective to transform learning and development by deeply integrating the Lynda.com/LinkedIn Learning solution in Office alongside some of the most popular productivity apps on the planet (note: 6 of the top 25 most popular Lynda.com courses are related to Microsoft products).
Realizing LinkedIn's full potential to truly change the way the world works by partnering with Microsoft to innovate on solutions within the enterprise that are ripest for disruption, e.g., the corporate directory, company news dissemination, collaboration, productivity tools, distribution of business intelligence and employee voice, etc.
Expanding beyond recruiting and learning & development to create value for any part of an organization involved with hiring, managing, motivating or leading employees. This human capital area is a massive business opportunity and an entirely new one for Microsoft.
Giving Sponsored Content customers the ability to reach Microsoft users anywhere across the Microsoft ecosystem, unlocking significant untapped inventory.
Redefining social selling through the combination of Sales Navigator and Dynamics.
Leveraging our subscription capabilities to provide opportunities to the massive number of freelancers and independent service providers that use Microsoft's apps to run their business on a daily basis.
And these are just some of the ideas that have been discussed since our first meeting.
Turning from purpose, we focused our attention on potential structure. I had no idea what Satya was going to propose, but knew how difficult acquisition integrations could be if not established the right way from the start.
Long story short, Satya had me at "independence." In other words, his vision was to operate LinkedIn as a fully independent entity within Microsoft, a model used with great success by companies like YouTube, Instagram and WhatsApp. I would remain as CEO and report directly to him instead of a board. Together, along with Reid, Bill Gates, my former colleague Qi Lu, and new partner Scott Guthrie, we would partner on how best to leverage this extraordinary combination of assets while pursuing a shared mission. This, we both agreed, might not only be a structure that could work, it would be one in which both companies could thrive.
Now onto the most important question: What does this mean for you specifically as an employee of LinkedIn?
Given our ability to operate independently, little is expected to change: You'll have the same title, the same manager, and the same role you currently have. The one exception: For those members of the team whose jobs are entirely focused on maintaining LinkedIn's status as a publicly traded company, we'll be helping you find your next play. In terms of everything else, it should be business as usual. We have the same mission and vision; we have the same culture and values; and I'm still the CEO of LinkedIn.
I wanted to conclude on a familiar note. One of the most memorable moments I've experienced at LinkedIn was ringing the bell at the NYSE. I remember the All Hands we had following the event like it was yesterday. During that meeting, we reinforced the fact that becoming public was not the end game, but rather a stepping stone in the process of our ultimate objectives. We finished the All Hands with two words that have become LinkedIn's unofficial mantra: "Next play." In other words, don't dwell on the past, lingering for too long on a lesson learned, or the celebration of a special accomplishment, but rather focus on the task at hand. It's a mantra that's served us well.
So, here's to the next stepping stone.
Next play.
Woah! That's massive. Smart and solid acquisition by Microsoft.

26.2 billion though....really! If he would would put a billion into getting apps on windows phone and make good hardware, we might make some forward progress in mobile. I don't thinks investing in the cloud is wrong at all, but I do think under estimating the importance of having your own mobile phone hardware is a mistake on his part because they simply don't have the OEM support when iti comes to mobile even with the HP elite x3.

The problem with paying developers to develop for your platform is you have to keep paying for most likely half hearted efforts and more and more developers will start to demand payment or ignore the platform. UWP is the smartest way to get developers interested. Posted from my Lumia 950

I don't mean pay developers, they just need to bring the OS up to par and put an emphasis on it because right now its playing fourth fiddler or lower to windows 10 desktop, cloud, Xbox, and app focus on other platforms. Microsoft should wave the 30% they take from developers until the platform matures.

I would agree that they should remove the 30% fee from Mobile until they get a respectable market share but it would be a bad thing on Desktop as it's already maturing and gaining a significant market share. But in terms of spending more money on developing Windows 10 Mobile I don't think it's necessary, Windows 10 is all about One Core and any work being done on Desktop benefits Mobile in one way or another, Redstone 2 will push the focus back to Mobile with the mythical Surface Phone on the hardware side, right now Microsoft could spend $26 billion on Mobile and it would be a waste of money as it wouldn't provide much of an immediate benefit to the platform, their long term plans are already in place and when they come to fruition it will start to pay off without an extra year of wasted cash. Posted from my Lumia 950

Link for
'Desktop maturing and gaining significant market share '

Do you really need a link? 300M+ installs is significant. Anniversary Update is maturing. Posted from my Lumia 950

If you believe Microsoft have not made investments in Windows Mobile, then you're wrong. In fact, they're still supporting it, even if it's not that profitable of a business yet. If Surface Phone doesn't save the platform, nothing will.

Great for Microsoft, but damn, that price!

LinkedIn generates profit, was always going to be a big price, ms has probably settled for a modest payback period but still better than buying bonds or commodities at the moment. Positive NPV for sure

LMAO Posted from Windows Central for Windows 10 on a
Nokia Lumia 730

I heard a comet fall on earth today (Big One), no. MS bought the LinkedIn,(massive deal), yes. Posted via the Windows Central App for Android

Hope now the new linkedln app will arrive on windows 10

Yay, now I'll get even better app support for my LinkedIn app on iOS!

Perhaps they can spend some of their $26.2M on a decent W10 UWP app

I'm closing this account. Too many social. Hurts me more than good.

are they cardboard cut-outs in that photo?

"we need to control our own destiny"

... by selling away our destiny ...

Great! Hopin for good Universal app for windows.

Maybe there will finally be a proper Windows 10 coming - the old, and never updated, Win 8.1 App is really, really bad.

آمل ان يتم تحسين اصدارة linked in علي الويندوز
Hope they update and improve a linked in app at Windows platform.

I hope Microsoft doesn't fire anyone Sent from Windows Central App for Hololens

I own a recruitment business and Linkedin is a major part of finding candidates for pretty much all recruitment agencies around the world. This can be seen in 2 ways, the fear is that MS will push to moneytise Linkedin further by trying (and they would fail) to compete with agencies using algorithms, bots etc thereby shooting themselves in the foot as Linkedin's major source of income is from the recruitment sector. The other as mentioned is a much tighter (and better!! integration into the products recruiters use every day. I am excited by this, this is a sensible move by MS and im really happy its in thier hands as opposed to Apple or Google. This is NOT a Nokia, this is a great opportunity.

First thing I did with each Windows 7.5 update was remove that useless app. I signed up once to see what all the fuss was about and kept getting spammy job offers all the time. If you're a corporate cöck sucking ladder climber its fine I suppose.

Useless? Hardly. Besides, what phone do you have that kept preloading LinkedIn so that you had to remove it, "first thing"?

It is useless; LinkedIn is barely better than your average spam email.

You may be very happy sweeping streets, or cleaning the cages out at the zoo, and good luck to you, god knows the world needs more siht cleaners.
But to act like a red necked rock ape and attack people because, unlike you, they have goals, dreams, desires, ambitions and are driven to achieve, does not make them"corporate cck sucking ladder climbers".
It makes them different, and I would argue better, but that of course is just an opinion.

Cool! Now buy Snapchat for 5 billion..

He spent way too much time writing that email. God that's long Sent from my sexy Lumia 650 running Windows 10 Mobile

LinkedIn app update? don't think so... Microsoft also bought Wunderlist and haven't seen any update in a loooong time.

Massive lay offs coming "soon." Posted via the Windows Central App for Android LG G5

I hope now they release a great linked in universal app...at par with android & ios

Productive vs unproductive!

Maybe they will finally update the windows phone app now. The current app is practically useless.

seriously? an app? is that what we are requesting? it would be a 26.2B app... this move makes no sense, the company is loosing money and they will keep leadership... besides, weren't they trying to remove the "fluff" out of their product portfolio? how does this fit what they do now?

How does a "corporate/professional social networking service" not fit with the enterprise core of Microsoft? Sent from Bikini Bottom via my ShellPhone 920

Help me out... how does it make sense?

Microsoft wants to be an all-in-one provider of enterprise software/services. Companies hire people, you know? Sent from Bikini Bottom via my ShellPhone 950 XL

yep... that is why Linkedin was making so much money already...MS has a mobile strategy they buy Nokia... ok... you need to hold online meetings, cool you get skype, need social networking inside company walls, ok you get yammer... but LinkedIn? you are going to sell companies a way to hire people? are you going to sell companies a way to store people's resumes? what is the software service to all corporations? or is this just a service to niche market compnies(recruiting firms) and the price tag...

(Squints) Nope, I don't see it.


Well, get some glasses, you obviously need them. :)

They bought a social service that highlights people posting their resumes.
I'm not sure how It's survived this long?

This acquisition only makes sense for LinkedIn shareholders.

So now maybe we can get a decent app.. Heck, forget a new app, how about an update to the existing one.

Internally, they are a Google Apps company having chosen Google rather than O365 when going to the cloud. They also went with Okta for federation/SSO. Makes me wonder if they will now go to O365 for collaboration and Azure AD for federation/SSO? They are a large Mac OSX shop as well just like many valley companies. I can't imagine that in a year or two, the culture will change radically.

Yeah..... Nope, still don't get it.

It's the best thing for LinkedIn.

I would rather MS spend it on SPro5/6/7/8_and Surface Phone.

Hopefully soon we can expect proper LinkedIn app for Windows mobile platform, what we have now is crap.

I hope things go well with the two companies, but I'm just thinking about the possibilities of $26.2 billion going towards flagship Windows phones.

Like I would know this will happen, so My linkedIn account was registered thru my hotmail email, and that was 5 yrs ago

I would say anything for 26B
Windows Central Newsletter
Get the best of Windows Central in in your inbox, every day!
Thank you for signing up to Windows Central. You will receive a verification email shortly.
There was a problem. Please refresh the page and try again.