Linux beats Windows 11 when running on the best CPU from Intel
The latest version of the Linux kernel pushes the open-source OS past Windows 11 when it comes to performance.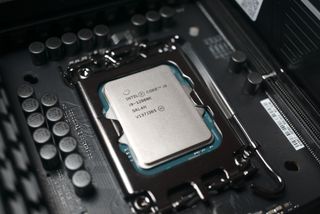 (Image credit: Rich Edmonds / Windows Central)
What you need to know
The Linux kernel was recently updated to version 5.16, resulting in improved performance in several areas.
The update improves the performance of the operating system when running on 12th Gen Alder Lake CPUs from Intel.
Following the update to version 5.16, Linux now outperforms Windows 11 in several benchmarks.
Intel's 12th Gen Alder Lake chips are some of the best CPUs on the market. It turns out that if you'd like to get the best performance out of the processors, you may want to give Linux a try. Linux recently received an update to version 5.16. According to benchmarks by Phoronix, that update pushes Linux above Windows 11 in several areas.
Phoronix performed 104 benchmark tests on a system with an Intel Core i9-12900K chip, an ASUS ROG STRIX Z690-E GAMING Wi-Fi motherboard, and 32GB of DDR5-4400 memory.
The tests compared the performance of several Linux distributions and Windows 11. Since Linux 5.16 improves hybrid handling and other aspects of the operating system, the latest Linux kernel performed much better than Linux 5.15. Those improvements were enough to push Linux past Windows 11 in over 85% of benchmarks.
Clear Linux took the top spot in the Selenium test for web browsing. Windows 11 was second from the bottom in that category, only beating out Ubuntu 22.04 Daily.
While Linux beat out Windows 11 in several tests, Microsoft's OS still took the crown when it comes to H.264 video encoding. Overall, Windows 11 finished first in 14 out of 104 tests performed by Phoronix. Windows 11, however, also finished last in 39 tests. Clear Linux earned the top spot in 66 tests.
Windows Central Newsletter
Get the best of Windows Central in in your inbox, every day!
News Writer and apps editor
Sean Endicott brings nearly a decade of experience covering Microsoft and Windows news to Windows Central. He joined our team in 2017 as an app reviewer and now heads up our day-to-day news coverage. If you have a news tip or an app to review, hit him up at sean.endicott@futurenet.com (opens in new tab).
"Linux beats Windows 11 when running on the best CPU from Intel" These guys have been saying it for the last 40+ years that Linux is the king, Now, I hope y'all see the proof right in the pudding at long last.
We can now all switch our Windows Os to Linux Os and enjoying all the computing ever after (Except for that dang H.264 video encoding.) The big question is what is the value of this beat down when your golabal PC computing market share is less than 5% and developers are not looking your way.

Ubuntu didn't do all that great here. It was Clear Linux which took the cake. What's Clear Linux? From Wikipedia: "Clear Linux OS is a Linux distribution, developed and maintained on Intel's 01.org open-source platform, and optimized for Intel's microprocessors with an emphasis on performance and security.[13] Its optimizations also affect AMD-systems.[14] Clear Linux OS follows a rolling release model. Clear Linux OS is not intended to be a general-purpose Linux distribution; it is designed to be used by IT professionals for DevOps, AI application development, cloud computing, and containers.[15] So comparing regular desktop OSes to each other, Windows did just fine. Comparing Windows to a stripped-down Linux distro custom made by Intel for their own hardware, it lost. How this is surprising is anyone's guess.

That headline is punchy and all, but well, Linux is still Linux.

And what you may ask is Clear Linux??? A special Linux for the cloud made by no other than Intel. Focusing mainly on the cloud. **It's not your regular general-purpose Linux distribution**, but a distribution that mostly suits various cloud use cases leveraging the best of Intel's hardware and architecture. Ubuntu using the same 5.16 kernel scored 30% worse than Windows 11.

You're right. It's very, very important to realize that one of the strengths of Linux is its modularity. You can remove all kinds of components that you might think are bloatware that would be forced down your throat if you bought a mass-market general-purpose desktop OS like Windows or macOS. That means that, of course, if you strip down the OS, it'll be faster. But if you want to run Linux like the average user uses Windows (particularly for productivity in a workplace environment) it'll be full of the same "bloatware" that Windows has. That's why garden-variety consumer-oriented Linux isn't really much faster than Windows.

Hmm. I accept the results at face value. And, I don't care. The only real area I care about optimal performance is in gaming ... and guess which OS has almost zero games I'm interested in playing? The rest of the time, even with encoding/editing video, the experience is great with Win 11 so I'm unmoved there as well.

What the hell is Clear Linux? Another Linux favor of the year? I am sure if you strip Windows 11 of all of its baggage, you'll get much better performance. The problem is if you do that, it's not very useful for everyday users.

This is exactly right. Saying "Linux is faster" is basically meaningless. Back when Windows was terrible, I was a GNU/Linux user (usually Kubuntu but sometimes openSUSE and Mint). It was perfectly fine and, of course, better than Windows (faster and more stable and less naggy). The desktop environment of choice for me was KDE. But as soon as you start customizing the desktop environment with more bells and whistles, things slow down considerably. By the time W10 came around, and considering all the Office compatibility issues (any work I had to take home had to be done in Windows 7, and online Office wasn't a thing yet), it became pointless to stay with Linux as the general productivity user that I was.

LINUX is the future of running cpu

If you want to compare Clear Linux against Windows, why not go against Windows Server Core?

Welcome Clear Linux Central for all your DevOPs needs.
Windows Central Newsletter
Thank you for signing up to Windows Central. You will receive a verification email shortly.
There was a problem. Please refresh the page and try again.