Live from the Nokia #moreLumia event here in San Francisco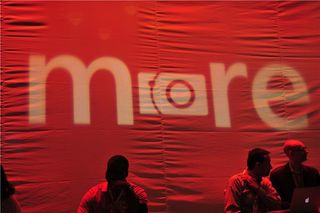 We're here live at Nokia's #moreLumia event. The company already announced the Lumia 630 and Lumia 930 earlier today during Microsoft's keynote at Build 2014. We're expecting Nokia to go into detail about the devices and show off more accessories. Join our live blog of the event.
Windows Central Newsletter
Get the best of Windows Central in your inbox, every day!
Sorry.. Just a bunch of stuff we already heard... What was the point❔... Don't say a speaker... Lol❕

They just should have did everything at Microsoft's.

The update will be available in next few months ;(

Not if you're a developer ;)

I am. How? Just go to settings and check for update?

Not quite, you need a MS account associated with App Studio and then use that account to sync with the 'Preview for Developers' app from the store.

Possibly just like before, download the Developer Preview app from Windows Phone Store, sign in using your developer account, agree to the License Agreement / Terms & Conditions and then it will download and install the OS. We still have to wait until April the 8th though.

Detals on Windows Phone Blog.

Apps, updates, more phones...

Reeeeeally hoping for that "more phones" part.

I was hoping for a watch..... But, we can't complain.. Today was amazing.. Especially if you watched all 4hrs of the conference... This has been the biggest day for MS since Windows was originally reveled❕

You and me both. I was seriously disappointed about the lack of a new (non-phablet) AT&T flagship device today. I need to replace my 920, but don't really want to replace with another 920 or a 925.

Agree obviously 6inches is not for everyone get your ish together Nokia

Your problem is with carriers, not Nokia.

Seriously! I'm in the same dang boat. I don't get what is up with the Phablets. Maybe it's because I have small hands though...

What's wrong with a 930? If at&t wont have it, switch network? Get it simfree?

I am excited...I am hoping for a secret device reveal besides the 930 and 635 and maybe a smartwatch xD (Plus some new App goodies...) Fingers crossed

I agree! Where is the flagship phone for the US? I wanted to upgrade to a Windows Phone 8.1 device, already preloaded with the new software.

My guess is that Verizon had Nokia make the Icon an exclusive for a period of time which is why there is no news on the 930 for AT&T.

Same here. On Rogers and really want to upgrade to a new WP. Guess that's not happening now. So basically they won't be launching a flagship phone for the North American market? The 1520, despite of what people say, is still a niche device and has limited availability (only AT&T in the U.S. and nobody in Canada) so they NEED to release the 930 everywhere. Look at the name even...it is supposed to succeed the 920. That's how you build line-ups like the iPhone and the Galaxy range.

Any flagship planned (beside the already 1520) with a microSD card in it??

I would bet that 1520 variants are coming to other carriers since they said there focus was 1520 and icon for the us Posted via the WPC App for Android!

I feel like I'm the only one who prefers the Icon/930 over the 1520. Why don't people like the Icon design? I walked in a Microsoft store and it looked way more appealing than the 1520. I was ready to put this iPhone 5S on EBay to get a Green 930

I don't like the 1520 just saying Posted via the WPC App for Android!

I love the way the Icon looks and would take that over the 1520 any day. I don't want a phablet, but the microSD support is a big deal for me. Even more so that it has been shown to support the 128gb card.

I agree with you. One, the 5" screen is the perfect size, especially as its only slightly bigger than the 920. With wireless charging too and new design, the 930 is perfect. I just need to decide on orange or green :D

I hope you are right. I would prefer the 1520 over the Icon for emergency remote ins.

One high end unlocked phone loaded with all bands so we can use it on any network around the world at the highest speeds supported by that particular cell phone provider.

Unlocked 920 from Rogers, Pentaband and supports all frequencies (except CDMA)

Which isn't available anymore.
Plus the 920 is old now. Won't cut it when you're up against an iPhone S5 or a Samsung Galaxy S5.

anyway i can watch it live ?

The 630 launch video looked like it had a new wireless speaker, like a smaller Play Up! speaker (or whatever it may be called... It looked like it was cut in half height-wise.) Might be interesting if offered in yellow, (which is seemingly going the way of cyan.)

630 has 512mb ram. It broke my heart ! :(

I wanted a 930, damn carrier exclusives in the US. Well, glad to know the rest of the world is getting something that a lot of us here in the US won't be able to for the time being. Guess, we'll just have to wait till fall for the next round of 8.1 phones.

Yeah, I guess some of us will have to hold on to our 920s longer than expected.

Can we not see this live??

http://channel9.msdn.com/?wt.mc_id=build_hp idk if its live though

Cant believe I have no new phone to buy on Tmobile, this sucks.

Why can't Nokia make an unlocked LTE Icon for Tmobile which we can purchase directly from Nokias website or a similar spec'd phone

So nothing new for AT&T in the coming month or two? :(

At least you have the 1520, us on T-Mo are getting screwed :(

Quit being greedy att gets all the us devices Posted via the WPC App for Android!

Hey, ask about Glance on the 930 and ICON please!!!!!!!

Can you see if glance is on the 930?

How come Nokia doesn't like yellow anymore? Edit:.. .there is yellow.. okay.. I rescind my question.

Please say something about the 930 in Canada, Mr. Elop! Come on, you're a Canuck too!

I'm curious of the 930 has Glance capabilities or not.

ask about Glance on the Icon/Lumia 930 please!!!

so is tmobile only getting another low end device?

There's still 'Monarch' coming. Or is the 635 Monarch? I'm not sure...
Edit: Based on some comments I browsed on other posts I guess the 635 is Monarch. Damn.

Just damn ? It still has 512mb ram, oh god i was just about to consider that i might switch to it...

Uh, tick tock. Announce the 1020 successor, treasure tag, smartwatch, fitness tracker and wearable display, cuz I need to get the bar already.

I would love a Lumia 1520 with two sim slots and two lines so I could trash my android work phone and pop the sim into my private 1520

of course flipboard is probably dead... it's been more then a few coming weeks

The stream/chat thingy isn't showing up for me :(

You aren't missing anything so far... EDIT: you officially did not miss anything. Total snoozefest.

Why no flash and front camera on 635? Lumia 620 has both.

Damn nobody asked about "glance screen"

What was the point of this? It seems like they announced a speaker and a new wireless charger. They sent out invites for what exactly...?

930 and 630/635 unveiling maybe?

I was really hoping for more than the announcement this morning.....

pretty uneventful after this morning...

They seemed more excited about the Nokia x......

NINJA PLZ; you don't got that pancake mix!

that 930 looks awesome, but all i can do is to look at it. can't afford that phone here in PH. $599 = P26,805.88. damn! i wish i'm rich to buy this awesome phone!! really wanted to have a WP from NOKIA.

Well here in the USA you'll be lucky to even see one. When people at my school talk phones all galaxy's and iPhones.

Iphones i understand. I have no idea what people see in Galaxy "Anything". I will never buy a Samsung product considering I support them. I get NOTHING but Galaxy "this or that" calls All. Day. Long. Why do people continuously buy those things?

So, what was the point in this? He basically said the same stuff he said earlier. The only new thing was the speaker. It's cute, but I was expecting more.

Different is the market is now closed, and any disappointed stock holders can't sell till tomorrow. Brilliant strategy indeed.

I think they are done just waiting on the ms buyout to be done then we get the surface phone nokia Posted via the WPC App for Android!

What you mean we get the surface phone. Your posting from an app on Android. There is no we.

Some of us have lots of phones Posted via the WPC App for Android!

Must feel good to be rich.

I work a lot since Posted via the WPC App for Android!

I guess I shouldn't talk. Got 1520, 1020x2, 920, and 8x.

Huge failure on Nokia's part today for those of us in the U.S. On the other hand, a pretty good day for the rest of the world with the 930.

Seems to me that AT&T wants another exclusive device. April 19th can't come soon enough.

You'll survive, everything else you get is better anyway so...

I hope they put a SD slot in the 930. I would not mind upgrading my 820. But I refuse to get a phone without a SD slot. If they don't then I will stick with the 820. The 1520 is too big for my needs. Its nice; but I have two tablets (a 7 and a 9) and I prefer a smaller phone for carrying around. Nothing bigger than 5" and I would like a 4.5 better. The 820 is perfect for what I need a phone for; but I am sure it will not last forever. I may have to downgrade to get what I want.

A Complete Same Story from ME LOL, love the 820 wanting to upgrade to 930 but will have to check all d specs out

Exactly the same situation for me, I won't upgrade my 920, because the only improvement I need is an SD card. As soon as an SD card equipped 920 replacement comes out (ie same body size, since the 920 is already a large phone) I will rush out to get it. Nokia made a great phone with the 920, but it's great camera is useless if I can only take 3 minutes of video before it says "Memory full" then I have to wait 2 weeks for OneDrive to delete the backup video for the message to go away.

http://www.tmonews.com/2014/04/nokia-lumia-635-announced-t-mobile-and-me... Posted via the WPC App for Android!

? Posted via the WPC App for Android!

Ugh, no watch, no care. This was a pretty disappointing event from Nokia. Microsoft delivered today, but Nokia dropped the ball. Was hoping for a one-two punch. Oh well.

I agree. If anything that drew excitement it was for Windows Phone/Windows as a whole. Nokia sucked hard today. I was more excited for the M8 reveal by HTC and we already knew most of the info going in.

Any news about the Nokia DC 19 ?

Bummer Nokia event. Another bummer, wait till summer for update. Apple: event today and deliver tomorrow.

Your question is why does Nokia not love cyan anymore.

Because orange and green are more beautiful to look at.

Why we got tu get tha update in a couple of months cum on man

Wait hard enough and she'll cum in seven days from today, supposedly.

Hanging out for the 935, snapdragon 805 4.7", 130g

Smartwatch tech ain't ready yet, wait and see is safer

Yes..app can load from sd card.confirmed it when i see the nokia lumia 630 video hands on at nokia official youtube page.

What a total waste of time reading that was!

Where Are the other features like OTG , wifi direct etc?

I live in toronto .i buy the 1520..
At expansys at usa...is the best phone ....is 4G...and have evrething you need

Except a 5inch screen Posted via the WPC App for Android!

Dissapointed. 630 will be huge failure, they confuse the consumers, what to choose/differentiate from 5xx. I can see responses from guys in my country where lumia contains 20% market.

Yeah im not sure whats going on here lol Are they replacing the 5xx series with the 6xx? I cant wrap my head around any other reason as to why they did not put flash on this device... AND 512MB of RAM? I mean they put gorilla glass 3 on this "low end" device... that's a waste of money lol.. consider my mind = blown.

I hope Living Images doesn't stay 930 exclusive for too long..

Oh, 512 ram in the 635...this is a step above the 525? the line up is getting confusing :/I'm excited to see what Nokia have - hoping for aa device that has an sd card and a flash! A proper flagship. As much as i like the look of the 930 there isn't anything compelling to take me away from a lumia 625 and a 1020. Not yet.
Though the dual sim 635 sounds interesting and would sort out a problem i have... It is that lack of flash. Good grief. So tantalising!!!!!! Why Nokia??!?!?!

930 International = WIN
930 not coming to N.A. = FAIL harder!