Secure your personal photos and videos with the Brilli Gallery Locker app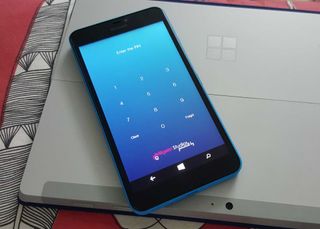 Brilli Gallery Locker is a pretty good locker app that locks your images and videos and then deletes them from your gallery. So next time you hand over your phone to a friend to show a photo, you wouldn't mind him flicking left or right to see other photos, since you'll have your personal and private photos secure.
Unlike most locker apps, Brilli Gallery Locker doesn't require importing a photo in the app and then manually deleting it from the Photos app. You can lock photos and videos from your photo gallery and SD card, and they can only be accessed from the app. The app offers seamless folder management, and you can organize your locked photos and videos in unlimited folders.
The app also offers an interesting Fake PIN feature. A fake PIN will allow you to open a fake locker when someone pressures you to open the app, while the real locker stays private. There's also eight different themes to personalize your app. You can also recover the PIN in case you forget it via email. Please note that you need to know that uninstalling or deleting the app will delete all the locked photos and videos and cannot be recovered. Also, you can't access the locked photos from your PC.
Brilli Gallery Locker is a paid app, but there's a free, ad-supported trial available. After the 30-day trial, you can use all the features of the app except for locking any new files. Give it a whirl, and let us know how you like it.
Windows Central Newsletter
Get the best of Windows Central in in your inbox, every day!
Features like this should be built in the OS.

Let's asks them about it using feedback app

Totally agree. I was about to write it and I find it as first comment.
It something that everybody wants on some extent, everybody, and I'm sure also the OS developers want it in their phone, so in don't understand what's the difficultly in filtering a folder with a password.

I'm not sure its entirely possible. Imagine a case where you use a third party gallery viewer app. Do you think all of them should implement a locking function just to create a simple gallery locking app? If not then cant a user just install a third party gallery viewer and see the photos/videos? . Or think of an app like email which uses the attach functionality it goes to photos directly you dont want to have a pin again to attach or import a photo in every app do you? Rather we could request an App Locker all together, which solves most of the problem.

And right there is the attitude that will kill any chance of success for Windows in the mobile world. Too many cheapskates on Windows for developers to see any point investing in it. $2 is expensive? Would you prefer the dev pay YOU to use the app?

He doesn't have to buy something unless he wants to. This app just might not be useful for him.

Haha !
Good one... yup it is true, 2 dollars dont seem like anything, and one should be a little open when it comes to buying apps. after all you get the app for lifetime(afaik).
and for others, you always have myappfree and stuff! ;) :P

That's what happens when you target budget market.

Exactly. Personally I think the dev should get something back simply for supporting wp, given the major players won't even look at it. The sense of entitlement people have is crazy - first world issues lol

Wut?? O.o How can someone be so cheap??

In Android everything is free....

Because you download the pirated content.

Paid app! Want something like "don't show hidden items" option in the windows phone OS, like it is in the desktop version.. That'd be handy, and better than third party apps.. #suggestion

App is good but the feature delete all photos when we uninstalled is bad

Why don't you export the pictures back to your gallery before uninstalling?

Is there a way to unlock these images or videos later when we feel its ok to be in Gallery? Like before uninstalling it?

Yup, we can unlock all files easily whenever we want.

Yes kyms cal is the best photo & video

Yes kyms cal is the best photo & video locker

Wish there was app lock for wp!

Why so the phone becomes loaded. If you want to protect your WhatsApp or vlc videos, request the dev to implement it, that way OS stays light and you get a good user XP.

Have used it before and is pretty good. One of it best features is it looks videos also and that too very fast. Hopefully we also get an app lock for windows phone soon! ​ ​ ​ ​ ​ ​ ​ ​ ​

This is something that many person have been asking for in the suggestion area for windows 10 mobile. I know that windows ten is feature locked but I really hope they have thus feature built into the OS but not only for photos...how about the ability to lock any app as you see fit?

I don't mind paying for apps like this. My only problem is that I have to change the region on my Lumia so that my wallet can recognize my credit cards.

Me too, but the problem is I don't have credit card and my network operator doesn't support carrier billing

Win10 is great. Will buy again. In fact I ordered the USB stick of win pro for my new machine in building... Unless I get my hands on enterprise before then.

How to lock photos from the gallery?

for those saying this feature should in integrated into the OS instead of a 3rd-party app...is this feature integrated into iOS or Android? If not then why should it be different on WP? In fact I'd argue that by making this feature part of the OS Microsoft would be further killing whatever little suport we are currently getting from 3rd partys devs.

Exactly.
Instead, microsoft should open a little more APIs for developers. Like for locking apps as android does. And then a lot more 3rd party devs can use all these...

Why we have to care if some other OS has it or not? It's not the point. The point is logic!
Everyone practically wants it and it's not something random. A mobile phone contains a lot of personal datas and many times it happens to pass our phone to somebody for a moment and it happens to guard it if he or she goes in some private parts that we simply don't want to show. And most of it regards video or images, not only about us but also about others. It's a general privacy. Why for something like this we need to wait for the good generous time and intention a developer put into building an app that at the end of the day it's always limited. Because deleting them from the original position and relying on hope of the "bug free" structure of the app it's not the best choice. The best would be MS opening the SDK more to permit this kind things like locking feature.

It's a nice app. I've been using it for a week or two. It's FAR better than the apps from newsoftwares.net.
If you need a photo/video locker, this is it.
And if you like it, buy it. Don't let the dev go into hibernation.

They should take "Gallery Locker" off the name and then I would buy it. It should be incognito to ppl who don't know what it is

The App has a feature called "Fake Login" where you can trick your friends to show the locker without showing them the sensitive photos/videos.

Mate, whatever name it has, secure your things (if you got things nobody should put an eye on) and enjoy the app. I just bought it and it's really great how good it works.

Thanks! I've been looking for an app like this on Windows Phone forever. I used to use KeepSafe on Android.

Would be perfect if it backed up to OneDrive. There is a high risk of losing "data".

It needs "fake fake pin" for people who already know you can set a fake pin in the app. It would also be great if the app suggested content for the fake pin mode, so the user doesn't need to come up with excuses for it being there. ;)

please provide a password access to delete or uninstall an app

Nice app.....Dhanywaad abhisekh baxi.
Windows Central Newsletter
Thank you for signing up to Windows Central. You will receive a verification email shortly.
There was a problem. Please refresh the page and try again.