Lock Manager for Windows Phone 8, a nifty way to add more gusto to your Lock Screen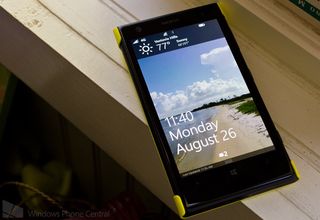 If you're looking for a way to snaz up your Windows Phone lock screen, take a look at the Windows Phone 8 app Lock Manager. It is a feature rich option to add everything from the weather to appointments to a slide show of your images to your lock screen.
Lock Manager includes four weather themes, Bing daily image support, and live tile support that reflects the information posted to your lock screen. The app definitely has the ability to throw a lot of information up on your Windows Phone lock screen.
The main pages of Lock Manager lays out all your lock screen options in simple, straight forward fashion. If you need a little help in deciphering what's what, there is a comprehensive help section that is accessible through the "?" button at the bottom of the pages. Lock Manager's main pages include:
Background: Here is where you can choose the image you would like to use for your lock screen. Options include a solid color, single photo from your Pictures Hub, a photo slideshow from your images or Bing's Daily Image. You also have the option to add a dark layer behind content, allow space for media player buttons and choose a background color (will also be used for the live tile).
Weather: Weather displayed through Lock Manager is fairly basic with the current temperature and a weather icon illustrating the current conditions. You can have Lock Manager display the weather based on your current location or a set location. You also have the customary choices for temperature units as well as one of four weather themes (Climacons, Silq, Tick, and Weezle). The themes are basically a metro-styled theme and three real-life illustrations.
Appointments: Lock Manager can display up to six upcoming appointments on your lockscreen and pull the appointments from all calendars or select calendars that you maintain on your Windows Phone. You also have the options to show all-day events, private appointments, display a line between appointments and have the appointment subjects displayed in bold.
Reminders: Lock Manager allows you to display a custom reminder up to three lines of text. This is a nice option for things that don't rise to a level of a calendar appointment (e.g. reminder to buy milk on the way home).
Battery Level: Lock Manager has the ability to update your Windows Phone battery status every thirty minutes. A small icon can be displayed in the lower right corner of your lock screen or in the upper right corner of your live tile.
Language: While Lock Manager is currently available in English, you can set the lock screen information to one of thirty seven different languages.
Lock Manager does give you the ability to add a healthy amount of information to your Windows Phone lock screen. The weather may not be as detailed as what you find with Amazing Weather HD but it gives you a nice snapshot of what's going on.
The live tile support that mirrors your lock screen is a nice touch. If you choose to display weather and appointments on your lock screen, your live tile will rotate to display weather and appointments. If you only choose weather, well... your live tile will only display the weather.
If you're looking for a little more something, something for your Windows Phone lock screen, Lock Manager is worth a try.
There is a free trial version available that is fully functional but ad-supported. The ad-free version of Lock Manager is currently running $.99 and you can find it here (opens in new tab) in the Windows Phone Store.
Thanks, Kyle, for the tip!
George is the Reviews Editor at Windows Central, concentrating on Windows 10 PC and Mobile apps. He's been a supporter of the platform since the days of Windows CE and uses his current Windows 10 Mobile phone daily to keep up with life and enjoy a game during down time.
That lock screen with apointments really remind me of WM6

totally what i was thinking!

To me it looks more like the list of iOS notifications on the lockscreen, just without the app icons.

Are you trolling? WM existed years before ios hence if it looks like ios to you, it means they copied from wm.

I think you mean it looks a lot like a set of WinMo notifications on the lockscreen, as copied by iOS

All I want is a weather lockscreen app that shows the battery info along with the weather on the main screen so I can free up one of my 5 apps on the lower screen...lock widgets did this but its ugly as hell

Try Weather wallpaper and then use one of the battery apps like battery sense to put the battery indicator where it shows missed calls/texts etc

I already do this but I want a weather wallpaper app that shows temperature AND battery info on the wallpaper. One app two functions. You only get 5 apps in the lower area and I already rotate then for missed calls, Skype, whatsapp, Facebook, package tracker, twitter etc

That's all pretty cool. I think I'll stick with ImageFusion for mine though, I like having my collage of album art.

ImageFusion is awesome!! I love how it updates the images on the lock screen mosaic!

I'd probably use this if the 928 didn't have such terrible battery life. I wish someone would make a replacement case with a larger battery and wireless charging. I would gladly pay 100$ and void my warranty for such a thing.

Really? My 928 gets awesome battery life. I do a lot wth my phone throughout the day and I still get great life out of it. I unplug at about 645AM and don't charge until late at night.

Not even 24 hours isn't that good of battery life. That said, I am on my 3rd 928. The prior two have failed one way or another. All three have had pretty mediocre battery life. It really is disappointing that Nokia flagships are gimped when compared to their lower end brothers like the 820. Expandable storage? Removable and by extension extendable batteries?

Good battery life to me means making it from the time I wake up to when I get home for the night to my charger. Plain and simple. It makes it where I need it and I don't have to keep data off to do it. I came from a Galaxy Nexus before my 920 and I literally had to charge it every few hours - even if I didn't use it heavily. I'll take my 920 any day.

I guess that is where we differ. Good battery life for me is still having enough charge when I get off work to have in case of some sort of emergency. Not the battery dying after being on the phone for five minutes. Being a motorcycle rider it really limits me on what I can do. Especially if I have to use navigation. Nokia really needs to drop a device with battery life akin to the Droid Razr Maxx. Or better yet, any OEM willing to support the Windows Phone ecosystem. I would gladly drop my 928 for a phone that is more function than flare.

Not many smart phones will last more than a day - unless you hardly use it. I'm sure I could get more than a full days charge on my L928 if I didn't use it for anything. But using it for social networks, SMS, phone calls, web browsing, and just overall messing with it here and there throughout the day...I can get a full days use. Now if I were to stream music for 8 hours, browse the internet another 2 hours, and play games all day, sure, I'd have to charge it probably 1 or 2 PM. But you'd get the same effect from Android or iOS. I've owned both. The iPhone 4S had a decent battery. Android - I ALWAYS had to have a hunchback battery and even then I could never get passed lunch without having to be a slave to the charging cord.
I'll take my L928 any day.

Was really hoping it would have a weather wallpaper, I was wrong. Otherwise, love the layout, and I too reminisced to WinMo.

Anyone know how to make Microsoft calendar appointments not show up as "private"? Same with Facebook birthdays. Pls and thnx

Yeah, this is a dealbreaker for me. It seems that all calendars that aren't your primary calendar show up as private appointments. It's a shame.


Ouch. Definitely a deal breaker for me!

What a good Lil app. Paid for and using it now. Shame about the cropping image bug which causes the app to freeze and shut down, but i emailed em about it. Hopefully they should sort it then I'd give it 5* in the store.

Adding images could use some work. Its really difficult to move/resize. The image just bounces all around

Very cool! I use the Bing daily image so no photo bug, and it kept my Lock Screen Text app message on its lock screen too! Will pay for this in a few days if no bugs or other problems arise.

Would buy right away if it wasn't buggy. Keeps crashing on me when trying to set up the options. And the photo edit is terrible. Other than that, it does look good. I'll wait for a future version thanks.

Glitchy. Stays saving for a long time. Had to reinstall bbut it wouldn't fix. Changing pic settings caused app to crash a few times.

Jut downloaded this app. I always had the hourly forecast on my lock screen but I dont really need it. This app is great and it even has a battery indicator for the lock screen.
I wish this app had a Live Tile for the battery percentage.

I really wish MS would let apps do lock-screen overlays like weather w/out assuming control of the bg image. In a perfect world, I'd let Weather Flow do its forecast thing & still be able to get images from another app (besides Bing).

Kept crashing when choosing single photo...

The battery status indicators make no sense. I see the battery level every time I look at my lock screen, so no need to see a report of what my battery level was up to 30 minutes ago.
Similar on the tiles screen, the battery level is there too. Ok, I have to swipe down if it fades away. A live tile that isn't with the live information about my battery level just isn't what I want.
It's like if I had an app that told me what the weather was 30 minutes ago.

Arh why do lock screen apps never allow you to add an album ! Who wants 2 pictures over and over again.

Like the reminder function. I use Lock Screen Text to display my ICE information in case my phone is lost or stolen, or something unfortunate happens to me. This way, whoever finds the phone will have the information readily available even if the phone is locked. I would guess that I can use the Reminder function to do the same thing. Actually, I have all of these functions on my phone using different apps, but it might me nioce to have them all in one place. Definitely worth a look.

i have used this app and its fantastic!!! really puts the lock screen to great use! highly recommend it!

I do NOT understand the thrill of modifying the lockscreen. I want it GONE just like Android and iPhone options have. The thing I hate most about my WP, stuck with it forever unless I want to change phones.

Pretty nice little app. I've been switching between weather wallpaper (for the weather and personal image) and paper shuffle (for the slideshow of personal images). I'm glad this let's me do both. I'm having two problems though. Cropping/rotating pictures makes the app crash. The other is I don't like the little bar on the bottom that says "last updated..." Will probably pay the buck to remove the ads just to support the developer.
Windows Central Newsletter
Thank you for signing up to Windows Central. You will receive a verification email shortly.
There was a problem. Please refresh the page and try again.