Looking for a job? Slack wants a full-time Windows engineer to build a phone app and more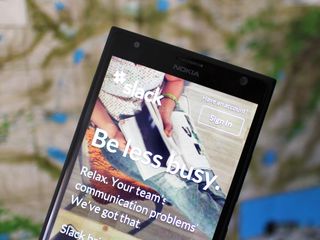 Do you want to work on one of the coolest products around? Of course you do. Which is why you should probably apply to the join the engineering team at Slack. They're looking for some Windows developers right now that will help the company build apps for Windows Phone 8.1 and Windows 8.1
Slack?
This is enterprise collaboration software for the modern age. Slack (slack.com) is team communication that we just started using today at Mobile Nations.
When we're not writing articles, Slack is how the teams at Windows Phone Central communicate and work with our friends at iMore, Android Central, CrackBerry and Connectedly. It's actually really awesome and lot more powerful than Campfire, our previous team communication tool.
Slack also integrates with a variety of apps and services that we regularly use here. Trello is how we manage long-form content and plan our editorial schedules out. There's some really slick Trello integration with Slack. Twitter is another service that can be integrated into Slack and we've been playing around with it to get some cool results.
Your new job
Sadly, there's no Slack app Windows Phone 8.1 or Windows 8.1 available. At least not official, we have found one third-party app in the Windows Phone Store, Slack WP, but it's a little basic at this stage and the Slack APIs aren't up robust enough yet.
You can change all that by joining the team at Slack.
Slack is based in San Francisco and was founded by core members of the original Flickr team. Right now they're looking for talented full-time Windows engineers to join the Slack engineering team. You'll want to have extensive knowledge of Windows application development since you'll be building Slack for desktop Windows and Windows Phone! Though tell your new employees to make it a Universal Windows app and release it for Windows 8.1 as well.
We'll be over the moon once an official Slack app hits Windows. Until then, check out the Slack APIs and let us know if you build a third-party app. If it's worth writing about, we'll write about it!
Check out the full job listing for working at Slack!
P.S. Don't forget to forward this to those new college grads looking for jobs.
Windows Central Newsletter
Get the best of Windows Central in your inbox, every day!
Jay (Bennett) should apply!
Or is it conflict of interest?

Lol. The tone of this article is hilarious.

Give them some slack.... Nothing wrong pushing WP ;-)

"MN is big, WPC might not have the most writers, but we have the most readers. We'll get a better client made for the service MN forced us into" Hilarious.

it's nice to see wpc trying to push the win phone apps in every way ... good job guys I hope you see this

Aren't they a little late?... It's like "hey I got an idea,, lets make a WP app""... Geshh.. Get with the times, people❗

Oh yeah. I will gladly pimp any open position that will directly benefit me. I'm so selfless.

Not ragging, just humorous.

I'll do it!!! Can you hire 16 year-old? My dev name is WAD

I'm a 16 y/o Windows developer as well... ;-) But looking at some of your apps, I don't think you've worked with many online APIs yet. Also may want some help design-wise. I could help lol but I'm at football camp right now so it'd have to be when I'm off.

Actually...i think I might need help, I think I'm a good developer as far as my age, but I do agree that I'm not the best . In fact: On App Builder Rewards, I was selected for Every Dev Has A Story and they sent me a free Lumia 1020 :D

That's pretty cool, man!!.

What kind of computer do you utilize? I'm looking into doing that but I need a good machine to make good apps.

I use a general $350 PC...nothing special and kinda old but it still works ok

Thats cool, now I'm thinking I should have studied IT stuff in university instead of BBA. Seems more profitable and interesting for me. Meh.

Sorry no 16 year olds allowed... You can be 15, or 17, but not 16.... What❔... Hey, I don't make the rules, buddy❕❕❕❕

Is this a kind of Yammer?

Yeah the Microsoft app that is far better on iOS than Windows Phone.

Yes, looks like it. We use Yammer and it's awesome. However, I disagree about the WP app being better. There's an app, and its ok but still sends to web for some functions.

He didn't say that. He said it's better on iOS than WP.

How about daily travel expenses. ;)

Excellent companies reaching out for help for WP.

Someone get Rudy over there.

He works for Microkia now:-)

He works for Microsoft :o

You guys know Rudy isn't the only WP dev that makes decent apps, right?

Yeah, but he deserved the recognition. He's one of the quickest devs to push updates, has a great design language, and is dedicated. He knows how to do what he does well and isn't just a One App wonder.

It's not his design language, it's that of a designer he had help him on 6sec, then re-used it everywhere else.

I am so impressed that WPC staff are using Slack! I know the devs from way back as a user in early Flickr days and the dearly departed game Glitch. I tried to get my co-workers interested in using Slack, to no avail. I am frankly amazed they are developing for Windows, amazed but delighted! Best wishes and hugs to all of them.

Why do wages in Australia have to be so goddamn high...no dev studios here

Hey Sam - Curious how you or Daniel use Slack on a device like the Surface. I run it in a Chrome instance but it's not ideal. Can't wait for the native apps but willing to hear what other tricks are out there for ease of use on a Surface / W8.1 environment.

Hey I haven't tried it yet on my Surface, have used it on my Samsung ultrabook though and it's fine as a Chrome instance. I think Dan has used it on his desktop so far. Maybe he can chime in on how it is on the SP3.

Shouldn't have they called it slackr?

Kurwa... Pierdolenie i tyle :)

Well now..this means that the Catholic Tech Geek is definitely getting into the game. I'ts late right now (currently 00:38 EDT), but I will (definitely) be applying in the morning. I'm sure that they wouldn't mind having someone who has done some work with Microsoft on Windows Phone stuff in the past, would they? Granted, I could still be considered "fresh" (I graduated in May of last year), but my activities while in school and my training with microsoft makes up for it.

Go for it! Let us know if you get the gig and good luck!

Do they want a graphic designer?

Hi LTTG, I'm actually looking for a designer for a few apps I have in progress. You can see my current apps by searching for Nenvy in the Windows Phone store (spam filter blocked me from sending a link)

I need to study 20 years of computer engineering

I'll work on a Slack app, but last time I checked they had some auth issues and the API didn't support direct messaging. Auth issues seem to be resolved as they now support oAuth2.