Looking for a job? Slack wants a full-time Windows engineer to build a phone app and more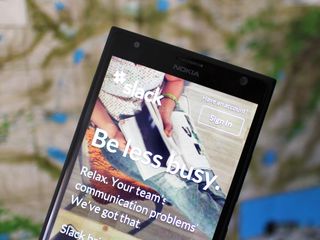 Do you want to work on one of the coolest products around? Of course you do. Which is why you should probably apply to the join the engineering team at Slack. They're looking for some Windows developers right now that will help the company build apps for Windows Phone 8.1 and Windows 8.1
Slack?
This is enterprise collaboration software for the modern age. Slack (slack.com) is team communication that we just started using today at Mobile Nations.
When we're not writing articles, Slack is how the teams at Windows Phone Central communicate and work with our friends at iMore, Android Central, CrackBerry and Connectedly. It's actually really awesome and lot more powerful than Campfire, our previous team communication tool.
Slack also integrates with a variety of apps and services that we regularly use here. Trello is how we manage long-form content and plan our editorial schedules out. There's some really slick Trello integration with Slack. Twitter is another service that can be integrated into Slack and we've been playing around with it to get some cool results.
Your new job
Sadly, there's no Slack app Windows Phone 8.1 or Windows 8.1 available. At least not official, we have found one third-party app in the Windows Phone Store, Slack WP, but it's a little basic at this stage and the Slack APIs aren't up robust enough yet.
You can change all that by joining the team at Slack.
Slack is based in San Francisco and was founded by core members of the original Flickr team. Right now they're looking for talented full-time Windows engineers to join the Slack engineering team. You'll want to have extensive knowledge of Windows application development since you'll be building Slack for desktop Windows and Windows Phone! Though tell your new employees to make it a Universal Windows app and release it for Windows 8.1 as well.
We'll be over the moon once an official Slack app hits Windows. Until then, check out the Slack APIs and let us know if you build a third-party app. If it's worth writing about, we'll write about it!
Check out the full job listing for working at Slack!
P.S. Don't forget to forward this to those new college grads looking for jobs.
Get the Windows Central Newsletter
All the latest news, reviews, and guides for Windows and Xbox diehards.