Lumia 810 product page shows up on T-Mobile, no pricing displayed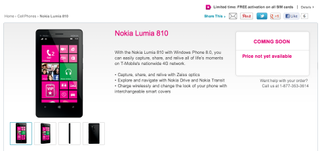 The Nokia Lumia 810 product page is now displayed on the T-Mobile US website. The device, an exclusive variation of the Lumia 820 available on AT&T, is on its way to the carrier but no pricing is yet available. The listing states the Lumia 810 is "coming soon" but we're yet to see any information on availability or how much it'll cost consumers.
We had a quick look at the Lumia 810, which sports a 4.3" OLED WVGA Clear Black display at 800x480 with an 8MP rear as well as a 1.2-megapixel Skype HD certified front-facing camera. In addition, T-Mobile will offer to interchangeable back overs in black or cyan. Hopefulyl we'll have more information soon.
Source: T-Mobile US (opens in new tab), via: NokiaPowerUser; thanks, Sunny, for the tip!
Windows Central Newsletter
Get the best of Windows Central in in your inbox, every day!
Rich Edmonds was formerly a Senior Editor of PC hardware at Windows Central, covering everything related to PC components and NAS. He's been involved in technology for more than a decade and knows a thing or two about the magic inside a PC chassis. You can follow him on Twitter at @RichEdmonds.
Over on crackberry.com there was a picture of the tmobile roadmap for one of their new curve models and it had the htc 8x showing for nov 14th.

http://crackberry.com/blackberry-curve-9320-landing-t-mobile-october-24th

Exposure is always good for WP, we should start seeing developers jump on now that the cellular carriers are getting on the bandwagon

I'm fine with no pricing for now. What I do want is a full spec sheet. Please?

The spec sheet should eventually make its way to http://www.nokia.com/us-en/products/phone/lumia810/ But, disappointingly, Nokia still doesn't have the sheet posted yet. Come on, Nokia, get your act together! You've known the specs for how long now?

I speculate all the Nokia lumia 800s will be $50. The 920 will be $100-150. Quote me on this!

Nice! I'll be heading to my local T-Mobile store when it arrives. Hope they'll have the cyan version.

You'll get both black and cyan (interchangeable back covers)

so tmo will over black and cyan but can i get other backs?

I'm wondering the same thing. Looks like other backs won't be available through T-Mo for awhile, but maybe other colors will be avaialble on Amazon when the phone's been out awhile. I plan on getting at least two addtional colors. :)

I'm sure other companies will start making them shortly after the phone is released. That could be a huge market for accessory makers.

Good to see it has 1 gig of ram. Was worried it didn't

*two, covers, hopefully. I hope TMO offers a variant of the 920. I like the camera on that. What's the aperture on the 810's lens?

According to the features on TMos web page the 810 will have "Up to 32 GB Expandable Memory Expandable memory allows your device to store extra music, movies, documents and more." This may be the feature that will ensure I purchase this phone. Yes.

For some people it could be.

In this instance yes. But not necessarily what you may think. The Ativ will have more storage space but I'm not interested in the Ativ it's just too big for me. And yes I have big hands it would be able to fit comfortable but I don't want a phone that big. Over the past 11 years I've only owned either Nokia or HTC branded phones and I have zero complaints. So, if you're referring to the 8X having a better screen, etc. in this instance I just prefer Nokia and yes the extra space (especially being removable) is more important (to me) at this time. I'm never caught up into screen looks. I'm color blind so it all looks the same to me anyway.

I swear the 810 is a huge and thick phone. The girl from CNET did a hands on and boy it is big in her hands. Yes and they're big.

Its only these few minority old folks who like expandable memory. The millions who bought and love the 16gig iPhone have no complaints. These old folks probably dont know what its like to watch a movie in HD and with HD sound.

Hopefully the wireless charger cases will be optional, because I dont really like the desgine of the wileless cases bc it makes the phone look really thick.


I really want a 920 version, but at the same time i feel glad about this 810. I have a professional camera, so this one is fine to me and the display is the same as the 900 so no worries. Ahh plus 32 g which is double better than the 8x

What's up with all this no prices being displayed lol

This would be a good successor to the 710 on various carriers here in Canada, e.g. Wind, MTS, etc. I hope it's off contract price is below $300.

Whoever sais this phone is ugly, try verizons! So glad Zune HD designs are here an there on devices like l810, venue pro, l920 and more.

Please more colors then just black and cyan.

@Vigor, agree, no more then $99 with 2 yr contract

People know WP8 devices are coming to multiple carriers, now we just want to know the pricing! I'm starting to get a little unexcited now about all this rollout

Expandable memory or not 8GB is too small for my needs so I'm hoping it's at least 16GB With expandable storage.

I believe it comes with 8GB native storage.

But the 822 supposedly has 16GB

Reinstaller is now updated. Unfortunately HTC Sound Enhancer does not show up. I could just cry.

It's things like this that lets me know I need to go with Nokia. Nokia supports their phones unlike HTC.

Good to hear that my popular app reinstaller is now working.
Windows Central Newsletter
Thank you for signing up to Windows Central. You will receive a verification email shortly.
There was a problem. Please refresh the page and try again.