Lumia 822 official on Verizon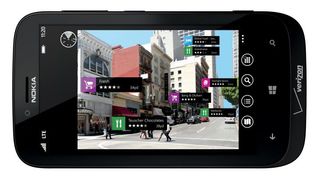 Nokia (and Verizon) this morning announced the Lumia 822 for the largest carrier in the United States.
The 822, in addition to having 4G LTE data, also sports an 8MP rear camera and 1.2MP shooter up front. Plus, there's wireless charging.
Odd is that Nokia hasn't yet moved an official picture of the 822, and Verizon's completely mum on its in. There's also no word on pricing or availability. But we've got the full presser after the break, and we'll update with the rest when we get it. Nokia has revealed a price tag of just $99 when taken on contract.
More: Nokia Lumia 822
Espoo, Finland - Today, Verizon Wireless and Nokia announced the upcoming availability of the Nokia Lumia 822 - a powerful Windows Phone 8 smartphone exclusive to Verizon Wireless. With a unique design, enhanced camera, world class maps with turn-by-turn navigation and free unlimited music streaming, the Nokia Lumia 822 provides Verizon Wireless customers with high-end smartphone features on America's largest 4G LTE network.
"Bringing the Nokia Lumia 822 to Verizon Wireless allows us to expand our award winning Lumia brand to even more customers here in the United States," said Olivier Puech, President of Nokia Americas. "With the Nokia Lumia 822, first-time smartphone buyers - and those ready to switch - will get high-quality performance on both their device and Verizon Wireless' incredibly fast 4G LTE network."
The Nokia Lumia 822 delivers high-end features in a compact package, including an 8MP camera with industry leading optics from Carl Zeiss, alongside a 1.2MP HD front-facing camera for crystal clear video calls. The Nokia Lumia 822 also features an exchangeable shell design, sold separately, which supports wireless charging.
The Nokia Lumia 822 also comes with Nokia Drive+, an industry leading, turn-by-turn voice navigation solution featuring offline access and pre-loaded US maps - replacing the need for a standalone personal navigation device. In addition, the Nokia Lumia 822 comes with Nokia City Lens, the latest addition to the Nokia location suite and the start of a new augmented reality experience that also enhances Nokia Maps. Along with enhancements to Nokia Transit, the Nokia location suite of services represents the most comprehensive, integrated mapping experience of any smartphone.
To take advantage of its camera capabilities, the Nokia Lumia 822 supports a suite of features to make the most out of photos and videos, available on the Windows Phone Store for download. Smart Shoot lets users remove moving objects and select the best faces for the perfect shot every time, and Cinemagraph allows users to easily turn photos into animated GIFs. Panorama makes it easy to capture an entire scene or landscape, while Creative Studio allows users to easily enhance their pictures with unique, creative effects before instantly sharing with friends and family.
The Nokia Lumia 822 also comes with Nokia Music - a completely ad-free music streaming application, requiring no registration, no log-in or subscription. Nokia Music allows consumers to enjoy the songs of their favorite artists without disruption, both online and offline so consumers can listen to their favorite playlists anytime, anywhere.
Windows Central Newsletter
Get the best of Windows Central in in your inbox, every day!
Phil is the father of two beautiful girls and is the Dad behind Modern Dad. Before that he spent seven years at the helm of Android Central. Before that he spent a decade in a newsroom of a two-time Pulitzer Prize-finalist newspaper. Before that — well, we don't talk much about those days. Subscribe to the Modern Dad newsletter!
this is great news. Almost enough to switch to Verizon. If it had pureview tech I would get my wife and I this phone. I hope Verizon gets the lumia 920 or an iteration of it in the next couple months.

The screen resolution is the best, but it still has a nice look to it. And the Lumia 900 looked pretty good with the same specs.

Question how is a low res screen wvga looked as being high end? maybe the apps yes. but not the device sorry it is what it is. when it's stacked against whats out there for high end devices the L 810-820-822 are not.

Mm... How can HTC 8X be high-end without gyroscope?

Since you bring up the 8X...The ATIV has high rez and a gyroscope.

That's the point the 822 is low end. Oh does the 920 have a sd slot?

I'm with you Brotha! No SD slot, no removable battery, no wireless charging, and no gyroscope? All = NO 8X here!

Also, Verizon actually has 3 Windows Phones for November. For those of you as unimpressed with the 822 or 8X as I am, might I suggest the HTC Trophy? The Trophy has a gyroscope, removable battery, maps, SkyDrive, Xbox music, Xbox games, Outlook, ESPN, Calendar, Facebook/Call/Email notifications, Bluetooth, WiFi, and a phone that works!

Even the clowns and VZW know that the Trophy is a better phone because they are charging more for it than the low end 822 and 8X.

The only thing in your list of things missing from the 8X that the Trophy has is a very small removable battery. It does not have a gyroscope, expandable storage, or anything else. It also has the slowest camera I've ever used and its screen is thoroughly average.
I'm upgrading to the 8X as soon as possible.

You're high if you think the Trophy us on par or better than the 8x. I've had a Trophy for over a year. Yes its a great phone. It works. But my next phone will CERTAINLY be the 8x. The 16gb has never been an issue in my Trophy. Uh.. I've never removed the battery or needed to. Wireless charging? Not a necessity. But pretty cool I'll admit. I think my Trophy screen is 3.8? 4.3 is my preference and no bigger. Those Nokia exclusive apps are awesome...but not enough for me to get a Nokia.

Bummer. I can post comments from the app but not from the desktop website.

Ok. I thought l was going crazy. I also can't comment from the desktop web site and had to resort to the phone app. I click on submit comment button, get the "please wait" message but then nada. Can we get an ETA on a fix please? :(

That's exactly what's happening to me, Odog.

I can't reply via ie9 or Firefox...the app works fine tho Wpcentral fix ur website

Same here. Tried both browsers as well

It's working fine for me... using Chrome

working for me in IE10 but some post are missing reply tab

Same happens to me, with both IE and Opera. I have to use the app.

Where did you post your "Hi" from?

Well 8x with better specs will be my wp8 upgrade. If 822 leaked price is same as announced, it would make a good Xmas gift for my daughter. No mentions of the 8s? We'll have to wait & see today.

The number #1 network with the worst phones. When you read the "exciting" features it almost sounds like a good phone. Except it is a low end phone that Verizon wants us to think it is high end. Nope not biting.

Not sure exactly what's "low end" about this phone. It's not the flagship, but no way it's a low-end phone.

It's mid-range, not low-end

In America it's low end. Go to a Verizon store and find a smartphone with lower specs. I bet you can't.

Bet? How much? HTC Trophy has lower specs. What do I win?

@WP7WasMyIdea You Lose Sucker...... The Trophy is not in the Verizon stores any more.
VERDICT = 822 LOW END

I'm glad someone agrees with my observation about Verizon. Most people here continually blame Nokia & MS for verizon choosing the 822 as opposed to the 920/922. As I stated before, I'm sure Nokia offered Verizon the 920 just like they did the L900 last year, yet Verizon turned them down, opting for the lesser HTC trophy then and now opting for the 822 over the 920/922. Verizon has too much vested in Apple, Android, Blackberry, and don't really want to put much stake in WP. That's the facts, even if noone wants to accept that their beloved Verizon isn't really all in on WP. I am also disappointed with ATT, the so called premier partner for WP; Have you seen the lame commercials their putting out for WP as opposed to the Andriod and Apple ones??? The latest listed on this site says nothing about the model, floating camera lense that enables image/video stabilization, or that it, "Can only be found on the Lumia 920" now in stock at you local ATT store. Average consumers will, think, "All smart phones record video. No highlighting of city lense, nothing that make the phone stand out in a crowd. Right now, the only impressive commercial I've seen is the Surface commercial!

I wish it was a Lumia 922

So I was on the site and I see a 920, and a 820 from at&t. So I really hope after the exclusive runs out (which should happen if they're smart) they'll be a 922 from Verizon.

Not a bad phone. Seems like a solid mid-tier phone. Still, it is no 920. I can't help but think how much better Nokia could have made it for themselves by offering their flagship on every carrier possible. By only offering the 822 against HTC's 8X and Verizon's army of Androids, they are really only hurting themselves. I like the 820 design more personally, this is a little too curvy for my tastes. Decent specs overall though.

+1 If Nokia is gonna have exclusive apps they should have a flagship device on every carrier. W8 users are getting screwed.

So I have to ask, what apart from the screen res makes this "low end"? You've got your dual core, sd card slot, wireless charging, LTE, quad band WCDMA, 16GB onboard storage, HD FFC. All that for $99, how is that make this a bad phone? You whiners are typical of today's society, never satisfied and unable to appreciate anything. Just buy your android or iphone and stop moaning like bloody 5 year olds.

I agree that there's nothing low end about this phone.

It's not "low end" but "mid range" - the 510/610/710 are low-end
The 920 has higher Res, PureMotion HD+, 32 GB, camera has OIS with BSI sensor... which makes it high-end. Adding microSD would make it perfect! :)
BTW whining about whining all the time isn't helpful either.




FYI I was trying to point out that the 820 is lacking those features that the 920 has, which makes the 820 a good mid-range mobile

It's not. It's just that it is nothing to write home about - those are pretty solid specs but they hardly make the phone stand out. Sure, there are things that the 8X lacks but for me, it has one up on this one. It is by no means, a bad phone for $99 but compare it to the other devices on the carrier and it doesn't look that impressive.

It's actually not too bad looking of a phone. Definitely more unique in shape than the standard rounded rectangle.

WalMart has a special this week on eye vision test. I'd suggest going.

In the pictures, it is the right hone button, but in the video, it is the old one. -_- The video is on the NL822 page.

What do u all think of this Verizon Nokia phone is it worth it ? Do u support windows and Nokia and buy it anyway are do u complain cuz it ain't good enough? Are u could just come to AT&T

Hopefully Verizon will get a version of the Holy Grail......
The Surface phone.

My God! Where is the Ativ S!

I need the Ativ in my life. If Verizon doesn't get that I'm sticking with my trophy.

Now Low End? Ask the current Verizon customers that are due for an upgrade...

"Are you going to keep your Trophy a little longer, or jump all over the 822?"

Yea, like we said, low end. Even VZW has the 822 priced less than the Trophy. It's a kids phone. Cheap. Disposable. Buy the insurance and let your son or daughter torture it.

I am optomistic about Nokia and PureView leaks about a 9XX for Verizon. I am optomistic about the ATIV possibly coming to VZW as well. No big hoopla about the 822 or 8X because there are bigger and better things coming? Maybe? A big WP8 for Black Friday at Verizon is being frequently leaked as well. I'd camp out for a killer 9XX.

And, of course, the "Holy Grail" Surface Phone in the Spring (CES 2013) would be nice too.

Anybody notice this? "The Nokia Lumia 822 also features an exchangeable shell design, sold separately, which supports wireless charging".
Previously leeked info pointed to no exchangeable shells and wireless charging included. This info states differently.
Windows Central Newsletter
Thank you for signing up to Windows Central. You will receive a verification email shortly.
There was a problem. Please refresh the page and try again.