Nokia Lumia 920 holds majority of all Windows Phone in the US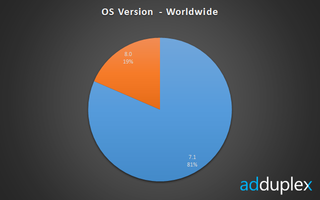 Yesterday we shared some of the advertisement data from cross-platform developer network AdDuplex. Now the full post is available on their blog and with it, much more data to comb over. In contrast with the mostly US-centric data yesterday, the blog post gives a worldwide perspective. Keep in mind, these numbers are from an ad network, the most popular Windows Phone ad network of its kind, but still not official numbers from Microsoft. That said, it's still fun to look at the graphs and get some insight to the Windows Phone ecosystem as a whole.
The data was collected from 215 different Windows Phone apps in the ad network, all on the course of one day – January 3, 2013. Now let's jump into some numbers and fancy graphs. Windows Phone 8 just went on sale about two months ago and older Windows Phone 7.x devices can't upgrade. So it's justifiable that at this point, most Windows Phone (81%) are running 7.1 compared to 19% for WP8.
Some US Data
This was rather surprising, the Lumia 920 was able to gain 16% marketshare compared to other devices that have been on the market for much longer.
The balance between Windows Phone 8 and 7.x is a little different compared to the world at large. As far as OS versions go, Windows Phone 8 already owns 43% of the US market. That's kind of crazy to think about – Windows Phone 8 was able to make a huge dent in only two months, fairly impressive when you consider it can only come from new device sales. Speaking of sales
Which carraier owns the most Windows Phone? Surprise, surprise – it's AT&T at 51% followed by T-Mobile with 27%, Verizon at 16% and "Other" at 6%. Looking back at the Windows Phone story the past two years it's no brainer why AT&T dominates the Windows Phone market in the US. They had the majority of devices and highly sought exclusives like the Lumia 900 and 920. On AT&T, it's no surprise that the number one Windows Phone 8 device is that Lumia 920 with a commanding 71%, followed by the HTC 8x at 18% and Lumia 820 with 11%.
Our neighbors abroad
As far as devices go in the UK, the Lumia 800 is king of the Windows Phone market with a 42% share. Followed by the Lumia 610 and 710 with 12% and 8% respectively. A Windows Phone 8 devices doesn't even register until you get to the Lumia 920 with 7% in Rich Edmonds homeland.
Over in India, budget phones reign supreme with the Lumia 510, 610, and 710 combining for 71% of the market! Of course Nokia made such devices to target emerging markets like India and it seems to be paying off.
Looking at numbers like this is a great way to get an overall feel for how the ecosystem is doing. But until we get hard numbers from either Microsoft or Nokia you can't draw any absolute conclusions. Hopefully when Nokia has their earnings call on the 24th of this month we'll learn more.
Anyway, all you statistics aficionados head on over to the AdDuplex blog for more data. For everyone else, they'll be doing the same thing in about a month to compare other markets and metrics.
Source: AdDuplex
Get the Windows Central Newsletter
All the latest news, reviews, and guides for Windows and Xbox diehards.