Lumia 950 XL demo phones have reportedly been pulled from all Microsoft Stores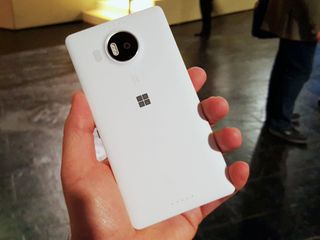 Update: Microsoft has now sent WinBeta this statement:
Original story: If you were hoping to check out the Lumia 950 XL at your local Microsoft Store location before it is released, you might be disappointed. A new report says that all the demo units of the 5.7-inch smartphone have been pulled from all Microsoft Store locations.
WinBeta reports that the decision was made because there is an unspecified hardware issue with these prototype devices. It's definitely not uncommon to encounter problems when using pre-production hardware units, so this news should not be misconstrued as a problem with the Lumia 950 XL itself.
There's no word yet on when the demo units will be returned to those stores. This issue apparently only affects the Lumia 950 XL; Microsoft Stores stil have demo units of the Lumia 950, the Surface Pro 4 and the Surface Book.
Source: WinBeta
Windows Central Newsletter
Get the best of Windows Central in your inbox, every day!
That's a shame for those that actually live near a store. Oh well these things happen

Well ms never makes any effort to showcase its best outside us, so yeah this is not a worldwide headache.

That's what happens when he US is the target market. Makes sense.

it doesn't make sense when Windows phones are more successful outside of the US

It does make sense though since their target market is the US. They are successful with low-end non-profitable phones outside the US. Their target market is the US so it does make sense to focus on the US.

mid-range and high-end phones are also popular outside of the US.

Can i ask how you know only low end devices sell outside the US? Also their target market is the world not just one country... How is it smart to focus on a market that is only 1/10 the size of the European market. Americans dont care about WP or Bing for that matter even though you get so many advantages over Europe, Bing rewards being one of loads... So with all that love and they are still no-where near making WP popular. Yet Europe, the place that doesnt just get left out, it gets forgotten and yet still sells more than the US.... The ONLY reason this is happening is Microsoft desperitly wants to do well in its home country and is throwing money at the problem... That is sentimentallity and nothing else, and it is going to kill WP... Make a business decision Microsoft and actaully support who buys the god damn phones. India is probably just like Europe as well only Microsoft itself is popular there...

The entire European population is at around twice the size of the US population, so I'm not exactly sure where you are getting this 1/10 market thing. That said, there is also regulations to consider here. It's alot easier to get regulatory approval for the US to access a population of roughly 300 million than to seek regulatory approval for the 50+ countries in Europe. Granted some have near universal regulatory approval thanks to the 28 member nations of the EU but even then the combined EU member nations population is around 500 million. That's really not that much better of a market than Microsoft home turf. I'm more than willing to listen to why I'm wrong but right now your math isn't really adding up for me.

I dont think the US is the target market. Its just how the market in the US works I think. And thats where they have stores. The target market for these phones seems to be Europe as its more avaliable their than in the US :).

No the actual target market for Microsoft is the U.S. They specifically target other countries like I dia with low-end devices as they will sell welk there though. That's is different.

I'm betting their target audience is any one looking to buy a phone... Just sayin'

This is your personal and US-self-centric view. It is NOT true.

Just things Microsoft do...

Damn. Well the Surface Book is still there

I was going to go check them out today :(

Oh well, got to see it before they got pulled at least.

Same here. That was the upside of high temps in So Calif last weekend. My daughter and I went to the mall and played with all the new Microsoft toys. It was the first time she didn't try to drag me out of the store... The 950XL is gorgeous. Thin. Light. We need 2 of them. :D

I hope it's nothing too di with the sd810 over heating issues. That and I'd love to get my hands on the xl here is the UK. Wen in England?

I doubt the over heating issue affects this phone due to the liquid cooling portion. Also the phones size allows for more heat dissapation. Just in shear stats of the phone it should be able to utilize the sd810 more effectively than any other device that currently use it. Samsung went to the Exynos processor in the new Galaxy Note due to the heat thresholding issue rather than develop a better cooling system.

Interesting. Then I hope its not the liquids chilling potion that's messing up :P
.
I take it that these lumia devices are the only devices with "liquid cooling"... Well only att is going to have the new devices, and only the 950 at that, so its a double shame the demo units are of the shelves. Anyway, these can't come to the UK soon enough, I really want to see what's what with the xl!!!

talked to an insider. has nothing to do with anything. they were only prototypes so they are being sent back so the real release phones can get sent to the stores.

I went last night they also pulled the 950 from my store. :(

Yes - they cant flash it.. they have to send it back.. Noone would expect Qualcomm Snapdragon 810 to cause any issues, right :)

They were told that to flash the new build they have to revert to Windows 8.1 so they realized it's much faster to ship them back and send replacements with the newer W10M builds.

I wonder if you can flash 8.1 on these phones. Maybe they didn't have a choice Posted via the Windows Central App for Android

Of course, common sense would say to send the new ones first so the displays aren't barren.

Lol they might have used an AMD CPU and didn't tell us haha

Don't get it. I've been using AMD cards and cpus many years and never had heat problems

They do tend to run hotter than the Intel and NVIDIA equivalents, drawing more power also. Not that that is a problem. I'm hoping msft are using the gen 2 sd810 - I think the heating issues are resolved in those chips... I hope.

SD810 v2 has the heating issue resolved by underclocking the CPU and throttling it so that it doesn't get hot. Basically take the SD 800 CPU and overclock it and you'll get v2 of the 810

Oh really? Well that's no good lol. Vw esq lol.

/eyeroll I was hoping I'd get a chance to check them out, but oh, well. The closest store to me is 90+ minutes away, and I wasn't about to make that drive to look at a phone I might get at an unspecified date. I'm honestly baffled as to how they can STILL let these sit without a release date or firm carrier info. We've got 2 more weeks in October. I was hoping they'd aim for a date similat to November 9th from the 920 in the U.S. That seems highly improbably now, and now I have to assume we're going to be nearly into December before anything materializes.

They are coming out in November, it says so on the online Microsoft store

At least that narrows it down to from 1st to 30th. /s

Yeah, we've got a general window of a month, awesome. Given the non-phone hardware all got EXACT release dates, your response (which I already knew) basically notes my exact problem with this.

Its late November (after Nov 20th), and AT&T in the US.
If you're not with AT&T, you're buying it direct from MS... No it won't work on Verizon. Now stop whining, do some research, and use some (increasingly un-)common sense.

Site the post-11/20 release date from a reputable source or shove it up your ass. The rest, I know. Your useless condescension can go up your ass as well.

There is firm carrier info in the USA. AT&T will carry only the 950. 950XL and unlocked 950 (only GSM networks) will have to pay full price through Microsoft. In other words, Microsoft are really hoping these phones flop then they can kill off Lumia completely and be done with making handsets. Why else concentrate more on app development for Android and iOS?

Because they get money when people use their services, regardless of platform.

Interesting. And here I thought it was because of of the poor build quality of the demo units. After 2 days in my local flagship store one square of the silver Microsoft logo had already peeled off. I was in shock initially and had to get reassurance that the build quality was not accurate compared to the final product. But now I'm actually concerned.

concerned? it's demo product, why be concerned

If someone knew nothing about this phone except from what they heard in the media or from a friend, saw a price tag of $849.99 (Canadian) and while checking out the phone you see part of the MS logo missing.. Not all people would assume that a better quality device is what will be shipped. Some people I'm sure would look at that and think almost $1000 for this peice of shit?! Obviously I'm not one of those people but it's all part of a first impression.

Perhaps,but you said that you're concerned now. However you should have been more concerned about your point (which is understandable) then,but relieved by them pulling them now. At least no one should have the same experience as you did.

I see countless demo units for all types hardware always being rough in stores when compared to the final product. As an example, in my local game store the demo Xbox One, PS4 and PSP all have worn controllers (broken analog sticks and triggers) and the same applied to their predeccessors, yet when I've owned the consoles I've never experienced anything like it. A lot of the time I put it down to vandalism.

Not vandalism, durability. Best Buy might have fifteen people run by every day and play a console, while some folks just play once every few days. Those things hey a lot more general wear and tear than a home console. Even then, my One's right trigger and sticks have been a bit crappy, and people all over have mentioned the lack of durability with the PS4's sticks (torn grips and such). The new Lunar White controllers have also had bad batches ship, with people citing problems such as loud triggers, scratched accents, misaligned casings, uneven joystick movement, non-responsive D-Pads, and more.

Its vandalism as well. People break and abuse demo units in stores. I worked at Best Buy part time for over 8 years and saw all kinds of shenanigans.

Oh, yeah. There are always dirtballs at retail locations, but it's not always calculated attempts at property damage.

I agree. Apple showcases devices that are final. You go into stores you get what you see. I was going to go see it today and pre-order. Maybe pre-order is not a good idea. Possibly the chip starts getting super hot while plugged in and frying internal components. Who knows.

Those demo models get beat the hell up. To me, peeled off = some douche tore it off.

Yup some kid, liked the logo and tried to peel it off. Like they do with Car logos breaking them off from the car.

Why would you be concerned?! Dumbest thing I've heard.

Dumbest ever? There have been actual issues with the 810 getting quite hot during normal use. Good chance if you picked up a display that was very warm, you, or anybody would be concerned.

Um, you realize the 810 is a phone from 2012 right?

he was talking about the chip, "the cpu"

Snapdragon 810, the SoC powering the XL (SD 808 in the 950).

The logo peels off? Well that's sad. I don't think I've seen apple logos peel off on the iPhone before.

I may have missed it, but did Microsoft explain why the camera bands are so different between the 950 and XL?

I don't believe they have said why, and I doubt they ever will. It's probably just a design choice or them testing to see if that esthetic will deter people from buying it. Hopefully the third party shells won't have the big camera ring.

The camera ring is part of the camera module. Any new back cover or case will fit around it not replace it

maybe I'm opposte to everyon but I like the camera ring on the 950, looks just like the one on the LG V10 which everyone likes... the XL one looks crap with the thin band and big chunk of glass

Windows Central interviewed the lead optics designer. He said the cameras are exactly the same. It was purely a design/aesthetic choice on Microsoft's part

I should have read yours before posting... Ah well, two of the same awnser is ok right?

My assumption is that it's a metalic ring for magnetic clipped lenses in the future for better zoom optics than the ones equipped with the device already for an even better DSLR experience.

They did explain it. Its just a design choice. The camera hardware is the exact same I guess.

that could mean not much production has happened yet then? I was hoping these units were waiting to go in a warehouse sonewhere? other than software it sounds like they were all ready to go a while back!

They are scheduled for December in Canada. quite a ways off. They don't expect sales like iphone so can begin production much later and ship them to MS stores.

that is true, i guess they are not going to ship thousands on day one! there is hope then....

What a disaster. Can things get any worse for Windows 10 mobile?

Can you be more dramatic please?

OH GOD NO THIS IS THE DOOM FOR MICROSOFT
Better ? Posted via the Windows Central App for Android

How about: 1) Limited carrier availability for new WP10 devices in the US and it appears this was Microsoft's choice?? 2) Upgrades for existing phones won't happen until December if the carriers approve it, even if the updates are coming from Microsoft 3) Microsoft's own presentation about W10 mobile was sparse and vague during the 950/950Xl announcements 4) Have had no major WP10 universal apps announcements that would help decrease the mobile app gap with the exception of Facebook. 5) Insider preview releases still seem to have a lot of issues as of the last build that one would think would be ironed out already if WP10 will be released in November on the 950/950 XL devices. They seriously can't get Cortona to function nicely at this point? 6) New Devices that are supposed to be released in a month are now being pulled from demo shelves due to issues. Is that better?

1) they are selling them unlocked so there is more availability, directly from them, also at&t has always sold windows phones, most carriers haven't soo... 2)The updates aren't coming from microsoft, that's when carriers (basically at&t) have said they will start rolling them out. Keep in mind Microsoft said every Lumia with denim will get 10 then carriers starting saying no. And if u want it sooner download rtm via insider in November. 3) agreed 4) quite a few developers have already announced universal apps (main ex. Facebook with facebook, messenger, and instagram) 5) we don't have what Microsoft has. They are weeks ahead of us and you'd be surprised how many bugs het fixed each build, the less features they add, the more bugs they fix 6)yes its a demo device, it's nit complete, and they are pulling them so they will be complete when they come out. Sorry if this sounded mean, but Microsoft does care about their phones, Nadella has said himself he is devoted to them,and I'm trying to show how they are devoted. Also if u like the windows platform, just don't like where its at right now, get another smartphone and keep your current one around without a sim testing out insider builds, and if u like it again then switch out your sim card.

That's funny because I am doing exactly that, have a Lumia 735 and Moto X Pure right now on Verizon. I switch back and forth between the 2. Prior to that I had a HTC Trophy and Lumia 822. I really liked WP but just can't wait for them to get their act together. I am holding out hope and that is why I bought a Lumia 735. 1) People don't buy their phones outright, most rely on the carrier to spread the cost over the life of the contract now. If a consumer get an iPhone for $25.00 a month on any carrier they want to go with why would they pay $600 outright for a phone? Also, it looks like the new phones will not work on the best US carrier in terms of coverage (Verizon). 2) I am pretty sure Microsoft announced that the WP10 updates will be coming from them directly but they will happen after the carrier gives approval, it's just that Microsoft will be the ones delivering the updates. I don't see that making that much of a difference though. 4) Haven't seen any major developers announce universal apps that don't already have an app on WP- that is what WP needs. Snapchat, Starbucks, Periscope etc. 5) I hope your are correct in that, but I am also a tester for the new Xbox One UI that is supposed to be out in November. That too has way too many issues to make me confrotable thinking it will be ready on the time they promised. Maybe that is just how Microsoft does things and I am over concerned. 6) I hope you are correct. I can't help but thinking it is some hardware flaw and the phones will need remanufactured. I like Windows Phone. My frustration comes from the fact Microsoft seems to not be focusing on making it that much better and I want it to succeed. I will say my experience with Android on the new Moto X Pure has been nothing short of fantastic though and I have most fo the same Microsoft services on that phone that I have used on my Windows Phone. I still maintain that Microsoft is going to forgo the consumer route with mobile and just focus on making phones for Enterprise and cheap phones for International markets.

Ya I totally get where your coming from, although for number 2 it really is the carriers, at&t if finally coming out with denim for some phones in preperation for 10M which they are going to release the updates for in december (im pretty sure) but I mean DENIM, its been out for ages (Well about a year, but still haha),and creating folder, and the lumia camera update that came with it were HUGE, im just glad they are putting out 10M though, Im hopeful T-Mobile approves it for the 640 (i think that's the only one for them) before the end of next year, and i don't think verizon will ever realease it. But yes I agree, I'm a huge WP fan, but I have toyed so many times with getting a iPhone or android, and if 10 mobile RTM is buggy, I will, but Im hoping that Microsoft pulls through, and what they have at microsoft is stable enough for november/december release.

You seems to forget that MS doesn't want to sell a lot of phone. They can't be the major Windows OEM. Are you seen a lot of apps updating for Marshmallow yet? I don't. Because isn't out yet. A lot of Win10M APIs aren't ready, some of them changes between Insiders builds. I don't want to start to build a phone app if I know my app can stop working after a new release. Some devs already doing, but some prefer to wait the final product to start using the SDK. Including Astoria SDK, which stopped working after the latest build. So you're still dramatic.

LOL That is totally irrelevant if you have an operating system that has all the apps already. Their existence is not predicated on Android M updates, they already exist unlike so many apps that never existed on Windows Phone. Android M is officially out btw. You actually believe all these companies are in hiding just waiting to make apps once the WP10 SDKs come out? So Periscope, Snapchat, Chase bank, HBO, Yahoo etc are just anxiously awaiting a SDK and all will be solved. LMAO

Well, you have a quite formed opinion about Win10M being doomed. I'm not sure what are you doing here exactly.

It could just mean we'll be getting actual production units soon?

Where are these 950's they say are available?

Demo units have been available in MS stores for about a week. Still no word on an actual release date.

It says its available sometime in November on the Microsoft store

I haven't seen anyone say they've seen them in a US Microsoft store. Hoping they have them.

Maybe they are needed to hookup to a display dock and mount inside a surface book to keep up with demand on that piece of hardware.

The one I was playing with got really hot at the San Antonio store in La Cantera parkway. I guess hot enough to shut it off. All we were doing was messing with the IRIS scanner and taking photos. I dont know what you consider hot, but it was as hot as my 925 gets.

If 950xl gets hot from just playing around with it, what would happen if you use the continuum with it?! The phone will be fried unless your continuum session is less than 10 minutes! This shows that you cannot account these phones as computes. I would not be surprised if the 950 heating issue would surface soon.

The 950's chip isn't the same, and that chip never had heating issues. Two fewer cores, less hardware to produce heat. Also, remember that demo units are often on 24/7 and connected to a power source. I don't know about others, but my 920 gets HOT while charging for a couple of hours. It's not unreasonable to think that if the thing has sat on the charger for a week and is constantly running the demo program on a beta OS known to cause battery drain (read: excessive heating), it could get hot.

Someone stole the Lumia 950 XL from my local store (Roseville, CA) and a few times ago I went someone stole (I think) the Microsoft band. Roseville store gets stolen from a lot :(

People want to steal phones with prerelease and unfinished software? How desperate can they get?

That's great actually, that means there is great interest. IPhones get stolen all the time.

There's always a officer at my local apple store, so no luck with taking off with a iPhone 6Ass

6Ass !! I laughed so hard.. nice one

That will probably be on eBay for a ridiculous amount.

The nice part about software is it can be upgraded. I'm sure MS has a kill switch embedded in these demo units.

And you KNOW it's gotta be a WP fan too.

I am seriously going to find an alternative to Windows Central if you don't speed up your page loads. It has gotten out of control.

Use the app Posted via the Windows Central App for Android

The app is horrible on W10m :(

On the latest build it's not as slow as previously.

I've head they are working on a universal one...

I agree, even verge site loads faster then windowscentral now-a-days and verge is a very heavy site. Also, using an the app is not the solution as i personally dont like to install app for every site and love to use RSS reader.

Disable the adverts and telemetrics, solves the loading speed. Some adverts are very system intensive I did report it a while back.

There's this amazing app on WP Store called "Converge" which lets you view and comment on Windows Central news through the app. It's extremely fast and aesthetically beautiful.

It's been appalling since they revamped it. Huge wasteful images and cluttered feed, mixing adverts, forum posts and news. Absolute mess.

Yeah, using the mobile site on my phone is pretty bad.

Make sure you use adblock in some form... All the Mobile Nations have awful, AWFUL ads.

I was planning to check out the 950XL today and what a disappointing news this is for me this Morning

As a 1520 owner who has had his fair share of 'problems' (latest being a dead micropone 3 months after having the moterboard changed under warranty) I wont be rushing to buy this one that's for sure. Give it a year first to see how others get on with it before I comit. I love my 1520 but poor reliability is a big issue.

Seems like your autocorrect is also highly unreliable

Wow, a whole year? MS will be announcing the next WP flagship by then. Oh wait... =P

XD, sure seems that way Although if u think about it, Nadella has done the best he could to get people on board. People aren't going to spend $550 in a new phone, and the 930, 1520 are still good phones. So people buy a cheap windows phone cause its cheap, and a lot of people have done that, and if u start to really like it then you'll pay more to get a nice one, and then on the flagship, continumm (I think I spelled that wrong haha) is huge and no other phone can do that so that should get people on board. Here's to hoping it works :D

I had a friend say it got too hot when he was checking it out. The store staff said it is because the device is on consistently

Makes sense if its consistently on Posted via the Windows Central App for Android

Plus, people using it constantly while it's on constant charge will heat it up fast as well.

No, it doesn't make sense. All phones are consistently on. You don't see phones heat up in Apple stores or carrier stores, even though they are also consistently on and run a demo. 950XLs are not running any demos, they are just on as your personal phone is.

Every phone i owned get's hot when charging. These demo units are probably having to charge constantly.

That's true, it also depends how hot we're talking about. My 925 heats up, but I haven't had any issues with it.


They probably all need a new version of the OS. When I was using one the other day there were still some minor glitches in how the OS performed when opening apps. The camera app did work extremely fast though.

Well it was a Technical Preview, bugs are inevitable. And as John wrote, the problem was with the hardware not the software. As I stated earlier, it may have to do with the Windows Logo on the back of the phone which reportedly has been peeling off.

I have yet to see a demo unit of the Lumia 950. Nor have I heard anyone else sharing their experience with the L950.

I think the size and design of the 950XL draws more attention, especially in this crowd. I think of it as more like the Galaxy S6 and S6 Edge situation. Like the Edge, the 950XL is just more compelling.

But you can believe they had both the Samsung units available for people to test it out. Same with the iPhone 6S and 6S Plus. That doesn't even make sense to say that at this point. They need to do everything in their power to sell both phones not attempt to suggest one is more compelling than the other. So far I'm just not seeing the effort and it's probably due to the fact that W10M just isn't ready yet but that's just too bad. Microsoft's timing has always been their Achilles heel. Not only do the flagships come after the avalanche of Androids and iPhones have been released, but they are announced without a finished OS, no real release date, and Microsoft for some reason thinks it better to go with one carrier after stating that other carriers showed interest in obtaining the phones. This is not a recipe for a strong and powerful return to the high end phone space.

I had the chance to play with them I they feel great in the hand

Why can't they disable the phones and leave them on display. At least people can get to see them, hold them and get an idea of how the phones weigh etc.

So much for getting one this year

Because nobody likes to look at a disabled phone.

More people don't like to look at a phone that isn't there.

Has anyone played or seen the 950? The two stores in Chicago only had the xl weird that they would pull it

I played with them. To be honest, I was actually let down by the esthetics when I held them. Especially seeing the MS logo partially peeled off the XL. The store reassured me the final product would be nicer. But still left a bad taste in my mouth. The camera software was very impressive though. Very quick to launch and to snap pictures.

Maybe the hardware issue they found was the Microsoft Logo. It sounds like a lot of people are having problems with it "peeling off". They're probably gonna come up with a new way to have it on there.

So you saw a 950 in a us store?

What worries me is this, with launch date this close they are finding issues on their phones. So how reliable will be the release hardware ? I was going to pre-order now i have to wait and see.

Well now you know that on launch day you get the phone that has that one hardware issue fixed!

The software isn't even reliable. No, the software being a preview isn't an excuse when mediocre bugs are present.

It's a technical preview, you can't expect a preview to perform like it should, and you have no idea how many bugs are being fixed in each build, and how far ahead they are at Microsoft compared to the insider. If its buggy when rtm comes out, then please do complain, but it is a tp, and you can't expect it to be stable. Sorry that came out harsh, but I'm trying to explain what's going on

and the fanatics still making excuses for these sorry devices. What a shame!!!

These devices are pre-release, pre-mass-production samples. They were likely produced a decent time ago, before the final design was accepted, in order to be on display so quickly. I'm pretty sure they would have been replaced with production units at some point anyway. I also do not understand what's 'sorry' about them. I mean, they only pack some powerful internals, a 20MP camera, the ability to transform into a full-blown PC, iris recognition and features (such as removable batteries and SD cards) that other flagships don't have.

Hmmm...who is fanatical? Posted from this here device.

Or the stupid troll who doesn't even like these phones yet constantly comments on stories about them. What a nut!!!

Probably that bloody 810 CPU. That's been trouble from the start.

As I've said before, it's good that they caught it now, and we'll have a better end product because of it.

well that sucks. was hopeing to see one next week.

I'm glad I ran out right a way to see them. I did notice the unit was a little warm. So my guess is a cooling issue.

Hopefully they'll still have them for show at Device Night. I signed up for the Philly one so I'd like to play with one!

November my A$$!! Raise your hand if you think we see the 950 before Valentine's Day. And if they do come out in November, the release will be marred by a half baked OS with 4 hours of battery life (again).

Nah, they will make it by then. I'm expecting a shitload of updates to the OS by then

Maybe not "November" but let's not get dramatic. They'll be ready certainly before Christmas.

Fuck. I was going to Orlando to GO see it today!!! Ugh thx MICROSOFT

I'm glad I got to see one at the Millennia Mall this Wednesday. The 950 xl is not bad in real life. I initially had my doubts, but will now definitely be getting one to replace my 1520. And the staff was also super excited and knowledgeable about the phone too.

Let the doom is upon us fest begin!!!

My local MS store in Washington state had the 950 but it kept on restarting and freezing and getting hot

What a strange behavior of the Washington state store ;)

I was playing with one yesterday at a MS store and it was getting really warm in my hands.

I think the phone will be released on the last week of November, with a build close to the final build, which it will be released in the second week of December

Are there a ton of trolls on here lately? Or is it just me?

I don't think they are trolls, just whining nerds :)

I knew those silver rings were a big mistake

Guess that's why they call it a prototype. Otoh I heard Apple don't make prototypes at all, their products just work from day one :)

They simply born from the ashes already functional and perfect, because every product is more perfect than the previous one lol

Maybe it's because they had the dual SIM version out on the floor, when really that's the global version. Posted via the Windows Central App for Android

The devices were super slow (camera, app start, scrolling) and laggy anyways. Sometimes they were even crashing completely so that you had to reboot them. I wonder why Microsoft put them in the store in the first place. Anyone using them (who's not a diehard MS fan) would just run away.

Who else enters MS stores anyway? It's not as if they're Apple stores.. I'll bet it will be the day when hell freezes over when there are overnight queues and tents in front of MS stores. I like MS and use their products daily, but I think the perception of what MS is needs to change before we see a breakthrough in WP.

Not my experience at all with the unit I demoed. It was super fast, everything worked without ever seeing "resuming". Never lagged on scroll.

Same here. From the forums, it seems like there is a pretty wide difference between different demo units. Some run amazing and others run terribly. I"m assuming there is a reason for it that MSFT has found and is fixing.

The 950XL was on display yesterday afternoon in the Seattle store. I used it and didn't find it to be: missing part of the logo, super slow, laggy, or unable to navigate back from the camera to the home screen. I did find the home screen oddly not filled with tiles, but I assumed someone had removed them for some reason and not that it meant a major problem with the device. Lots of imagined drama around here.

Glad I got a chance to check it out before they pulled it. I didn't see anything wrong with the one I looked at, the only issue we ran into was that the wireless projection didn't want to work. Of course the drama llama always follows some people home - if you're worried you should take a breath and wait. I'm not.

Maybe there will replace old demo units with real production ones soo people can see and feel how the actual unit hardware and software feels like...

That's a good guess - and/or a later build. I know the latest build seems to run a lot cooler and easier on battery for me, but of course the Lumia 1020 I am using isn't nearly as fast as that octa-core beast in the 950XL. Still I didn't notice the 950XL getting as hot as the 1020 does with a lot of use.

Crap. I was going to go on Sunday to compare the 950 to the XL when I took my daughter to Disney Store.

More and more I'm considering the 950. I'll just have to get over the ugly camera housing. If the 950XL was indeed coming to AT&T anytime soon, I'd get it. But maybe it's time for a smaller phone... I can always change the back with the Mozo backs somewhat. Just wish I could change that camera housing. FUnny how thats the only thing deterring me lol

The MS Store by me has Demo units of the Surface Book, Surface Pro 4 and the Band 2.

I went to the MS Store in Bellevue, WA a couple of time. They never had the 950 on display, only the 950 xl was demoed. Each time I went the sales folks were pretty much in the dark as to what they'll be selling and who the carriers would be. On my last visit I was told by the sales rep that MS will not be selling the 950, customers will have to go directly to AT&T, who'd be the only ones selling them.

Ridiculous really They shouldn't make it more difficult for their customers to get on board with their new phones

Also, AT&T will not be selling the 950xl, only the 950. It appears you can only get the 950 xl from MS.

Hahahahahaha I made an appointment this week to go this morning to the Portland store, and I live in Eugene. I guess the 950 will be good enough, but I really wanted to hold the 950 XL to see how it felt in the hand.

So only XLs and not the regular 950s? That's even weirder. It's for good, though.

I tried out a 950xl demo unit yesterday. Glad I got to try it out before this happened.

I finally went to the Mississauga Canada store yesterday and they were gone. The rep there told me people were trying to steal them.

I played with one at the MS store last week. I was disappointed by the build quality, to be honest. The display unit's screen squeaked with pressure towards the edges. Also ran hot as fuck. Hopefully it's just an early-production issue, but it left a sour taste in my mouth.

I didn't experience any of that. It was running build 10546, and I took a few photos with the XL, and emailed them to myself. Didn't run hot at all. Spent about 30 minutes with it playing with the scanner.

I noted that yesterday in another thread. You're welcome.

Last weekend the Austin store only had the 950XL and the Surface Pro4 on display. The sales person said the wouldn't get the 950 or the Surface Book until they had obtained a certain number of pre-orders for each. I found that a bit odd as having the items on display is a tool for getting those pre-orders.

sometimes I feel their customers are smarter than they could ever be

Pulled from the store by popular demand. ;-)

In Paris we still have them on the ephemeral #WindowsCube store.

Hardware problem = CDMA missing Glad its being fixed!!

I'm actually surprised that Microsoft put prototypes out as demos. If you want to make the best impressions, wouldn't you want something more complete to show off to potential customers?

Ignorant people always cause the drama, panic and all that stuff. Whats worse? They are very good in spreading these vibes around them and all clueless people gets infected easily.

I doubt clueless people ever visit this website.

I got to play with one for quite awhile at the store in Baton Rouge. It worked great and was no warmer than any phone that stay plugged in all the time does. Don't know if I will get one or not. I usually stay with mid-range phones (640 & Moto G lte). I put aside 1100$ about a year ago; but one of my tablets bit the dust and had to be replaced so I only have 750$ left. Still the phone I played it worked great and I might consider it. I am happy with my combo of phones and don't really have a reason to change.

Could it also be due to new WP10M builds reload?

Hardware issue? Great probably delayed until sometime in 2016. Typical MS!

They are royally screwing up the marketing of these phones.

Maybe it was because it is "The Phone that Works [behaves] Like Your PC..." lol. The ones in Chandler, AZ were very hot when I went in. The mall is always freezing (that means 75 for those of us that live in 100 degrees), so don't think it would an issue with the ambient temp.

I went to the Bellevue Square store yesterday (closest store to MS's Redmond main campus) and didn't see a 950 nor 950XL. Totally disappointed!

I'm going to get a new phone early in the summer next year , so I'll wait for new phones , if there isnt any windows mobile devices I'm going with something else ..

I was in the store yesterday to order 950. Noticed that the 950XL was not on display. This store in Santa Clara did not have the 950 on dispaly at all. But was surprised to see the XL gone too. Asked the rep there & he said that there was an issue with the phones & they had to pull them. When I wanted to place an order for 950, the rep kept trying to place the order, but it would not take it. He came back to tell me that in store only 950XL will be carried & he can take a pre-order for that. So 950 will not be sold in stores ?? Now, this is all very confusing to say the least. No launch date, NO proper oredering system...just frustrating as hell. MS really has to get their act together on these phones. To me more & more it looks like they really have no interest in pushing their phones hard. My 1520 display has died at the wrong time & iam using a OnePlus for one month now & Android is not for me. Hate to pay those prices for the fruit phone...and I have no clue what to do now.

Whoops! I just returned from the West Edmonton Mall location. I went to take a second look at it and their demo units were pulled. Came here to mention it, then saw the headline. Oh well... pre-ordered anyway. :D

I found this out the hard way last night. I was disappoint. Just as reported, he told me they were taken down for 'development purposes'

I'm pretty sure this is something regarding thermal throttling issues, the Lumia 950/950 XL are the only phones with water cooling, I'm pretty sure the Lumia CPU integration team found a flaw in the cooling system and they will fix so that the phone performs well on all conditions.

It would be nice to have a few Microsoft stores in the UK.After all windows phone has a ten per cent market share here and the new Lumias will be supported by all the main carriers and many of the smaller ones.

As per my Microsoft contact, the reason why was because there were crucial final builds that had to be pushed to the phone that weren't being updated via the private connection in the MS stores so they were rushed to Redmond, Seattle.

Was the Lumia 950 ever at the stores? I've only seen the XL Posted via the Windows Central App for Android

Glad I went to the MS store yesterday to look at it. It is a thing of beauty. Nice and light compared to my 1520. Just pre-ordered the leather back from Mozo too. Cant wait till Apple "Invents" all the features this thing has for the new iPhone 7. My 1520 is still basically has good as 6S and that thing is showing its age.

How dumb can Microsoft be Posted via the Windows Central App for Android

Nadella did fire 80% or so of r&d.

Why would they pull the phones, I can't think...btw can people please post the results of the drop tests they performed in store? :p

God damn f, I just got back to the US and missed the opportunity... :( Posted via the Windows Central App for Android

I played briefly with the ones they had at the Mall Of America store but no long enough to notice any heating issues, although it was being used by someone else right before me. The one quirk I did notice, and maybe it was because I did not explore it enough, was that if you used the camera button to fire up the camera the on screen buttons would disappear and there was no way to get back to the home screen unless you pressed the power button. Clicking on the screen would bring up focus options for the shot ...maybe I missed something. I have seen some complaints about lagging but that was not simply the case with the ones at the MOA. The time the camera fired up was simply blazing. Moving around felt seamless, the experience was very good. I was not not happy to hear about the PolyCarb body but it felt great in the hand. Camera quality was great too.

Good decision. The units at the store by my house were super buggy and certainly not showcasing the phones well. I'm a fan and even i left with a disappointed feeling... Average Joe would've rejected it on the spot.

It seems that a Microsoft Spokesperson stated: "Last week's Lumia 950 and Lumia 950 XL phones announcements generated huge interest. We made some prototype devices available for a limited time in our retail stores, so that customers could get an early look at our best Windows experience with Windows 10, on our most productive smartphones ever. We've now removed the prototypes from the stores as we finalize the experience, and look forward to rolling the phones out next month."
Source PhoneArena and google in general.

Having handled the 950 XL in store I can tell you it got unreasonably hot, perhaps this is why they were pulled.

This is not the time to be an early adopter or settle for a chip that has proven to be a problem. Posted via the Windows Central App for Android

Squeaky back cover. I was going to buy one but the back case squeaked like an old wood floor board.