Lumia Beamer app updated with new path for projecting screens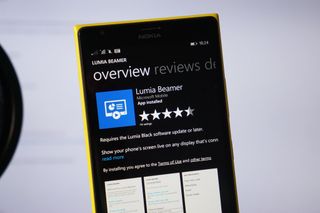 Microsoft has released an update for its Lumia Beamer app, and the only change is a new URL that allows the app to project a smartphone screen to a larger monitor or television.
The URL is now http://lumiabeamer.com. People who surf to that web address on their big PC monitor or their TVs will see a QR code. Lumia smartphone owners can scan that code with the Lumia Beamer app to display the smartphone's contents on that bigger monitor. It's that simple.
Thanks to Aman and yahia for the tip!
Get the Windows Central Newsletter
All the latest news, reviews, and guides for Windows and Xbox diehards.
I thought it's only for 1gb of ram
Edit:
It's for 1gb of ram

I used 730, 1gb RAM but still cant download it

The 735 has it preinstalled for me

I have it downloaded for L730.

Would be better if it had wifi sharing

On my Lumia 520 it says in the store that I cant download it because I don't have the updates software but I have 8.1

It works on 1GB RAM devices...520 has 512. By the way,it works fine on my 525.

Ya but the article says 512MB compatible

It clearly says 512 MB not compatible. Have a look at it again.

does it have region restriction Because article says 512mb support,but on 520 it says not available (i am on developer preview with the latest build)

It is not 512mb compatible

So it's the same as PhotoBeamer?

No. Its a screen sharing app.

Have you used PhotoBeamer?

PhotoBeamer is for photos, this is for everything

Photo Beamer is for 512mb devices.

Office lens updated with business cards :)

I got excited until I realized it couldn't import into my contacts. I personally don't see the point unless I can do that.

For me this isn't important, what I really want is an option to disable OneNote + BC still the first version of this feature and I believe it will be improved by time

What's the problem with the download? Says to update,or it's available in a different region
I'm from India,Lumia 520 (cyan) and w8.1.1 preview.

Can't download.
why we can't download this awesome. Is it restricted to high end phone only?
Lumia 620

Just wait a little bit, probably it need time to appear on all the stores.

I'm still wondering why Nokia didn't add the feature to just plug in the HDMI port of an screen. Instead of releasing all those expensive devices that only works with certain chips or indirect methods like the beamer app.

Why has it suddenly become region locked...i clearly remember it was available in India on my previous 820...now on the 730, not available...some screw up by the publisher???

Its available on my 820. Maybe it will take some time. In the mean time I want to ask about your experience on upgrading from 820 to 730. Is 730 a good upgrade from the 820. Are there any problems or missing features?

They should update Beamer for x3x devices only.. Afterall, Miracast was a hardware limitation right? ;)

Isn't Miracast limited to same network? With this, you can share your phone's screen with anyone, even multiple people. I wish the URL sent to the remote viewer(s) was simplied to https://lumiabeamer.com/code, though not a deal breaker. Edit: It appears some extensions to Miracast do support remote viewing, but those appear to be part of commercial products.

I can't download it on my lumia 625 ! What should i do ?

It requires Lumia black firmware so will not work on cyan

Black is the minimum requirement, it works with Cyan and Denim too.

It doesn't work on some phones even if cyan is installed on them.

Yeah,because those 'some phones' don't have a 1GB RAM

Hey if it is available for 512 mb ram why I am not able to download it and it show app not available in your region please help

It's not available to 512mb devices

Not available 720 region set to Spain

Downloading on 930. No problems.

It supports 512mb ram devices, but Why is it unavailable for Lumia 520?

Try with "Send me" on Windows Store it's really good!, it's available for everyone :)

The store doesn't say that it is available for 1 gb ram device only. Its say not available in your region.

not available for my phone why??? Lumia 720 India. wp8.1 cyan

Last time I used Beamer, IE was not supported. Not a good way to demonstrate to co- workers a product when IE was not supported. (Enterprise environment)

Maybe ie6 wasn't supported?

IE is supported, but probably not an obsolete version. Enterprises are notorious for not updating IE, usually because of a few key vended applications. We just now crawled out from under the IE 8 rock to 11.

Can't we use the built in"project my screen"from the settings menu incase this app is not available for my phone?

In which region this app is available.

Try with "Send me" on Windows Store, it's available for everyone :)

Remind me those old days when Nokia announces exclusive feature for Lumia line up. Now it's all Microsoft

miracast is more useful and powerful. but for older device i guess this is agood alternative.

I use the app "3,2,1... Send me!", is much better, still on development but I look really good. Works in 512Mb devices and can do more things. It's free and it's will be available for Windows pc aswell and other platforms.

Hey how did you download the app.

For me searching "send me" appears the first. Check the image below :)

What does it do that Lumia Beamer cannot do, other than work on desktops?

Right now is on dev phase, but you can share URL as well and music/video is comming, it's works on iOS and Windows Phone, Windows version is almost ready :)

Microsoft should really release the Lumia Collection apps to all Windows Phones now that Lumia is a part of Microsoft.

Try with "Send me" on Windows Store, it's available for everyone :)

That's a great way to project, I've been using the play-to app this is a cool addition.

The aap is not available for your device !
I've lumia 635.
What to do? Shall I change my region? I once did to download bbcsports app.
Please advise.

Try with "Send Me" available for everyone even 512Mb device. http://www.321send.me/download

Only the URL changed cause it always did the big screen use, I used to do it with I.E. on my 360. The only problem with the app is that its slow.

Why it is unavailable for Lumia 730 even it has 1 GB Ram......?

Can I use the micro usb to hdmi lead with the Lumia 735

Can I use google crome cast to beam it as my tv don't have a stream on it