Lumia Black now available for the Lumia 928 on Verizon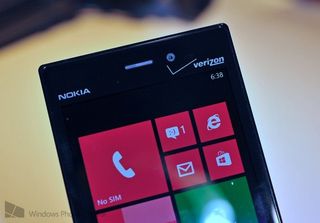 It's finally here for our friends on Verizon. After a false start two weeks ago, the Lumia Black firmware update is now available for Verizon's Nokia Lumia 928. Reports are pouring in that the update recently became available during the past few hours. Let's update!
Two weeks ago the Lumia 928 had an update, but it was just a regular ol' firmware update and Lumia Black wasn't part of it. Head to the Windows Phone Central forums for the Lumia 928 and you'll see a handful of users receiving the update.
Lumia Black is notable for bringing a few features like Bluetooth 4.0 LE support, improved Glance screen support with more colors and notifications and more.
Want to get Lumia Black for your Lumia 928? Head to settings, then phone update, and force the phone to check for an update. Don't panic if you don't see it right away, sometimes it takes a little time to propagate.
Source: Windows Phone Central Forums
Thanks for the tips everyone! Enjoy Lumia Black!
Windows Central Newsletter
Get the best of Windows Central in in your inbox, every day!
Yeah..tmo is taking forever!!!

Don't get me started. I have an 810, and it seems like the estimated delivery time of "never" is taking FOREVER to get to me....

Has anyone been able to confirm that T-Mobile will actually even push the update to 521 & 925?

They said they will update the 521 & 925 "in the coming weeks" because they're still testing according to a customer care rep I talked to on Monday.

Thanks for the intrigue. I was begining to think it was long delay update just like when I had the Bold 9900 to finally get NFC which turns out to be useless after 2 years waiting for it to work. I do hope T-Mobile will release a new Lumia with SD Card Support so I can use the upgrade thing. I am still getting hit with low memory form my Lumia 925

Does the update activate support for the AWS bands on Verizon's network? ANy idea about ISIS support?

Why would you want to use ISIS in the first place? Doesn't WP8 have a mobile wallet built in?

Because US carriers block the tap to pay feature of the wallet. Only Isis would be able to do it.

Which carriers. Mine seems to work just fine through Verizon.
Maybe you need to switch carriers. If the carrier is blocking that ability, don't blame the phone, blame the carrier.

Ok,, I take that back,, I can buy Apps throught he Wallet, but can not do NFC Charges
This however, doesn't bother me.

Microsoft said they developed wallet with Isis in mind

I think ISIS will use api that probably works Wallet app, hopfully that would be the case. You install the app but it links up with the wallet hub maybe?

Nokia received permission from the FCC: ID QMNRM-860 (Approved Feb 22, 2013) for an in the field software upgrade that would enable LTE band 4 (UL 1710-1755 Mhz, DL 2110-2155 MHz) on the Lumia 928. I contacted Nokia Care and received the following reply. "I hope for your kind understanding as for now, there is no such information available in our end regarding the radio software upgrade enabling AWS on the Lumia 928." Josh (10:07:56) I have posted on the Nokia Discussions forum concerning this and will post any responses I get here.

Why is that leak right on top of any new news that are being churned out? I keep thinking its updated but nothing new other than comments. Am I missing something? Jay? (WPC WP8 app)

Never saw news stickied on the app before or even on the web!

This is the newest post, that's why it's at the top... are you talking about a different post? Because this one was posted at 6:09 pm.

There is a post about WP8.1 leak since about 8 hrs, that stays on top. All new news underneath.

Yeah I thought that was weird too.

It's stickied for now. Too much good stuff that we don't want anyone to miss it :)

Still no love for my 620 in Indonesia

...Vzw's first Lumia, the stepchild Lumia 822 would love an update

Bring it on Verizon! (I hate the +%model number% responses....)

Not sure why they couldn't send the Black update to our 822's at the same time as the 928. It's not like there's massive amounts of us out here.

Yes! It actually wasn't that long of a wait when you think about it. I still feel bad for our 920 brothers and sisters who waited what seemed like an eternity for amber.

...and we're still waiting for Rogers to rollout the update for the 920 -_-

Now maybe the 925 on T-Mobile?

T-Mobile is like the 5th Olympic ring at Sochi Olympics. People are already talking about Windows Phone 8.1 while we're still stuck on GDR2.

Good sting, lol Still waiting for it Lumia 925 and how releasing a new Lumia or find a way to get rights for it.

Has anyone been able to confirm that T-Mobile will actually even push the update to 521 & 925 or just waiting for 8.1 or new handsets?

Someone in the comments above said a rep at T-Mobile told them it will release "in the coming weeks" I'm fine if they just bring it out with new handsets...I'll just use JUMP to get one.

My update finally finished.... come on 8.1

Getting it right now. Hell ya

T-Mobile, get that GDR3 and Black out!

THIS!!!!! Has anyone been able to confirm that T-Mobile will actually even push the update to 521 & 925?

Interesting that the Lumia Availability still shows the 520 and now the 928 at "Waiting for approval" somsone is not updating Nokia's site xD

yeah... I just felt dissapointed

Can I delete the Developers Preview now?

Why would you want to do that? You'd need it for the 8.1 preview in April.

no they dont. You are a developer! You do not need to have a phone stock on that.

Hey, I don't get a mention?! :'(

For the third most popular Lumia handset, 620 owners aren't getting much love judging by the availability charts on the Nokia site. Still 'waiting for approval' in a lot of cases..sheesh.

Why can't I install Nokia Beamer?

yea this is lame, i still can't install any of the black update apps

Strange. I can't either on my 928...

I have a feeling that the Store checks which phone that we have first, then the OS/firmware version installed. So there may be something else that Microsoft needs to do in the Store to allow the "Black" apps to be installed. As always, patience is needed!

Just installed Beamer and Storyteller this morning! Haven't tried them out yet, but they finally became available to download.

Does Call/SMS blocking work with this? Verizon had it disabled on their network (though it worked on other networks) under GDR2/Amber. With GDR3/Amber, it works fine on Verizon...

It has worked for me when I first got it.

Update here in Southern California, downloading as I type.

what an anticlimatic update. Nothing changed. Was hoping it would update to a Lumia 929.

Where is Black for Lumia 822 for Verizon???? Wow! Just make me cry.

I was so worried about the new Icon I forgot about this. Downloading it as I type. 46...55%

I am taken aback by the performance improvement on my 928 after installing the update. Everything is more responsive - it feels like apps are opening in about half the time or less. Now if only I didn't have a malfunctioning handset speaker...

Does yours react to contact, like if your touching the phone its louder, and if not its super quiet?

If I squeeze the middle upper right side of the phone, it helps whatever is poorly soldered inside to make contact, and allows me to hear more clearly. But it has gotten worse over time, and if I don't grip the phone HARD, it is either silence or a bunch of cracking. I'm using my speakerphone until I go get a replacement.

521 t mobile...get it on<..>

Also enjoying the features, now to download storyteller and beamer.

I just updated my 928 to Black but I still cant download storyteller or beamer? Keeps saying "not available for your device" anyone else able to download these?

Where's the love for the 822?

This is weird. There seems to be no official acknowlegement about this. Nokia's support page still lists it as waiting for approval and Verizon still has the "Benefits of Update" page from Amber, and they historically update that a day or so before an update is released. Add to that the inability to download Beamer and Storyteller I feel like there was some miscommunication here, probably on the part of Verizon. I just really want to know more than anything if this does in fact include the promised AWS support which it will say if it does when Verizon eventually updates that pdf.

Interesting and makes sense. Guess we'll have to see if its updated in the next few days. We're half way there. Lol

Whoa. Okay, when I first read your comment shortly after you posted it, I had just looked at Verizon's updated 3 page update document for this, most of it focusing on apps like the above. Just went back to their site to get the link to show you, and it's reverted back to the Amber one. Wonder if the switch was accidentally flipped early? (Also, I didn't see anything about AWS support)

925 tmobile? How is this possible att got it a month ago! Really dissatisfied

THIS. Called, posted, visited, emailed. Do the same. Maybe it will wake them up!

Did the same...someone farther in the comments said they got an ETA from them of "in the coming weeks"

Just installed on my 928. How come we can't get photo beamer or storyteller? Are they exclusive to AT&T or do we need the more robust camera of the 1020 and the other new lumias?

I've been stuck on the spinning gears for a while now, The progress bar hasn't moved. Come on, li'l buddy. You can make it. ):

It made it. My phone's alive. Dem glance screen notifications tho

YEAH Finally! Downloading now. Hope there wont be ANY problem after installation. I used to hape alot of problems with 928 (freezing, restarting) but for the last two month i've seen absolutely no issues. even sms is working now. I did hard reset, maybe it fixed everything. HOPE THIS WONT MESS UP AGAIN

Update finished but can't download apps that require black still. Even though after the update it says black was installed. Also no new glance functions and such. This is odd.

The Glance notifications might require the Glance system app update on top of the OS update? I am downloading the update now. Go to your purchase history and find Glance to see if there is an update. I am not sure what's up with Storyteller.

Just did the update. There doesn't appear to be new settings, but there doesn't need to be. As long as you have Glance turned on, whatever notifications you have set for your lock screen will appear on the Glance screen as well. I see the email notification on my Glance screen. Looks good to me.

I got the update and I also can't download Storyteller and Beamer.. Bad Nokia!

I'm having nothing but problems with this update. I keep getting, "The update was downloaded, but couldn't be opened. (8018830f)" I have restarted numerous times but this error keeps showing up. Is anyone else having this issue?

I have two Nokia Lumia 928s. One of them ran the update perfectly; the other one has repeatedly gotten the same error message as you: "update was downloaded, but couldn't be opened. (8018830f)" I don't know what the deal is. I've tried doing it 5 times already. Shut down the phone, rebooted it, etc. It downloads the entire update every attempt, and then fails halfway through installation.

I haven't even gotten to the installation process. I've rebooted a whole bunch of times. It downloads each time, prepares to install, and then gives me this error. I'm factory resetting it right now and then I'm going to try again. The live tiles haven't been working for a few weeks and I plan to get the Lumia 929 when it finally gets released so I figured it's no big deal.

Sorry, you were right: it fails at the "preparing to install" process. I just saw the "install" part and didn't look at it closely. I'm going to try to soft reset it and then redownload the update. I hope I don't have to factory reset it. Video game save data! UPDATE: the soft reset didn't work. Still won't get past the 'preparing to install' phase. Any luck with the factory reset?

Well, it looks like the factory reset wasn't such a good idea. 12 hours into the reset and those gears are still cranking away.

I tried restarts and soft resets many more times and still can't get it to work. On the other hand, on the phone it did work on, I'm now experiencing random reboots. Seems like this update wasn't quite ready. Don't know what to do about either issue. Is no one else having the (8018830f) error message?

Any update on this, MrGreeves? Did you get the update to install? The hard reset didnt' work, right? I haven't gotten mine to install either. Tried dozens of times. Contacted Nokia support and they want me to send the phone in for evaluation. They don't seem to realize how inconvenient that would be.

My bad. I meant to update this. The factory reset completely bricked my phone. The gears are still there. I'm currently using a friend's old Blackberry Curve until the Icon gets released and then I'm trading the 928 in for the Icon. The last few days have been horrible with this Blackberry. The wait is almost over.

Verizon support had me hard reset the 928 too, which put it in the endless spinning cogs state. I was able to use the Nokia Software Updater for Retail 4.1.0 to save the device and install Black directly. All seems well now.

Here's an article about it on WPcentral, with a direct link to the software. Good luck.

Thanks. I'm going to give it a go now and hope it works. I haven't received my Icon yet because they sold out in the store I am getting it from.

It's NOT finally here actually, not for us original WP8 owners on Verizon.
The 822 (despite it's fair success) is playing second fiddle.

wow I got 5 updates (did not have developers thing) MS Update 8.0.10492.116 / 8.0.10517.150 / 8.0.10512.142 / 8.0.10501.127 and Nokia Update for WP Gears spinning)

I want glance notifications just got new colors and that's it


I didn't even get the new colors or anything

No storyteller beta I can't DL?

No storyteller, beamer, or notifications on glance? Do I have to enable the notifications a certain way I just see the red, blue green?
Edit: notifications seem to be linked to lock screen, all work except the "big" one with extra detailed notification

Glance colors worked and notifications as well.

This has bugs my messages keeps closing out

So sad, 95% of the comments have nothing to do with the 928 or Black update, for those that do have the 928 the update came quickly, it does seem a little faster, have not tried storyboard download yet

Agree, noticed it was a bit snappier..

I agree with the comments. It's as if people can't just refrain from posting if the article has nothing to do with them.

Just finished updating my phone a few minutes ago. It took 37 minutes total. 19 minutes to download and 18 minutes to install (including final reboot).

Thanks for the info. I have about an hour before I have to leave for work. Worried to start the install in case there are problems. Already downloaded! Going to give it a try!

Got it!! Finally! Checking it out now... 928

No beamer or storyteller apps. WTF. I got a push notification welcoming me to Amber after the update. When following the notification, it shows a page in the browser printing me to download Beamer and/or Storyteller. After following both links, the store still says the app is incompatible with my device. Ugh...

Same exact thing here. I don't have all the new glance functionality either. It shows new notifications on glance but no new colors or other cool stuff...there was supposed to be other cool stuff, right?

Anyone notice quicker battery drain?

Turn phone off.... Hold Vol- and Power button together. Nokia logo will appear and then disappear. When it reappears let it start. Fixed it for me

My 928 has been stuck in the spinning gears for while now, tried doing a soft reset and it goes back to the spinning gears, please help

Hey mine seemed stuck on gears with bar not progressing, and then it jumped to end, so just give it ti.e

Thanks, I left the phone going before bed and when I woke up it was updated

I'm no expert but I think doing a soft reset while it was doing the spinning gears was not a good idea.

That's the microwave generation .... No patience like a Dr who dont work

hm. this happened to be bit tricky) the glance notification is working but settings are not in the Settings>glance but in Settings>lock screen. and I love the "X" for closing apps ))


Oh, just saw this, so I'm off to update my VZW L928! Finally!

I did notice that Peek is noticeably gimped in low light which seems to have affected the 920 (at least), and they really did drastically reduce the clock size in Glance, which is especially noticeable in night mode -- probably not reading this across the room the anymore.

What happen if its buggy what do we do?

It looks like Nokia Beamer and Storyteller are unable to be downloaded from the store :( WTF Verizon......we wait all this time and supposed tested and the update is buggy....can't you guys do anything right!

:( Lumia 925 T-Mobile still waiting

T-mobile are you going to be the last to update?!!

Can't open "Extras+info". Not good!

This literally confirms the icon's announcement tomorrow, seeing as it comes with black. I knew it would happen!

hmm...I still cant install storyteller or beamer...storyteller says i need to be on amber and beamer says I need to be on black...well i am on black...

I saw a few people tweeting Nokia about this. If you use twitter tweet @NokiaUS and @NokiaCaresUS - the more of us that mention it, the faster they might notice the mishap.

Does this bring RAW support for the camera?

Ahhhh, damn its nice to close an app from the multi tasking window

Works great! Glad to finally have it!

What to do if it glitches? Go to Verizon or Nokia care?

At this point I have to doubt that tmobile intends to support Windows Phone at all. WP fans need to know that before considering this carrier

Amen. TMO has always been known for cutting interest quickly. I dont see why. Has it even been 6 months the device has been out? Im sure its simply taking time. Well get it. If not... Someone needs to hack this **** so we can flash updates. Common sense.

Yay, 929, 928 black... Good week Verizon!

AT&T... Now Verizon........ Where's TMO in all this.... L925. Feeling abandoned with this phone ive had a few months and am still paying for.

Got it last night without any issues for my 928...Took about 15 minutes from start to finish. Seems to be running fine but I'll put it through its paces today. Already loving the Glance screen notifications.

My Glance notifications worked right away. Love that. I like the ability to close multitask apps too. I'm very anxious to try Storyteller though...whatever that glitch is about. Performance seems improved. I hope it helps some of the more disruptive issues like the touch screen locking, audio quality on calls, etc. but too early to tell on those.

Just checked...still treating the 822 like the ugly red headed step child, eh Verizon? You bastards.

For the life of me I can't see how this has improved anything. Is it all just back-end, under the hood improvements? I'm not really counting the new Nokia apps as well, we can't download them just yet. Verizon 928, upgraded this morning, 2/12.

glance screen notifications and rotation lock were the biggies, plus the two apps as you mentioned.

Why can't Nokia come out with good stuff for verizon????? I just downloaded black and wanted to get Beamer and wasn't able to because it's only for att! I will NOT switch to that crappy network and am overall happy with my 928. But I would love to upgrade to the 1020. Come on Verizon get better or I'll be forced back an iPhone GASP!

Where did you see that Beamer is only for AT&T? I have not read that anywhere. I don't think that is true. For whatever reason, we can't install it right now, but hopefully they fix the issue soon.

I installed Beamer after the Amber update on my 928 and it works as describe. I cannot install Storyteller yet..

Just installed Beamer and Storyteller this morning! Haven't tried them out yet, but they finally became available to download.

Did the update last night, no problem's, being faster it may be a little bit, but not much. I think they actually started using the second processor that's why. Idk maybe a little bit faster loading apps.

Nokia is aware of the Beamer and Storyteller App issues with the 928 running. They are working on fixing it via Tweet from NokiaCare

I tweeted about the storyteller and beamer issues at @nokiaus and @nokiacareus and they responded this morning that they are looking into this.

For the heck of it, I did a soft reset again just now (volume down, power button) and was able to download Storyteller and Beamer! Not sure if at the same time Nokia fixed the issue in the backend!

Storyteller and Beamer are now available for 928 in app store

Here it is February 16th, and NO Black Upgrade for 822 !!!! What's the holdup Verizon?? I have only had the phone since last October, and you are NOT going to support it ??? But you enjoy US supporting YOU with our monthly payments for using the phone YOU sold us ???? As long as I am paying YOU for the phone, you NEED to support it with software upgrades. Nuff said !!!

just recieved it today super jacked

I updated both of our 925 devices tonight. It took a little longer than I expected. Make sure your battery is charged. I'm in Kansas City, Mo.
Windows Central Newsletter
Thank you for signing up to Windows Central. You will receive a verification email shortly.
There was a problem. Please refresh the page and try again.