Lumia Camera: A tale of three, very confusing apps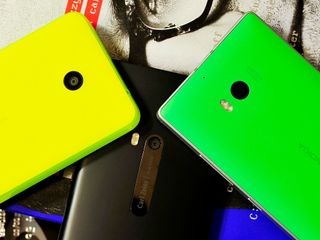 Earlier this morning, we reported that Lumia Camera Classic was updated in addition to Lumia Camera.
However, many of you running certain Lumias noted that there was no update to Lumia Camera. As it turns out, there are now three 'Lumia Camera' apps although you cannot download all of them. The one updated this morning is for non-PureView and Legacy PureView Lumias while Lumia Camera Classic is for new PureView phones that are not yet on Denim.
Confused? So are we, so let's break it down.
Lumia Camera (Non-PureView, Legacy PureView)
This app is the original Nokia Camera renamed to Lumia Camera. It can only be used on non-PureView Lumias like the Lumia 530, Lumia 630 and Lumia 730, older non-PureView phones and "legacy" PureView devices with the S4 processor like the Lumia 920 and Lumia 1020.
The one exception to this that we know of is the new Lumia 640 and Lumia 640 XL, both of which run the new Lumia Camera 5.0 app even though they are not PureView phones.
What makes a phone PureView? The usage of Zeiss Optics (lenses) and Optical Image Stabilization (OIS).
Lumia Camera (Non-PureView, Legacy PureView) Store link
Phones: Lumia 430, Lumia 435, Lumia 520, Lumia 525, Lumia 530, Lumia 532, Lumia 535, Lumia 620, Lumia 625, Lumia 630, Lumia 635, Lumia 720, Lumia 730, Lumia 735, Lumia 810, Lumia 820, Lumia 822, Lumia 920, Lumia 925, Lumia 928, Lumia 1020, Lumia 1320
Restrictions: New PureView phones cannot download this app.
Limited functions: Cannot do Living Images on older phones with S4 chipset (Lumia 730/735 being an exception), Surround Sound for video, HD video (Lumia 730/735 being an exception)
Lumia Camera Classic (New PureView)
This app is a sort of placeholder for those phones that are PureView but are "in between" like the AT&T Lumia 830 (which has Lumia Denim but still needs an OS update to run Lumia Camera 5.0).
Devices with a Snapdragon 400 or Snapdragon 800 processor and PureView can run this app.
Lumia Camera Classic Store link
Phones: Newer PureView devices like Lumia 830, Lumia 930, Lumia Icon, Lumia 1520 with or without Lumia Denim
Restrictions: Non-PureView phones cannot download this app. However if you have the full Lumia Denim and a new PureView phone you should run the Lumia Camera 5.0 version below.
Limited Functions: No Rich Capture (Dynamic Flash, HDR, Dynamic Exposure), no 4K video, not optimized for speed, cannot press-and-hold to record video
Lumia Camera 5.0 (PureView + Full Denim)
This version of the app is the crown jewel, the one that was re-written to take advantage of newer hardware. It opens super-fast, can do dynamic HDR and flash, and 4K video on the Lumia 930, Lumia Icon and Lumia 1520.
Phones : Lumia 640, Lumia 640 XL, Lumia 830, Lumia 930, Lumia Icon, Lumia 1520
Restrictions: Non-PureView phones cannot download this app; All PureView phones can download this app, but only the Lumia 830, Lumia 930, Lumia Icon, and Lumia 1520 with full Lumia Denim can use it. If you get a warning message that your phone needs a software update, then you do not have the full Lumia Denim software package and will need to wait for your carrier to release it.
Limited Functions: Lumia 640, Lumia 640 XL, and Lumia 830 cannot take 4K video, just HD or Full HD
Conclusion
Update: This stuff is so confusing even we had some of the information wrong regarding the first Lumia Camera app. We think we have it correct now, sorry for the confusion!
One thing is for sure, in 2015, Microsoft's Lumia Camera situation is chaotic and confusing, even for us.
However, we should note that if you are just using one phone and you never read our site, you likely would not be bothered with all the different versions. Those with non-PureView phones cannot even see Lumia Camera Classic or Lumia Camera 5.0 in the Store, so there is never an issue.
It is a bit different, however if you have a Lumia 830 on AT&T and you wonder why you cannot use Lumia Camera 5.0.
Microsoft is aware of this messy situation and with Windows 10, our bet is a unified app for all Window Phone devices. It will be interesting to see if there are still 'Lumia exclusive' apps or even 'PureView exclusive' as separate entities in the Store.
Windows Central Newsletter
Get the best of Windows Central in your inbox, every day!
Daniel Rubino is the Editor-in-chief of Windows Central, head reviewer, podcast co-host, and analyst. He has been covering Microsoft since 2007 when this site was called WMExperts (and later Windows Phone Central). His interests include Windows, laptops, next-gen computing, and for some reason, watches. Before all this tech stuff, he worked on a Ph.D. in linguistics, watched people sleep (for medical purposes!), and ran the projectors at movie theaters because it was fun.
My guess is they'll make one camera app that recognizes the different hardware and acts accordingly.

That would be the best answer way to go about it

That would simplify something... I don't think Microsoft is capable of doing such a thing. They'll probably end up with a fourth version and release 25 more phones that offer the same damn specs.

I really think they could just roll all the apps into one and then use the same method they use to identify which phones get which to launch the correct app.

U couldn't be more pessimist

Don't get me wrong... I've owned a metric ton of Windows Phones starting with the Focus Flash, then moving on to the 520, 1020, Icon, 1520, 820, 830,535, 635 and most recently the 930. I truly do love the platform and intend to ride with Microsoft during their battle to get WP marketshare out of the dumps... but there's no denying that they make some crappy decisions. They aren't just frustrating and complicated for the users... Microsoft's making their job harder too. Release one edition of the Lumia Camera that simply allows the highest-end features to supported phones... and then they aren't scattered all over the place trying to support three different freaking apps. Instead of pushing out 20 different low-end phones, they could just release one low-specced world phone and focus gears on perfecting their product. The Lumia 520 was a success... as one phone. They didn't get that success by deluding the market. I'm pessimistic because Microsoft isn't even exhibiting the behaviour of a company that understands what's going wrong with their approach... and it sucks because I really want to see them pull an Android and go from a poor situation to knocking the market leader off the top.

After my wife's 1520 was updated to denim, she was pissed that the colors in the photos we're not accurate. I found Lumia camera classic and installed it. The problem was solved.

Yeah, "simplifying" to a single autosensing app will likely piss off a lot of people with the 1520/930/929 lineup. Going from Pureview to "MegaEnhancedView". Because the image quality on Lumia photos was holding marketshare back. /s

Kurtd, I agree about the colors... they are a bit crazy in the denim lc5 app. I really wish they would provide an option to have "natural" colors.

They need a warning not to use the new camera for items that you plan to sell online. Colors are off too much, customers will get mad.

People like you who don't see color correctly are the problem not your phone

LC5 absolutely has terrible color accuracy and blows everything (saturation, exposure, sharpness) out in an effort to look "punchier".

Just because of this , I sold my 1020 and bought a new Lumia 830. Just only in impressed with the rich capture feature, and I'm experiencing its a great phone. And fast too.

By the way Lumia camera has also been updated along with the classic version!

Except that my 1020 only accepts the standard Lumia camera that was just updated. Classic and 5.0 say they are unavailable for my device. That is contrary to what is stated in the article.

Same here, with a Lumia 920.

Also I have a 1520 with denim and the colors are much better with the classic camera so another reason could be a matter of preference.

I agree that the colors are not as accurate as before, especially the rich capture (aka hdr) gives what seems to be a "Technicolor" look, but for me, I rather take that than the low light capture of the older app, which would lose too much detail and have too much noise, now almost all my low light pictures come out bright, vibrant, and most importantly for me, sharp and detailed, relatively speaking.

Lumia 640/640XL don't have pureview -.-

Except that "pureview" is just a name owned by Nokia, and 640640XL uses the same Zeiss Optics that the PureView has, only difference is the name as far as all the specifications that I have researched. Not sure if future phones will carry the PureView moniker. Will be interesting to see what happens. Does Nokia still own the rights to the PureView name? I know the Nokia name had to be removed as Microsoft started doing newer model phones on their own, so PureView may be the same way. I wonder if anyone has the knowledge that can clear this up for us.

Optical Image Stabilization (OIS) is what is different. Not "just a name". Zeiss Lenses are necessary for PureView but do not make it PureView. The Lumia 640 and Lumia 640 XL have Zeiss but no Optical Image Stabilization ergo not PureView class.

Yeah ... "old devices like 1020 don't support living images" this is shit.because when the Nokia camera beta was released .living images where there. After the "junk denim"update they've gone.

Thanks, Daniel. I did quite a few searches since the 640 came out to try to figure that out, and for some reason didn't come up with that. So, part of the definition of PureView has OIS. Nice to know. I generally use a tripod for situations where I would need OIS, so that's not really an issue anyway. Thanks so much for clearing that up.

Your point makes sense. But that means even my 735 should have received 5.0 as the lens is Zeiss. But as usually Microsoft has left it out for 735 but included 640....

PureView also refers to OID, which the 640 and XL lack, hence the lack of the term, even if the lens itself is high quality.

I was thinking about the camera apps this morning after that update, that it would be nice if WC wrote an article about it. And...tada! Good job WC for recognizing needs of your visitors. We should now be called family, not visitors. We practically live on this website.

One camera app is a must!

Equally annoying is that the Photos app doesn't support editing Rich Captures or 4K captures from Denim, you instead seem to have to go into the Camera app, and then open up your photo stream that way.


Use Lumia Storyteller :) You can choose which folders you want the app to show your photos from. I am using it for my Camera Roll only and it's been working great! And you get to edit your Rich Captures from the app.

Storyteller works ok for this, but I am annoyed by some of the extras features like the "zoom out to map" view. I do this constantly by accident and find the feature completely useless.

My L1020 still Rocks as the best Camera Phone

It's a legacy device now, as per this article. Mine is a month old, cause I bought it for the third time. LOL

The picture quality is stunning but mine takes nearly a minute to load up and so long to capture shots that I find myself using the iphone more often than my 1020 because it misses shots more often than not and is useless for trying to capture children running. This is why a new flagship is so important, the horsepower just isn't there to match the imaging technology. Needs moar RAM, faster and more efficient processor.

Exactly. So annoyed that MS thinks they need to wait for W10... while simultaneously releasing 30 low end phones. Frustrating!!!

I thought Lumia camera was going to be going to all windows phones in windows 10? Which i really dislike the fact that we are losing Lumia exclusives but eh. Personally I don't even use my Lumia camera as much. Camera360 and sight are my two main ones. I wish they could tap into the pureview stuff.

Very happy with LC5.0 on my 1520, but still wish we could do slow motion (120-240FPS) video.

On mine, colors were over saturated. Switched to Lumia camera classic and the problem went away.

Yep, overcooked oranges come to mind.

But you presumably lost the speed increase?

Nice explanation --- thanks.

This, along with the very confusing and unneccesary phone naming convention, plus vague titles such as Bing Distil, make my head hurt. MS really needs somebody to smack the hell out of the VP or Product Lead who says "Yeah, that's a good name. Let's go with that!"

Microsoft gets the award every time, if the contest is coming up with stupid names for otherwise good products.

At least their Surface Pros have a pretty cool name.. And Xbox is pretty legit too. Internet Explorer isn't that bad of a name. Microsoft Band makes sense. Bing is fun to say. Cortana is a legit name for an Assistant. Skype isn't bad and MSN sounds professional.

My Lumia 920 cannot download the Lumia Camera Classic tho.

Article has been revised.

Same here. Daniel here says that both 920 and 1020 gets Lumia Camera Classic. Its uber confusing, so, what I will just do is keep the Lumia Camera 4.9.4.1 that is a 15 MB file which was updated on 19/03/2015 instead of Lumia Camera Classic 4.9.4.1 which is a 16 MB file and was also updated on 19/03/2015. I must add here that mine is a country variant (India) and has "not true" Denim on it. And it is not running Preview for Developer.

Once again, it was revised 20 minutes ago. Please re-read.

Did you just say "Lumia 640, Lumia 640 XL, and Lumia 830 cannot take 4K video, just HD"
Even without camera button?

Camera button has nothing to do with it. It is their Snapdragon 400 chipset.

Daniel, everyone knows that the basis of 4k technology is the plastic button technology (tm); stop spreading misinformation.

Uh, I'm thinking about Moment Capture. Do you think 640 will get Moment Capture too or just regular video recorder?

By the way, didn't intend to insult you with the previous comment. I just like saying silly things. Have a nice day

Bogus question but, the camera power is also relevant to getting these certain features right? For instance the 730 has the same Snapdragon 400 Chipset, just a camera of 6.7MP differing it from the 640 which has a 8.0MP camera.

The Lumia 928 is not mentioned in the article.

Article has been revised, please refresh the page.

Not every Lumia was mentioned in the article. But...the Lumia 928 was rarely mentioned on this site, despite being one of the best Windows Phones. Not sure why. The flawed "Icon" that was retired after 5 months always got most of the attention.

Lumia 928 is listed. Also, the Lumia 928 was only released on Verizon in the US and did not sell well. Consequently, the audience for that phone is comparatively small, as is our coverage of it. We have covered every software release for that phone as well as in-stock/out of stock changes at Verizon. We cannot possibly give ample coverage to all Lumias. Alternate question: Have we missed any significant news about that phone?

They need to have the Lumia camera just built into the OS. The app situation is too confusing.

But its exclusive to only Lumia phones not all Windows Phone. They could have it preinstalled though.

But I have a lumia1020 and received an update for the regular Lumia camera
And I can't download the new Lumia camera although I'm on denim

Do you have a PureView phone? Regardless, added. (It may be hard to add every Lumia to this list)

Maybe add a link to some official Microsoft hardware info page, or even just Wikipedia? That might save some time for you, if you find it an acceptable solution

I don't care about pureview anymore on my 1520, nobody's care about the quality pictures on my instagram..

one error. i have the normal lumia camera on my 730 and i can do living images.
living images are absent for snapdragon S4 phones.
snapdragon 400 and later phones can do them.

HD Video (1080p 720p) is there in Lumia 730

So no Lumia camera 5 for 730 with limited features bad luck...if 640 is coming with Lumia camera 5 730 should be also given....

Exactly lumia 730 is such a grt phone .. Especially d screen is soo gud..

Finally! Thanks for the great explanation Daniel. I still see a lot of people confused by this everyday and yet MS & LumiaUS Twitter & Instagram pages still keep posting stuff about Lumia Camera 5.0 and the 830, but get a lot of angry confused replies about why they can't use the awesome camera features. And while my aging Lumia 920 camera could use some improvements, I'm sooooo ready for a new flagship phone that has Lumia Camera 5.0, 4K video, Windows 10, and none of this fake/real Denim carrier delay BS!

I don't get it. I have a 920 with denim update. Can't find the classic camera though updated the Lumia camera.

As a side note, the 830 recived the full demim update in Canada (for Rodgers and Bell) two days ago. The Lumia 5.0 camera now works without warnings.

We already reported on that, thanks.

Somehow I must of missed that, sorry.

Thanks Daniel for clarifying.

on my 1020 with denim i have the top (1st one you linked) camera app installed [Lumia Camera (Non-PureView)] - the others say cannot be installed when QR'ing, but yet from reading this article that seems incorrect, boy am i confused, even after this article.

Sorry, likely my error. I did not have time to test every Lumia.

Something is not right. I have the Lumia 1020 w/ Denim and I can only get Lumia Camera, I cannot get Lumia Camera Classic. It says it is not available for my phone.

Yeah, same here. Although I'm not sure I'd call it Denim really, when it's just a renamed Cyan.

Article has been revised, please refresh the page.

I have the Lumia 1020 with 8.1 update 1 preview, and can not install the Lumia Camera Classic. Same happened when I was in non PD with cyan

Guys do you know modern combat 5 is going to be free :D

I knw :) but 512mb ram people will still kill the moment

My poor thing lumia 820 no longer appears neither in an article, dead and buried :/ lol

This was a good explanation, thank you. I'm happy with whatever program runs as the default when pressing the camera hardware button.

Which you can change. But you knew that. Right?

Lumia 730 Lumia Camera CAN do living images, HD 1080p Video capture, also just got update to 4.9.41, App name is Just Lumia Camera

Also,onother confusing,there are still microsoft camera but we can't find in the app list, wtf..

One ring to rule them all one ring to bind them

No one phone to rule them all, hopefully this summer! :)

Oh I missed it in first go

Daniel one question y select the quality of video is absent for recording like 240,360,480,720 etc...but this option is available for all os.. What is the restriction for this? Always we don't want full HD videos... Some one answer this question pls

I'm STILL confused because I own Lumia 920 updated to the latest official Denim which came out a week or so ago. Yet, I can only download Lumia Camera (first one in this article), not Classic as suggested here. Whichever it is, it received an update today ;) I don't particularly care for all those advanced functions v5.0 has (since my phone's hardware is out of date anyway) but I would appreciate some speed improvements though... ;)

Guess that we are having the same issue. Lumia 920 but without Lumia Camera Classic

I still use Nokia Camera Beta :)

Just the reflection of the chaos they're creating with releasing a new,different phone almost each month..

Why my Lumia 1020 cannot get the chassis lol

@kristijan87 facing the same exact thing. It's all confusing

The 'Classic' sounds like a version for "Legacy Devices" & '5' will replace it on all future PureView devices (starting with 1520) & 640 , while the standard 'Lumia Camera' will replace the 'Microsoft Camera' on Windows 10 for phones.

I can't download Camera Classic for my 925.

Funny thing is my Lumia 920 cannot install Lumia Camera Classic, no matter Cyan or Denim. Only can use Lumia Camera. Anyone else with this situation?

Yep. Please have a look at my comment below.

Any word yet on what's going to happen with all the older Lumia's once they get Windows 10? It was reported that Windows 10 for phones will use Lumia Camera 5.0 by default but MS also said something about not all phones will get all the features if Windows 10 due to hardware restrictions or something like that back in January. So does that mean older phones will still not be able to take advantage of Lumia Camera 5.0 features after upgrading to Windows 10?

It's good to see my 920 in some pictures :)

I'm still confused TBH. The update I got today was for 'Lumia Camera' not the classic version. According to this article, the Classic is for PureView phones. I have a 920 India CV with Denim and I don't have access to the Classic app. Also, this article says all PureView phones can download LC 5.0 but only 830 etc can use it. Which is fine but I don't get the option to download LC 5 either. At least I should be able to download it right? Or am I missing something?

Article was revised. Please refresh your page.

Thanks Daniel. This article couldn't have come sooner. Glad to know that Microsoft has taken note.

Great article.
Just one correction: The Lumia 830 can capture moments in Full HD, and not in just HD.

I know the Windows 10 Camera app on my 635 was very fast to open once in memory, so that bodes well for all Lumia devices, especially those with 1GB RAM. I think speed is coming to all devices. Given that the store generally only permits install of one Camera app, its not that confusing for end users even though 3 versions exist.

All of the Lumia Camera apps as well as their Cinemagraph, Moments, Refocus, etc need to be merged into one power app already.

Nah, that's a bad idea. The code would be too complex and it would take more processing power to do anything.

I don't use the camera on my Lumia 1520 anymore. I use my iPhone camera instead.

Lumia camera crashing every time I try to open it after the update. Useless at the moment...

Thank you, you are living up to your reputation of being complex, hard to understand and confusing!!

I think it is only that way if you follow this stuff and are "aware" of other Lumias, other apps, etc. If you just bought a Windows Phone, never looked at a Windows Phone site, would you even know/care? I don't think so. Sure, it's messy, but it's much more of an effect if you know the whole story. Most people don't and don't care. They see "Camera" on their phone and that all they need to know ;)

Daniel: Those who should not be named are quite successful in the fact that they only have one and only one native app for their devices. That is their claim to fame.. things just work. Sure you can add anything and everything to it but that is at the discreation of the user. For them that one app is sufficient. We on the other hand have a native Camera app to the OS, then a camera app that is native to the hardware(??), and then so forth... we should be making things idiot proof for the masses. I think we are headed down the same path that gave us the BSODs on our PCs because we had everyone slapping together hardware, installing MS OS and then blaming MS if the collection of hardware did not work...... What I see we need is one self containing OS and then, if you dont want the native browser, choose your browser, dont like the native camera app, choose your camera app, dont like your native video conferencing app, chose your own and make it so that the user can make their prefference but for God's sake dont flood them with redundant apps and ask the user to make sense of it all...

Well that simplified it, I think.

Had came a long way(messier) since Pro Cam that was first launched for L925.

So sad to see the word Legacy when my old 920 is mentioned. :(

Good grief u people are insufferable. Such know it alls. "I hate you all" Al Bundy

The thing is, I have an 820 with Denim (update OTA) and I also got the update on Lumia Camera full stop. So today, both the Classic and the Original have been updated. And my Lumia 820 can, as always, take a Living Image. It's just time consuming and not very practical.

And there's a default Microsoft Camera too :D

At least we really know that w10 will solve this.

Total mess.. How is reframing done with Lumia Camera (denim L1520)?

My biggest problem with this is they took away Reframe from Lumia Camera 5! I used this at least every other day for work. Now I have to keep Lumia Classic installed just for that. Sucks

Reframing is done via Lumia Creative Studio. Edit your photo there and you can reframe like before.

And it uses full resolution image as a source? (L1520)

i really like that article ! ... thnx Daniel ... clearification was indeed a must ! ... But i have a question .... really if they made a unified app .. how could this be done ? , i mean with all the variety of spes. will it be slower on lower devices or not ?

On a slightly related note, any news on the future of haac mics? Having great pictures is super important, but being a concert lover,I think having great sound is equally important.

I've tried the Lumia Camera 5.0 but it does take some time when it starts after a phone reboot. It keeps running in the background until you force close it from the multitasking. So, technically, the app actually starts when your phone is booted and keeps running until you force close . It keeps consuming battery and other resources even when the phone is idle. Imagine if all apps run like that, Windows on the Phone will no longer run smooth and will become a resource hog like Android at least on budget devices where the market actually is. Windows Phone mostly sells because you can actually use your phone for productivity, experiencing little to no lag (which is the fruit of intelligent resource management of the OS). If that is gone, no budget phones that Microsoft launches would sell well as most of the people won't have the patience of watching Loading... and Resuming... which wasn't an issue with WP8 at least.

Actually L730 camera quality is very good. Can give for it.

There should be a universal app for Lumia refocus , creative studio , paranorma , blink, Lumia camera, Lumia selfie.... Which should be named as Lumia Camera itself.. And it should be update according to the device... Like Lumia camera 1 for pureview phones
And Lumia camera 2 for non pureview..

No worries here... I will see what Windows 10 has in store(pun intended) and then confuse myself rather than doing it now :-P

Even Windows Central has forgotten about the 810. :'(

Daniel, great article thanks.

I think Microsoft is just trying to add to their numbers in the store to be honest some of this stuff could be merged together to make one very powerful camera app

You cannot honestly believe that. There are technical reasons here, drawn along lines of hardware (Snapdragon S4, 200, 400, 800), plus OIS in PureView to account for it. It's not arbitrary.

So theres is the new Lumia camera for new devices (640/640XL, 830, 930, 1520 and Icon) and the old Lumia camera for other devices. Then there's the Lumia camera classic which is the old Lumia Camera for new devices.

If I click the button and it takes a pic I could not give a crap what version of software is running in the background :)

Soooooo confusing...
Legacy it/he said...damn feels so old on my L920..nothing different except downgrade Lucam on my 920... Just my opinion.. -.-

Do the At&t 830s have full denim? I'm on windows 10 preview and extras & info says denim but it tells me to update my phone

It's explained in the article, no, not yet. Needs a software update.

This is why I'm leaving Microsoft for Android. I don't have time to learn all this stuff. Phones are confusing apps are scarce devs are leaving. Band wagon effect

Wish I could figure out WTF I have on this bastard Lumia 535 as far as a camera. No one ever seems to mention this thing unless it's about the touchscreen nightmare. Ah well who cares.

Lumia 535 is listed here, has been since this morning.

As usual I failed to read carefully. Looks like version 4.3.0 here. Slightly frustrated with the odd duck 535.

Microsoft please if you have one of your employees reading here please fix this whole mess and please I already got confused with the lowest windows phone if I were to recommend one. Make one low one mid abs one high end period. Keep it simple stupid is a saying from some designer. I will support Lumia phones until the end

U YEAH!! I just got a lumia 830 but i need the full lumia update.

I have a Lumia 635 now... With Cyan + WP 8.1 Update It came with a camara call 'Camera'. This app cannot be uninstall and it's not in the app store. I'm also using Lumia Camera. Camera has less feature (I think) but load faster. So where the Camera app stands with other Lumia Camera?

For all you guys saying the colors are off in LC5, all you have to do is adjust the color in the rich capture settings. After that every time you take a photo using rich capture it will save it to the setting you made.

Well there is still a rotation problem with the Lumia camera 5.0 the problem remain after i close the app so i need to reboot each time i use it, i have a 1520 dont know if others model got the same problem !!! And for video they should add the Directional Stereo, audio bass filter like the Camera classic.... and maybe add 720p/1080p at 60fps !!!

Lumia 1020 must get all these apps. After all it is the best camera phone.

I know Lumia camera 5 on the 930 is better than the Microsoft camera. But which one consumes less battery?

Very informative article.

why cant they adapt just a single camera app to avoid confusion?

Yeah. One app that recognizes what phone it's being installed on and adjusts accordingly.

they should make just 2 apps: - Lumia camera (fast, with no smart functions, plus night mode) - Lumia smart camera (doesn't make sense to call it "classic", with smart functionalities, plus selfie/panorama/cinemagraph/refocus)

Iam lumia730 user MS telling require full denim update for downloading the lumia classic,but 2days before they given denim update,then that is not a final denim update??still we need to wait for one more update???because I can't able to download classic app after the denim update..

Its almost confusing as apple watch sport, apple watch and apple watch edition...one would think those last two are the same

I would add LUMIA MOMENTS explanations ...

So all phones with non pureview camera and lumia denim , were not gonna get lumia camera 5 soon or never?

Why can't my Lumia 920 do living images? It used to when the feature was first released. It was subsequently taken away. This kind of shit infuriates me.

Lumia camera 5.0 is great in many ways, but colors and contrast among more is not as precise as the Lumia camera classic. I hope Microsoft will fix this soon.

I can upgrade to Lumia Camera 5.0 :) Realized 5.0 is installed :)

This is so confusing, hindsight is 20/20, I suppose. In my very humble opinion, the naming scheme might have made more sense, like so: 1) Lumia Camera: This would have been the stock Microsoft provided camera app, like a quick 'n' dirty point-and-shoot: 2) Pro Camera: Suitable for the Pureview cameras that had the hardware and Zeiss lenses to back it up (i.e.: 920, 1020, 1520, etc) 3) Smart Camera: This would be all of the lenses, tricks and apps that could have been plugged into either app, above. For example, Blink Panorama, Cinemagraph, Selfie, etc. Just my personal ramblings.

They have totally stuffed my experience with the "lumia camera" update on my 930 No matter if I take the photo in portrait mode, anytime I import it into a 3rd party app like Instagram or diptic, It imports in Landscape orientation.... I have to rotate every photo..... its driving me nuts!!! doesnt happen in Lumia Classic so I know its the app!!, no luck on the MS forums either, been told that the other apps need to be "redeveloped"...... Considering Instagram hasnt been updated for over a year im not holding my breath....... If theres no solution to this I have to consider moving back to another OS considering my use of these camera/photo apps is pretty much daily

I'm having a focusing issue with the Lumia Camera app on Nokia Lumia 1020 phone. It use to work when I first got the phone last fall, but starting a couple months ago my phone will not focus on close objects. If I click the screen the phone focuses for a second then goes back to a blurry image and snaps the pic. Anyone else have this issue or know a way to fix it?

After updating on 1520, I only see Flash, No Flash and Customize options.... No more rich colors, HDR or Artistic in Rich mode.... Did I get wrong app?

Where is sequence shot in lumia camera.