Microsoft confirms Lumia Denim rollout for Lumia 1020 US country variant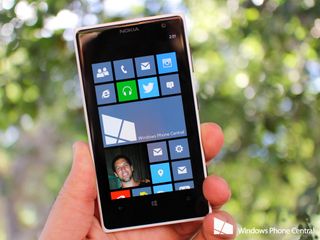 Microsoft has officially confirmed that the Lumia Denim update is now rolling out to the Lumia 1020 country variant in the US. In addition, the Microsoft Mobile support page for North America shows that Denim can be downloaded for the Lumia 1020 on the Rogers and Telus carriers in Canada.
While we have received a few tips earlier this week that the Denim update had been made available for some Lumia 1020 owners in Canada, Microsoft's software update page has now made it official. Other devices that can download Denim in the Great White North include the Lumia 635 and the Lumia 830.
We are still waiting for Denim to be made available for the Lumia 1020 version on AT&T's network, but it is available for that carrier's version of the Lumia 1520, which is now no longer being sold by the carrier.
Do you need some assistance in getting your Windows Phone OS updated? If so, we got you covered with our how-to article on that very subject.
Source: Microsoft (opens in new tab); Thanks to Dan Roth for the tip!
Lucky US.. Go for it.. Congos people.. But please Windows 10 should be available till now waiting for it for a long time.. Tomorrow's my bday please its my bday gift..

And today at 10:30p.m in India windows 10 insider will be ready to roll on .!! ;)

It begins at 1PM ET and its 12:50 right now :D im so excited!

Seems we're not the only ones excited... Refreshing of the Insider app is taking a bit longer today.

On my 1020 it crashes (maybe because I tried to do the hack to get WP10), but my 822 is still refreshing.

I'll be excited when I hear AT&T has it, and it will finally unlock Internet Sharing on my unlocked 1020 that I'm using on T-mobile. That was a very frustrating Cyan bug(sabotage) that AT&T put in that firmware.

I was wondering why my internet tethering didnt work

I seemed to be able to get around this by downloading the access point app in the store. Did you try this?

Yes, and according to all recent internet blogs, that trick no longer works after the last firmware update for the phone. Unfortunately Microsoft removed the old versions of the firmware from their servers, so it can no longer be downgraded to the previous firmware. I really wish I hadn't done that last update, because internet sharing was fast and flawless before it. Now I only get the telltale "your plan does not include sharing" message :/

I had the same problem on my unlocked AT&T 1020, but the access point fix sid the trick. I really hope the new firmware on denim when updated on the 1020, doesn't re-disable it. I will wait on the reviews before taking the plunge.

Question: An unlocked but ATT branded 1020 still needs to wait for carrier approval for updates?

Yes, unlocked just means u can take it to another carrier and use their service, but tech its still an att phone

Ah, thanks. That's a bummer, really.

Try the developer preview. Internet sharing is still there for me. I haven't used it in quite a while, but it always worked when I tried.

Hey I know that this is totally off topic, but I've been having issues with getting emailed when people reply to my comments. Can someone please reply to this, with anything so that I can see if the problem is fixed? Thanks in advance.

Happy bday buddy...even mine is tomorrow..last yr we got 8.1 PFD as our gifts :P

Most people in the US have an AT&T version, so we still wait. :/

Windows 10 PB...comming out in few minutes... Waiting... People are excited.... CONFIRMED!!!

Yeaaah sitting in my car next to a wifi hotspot.. Please be fast, my battery won't last forever!!

1pm Eastern standard time in the u.s.a. I'm waiting

Att has really sucked on available updates for there windows phones

They were one of the first to launch Cyan, with the 1020. Denim wasn't TOO late on the 1520. I had hopes Denim would come to the 1020 though... Who knows.

1min.. Get ur fckin devices ready.. Windows 10 is coming..

It's about damn time, isn't it -_-

And here for 1320 in Egypt

I'm in Canada.. Not sure if ur is here yet. I'll be on 10 tonight. Maybe.

It hit Canada last weekend. My mother got it.

Windows 10 Windows 10 Windows 10 Windows 10 Windows 10 Windows 10 Windows 10 Windows 10 Windows 10 Windows 10 Ahhhhhhhh i waaant ittttt

Still waiting for Denim for my 920 in Rogers Canada. :-(

Still waiting for my AT&T 920 too. :/

It didn't really bug me that much until I got my new car...I went and researched the Call Cortana feature and it only works on Denim and up. AHHHH, shoot... :( I doubt we'll ever get it on the AT&T 920s because there is nothing in it for them.

Call Cortana works on my AT&T 1020. I don't see why it wouldn't work on the 920 as well. I'm on a developer preview build, though. But I've been using developer previews for about a year now with almost no hiccups, so if you want that feature I recommend hopping on the dev. preview and getting it now rather than waiting for AT&T to grace us with an update!

Me to still waiting for my 820

Lumia 830? Hello? AT&T what's the hold up??????

Backing up my 920 and 1520 now.

It's 11:50am, where is it?

No one cares about this post! LOL

I'd like to see denim for my AT&T L920 as well

When will be windows phone 8.1 update 2 rollout to India.

I'm sure they will write a post when they have information about it. :)

For once US got something after EU / happy :)

Tech its not us its canada

I'm just hoping it contains a fix for the freezing bug, whenever it arrives for the at&t 1020.

I'm in Canada (unlocked Rogers), but both the user facing OS software and the firmware update have proved true. The fix is there, over a week now with no freezes.

Am using Lumia1020 and eagerly waiting for WP10TP. It will be good if someone who already installed ( other countries ) WP10 TP on their 1020 creates a seperate post and help 1020 users

Just 7 minutes till Windows 10

Windows insider app not working :/

Are we time travelling?? To the past? Denim lol.

Well... While it's nice to see these news, it ain't that editing because Denim brings nothing but an OS update to the 1020. Too bad Nokia did such a stupid decision putting an old CPU in such a phone.

3min=180 sec......................

On PFD, dont really want this update. Waiting for something "New" like WP 10... :-)

God dam it! What's wrong with Windows insider app?

Likely too many people hitting the servers at the same time.

ittttssssss timeee for upppgradeee yaaaahooooo!!!! :-)

gabe tweeted 2 minutes !!! :D

What the fuck happened to Windows Insider App ??

It seems its jam packed with users XD

MS Please be Punctual...!!

which error are u getting !! Mine is showing Server error :(

Absolutely destroyed battery life, battery drained while sitting idle overnight. No changes in any settings, just a successful install of denim.

Go into battery saver and stop allowing all your apps to run in the background. They reset after big updates like this. Also double check your email sync settings.

Thanks for trying but I did say 'no changes in settings.' I know enough to check after install but you couldn't know that

Lol. This thread turning into a Windows 10 countdown.

why is the stupid app not working ???

Plz tell me guys all apps of 8.1 are working on WP 10???

The insider app servers are drowning, yet they say nobody uses WP.

This isn't for the phone that was sold on the Microsoft Store, is it?

I don't think I understood any of that :/

Honest question about the Denim upgrade... I've got an unlocked ATT 1020 running on T-Mobile. Do I have to wait for the ATT release of Denim, or can I get this one?

If it is an ATT device, then you still have to wait for ATT approval even if using it on another network.

Weird....I've had Denim on my US AT&T 1020 for like a month now.......I got it when factory restored my phone one day because it was acting funky. But when it came back up it had Denim on it.

That was probably just the Extras+Info bug that says Denim when it's really not. This has been well known by now. To be sure if it's really Denim double check your Firmware version to the one listed here: http://www.microsoft.com/en/mobile/support/software-update/wp8-software-update/availability-in-north-america/

Hmmm... 920 is almost the same hardware as the 1020 (minus the camera obviously), so I wonder if we will get it soonish as well. Even if we do get it, I wonder if it will add any new features as most of the new features seem to be hardware related to newer devices.

Great, right after I stopped my 1020 and the screen cracked.... Just waiting fur the next hero phone while using my old 920

Is that not applicable for NL1020 with Developer Preview installed? I dont see anything for my AT&T NL 1020 yellow one. some body please update me if am wrong. I have been waiting for this for long now.....

Same here. I have nothing either. Just checked

Wow what a magic , I just checked Extras now. wow.. I did not download or update, but suddently it is now showing as Lumia Denim (now evening) instead of Lumia Cyan (this morning) in my NL1020 Extra's page of the settings?!!! Sweet surprise.

Canada rom L1020. Still no update available. Why is this taking forever..

Why does it say that I need denim on my 830 to use the Lumia camera?

Got so excited then I saw still waiting for att, sigh

What the fuck is the damn hold up with ATT!!! And even with the country variant this is a fucking joke, since Microsoft promised the Denim update by end of February and its damn April now. With Windows 10 for Phones I hope Microsoft puts their shit together and makes updates on time without carrier delays.

That was in other countries, and they told us it was gonna launch with the phone, then later in the year, then they said the end of the year, then they said early next year, now they haven't said a fucking word

why cant ALL Windows phns get the latest update at the same time. As much as i LOVE windows/Microsoft this is so annoying to see updates comes soooooooooooo late for different models. I know for sure EVIL CrApple is behind all of this and its forcing carriers NOT to release updates as quickly for all other brands, except for their iJUNK trash iOS. Also If i was AT&T, i would be so mad, after so many years getting kicked out of Dow Jones stocks and replaced by CrApple stock. I would push Windows and Android phns if CrApple would done that to my company. When this EVIL comp will ever fall in its face, and FAD would be over once and for all? I guess as long as there are Brainless/Brainwashed iSHEEP, that will never happen.

I don't know what has changed as part of denim update in my NL1020 (AT&T) but now I unlocked it and running DP. do anyone know , I don't see camera is coming up fast, it is still slow only.

....My Lumia 820 from AT&T in Cyan not Denim, WHEN DENIM FOR 820 AT&T WHEN!!!!???

I have a Lumia 520 on the AT&T network. I was running Windows 8.1 on preview for developers. The firmware was luma Cyan. I decided to reset the phone and try Windows 10. (This is not my main phone). After the reset I noticed that the firmware had changed to Denim. But I was unable to restore my phone settings and apps from my backup. I reset again, and this time was given the option to restore my settings and apps. I chose this option, however after restoring I noticed that the firmware was back to Cyan. Is this normal. Will I have to lose all my settings if I want to move to Denim?

Can anyone tell me that is Lumia denim available for Lumia 530 devices in India?

It's out for Lumia 1020 on Movistar Argentina

Are they going to do something on 1020? Camera does not work like the way under Nokia development team performed, that's very frustrating,if Microsoft will not going to do any improvement on this phone them better declare and won't let users keep hold something will comes to us.
Windows Central Newsletter
Thank you for signing up to Windows Central. You will receive a verification email shortly.
There was a problem. Please refresh the page and try again.