Lumia Icon goes mountain biking in epic video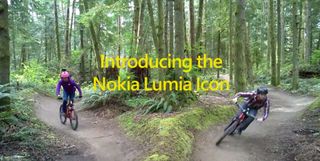 So sick! That's the reaction you'll have after watching this pretty epic mountain bike video filmed on a Nokia Lumia Icon. Take two skilled mountain bikers, put them on an awesome trail in the Pacific Northwest and film the whole thing with a Lumia Icon. You get a pretty fun video showing off the video recording capabilities of the Icon.
We know the Lumia Icon is pretty epic when it comes to capturing video footage and recording audio. In our review of the Icon we note that it has four digital high-dynamic-range microphones. Which is why it's so good at recording high quality stereo with distortion free audio.
Rocking the Icon? Like mountain biking? Let us know what you think of the video!
Source: YouTube
Windows Central Newsletter
Get the best of Windows Central in your inbox, every day!
Freakin Nice, now lets see what the Lumia 1520 can do Road Biking!

Given that it's the same camera hardware and software, wouldn't the results be the same?

My point exactly! ;)
I happen to have both a road bike & now the L1520, this article gave me the sweet idea since I ride nearly everyday.
Now it comes down to a matter of how to mount this beast of a phone lol.

It would look TOTALLY sick on your head!!

Lol I'd totally do it too, riding around town with a big red brick on my helmet haha! Question is what to use to mount in all seriousness I must do research!

Check out the Velocity Clip! They're a universal smartphone and digital camera mount. In the video you can see them using the Velocity Clip mount! I've used it for snowboarding and longboarding and it works perfectly with the adhesive mount and monopod. http://www.velocityclip.com

I'm on Instagram and I do photography using Lumias from here on I'll be shooting with my Lumia 1520. Feel free to Follow me @icclairphotography

They released this last weak and it said lumINA icon instead of lumia

Haha yah I saw that too, glad they fixed it;

Nice. I broke my 928 so I got the Icon Sunday. The wife liked it so much she got one as well. Posted via Windows Phone Central App

Great, so she likes 5 in, erh :D


I'd like to know what they used for the mount.

I would like to know as well as I have a ride coming up in June and would love to record it.

I am about 95% sure they used a VelocityClip. Looks exactly the same and its the only action mount I was able to find that fits my Lumia and digital camera (Panasonic Lumix). Everything else only works for either iphone or android :(

So they phoned in sick from work and went riding their bikes? Is that it? Not the best idea to post it on YouTube.

Pointless con vid, the only pov footage is taken either in mid air or on smooth mud, lets see it on some rocky trails, perhaps we can see some stabilization at work then. Smh

are you kidding the footage was fantastic for a phone, but you're expecting way too much if you think ois is going to help you on rocky trails

The colour clarity was nice, but that's to be expected these days, I was simply referencing the stabilisation, which you just cannot see in action on that video, but the video kinda points at it being a feature.

cool, but still no 60 fps and 2k....why Nokia.

I'd rather have 720p@30 fps with pureview sensors and algorithm.
I'm having bad experiences with 2000p@120 fps from bad sensors and algorithm, running on CPU, RAM and battery sucker OS.

not fussed about 2k, but 60fps is a big omission

Considering their focus on camera hardware? agreed.

a few days ago, the original video of this. said 'Lumina' instead lumia at the end lol

It appears that several devices (how many?) were used for this. Some static and some strapped to the riders, not the bikes. Nokia Lumia helmet cam anyone? Duct tape is the panacea, peerhaps. And this would be very much road bike friendly, With the right road :)

Icon is great, but the speaker placement/design needs attention in the next hardware revision. I miss so many calls because its so easily muzzled by almost anything covering it. I even had a piece of paper over it once and volume was reduces by about 90%... Wondered if its an airflow thing

I have taken my 920, 1020, and recently my 1520 mountain biking. The 1520 is the best of the 3 with the 1020 being last. For those asking, I use a chest mount and a head mount from http://www.velocityclip.com/

I did a bunch of MTB videos last year with my 920 using a velocity clip. Love it. Haven't tried my 1520 this year.

I have a 1020, and the video stabilisation is simply not as good as the 920. A real shame.
We really do need 60fps video as well (even if it is only 720p). The latest iPhone has stolen a march on us in that department.

Can I get that mount setup please thanks.

Whoo go Nokia :P the icon truly is an awesome device!

Love mountain biking, rocking a Lumia 920.

Such a sick use of the Velocity Clip mounts! I love my Velocity Clip, and its like the only mount that is universal meaning it will work with all of the different Windows Phones. Anyone that does any kind of action sports that doesn't want to buy a GoPro should check the Velocity Clip guys out. They have killer products! http://www.velocityclip.com/

Yep! Most definately a Velocity Clip used for the Mount

missing the Nokia logo Already :(

Pretty much, yes. 930 will have a couple of enhancements/differences.

Wish this phone was on Sprint

Try lumia 1020. Let the killing begin.

The font design is sick too (haha JK, why dont use Nokia Pure text?